Reading Time:
17
minutes
Fact: 75% of web users never scroll past the first page of search engines. The majority of web users click on and engage with websites that appear on the first page of search engine results.
Why? 
Because web users often associate higher search rankings with credibility and relevance, assuming that websites on the first page are more trustworthy and authoritative than those on other pages.
In other words, if your website doesn't rank well and appears on the second page or beyond, you miss out on a large portion of potential traffic and customers.
In practice, optimizing your website's SEO to improve its search rankings is something you shouldn't overlook. 
When your website ranks higher in search, it not only attracts more clicks and traffic. It also builds a sense of credibility in customers' eyes. This can lead to
Increased conversions

Better user engagement, and

Stronger online presence for your business.
At Flying V Group, we recognize how essential search rankings play in establishing credibility and driving organic traffic. 
That is why we turn to Ahrefs as our SEO instrument of choice. With Ahrefs, you have access to myriads of tools and features that empower us to climb the search engine ladder and secure the first page for both ours and our client's website.
This Ahrefs review will tell you everything about Ahrefs, its features and uses, its advantages, and how we use this excellent tool in our digital marketing agency. 
Before I begin with Ahrefs, let me tell you what Flying V Group is, first.
What is Flying V Group?
Flying V Group is a one-stop-shop for everything digital marketing. It is the leading Orange County digital marketing agency that specializes in SEO optimization, website design, pay-per-click advertising, social media marketing, content marketing, video marketing, and blog writing. 
Our mission is to help businesses of all shapes and sizes make at least 2X profits, it not more. We do this by providing effective, tried and true strategies that provide exceptional results.
With years of experience and a team of skilled professionals, we have successfully served clients across various industries.  
Our purpose is to form long-term, win-win business relationships with you. We appreciate our work, but we value our relationships even more, which is why we go above and beyond to exceed your expectations. 
Everything we do revolves around performance. So our primary focus is on ROI. Our primary goal at Flying V Group is to drive organic natural traffic to our customers' websites and increase their online presence. 
We accomplish this using a combination of search engine optimization (SEO) strategies, pay-per-click (PPC) advertising and marketing, social media advertising, and website design. 
Our experts work closely with you to understand your specific requirements and to develop results-driven solutions.
We are committed to being ahead of the curve, remaining current on trends and technology, and implementing revolutionary strategies that promote success.
What We Use Ahrefs For
As we have stated in the previous section of our Ahrefs review, Ahrefs is our first choice when it comes to SEO.  
At Flying V Group, various tasks, including keyword research, site auditing, backlink analysis, rank tracking, content exploration, competitor analysis, and site discovery. 
Its extensive feature set enables us to obtain deep insights into our clients' websites and competition, allowing us to make data-driven decisions and optimize their online presence.
The platform's rank monitoring and competition evaluation capabilities enable us to optimize campaigns for maximum impact, as well as serve as a content research and resource in developing appealing and relevant content.
Ahrefs also supports brand monitoring, broken hyperlink building, and local SEO optimization, allowing us to deliver comprehensive products that include popularity control, high-quality hyperlink acquisition, and local search exposure.
Why We Chose Ahrefs Over Others
We chose Ahrefs for several reasons. One of them is its unmatched capabilities and user-friendly design as compared to other SEO tools on the market. 
Ahrefs provides not only reliable and up-to-date statistics, but also various features that cover all areas of search engine marketing.
Another reason we prefer Ahrefs is its user-friendliness. This makes it an excellent choice for both novices and seasoned specialists. 
Furthermore, Ahrefs is dedicated to making sure that their tools and features are always the most current and helpful. 
This means that we can rely on them to constantly improve their services for our benefit.
We can use the tool to guarantee our customers' websites are running smoothly.
When it comes to promoting our business online, Ahrefs helps us figure out what topics people are talking about, how popular they are, and what our competitors are doing. 
This way, we can create content that people will be interested in and that will help us stand out from the competition.
That's not all we use Ahrefs for. 
Various Things We Do with Ahrefs
Let's dig deeper into various things we accomplish with Ahrefs for our website and for our clients.
For Our Website
When it comes to our own website, Ahrefs plays a crucial role in our search engine optimization strategy. We use Ahrefs' keyword research feature to uncover high-potential keywords and tailor our content accordingly. 
The tool helps us check our website for technical problems that could be affecting how it works. We also use Ahrefs to see how many other websites have links to our website, which helps us make sure our website is in good shape.Over the years, Ahrefs has evolved into an essential tool that fuels our website's growth and optimization strategies on many different levels. Its comprehensive keyword research is one of its core programs. 
In addition, Ahrefs helps us gain an advantage over our competitors by analyzing our website's backlinks in depth. With Ahrefs' advanced link intelligence tools, we can identify our website's backlink profile and compare it to others.
We strategically optimize our off-page SEO strategies by identifying valuable link-building opportunities and measuring the quality of inbound links. 
This not only strengthens our domain authority, but also our digital footprint in the enterprise environment.
Beyond keyword research and backlink analysis, Ahrefs' content explorer allows us to identify trending topics, gauge their potential impact, and analyze the competition's content performance. 
Armed with these insights, we craft highly engaging and relevant content that resonates with our target audience. 
Ahrefs' content audit tools further enable us to fine-tune existing content, optimizing it for both search engines and user experience.
Therefore, our website is getting more attention, people are spending more time on it, and it's ranking higher on search engines.
This tool has transformed the way we approach website management and optimization. 
From shaping our content strategy based on robust keyword insights to fine-tuning our link-building tactics and refining our content's performance, Ahrefs has become an all-encompassing solution that fuels our website's success in an ever-evolving digital landscape.
For Clients
We do for our clients the same thing we do for our website with Ahrefs.
We use Ahrefs for our full competitor analysis. We probe deeply into our customers' industries' online landscapes, thoroughly evaluating their competitors' strategies. 
We uncover useful insights into competition keywords, top-performing content, and authoritative backlinks by employing Ahrefs' strong backlink and content analysis features. 
With this information, we develop customized plans that put our clients ahead of their competition, allowing them to establish a stronger online presence.
The tool helps us run incredibly effective link-building operations. We find websites relevant to our client's interests, assess their link-building potential, and design outreach activities using thorough backlink analysis. 
We use Ahrefs' extensive backlink database to find broken backlink possibilities, which we then use to gain high-quality, relevant backlinks for our client's websites. This proactive approach not only boosts our clients' domain authority, but also creates their trust within their sectors, resulting in increased traffic and improved search engine rankings.
Furthermore, we are able to optimize our clients' content strategies thanks to Ahrefs' extensive keyword research capabilities. We find untapped keyword opportunities, examine search volume patterns, and identify long-tail keywords with high potential. 
We help our clients make sure their website shows up when people search for things related to their business. 
We do this by using specific words and phrases that people are likely to use in their searches. 
Hence, we make it easier for people to find our clients' websites and be more likely to buy from them. 
This helps our clients be more successful.
Ahrefs is Simply a Tool that we almost can't live without. Introducing Ahrefs as an All-in-One Tool
Having comprehensive tools at your disposal is critical. Ahrefs, an all-in-one platform, has become the go-to solution for marketers, search engine marketing specialists, and businesses looking to improve their online presence.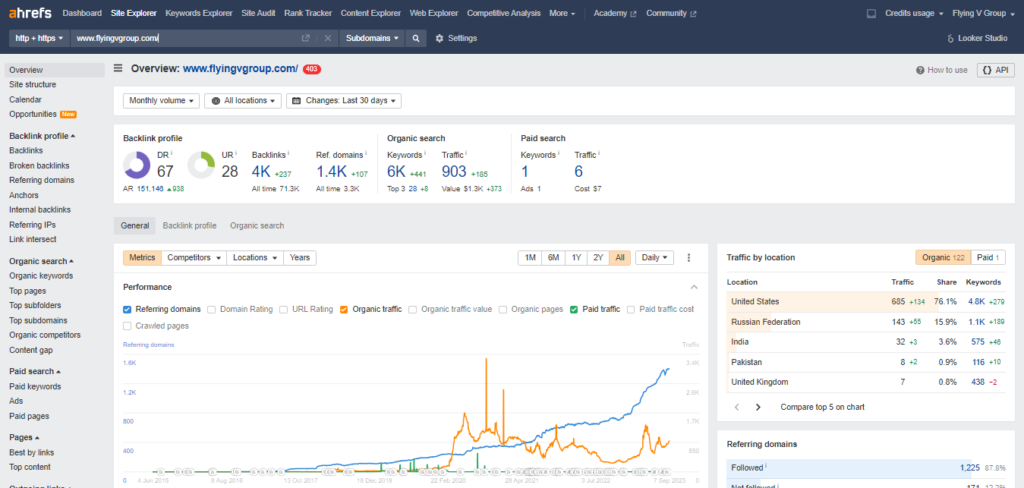 Ahrefs goes beyond the scope of a standard search engine marketing tool, providing a wide range of capabilities that allow customers to delve into each aspect of their online strategy.
Ahrefs is well-known for its strong backlink analysis capabilities. It provides a comprehensive view of website backlink profiles, allowing users to analyze and comprehend their competitors' link-building techniques. 
This feature alone has transformed the way SEO experts approach link building, allowing them to make more informed decisions and construct more effective outreach efforts.
However, Ahrefs is more than just a backlink analysis tool. Its keyword research feature gives customers the tools they need to find high-ranking keywords and phrases in their field of interest. Businesses may know their content methods and precisely target the appropriate target market by knowing search advances and keyword difficulties.
Also, its website audit device is one of its most notable features. This useful feature examines websites for technical faults that may be hurting their search engine results. 
From broken links to crawl errors, Ahrefs provides a comprehensive assessment of a website's fitness and practical development recommendations, making it an indispensable tool for maintaining a well-optimized virtual presence.
In addition, Ahrefs simplifies content creation and optimization. Customers can use the platform's content material explorer to uncover top-performing content in their organization, providing vital insights into what resonates with their target market. 
More so, Its on-page search engine optimization checker provides real-time analysis and optimization recommendations, ensuring that each piece of content is optimized for search engine success.
Recently, Ahrefs has expanded its capabilities beyond traditional SEO capabilities. 
They've included the Rank Tracker, which allows users to reveal their keyword scores over time, and the Domain Comparison feature, which allows a comprehensive analysis of a couple of websites' performance metrics aspect with the aid of facet. 
As the internet landscape continues to evolve, Ahrefs is at the forefront, innovating and providing businesses with the tools they need to thrive in the competitive online market.
It is a strong and versatile all-in-one solution that has changed how marketers and organizations approach their web strategy. 
As the digital landscape evolves, Ahrefs evolves with it, making it an indispensable partner for anybody looking to establish and maintain a notable online presence. 
Key Features of Ahrefs
Let's go into the nitty gritty of this tool. Ahrefs serves as a kind of detective for your business. As we've mentioned already, it assists you in learning about any webpage or website on the internet. 
It also guesses how many distinct keywords the website ranks for in search results, how many visitors the website receives, and how much that traffic is worth. 
Ahrefs even indicates whether the site pays for advertisements to display in search results.
There's another tool called Site Audit. It checks out your website and gives it a health score. 
The tool looks really closely at everything and tells you where your website is doing well and where it needs help. It's like getting tips on how to make your website work better.
Then there is also the Rank Tracker. 
This tool helps you keep an eye on how your website is doing when people search for specific words. It is just like a scoreboard for your website in search results. It helps you see if your website is getting more popular or less popular over time.
 Another feature is the Keyword Explorer. This tool helps in brainstorming. It helps you come up with new words to use on your website. It looks at what people are searching for on Google, YouTube, Amazon, and other places. This can help you find new ideas to make your website show up in more search results.
The Content Explorer tracks topics as well as influential authors and websites. Ahrefs creates a sleek, easy-to-read dashboard that displays all of your important KPIs. Let's go over each feature one by one in this part of Ahrefs review.
Dashboard
The Ahrefs dashboard provides a graphical representation of the most essential metrics for the sites you are tracking. 
It displays the Site Audit's Site Health Score, the primary data from the Site Explorer on backlinks, authority, and traffic, and the ranking progression for keywords you track with the Rank Tracker. 
The overview is comprehensive and lists all your tracked sites in one line, with links to more detailed reports.
Site Explorer
The Ahrefs backlink checker is located in the Site Explorer. Ahrefs is well-known and regarded for its comprehensive index and backlinks crawl. 
This is very likely the original tool, which has retained its more generic name rather than being merely Backlinks Explorer. It has been expanded to provide a plethora of additional SEO indicators, as well as a sponsored search view.
At a glance, you will see a range of metrics for the site you entered:
Ahrefs Rank: which represents the rank in Ahrefs index of sites. The lower it is the better.
UR: On a scale of 0-100, URL rating indicates the strength of a target page's backlink profile.
Domain Rating: Domain rating is a unique metric that ranks the total backlink strength of a target domain from 0-100.
Backlinks: shows number of backlinks detected by the Ahrefs crawler.
Referring domains: tells us the number of domains from which the backlinks are obtained.
Organic keywords: The total number of keywords for which the site ranks in the top 100 results.
Organic traffic: shows the predicted monthly organic traffic for the site.
Traffic value: tells you the estimated value of the traffic if you wanted to buy it through paid search.
Many of these metrics are available in rival tools, but Ahrefs is exceptionally advanced in this area, and it's used widely across the tool.
Keywords Explorer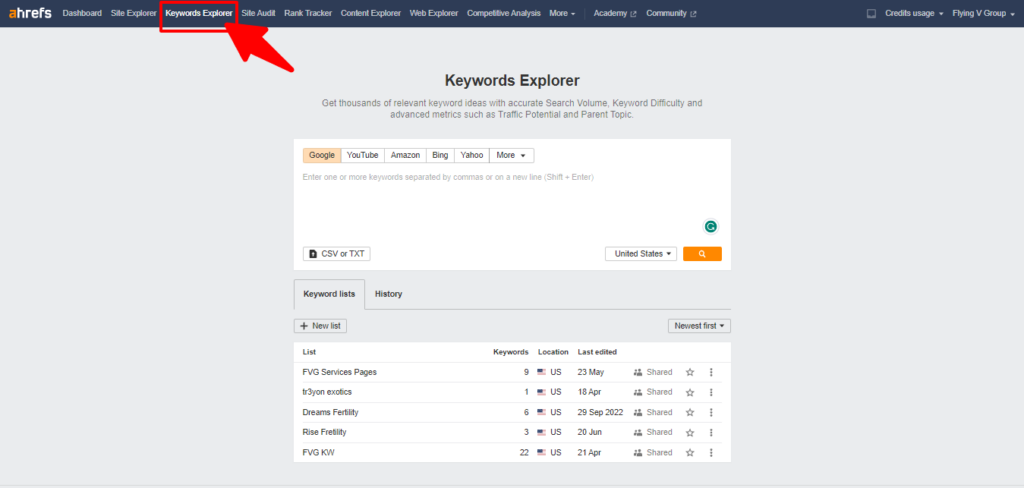 The Keyword Explorer in Ahrefs is really an amazing feature. It does more than just search on Google. 
It also works with Amazon, YouTube, and even other search engines from around the world, like Baidu and Yandex. It also helps you find the best words no matter where you're looking.
When you enter a keyword, you gain access to a detailed overview of keyword metrics, which we will go over below
Keyword Difficulty: An estimate of the difficulty of ranking for a keyword based on backlinks on a scale of 0-100.
Search volume: The number of searches in the market for which you configured the lookup.
Cost-Per-Click: The average cost per click paid by advertisers to appear for a keyword via sponsored search.
Clicks: The average number of clicks generated by the keyword. This depends on the type of question and the search results page.
CPS: The estimated average number of clicks generated by each keyword search.
RR: Return rate; the number of times a person searches for the same keyword in a month.
Global volume: Total search volume from all markets where the keyword is used.
Site Audit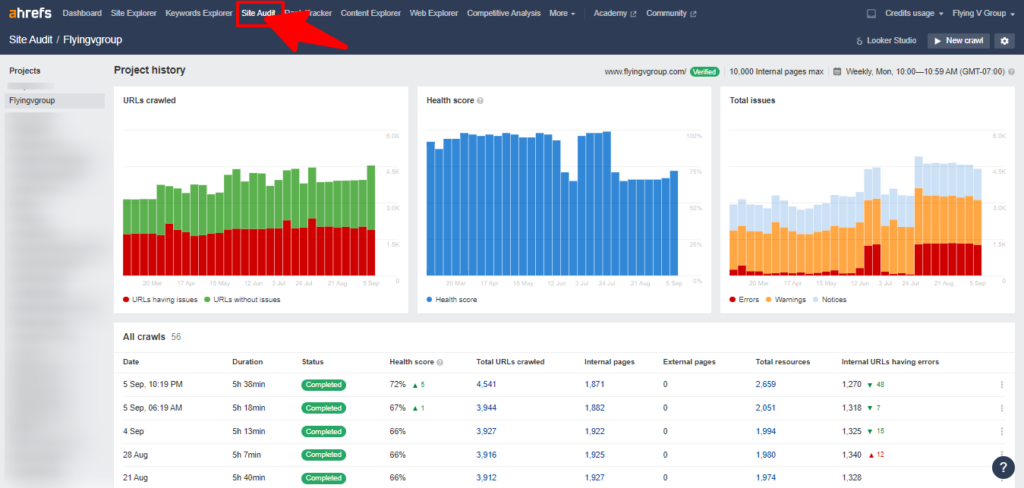 The Ahrefs site audit is simple to use. When you first create your account, you are urged to use the web crawler immediately and on a weekly basis. 
Say yes, and Ahrefs will begin crawling your site right away. It generates a report that includes a Health Score, the status of the crawl characteristics, and a breakdown of errors, warnings, and notices. 
The site crawler provides you with an overview of your site's technical SEO health. 
The tool does not address the more philosophical question of whether a missing description meta tag should be considered an error when search engines rarely use them. 
But it does an excellent job of crawling a site and rendering statistics on what it discovered in a clear manner, providing access to the detailed information you need to address the individual issues.
Rank Tracker
You can use the Rank Tracker to monitor rankings for certain keywords and countries. Ahrefs displays all the keywords for which you are already ranking, as well as suggestions for related keywords. Even under the Lite plan, the keyword allowance is reasonable.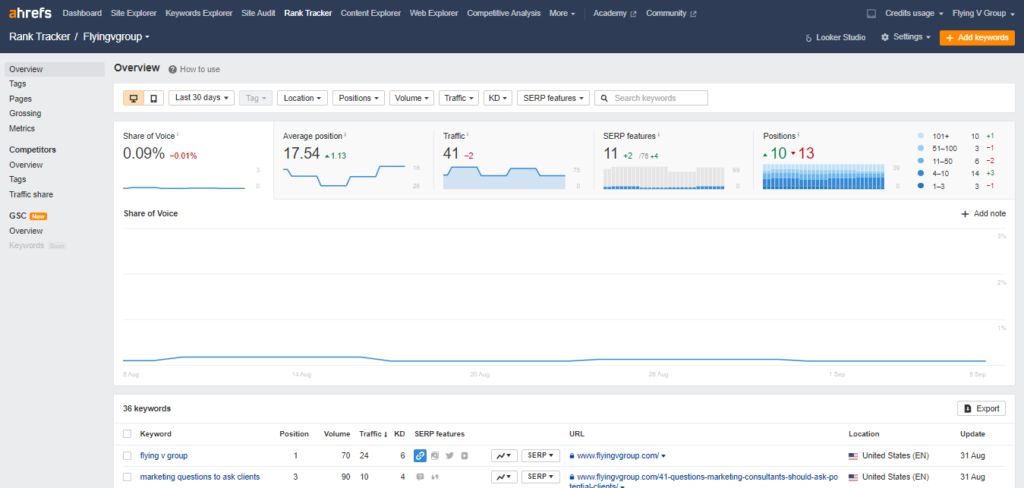 The Rank Tracker offers extensive information for each term you placed into the tracking setup and summarizes the data for all your projects using the metrics listed below:
Visibility: An estimate of the percentage of all monitored keyword clicks that land on your website.
Average position: The average position of the keywords being tracked.
Traffic: An estimate of the number of clicks generated for the tracked keyword locations.
SERP features The number of keywords that appear in enhanced SERPs (search engine results pages) that include maps, featured snippets, or other non-standard elements.
Position: Changes indicate how many results moved up in the rankings and how many declined.
Distribution: The distribution of your keywords' places in the top (1-3) results, other first pages (4-10), other top 5 pages (11-50), other top 10 (50-100), and not appearing (101+).
Comp: The number of rivals you are following.
Locations: The total number of locations (countries) in which you track positions.
Keywords: The number of keywords in the domain that you are tracking.
Content Explorer
You can use the Ahrefs Content Explorer to find influential sites and authors. It begins with a search engine query, and groups results into clusters by grouping pages together and ranking writers who have published these pages. 
A toggle identifies broken links and pages where link builders can find backlinks.
It also helps you to locate the most influential websites and authors on a given topic. 
When the author can be recognized, the name appears, and there is a link to the author's Twitter profile when Ahrefs finds profile information for the author.
User Interface and Ease of Use
In this section of Ahrefs review, we will look at how Ahrefs is a friendly guide that holds your hand through the whole online journey. 
Ahrefs is an easy-to-use website where even beginners can explore powerful tools. 
You don't need to be a tech wizard to understand it. Everything is neatly organized on the dashboard.  
Whenever you ever feel lost, Ahrefs has a feature that offers helpful lessons and tips to help you get started and become a pro.
In addition, Ahrefs softly leads you to accomplish more advanced tasks. 
When you're performing research, it keeps you updated, notifying you of progress and giving you a note when the task is completed. All of this adds up to an extremely enjoyable and smooth experience. Working with this tool feels great!
Data Accuracy and Freshness
One of the key strengths of Ahrefs is its commitment to data accuracy and freshness. The platform constantly crawls the web, updating its database regularly to provide the most up-to-date information. 
Whether it's keyword search volumes, backlink profiles, or search engine rankings, users can rely on Ahrefs to deliver accurate and reliable data.
Ahrefs assists website owners, such as bloggers and corporations, in understanding what is occurring on the internet around their topics. 
To put it another way, it's a tool that shows you which websites are popular, what people are searching for, and who is talking about what. 
However, the information it provides to users is very accurate.
Let's continue this Ahrefs review. Let's assume you're reading the news. You wouldn't want to study yesterday's stuff today, would you? Similarly, Ahrefs wishes to maintain its records up to date.
The information provided by Ahrefs is always current and reflects what is happening on the internet right now. Ahrefs works hard to update its data frequently, so that consumers can make decisions based on what is happening right now.
Data accuracy and freshness are critical because they help you make smart decisions for your websites. 
Imagine if you got the wrong data about your website or your competition. You'll end up wasting time and money doing things that won't help them. 
And if the information is old, you might miss out on exciting new opportunities. Accurate and fresh data from Ahrefs guides business owners in the right direction and helps them succeed on the internet adventure.
Ahrefs Pricing Plans
Now, let's shift our focus to discussing the pricing plans and the value proposition as we continue with this Ahrefs review.
Ahrefs offers different pricing plans to cater to the needs of various businesses. The plans range from Lite, for individuals and small businesses, to Agency, for larger organizations. 

While Ahrefs may be more expensive compared to some other SEO platforms, its comprehensive suite of features and data accuracy make it a worthwhile investment.
The price plans for Ahrefs encompass a wide range of services and are divided into three tiers, with the entry-level Lite plan costing $89/month and allowing you to monitor SEO for up to 5 sites as well as look up and research many more.
The Standard plan, which costs $179 per month, doubles the number of sites and multiplies the other allowances, making it an excellent choice for a freelance SEO working on a variety of projects.
The Advanced plan, which costs $399 a month and has three users, is appropriate for a small agency. The Agency plan has five seats and significant allowances for all tool functions.
There is also an Enterprise plan which costs $899 per month. This package is ideally for agencies and enterprises.
The fee for Ahrefs is reasonable given that it is the only SEO tool you need, its quality, and the range of data it delivers.
The value proposition is the ability to acquire detailed insights on the performance and competitors of your website, allowing you to make informed decisions and drive success. Ahrefs primarily provides an extensive suite of SEO tools, such as keyword research, content research, competitive analysis, and backlink research.
Tips to Get the Most Out of Ahrefs
Maximizing the potential of Ahrefs requires a planned and comprehensive strategy. In this section of Ahrefs review, let us look at eight useful ideas to help you get the most out of this powerful SEO tool.
Thorough Keyword Research
Identify high-potential keywords for your niche using Ahrefs' large keyword database. Focus on long-tail keywords that can attract tailored traffic as well as high-volume searches. 
To properly prioritize your efforts, use Ahrefs' Keyword Explorer to find keyword difficulty, search volume, and click-through rate data.
Competitor Analysis
Ahrefs excels at competition research. Examine the backlink profiles, content strategy, and ranking keywords of your top competitors. 
Identify gaps and chances to improve your own strategy. Utilize the Competing Domains and Content Gap tools to identify locations where your competitors are ranking that you may be overlooking.
Content Strategy Enhancement
Ahrefs' Content Explorer and Top Pages features help you discover the most engaging and shared content in your niche. Analyze the type of content that resonates with your audience and align your content strategy accordingly.
By creating informative, valuable, and shareable content, you can establish your authority and drive organic traffic.
Backlink Audit and Outreach
Regularly perform backlink audits using Ahrefs' Site Explorer. Identify and disavow toxic or low-quality backlinks that could harm your site's SEO. 
Additionally, leverage Ahrefs to discover authoritative websites in your industry for potential outreach. Engage in strategic link-building efforts to earn quality backlinks that enhance your site's authority.
Site Audit and Technical SEO
Conduct regular site audits with Ahrefs' Site Audit tool. Determine any technical difficulties that may be affecting your site's performance or search presence. 
To ensure a seamless user experience and good search rankings, address issues such as broken links, sluggish page performance, and mobile-friendliness.
Rank Tracking and SERP Analysis
Keep a close watch on your keyword rankings using Ahrefs' Rank Tracker. Monitor how your site is performing in search engine results pages (SERPs) and track changes over time. 
Analyze the SERPs for your target keywords to understand the competition and identify trends that can guide your optimization efforts.
Content Re-optimization
Instead of solely focusing on creating new content, use Ahrefs to optimize existing content. Identify pages that are ranking just below the first page of search results and re-optimize them by updating content, improving internal linking, and targeting additional keywords. This can lead to quick gains in organic traffic and rankings.
Ahrefs is a multifaceted tool that can significantly enhance your website's SEO efforts. 
Throughout this post, we've been talking about Ahrefs. But that's not the only SEO tool out there. In fact, there are several awesome ones that are as good as Ahrefs and may have certain features that are absent in Ahrefs.
Other SEO Platforms and How They Work
The world of SEO is filled with additional platforms that play critical roles in optimizing websites for search engines. 
Each platform brings a diverse set of features and functionalities to the table, allowing for distinct methods to improve a website's online presence. 
In this part of Ahrefs review, let's have a look at a few of these SEO platforms and see how they work:
Moz
Moz provides a collection of tools to help with organic search efforts. Its Link Explorer identifies backlink opportunities by analyzing website backlink profiles. Its Domain Authority statistic aids in determining the reliability of websites. 
Furthermore, its Page Optimization function assists in detecting on-page SEO improvements and also guides users on improving content, meta tags, and more.
Semrush
Semrush is an all-in-one SEO software, with features ranging from keyword research to competitive analysis. The Keyword Magic Tool on the platform aids in the identification of keywords and their variations, while the Domain Overview function aids in the analysis of a website's organic performance. 
The Backlink Gap tool from Semrush allows users to compare their backlink profiles with competitors, revealing unexplored opportunities.
Screaming Frog
Screaming Frog is a powerful desktop program for thorough website crawling and technical SEO analysis. 
It discovers broken links, duplicate content, and missing meta tags while crawling a website. This allows website owners to optimize the architecture of their website and improve the user experience.
Yoast SEO
Yoast SEO is a plugin that helps with on-page SEO optimization for WordPress users. Yoast provides real-time suggestions to improve readability, keyword utilization, and meta descriptions as content is written.
It guarantees that material is consistent with search engine algorithms as well as user preferences.
BrightEdge
BrightEdge is a comprehensive enterprise-level platform designed to meet large-scale SEO requirements. It provides insights into search performance, helping in content optimization, and aids in keyword ranking tracking. 
Furthermore, it performs competition analysis, assisting in the identification of top competitors as well as benchmarking against industry leaders.
Search engine optimization (SEO) is like a big playground with lots of different tools you can use. Each tool has its own special abilities to help make SEO easier and faster, which guides businesses and website owners on how to do better online. 
They can assist you in determining which websites connect to yours and how well your keywords appear in search results. They also look at your website to find any technical problems. So, these tools basically help you do better in the online world.
Strengths and Considerations
As we continue with our Ahrefs review, let's shift from evaluating pricing plans to discussing Ahrefs' strengths and considerations..
It's true that Ahrefs has several strengths that make it a top choice for digital marketers. Its comprehensive suite of features covers all aspects of SEO, providing users with valuable insights and tools to improve their online presence. 
However, the pricing may be a major concern for some businesses, especially smaller ones with limited budgets. 
It's important to weigh the benefits of Ahrefs against the associated costs to determine if it aligns with your business goals and budget.
If not, you can choose from any of the alternatives we've mentioned. You can even get free alternatives, like Ubersuggest. 
Then as your business grows and you need more advanced features, you upscale to Ahrefs.
Final Verdict and Recommendation
This Ahrefs review demonstrates that Ahrefs is an amazing SEO tool that has become an integral element of our Flying V Group process. 
Its extensive features, user-friendly interface, and data quality make it an excellent choice for digital marketers.
Although pricing may be a consideration, the value proposition and the ability to acquire detailed insights into the performance and competitors of your website make it a good investment. 
We strongly recommend Ahrefs to anyone aiming to improve their web presence and achieve success in the digital arena.