Reading Time:
4
minutes
In the vast landscape of the internet, where information is abundant but accuracy is often questionable, Google has introduced a powerful concept to combat misinformation and ensure users are presented with trustworthy content. It's called EAT SEO.
While not a direct ranking factor, EAT plays a significant role in determining the authenticity and quality of web pages. As Google strives to minimize misinformation and uphold its social responsibility, understanding the impact of EAT on SEO becomes crucial for businesses and content creators alike.
Content marketing specialist at Siege Media, Luke Strauss, explains it:
"E-A-T stands for Expertise, Authority, and Trustworthiness. Google uses these characteristics to determine the authenticity and quality of a web page in an effort to minimize misinformation on the internet.
While E-A-T isn't a ranking factor,  that is, it isn't a quantifiable criterion Google uses to determine whether a page should rank, E-A-T still matters to Google a lot.
Why Does Google Care About E-A-T?
Imagine you're interested in taking out a loan and are looking for financial advice online.
As you comb through the articles on the first page of the SERP, all you see are small blogs run by individuals without financial degrees. When you open a page, you see stream-of-consciousness opinions about what you should do with your money: no Investopedia, no NerdWallet.
That wouldn't fly.
E-A-T is one of Google's tools to ensure this doesn't happen. Google has a social responsibility to surface pages that provide readers with accurate and useful information."
EAT & YMYL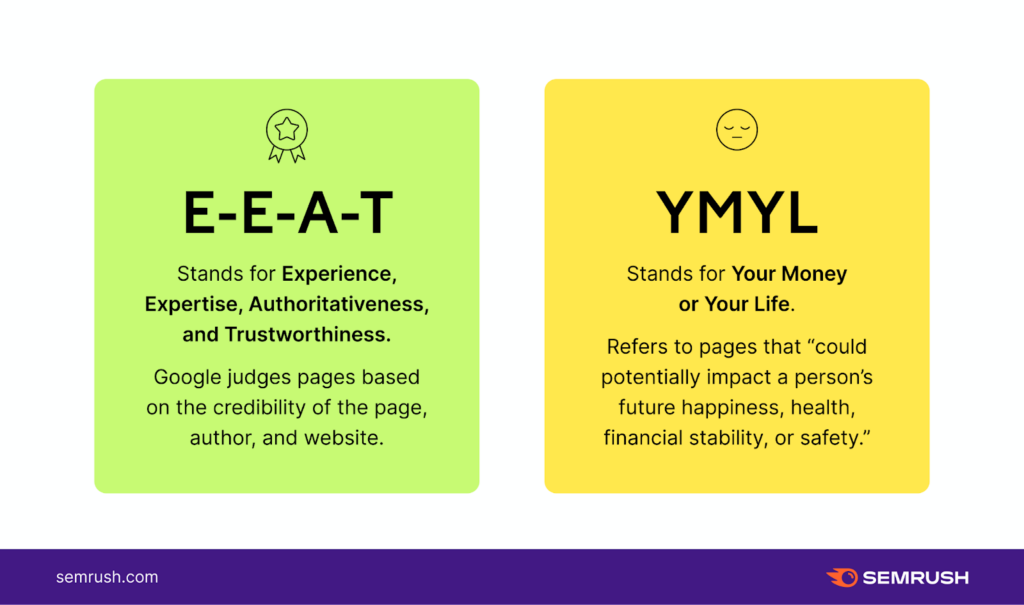 Expert digital marketing consultant, John Lincoln, writes:
If you don't have enough SEO-related acronyms to keep track of, here's one more: YMYL.
That stands for "Your Money or Your Life."
What Are YMYL Pages?
According to Google, any page including content that can affect someone's health, happiness, safety, or financial stability is a YMYL page.
Google reserves high-quality rating standards for YMYL pages because bad information could hurt people financially, physically, or emotionally."
Formal expertise is important if you're covering YMYL topics (such as medical, financial, or legal advice) on your website. Hence, it is pretty much a mandatory requirement to hire experts to write for your site.
If you can't afford to hire someone, you can always conduct an interview with an expert or have them write a guest post for your website.
Google E-A-T: How to Create SEO-Friendly Content
How do you ensure your pages are seen by and ranked on Google?
Here is a SiegeMedia post where the content marketing manager at Siege Media, Michaela Wong, shares 12 actionable tips to create SEO-friendly content.
1. Start With Audience Research.
2. Find Your Keyword.
3. Evaluate Search Intent.
4. Write Your Title.
5. Choose Your Title Tag.
6. Optimize Your URL.
7. Write Your Meta Description.
8. Build Your Content Structure.
9. Start Your Research and Writing.
10. Build Your Internal Linking Web.
11. Add Visual Elements.
E-A-T Signals
What are E-A-T Signals?
E-A-T signals are elements on your website that indicate expertise, authority, and trustworthiness. These elements include a company logo, contact information (address, phone number, and email), a customer testimonial, and a link to your social media accounts.
Why should I display these signals?
When people visit your website, they want to know if you're a legitimate business. By displaying E-A-T signals, you'll build customers' trust and increase their likelihood of buying from you.
Copywriter @ SEO PowerSuite, Andrei Prakharevich, shares 8 E-A-T signals to add to your website:
How to Increase Your Content Authority and E-A-T score
Pro blogger Eb Gargano wrote an interesting post about 15 easy ways to improve your blog's E-A-T score; here are her first two tips:
1. Link to Authoritative Sources
"Whenever you write a blog post, ask yourself, 'could this blog post be made better by linking to an authoritative source?'. For example, whenever I include nutritional information or make a health claim on my food blog (such as, 'Sweet potatoes contain lots of vitamin A'), I always link to an authoritative source in the health space.
Linking to authoritative sources, where appropriate, makes your blog more trustworthy and credible, both in your readers and in Google's eyes."
2. Always Edit Your Blog Posts
"A well-edited blog post will come across as more authoritative and trustworthy than a blog post littered with spelling, punctuation, and grammar mistakes."
Google E-A-T Algorithm
, the founder of Einstein Marketer, wrote an extensive guide on Google's E-A-T Algorithm and published it on Linkedin:
Everything you need to know about Google's E-A-T algorithm update
He writes,
"Websites seeking quick fixes, hacks, and the use of bots, spam, or content scraping will be punished now more than ever before.
Google's E-A-T algorithm update is the latest in a host of changes from the web's biggest players, and as web crawlers become more advanced, you should expect to see more and more movements in this direction.
You must produce high-quality, targeted content. If you aren't, it's about time you started. It'll make all the difference to your digital performance."
Closing Thoughts about EAT SEO
In an era where content can sway decisions and influence lives, Google's emphasis on E-A-T is a commendable step toward ensuring the internet remains a reliable source of information. By focusing on expertise, authority, and trustworthiness, website owners can enhance their content's visibility and build credibility with their audience. Incorporating E-A-T signals, such as authoritative references, clear author information, and customer testimonials, can elevate a website's standing in the eyes of both users and search engines.
As the digital landscape continues to evolve, embracing E-A-T SEO becomes a key strategy for businesses seeking to thrive in the competitive world of SEO. By prioritizing high-quality, targeted content and fostering a reputation of expertise and trustworthiness, websites can unlock the full potential of E-A-T SEO and secure their place in the search engine rankings, effectively harnessing the power of E-A-T to drive organic traffic and achieve online success.