Reading Time:
5
minutes
Unlocking the potential of your online presence requires a well-crafted SEO content strategy that resonates with your audience. It goes beyond simply creating blog posts; it's about providing value, inspiring action, and building strong relationships.
By understanding your target audience's needs, conducting keyword research, and prioritizing topics, you can create engaging content that drives results.
So, let's dive into the world of SEO content strategy and unlock its power for your brand or business.
If you don't know where to start, follow these steps:
Understand the needs of your target audience.
Do keyword research and find out what people are searching for in your industry.
Create a list of topics you can cover in your content, then prioritize them based on their potential ROI.
Create an editorial calendar so you can stay on track with your content creation efforts (and make sure nothing slips through the cracks).
Track, monitor, and refine your progress daily, weekly, and monthly. This will allow you to improve your ROI and boost digital marketing efforts overall.
SEO Content Ideas
Are you stuck writing engaging content that connects with your target audience?
Megan Mahoney is an expert content writer for SaaS companies. She reveals 16 content ideas you can replicate for your brand or business:
Find trending topics on Reddit.
Look for easy topics with SEO potential.
Have a contrarian take on a popular opinion.
Host a virtual lunch for your customers.
Swipe popular headline frameworks.
Ask the customer success and sales teams.
Check the "People Also Ask" results.
Look for pain points in case studies.
Check your competitors' paid keywords.
Research who your customers compare you to.
Recall experiences to document.
Find highly shared content in your industry.
Find your competitors' top-ranking content.
Use a content idea generator.
List pain points your business solves.
Update existing content.
Silo Structure
Not sure how silo structure helps with SEO?
Joshua Hardwick, Head of Content @ahrefs, talks about the importance of silo structure in SEO;
Silo structure in SEO is a type of website architecture where you group, isolate, and interlink content about a specific topic. This creates clean, distinct sections of related content on your website.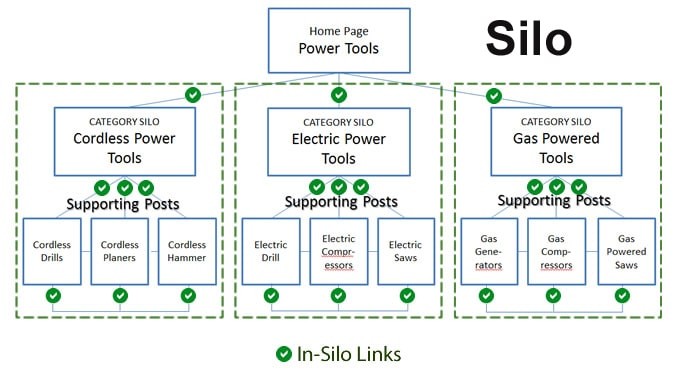 Source: Fred le Roux | LinkedIn
The reason for the popularity of silo structure is the perceived benefits, which usually go  like this:
It helps Google to find your pages.
It boosts rankings.
It creates a good user experience.
For example, if you knew that a page had these internal anchors…
the company founded by Steve Jobs
the iPhone manufacturer
The CEO, Tim Cook.
You could probably figure out that it's about Apple.
The same would be true if a page had internal links from pages about these things:
Topic Clusters
Mimi An wrote a detailed guide about topic clusters; she affirms that SEO has shifted to a topic cluster model. This means that a single "pillar page" acts as the main hub for content on a specific topic. Multiple content pages related to the same topic link back to the pillar page and each other.
Mimi adds that this linking action signals the 'authority' of the topic pillar page to search engines, which may lead to the page ranking higher in search engines over time. Topic cluster is a way to organize a site's pages according to simpler and more planned site architecture.
How to Create a Topic Cluster:
Mimi further suggests analyzing your existing content pages and classifying them by topic. If necessary, create a content marketing pillar page that covers all aspects of the topic.
Example: Content Marketing
Content Marketing Strategy
Brainstorming Techniques
Blogging
Blogging Mistakes
Buyer Personas
Writing Skills
Writing Productivity
Buyer's Journey
Gated Content
Growing Readership
Content Planning
Content Creation Tools
Blog Post Topics
Grammar Fails
Post Types
Scaling Content Output
"Take note that pillar pages need to broadly cover the topic you're focusing on so that it makes sense to tie to all the cluster content linking to it. The cluster content you create or optimize should go into depth on just one area mentioned on the pillar page.
For example: If you have a pillar page on search engine optimization, a cluster content page will detail how to optimize your site architecture for search engines."
Keyword Mapping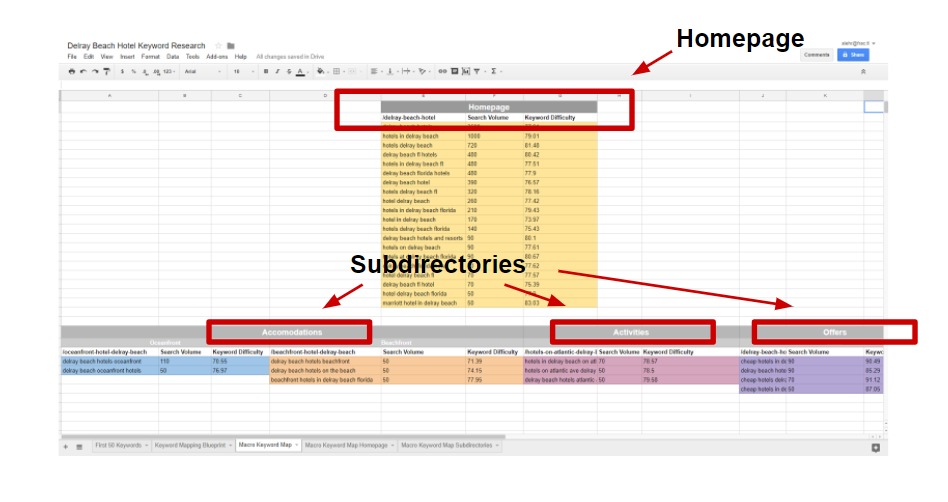 Source: Semrush
SEO expert, Romain Brabant, explains keyword mapping as a way to make it easier for search engines to understand the context and relevance of each page. You'd also be helping your audience find the information they want.
Plus, a keyword map helps you identify what content you need to create, where optimization is needed, and where to add pages to drive greater traffic to your website or blog.
According to Romain, there are five steps to performing keyword mapping:
Create a List of Target Keywords.
Group the Keywords.
Come Up With Content Ideas.
Find Your Website's Potential.
Do it Regularly.
SEO Product Pages
Richard Conn, Senior Director, Demand Generation at 8×8, talks about how to leverage product pages for SEO; he writes:
"At their most basic, product pages are web pages that list and describe products or services that can be purchased.
These pages are where your website's visitors will come to learn about the product. A product page acts as both an information cache and a persuasive sales tool. This can be a challenge for marketers, particularly when the product being sold is also available elsewhere."
Richard further adds:
"Creating search engine optimized product pages isn't as simple as throwing in a few keywords here and there. You need to take a measured approach to build product pages that offer value and usability."
Follow these quick tips:
Prioritize Data
Integrate Relevant Keywords
Cover the Smallest Details
Avoid Replicating Copy
Offer Consistent Content
Deliver Simple Information
Add Videos and Imagery
Avoid Too Many CTAs
Duplicate Content
Duplicate content, or having multiple versions of the same page on your site, is a serious problem you should tackle sooner than later. Aside from potentially confusing your visitors, it can negatively affect your search engine rankings and dilute the link equity you have built for specific pages.
The most important thing to remember here is that Google has a specific set of guidelines for how and when it can penalize websites for duplicate content. Even small infractions can result in action being taken against your site.
Possible penalties range from a subtle downgrading of the duplicate pages to complete removal from the index, meaning no one will be able to find your web pages or blog posts on Google and other search engines.
Closing Thoughts
A successful SEO content strategy lies in understanding your audience's needs, providing value, and fostering meaningful connections. By following the steps outlined in this article, such as identifying your target audience, conducting keyword research, creating an editorial calendar, and tracking progress, you can optimize your content creation efforts.
Understanding the benefits of silo structure, topic clusters, and keyword mapping can further enhance your website's visibility and authority in search engine rankings. However, it's crucial to avoid duplicate content to maintain a positive online presence. By implementing these strategies, you can elevate your SEO content strategy and unlock its potential to drive success for your brand or business.
At Flying V Group, we're experts in crafting engaging and results-driven content that resonates with your target audience. Our team of skilled professionals can help you understand your audience's needs, conduct thorough keyword research, create captivating content, and optimize your website for maximum visibility. Contact us today to learn more!