Reading Time:
8
minutes
In the vast realm of search engine optimization (SEO), the focus has shifted from merely ranking for specific keywords to understanding and fulfilling the needs of searchers. This paradigm shift is where the concept of search intent SEO comes into play.
In this article, we delve into the intricacies of search intent SEO and explore how it can be leveraged for effective SEO strategies. From identifying different types of search intent to tracking it using analytics tools, we'll equip you with the knowledge to optimize your website for the main search terms your target audience is likely to use.
What is Search Intent?
How often have you heard someone say, "I'm not interested in SEO, I just want to rank for this keyword!" This is a common misconception about SEO. You don't rank for keywords; you rank for searcher intent.
For example, if I type "New York City hotels" into Google, it doesn't matter to me what the keyword is. It could be:
-new+york+city+hotels
-new york city hotels
-new york city hotels near times square
-new york city hotel deals
-best new york city hotel
All of these keywords would be difficult or impossible to target with a single page. And yet all of them are commercial search terms. So how do you determine which keywords are good ones to target?
You look at the competition and find out what they're doing right. You see where they're spending their money and how they're reaching out to customers.
Search intent is the idea that when a user performs a search on Google, they do so with a certain "intent" or purpose in mind. A user who searches for "how to make soup" is probably looking to make soup, while someone searching for "best places to eat in New York" might be trying to find a place to eat. Search intent can help you understand your users'  thoughts about your products and services.
Search intent SEO is the practice of optimizing your website for the main search terms and phrases your target audience is likely to use when looking for businesses like yours.
Optimizing your site's content, metadata, and backlinks can help you win more traffic from these searches, traffic already poised to convert once it gets to your site.
Chris Beck, a Senior Consultant for Deloitte and founder of Chris Beck SEO consulting, further adds:
"With Google Hummingbird, Google RankBrain, and other algorithm adjustments, Google automatically interprets search intent and shows users results that align with it. The search engine often uses rich snippet results like the Answer Box and Knowledge Panel.
Because people's queries reflect where they are in the conversion funnel, understanding search intent can help you create effective content that targets potential customers."
Chris gives a breakdown of the four types of Search Intent:
While they often overlap, you can break search intent down into four basic categories:
Navigational intent: Trying to find something (e.g., "Subaru website").
Informational intent: Trying to learn more about something (e.g., "What's a good car?").
Transactional intent: Trying to complete a specific action (e.g., "buy Subaru Forester").
Commercial intent: Trying to learn more before making a purchase decision (e.g., "Subaru vs. Nissan").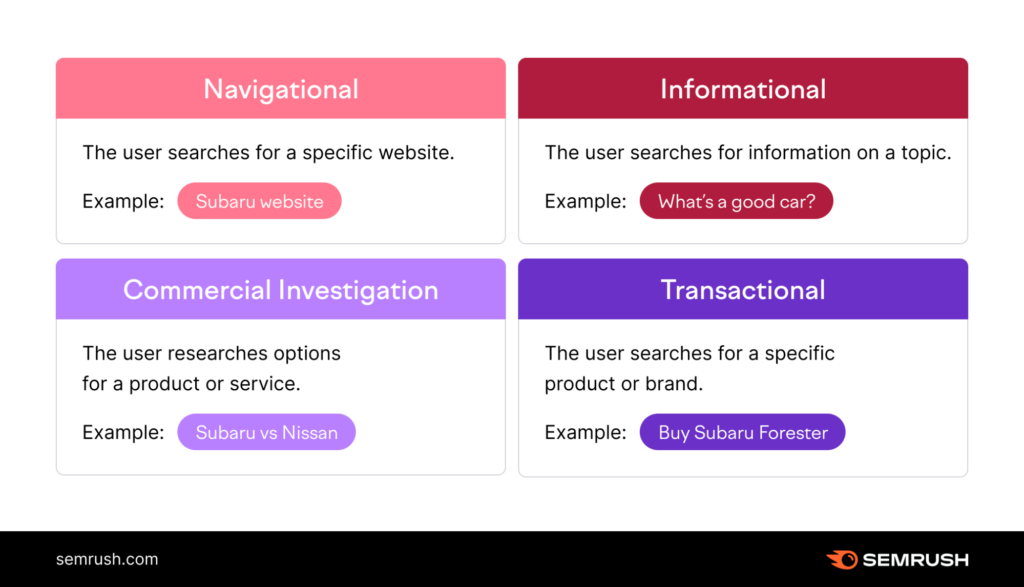 (Source: Semrush)
How to Track Search Intent
Use Google Analytics segments.
CRO specialist and Experimentation & Analysis Lead @ Shopify, Shanelle Mullin,  says:
"Google Analytics is like an iceberg. 91% of it is below the surface.
So, when browsing around the standard reports and checking your monthly visitor count or your daily revenue, you're only getting about 9% of what Google Analytics has to offer."
Shanelle further adds:
"If you don't slice and dice your data with Google Analytics custom reports and segments, you will completely miss that 91%.
Plus, if you use AdWords or Google Optimize for on-site experiments, you can really leverage segments. Once you isolate a segment, you can then use that segment as the basis for an audience."
Advanced segments help you define your audience based on how they search online. By setting up an advanced segment, you can determine how your users are searching and learn what their intentions are.
Best Tool for Search Intent SEO
According to Tom Demers, Co-Founder & Managing Partner at Measured SEM:
"Keyword Hero pairs your visitor's sessions with the keywords they used to land on your page, all within your Google Analytics account. In other words, this tool gives you an understanding of the search intent of your organic traffic."
Top functions:
"Identify the organic traffic and conversions: Uncover the success you receive from your intended keywords.
Separate traffic: Identify brand versus non-brand search traffic.
Optimize your position in the SERPs: Optimize your website for specific target keywords.
See query details: Understand whether your visitors used informational versus transactional queries to find on your website."
ToFu – MoFu – BoFu
Creative Director at Weidert Group, and HubSpot Diamond Partner Agency, Eric Severstad, writes:
"When you create a content strategy for your inbound marketing plan, there are three levels of content that relate to the lead's buying journey: top-of-the-funnel (ToFu), middle-of-the-funnel (MoFu), and bottom-of-the-funnel (BoFu).
(Source: weidert.com)
ToFu stands for "top of funnel." This is when someone doesn't have super-specific information but wants tolearn more about something they know they're interested in.
This happens a lot with topics related to your business because if you run a car repair shop, people are going to be searching online for things like "car repair," "what's wrong with my car," etc., even if they're not sure what the exact problem is yet or how much it's going to cost them.
MoFu stands for "middle of funnel," and it refers to the content your audience is consuming as they evaluate whether or not to purchase a product or service. This is the point where you can start to educate instead of sell. Not just by telling them about your product, but by showing them how it works in their lives and why it's worth buying.
BoFu stands for "bottom of funnel." It's a term that comes from the world of marketing and sales. The idea is that you should focus on getting people to come to your website at the very end of the sales process, the bottom of the funnel.
That's because only people interested in your products or services arrive at the bottom of the funnel and are highly likely to buy your products or services.
These are the most valuable kinds of leads. These people are already educated and know what they want. It's time to embed case studies, product demonstrations, and testimonials within your content that illustrate how you can help them solve their problems or needs.
The information you provide will change depending on where your audience is in their journey. So it's important to consider what stage they're at before producing any content for them.
Informational Intent
Dan Taylor, Head of Technical SEO, says "know" queries are informational queries in which the user wants to know more about a subject.
He further adds:
Knowledge queries are closely related to Google's micro-moments, which are happening due to increased smartphone penetration and internet accessibility.
"Micro-moments occur when a user needs to satisfy a specific query there and then, and these often carry a time factor, such as checking train times or stock prices.
Because users can now access the internet wherever, there is the expectation that brands and real-time information are also accessible, wherever, whenever."
"A pure informational query can range from [how long does it take to drive to London], to [gabrielmachtimdb].
To a certain extent, these aren't seen in the same importance as directly transactional or commercial queries, especially by e-commerce websites. Still, they provide user value, which is what Google looks for.
For example, if a user wants to go on holiday, they may start by searching for (winter sun holidays Europe) and then narrow it down to specific destinations.
Users will research the destination further, and if your website is providing them with the information they're looking for, then there is a chance they may also inquire with you as well."
Navigational Intent
Ecommerce specialist, Armando Roggio, talks about Navigational intent and says:
"When search engine users select keywords that include a company's brand name or a specific description of a company, it is likely that those people want to navigate to the company's website. It is also likely that they are already familiar with the company.
Here is an example of how a navigational search might get started.
Yesterday, say, a friend of yours tweeted about a GoRuck event in Portland, Ore. It sounded fun. But now, twenty-four hours later, you cannot find the tweet with the link. So you head to Google and search for "go ruck website."
Often folks just want to find (navigate to) a website.
GoRuck is a retailer, but your search intent was clearly to get to the website. It was not to buy one of the company's rucksacks.
From the e-commerce marketing perspective, ranking well in search engine results pages for your brand is important. But it may not be a good idea to buy ads around a keyword with navigational intent, as many of those searches will not likely produce immediate sales."
Commercial Intent
Commercial intent is the desire to purchase or compare (specific) products and services.
What commercial intent means to your search marketing efforts is this: if someone has commercial intent, they have a desire to purchase right now, and they're trying to find information that'll help them do that.
This could be anything from researching a product they want to buy to finding out where they can get the best price on something they're interested in. They're actively looking for a solution, and this kind of behavior indicates a high likelihood of purchasing soon.
Commercial intent keywords are those keywords that reflect explicit interest in products or services.
For example, if I'm an attorney and I want more potential clients to find me when they're doing searches on Google, I might choose a keyword like "personal injury lawyer," which is a head term. This is because people who look up personal injury lawyers are looking for someone with whom they can hire. Contrast this with a tail or long-tail keyword like "laws on dog bites in Los Angeles," which is not very commercial because people who search for this aren't looking to hire anyone.
Transactional Intent
Most consumers familiarize themselves with a product before making the leap to purchasing it. They read reviews and compare prices across multiple sites. When they finally decide to buy something, they're usually looking for specific information on how to complete the transaction, as well as a discount or coupon.
For example, someone might search for "buy Grammarly online" or "diamond wedding rings under $1000."
Transactional intent is a great example of how your keyword selection can make or break your SEO campaign. As Meghan Hayden, SEO specialist at Eternity Marketing, says:
"Keywords with transactional intent are what marketers really want. They're the Holy Grail of search marketing, and they include specific product names in association with buying words, such as "buy," "coupon," etc., which means that people searching for these terms are ready to make a purchase."
Search Intent Modifiers
The TEAM behind STAT Search Analytics, a product by @Moz, explains:
Modifiers help give Google (and us) insight into what might motivate a searcher. When someone plunks in a keyword like [graphics card], it's far more difficult to guess their end goal than if they'd typed [buy graphics card]. In the latter case, "buy" is the modifier that tells Google that the searcher likely intends to make a purchase.
In our study, we looked at the following keyword modifiers, categorized by search intent, on US mobile devices: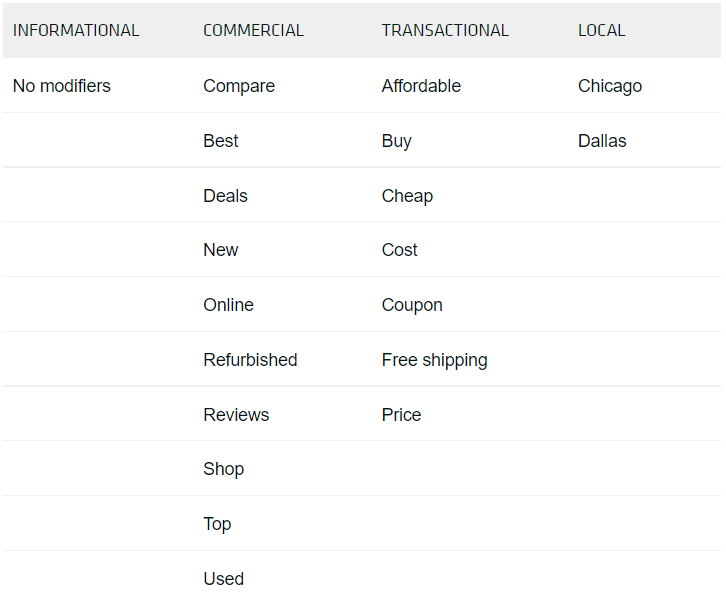 Keyword Modifiers
We devised some keyword modifiers and slotted them into different search intent stages.
We then looked at the top twenty Google SERP results, excluding the organic results, and zeroed in on how many times each SERP feature showed up.
Without forcing you to look at the world's longest table (For our fellow nerds, here's a Google Sheet with all the data from this little study), we chose the most interesting modifiers for each intent category for you to feast your eyes on."
Closing Thoughts
As the digital landscape continues to evolve, it is imperative for businesses to adapt their SEO strategies to align with the changing needs and expectations of users. Gone are the days of focusing solely on keywords; now, it's all about understanding search intent. By honing in on the underlying motivations and objectives of users' search queries, businesses can tailor their content, metadata, and backlinks to match those intentions.
This targeted approach not only drives more relevant traffic but also increases the likelihood of conversions and customer satisfaction. Incorporating search intent SEO into your digital marketing arsenal enables you to connect with your audience on a deeper level, providing them with the information, products, or services they seek. Embrace the power of search intent, and watch as your website climbs the ranks, captures the attention of potential customers, and drives your business toward sustainable success.
Ready to harness the power of search intent SEO for your success? At Flying V Group we understand the intricacies of search intent and can optimize your website to drive targeted traffic and increase conversions. Contact us today and unlock the potential of search intent SEO for your business!