Reading Time:
10
minutes
Navigating the complex world of SEO can be a daunting task for business owners. With its abundance of technical jargon, ever-changing algorithms, and multifaceted strategies, it's easy to feel overwhelmed. That's where the expertise of an SEO agency comes in.
Hiring an SEO agency offers a solution to the challenges faced by business owners who lack the time, resources, or specialized knowledge to effectively optimize their online presence.
In this article, we will explore the benefits of hiring an SEO agency, how to find the right one, common pricing considerations, and crucial mistakes to avoid. Whether you're a small business owner or a seasoned entrepreneur, understanding why and how to hire SEO agency can be a game-changer for your digital success.
Why Hire an SEO Agency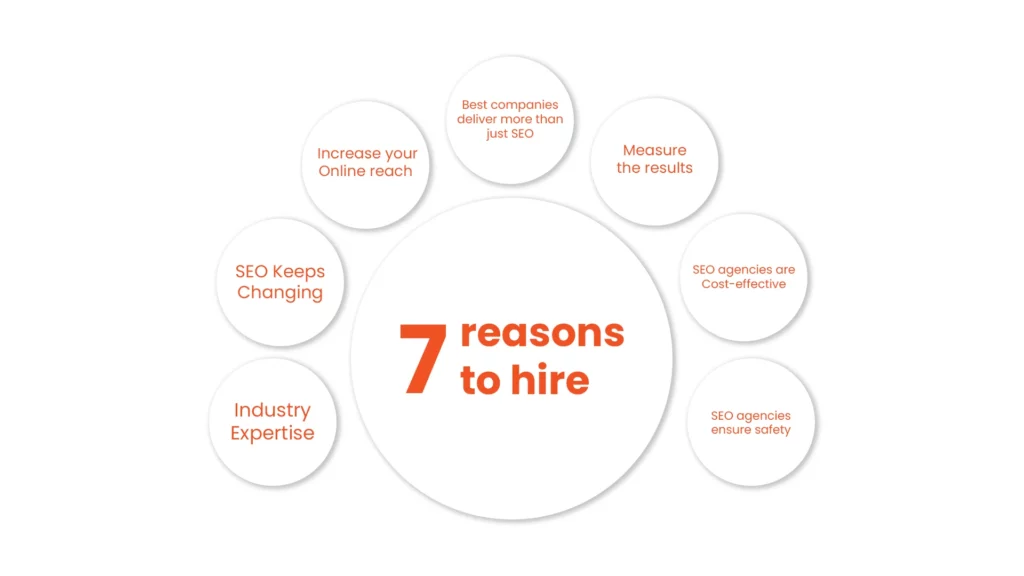 Source: Masterinfotech
If you're like most small business owners, your time is stretched thin. You want to do everything yourself, but you can't possibly keep up with all the aspects of running your own business. And so, shouldn't you consider hiring an SEO agency?
Hiring an SEO company is like hiring any other service provider. When you hire a plumber, for example, you don't try to fix the leaky pipe under your sink yourself; you hire an expert to do it for you because you know that they'll get it done faster and better than you will.
When it comes to search engine optimization, there are so many factors that go into ranking in search results that it's difficult for a business owner to juggle all of them.
Even if the business owner is pretty knowledgeable about search engine optimization, they still need to run their business and not spend all of their time worrying about how they can improve their online presence. With an SEO company, they can leave all of that up to the experts.
When you hire an SEO agency to work for your business, you get the expertise and skills of a team of professionals who know what they're doing. An agency can handle all sorts of marketing needs you may not have time to handle yourself.
You can also rely on an agency's experience, which means your company won't have to start from scratch and learn as it goes. A qualified SEO agency will develop strategies that are specifically tailored to meet your needs. This can help turn your website into a valuable asset for your business, which will keep paying off over time.
The Benefits of Hiring an SEO Agency Include:
1) You don't have to do any of the work yourself:
You don't have to spend hours on research or software setup, digging through code, figuring out how to optimize your page or anything like that. The SEO agency will handle everything from start to finish, so you can focus on running your business.
2) They won't hurt your business:
If you try to perform SEO on your own website, there's a chance that you'll end up doing some damage unintentionally. Your company will take a loss because of Google penalties or other search engine mishaps. You could even end up having to rebuild your entire website from scratch.
Hiring an SEO agency to handle your company's website is a big decision, and it's not one that many business owners make lightly. In the face of a changing digital marketing landscape, they want to do their due diligence and make sure they're making the right choice in hiring someone else to take care of their online visibility.
We've had clients come to us who have been burned by companies claiming to be SEO specialists. Some have been asked to pay thousands for substandard work and false promises. Others have been scammed by companies that disappear with their hard-earned money, leaving them with no website presence and no means of getting back on track.
When clients come to us with these horror stories, we understand where they're coming from. Still, our goal in this article is to help you understand that hiring an SEO agency isn't necessarily synonymous with being a victim of fraud.
Hiring an SEO agency can be a great way to put your faith in the hands of professionals who know what they're doing and won't charge you an arm and a leg for it.
How to Hire an SEO Agency the Right Way
The idea of hiring an SEO company can be both exciting and daunting. When you decide to hire an SEO agency, you're handing over control of your site to a third party, which is often a scary proposition. Once you've decided on the right SEO agency for your business, however, you'll be glad you took the time to find and hire the right one.
A wrong SEO agency can do irreparable damage to your site by doing things such as creating duplicate content, using black hat SEO techniques, or flat-out not doing any work at all. A good SEO agency will create original content for your site, build relevant and helpful links to your industry, and help you grow your business through various services.
As someone who has been on both sides of the hiring process, I know that it's easy to get caught up in the excitement of finding a great SEO agency and spend your entire budget before you've even sat down to interview them.
Even with a small budget, using the right approach can help you find the right team for your needs. Here are some suggestions for taking the mystery out of the process:
– Do Your Research.
Have a list of requirements of what you want from an SEO partner, and ensure you're asking all the questions that are important to you.
Ask them if they have experience working with companies like yours, and inquire about their track record. Look at their portfolio and see if they've done work similar to what you're trying to achieve.
If they don't have any experience in your industry, ask them who did the work for their previous clients, and contact those companies directly for references.
– Try a Pilot Project.
If you're considering a partnership that will be ongoing, I recommend starting with a short trial where you offer them a small but specific portion of your SEO workload and see how they respond. If they do well, then consider more comprehensive terms later on.
– Ask Around!
Asking friends and colleagues about their experiences with agencies can help you fill in any gaps in your research and confirm your intuitions.
If an agency has the skills, knowledge, and experience to help your business succeed, ask them about their process for achieving results.
Make sure you understand all steps involved in the process and how long it will take before you start seeing any results from their efforts.
Remember that SEO can be unpredictable, so it's best not to expect immediate success. Ideally, SEO plans should be evaluated within a six to twelve month timeframe.
How to Tell if You're Hiring a Black Hat SEO Agency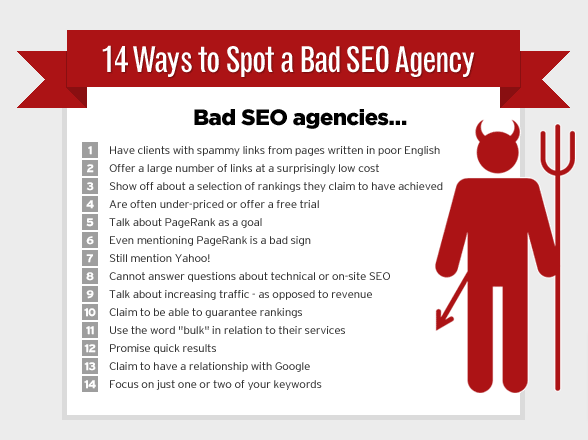 SEO agencies aren't all created equal. In fact, for many businesses, hiring an SEO agency is like playing Russian Roulette. The problem is that the wrong SEO agency can hurt your business' search rankings, throw off your SEO strategy, and even run afoul of Google penalties. But how do you tell if an SEO agency is a "black hat" SEO agency? And more importantly, how do you know if they're the right fit for you?
Here are Five Warning Signs to Look for:
1. The agency gives off a "too good to be true" vibe. If you encounter an agency offering unrealistic assurances about increasing your rankings or traffic, chances are there's something fishy about them.
Be wary of any company that seems too confident in its abilities.
2. They make promises that don't seem realistic.
Google has many factors that influence how well your site will rank. It's not as simple as just posting on social media or creating a few backlinks here and there. It can be hard to pin down exactly what will work best.
3. If their strategy includes any of these elements:
Keyword stuffing, cloaking, article spinning, doorway pages, hidden text, fake links or directories, link farms, and automated tools that generate random link requests.
4. The agency:
doesn't have an off-page optimization strategy or plan;
doesn't work with analytics or track your site's progress;
doesn't care about your long-term success;
won't help you build a content strategy around your audience;
won't teach you what they're doing and why.
5. Their work seems to be about getting rankings for keywords that no one would search for on Google.
What to Ask When Hiring an SEO Agency for Your Business
When hiring an SEO agency for your business, you want to make sure the company you choose will be a good fit. But how do you know if you're picking the right company?
There are many points to consider when choosing an SEO agency. To help you evaluate potential agencies, here are ten questions to ask.
What is your process for improving organic search traffic?
How long will it take to see results?
Who will be doing the work, and how long have they been with the company?
How do you measure success?
What is your estimate of the cost and length of our contract, including monthly fees and expenses?
Can you provide references of clients with whom you've worked in the past year?
Can I speak with a current or past client about their experience working with your company? What were their goals, and did they achieve them?
Do you follow a white hat approach to SEO? Why or why not?
How do you determine the ROI of working with a new client?
Is there anything else I should know about your process or services?
How Much do SEO Agencies Charge
Here's the thing about SEO agency pricing, it can get complicated. There are a lot of variables at play, and there's no one-size-fits-all solution for how much you should pay for your campaign.
If you've been in the market for an agency, you're probably familiar with some of these variables. You may have been told that how long your campaign will run is a factor in pricing. Or that you should expect to pay more if your company is well-known.
Maybe you've been told that the size of your company matters or that your location affects the price. All these things matter, but even then, giving an accurate range for how much SEO agencies charge is still difficult because it all depends on what kind of service you're looking for.
The internet is filled with SEO agencies, and the price of their services can vary greatly from one hundred dollars to thousands of dollars per month. While some companies charge flat rates, others have price structures that include discounts for longer-term contracts. A few agencies might even offer free consultations.
With so many options, it's hard to know how much you should spend on an SEO company and what kind of service you can expect for your money.
When evaluating prices from different firms, consider the following:
1) How long has the agency been in business?
2) How many clients does it typically have?
3) What is its reputation in your area?
Don't make the mistake of hiring SEO firms based on cost alone.   Many SEO companies will offer to do your search engine optimization for a low price, but they probably aren't going to deliver the best results.
You want someone who understands your niche or industry, knows how to market your site, and knows how to get it ranked high in search results for the keywords that matter most for your business. That takes time, effort, and experience.
SEO Agency Hiring: Handling False Expectations
It's natural for business owners to have their own set of expectations when it comes to hiring an SEO agency. There's no question that many people in this industry take advantage of the fact that businesses are often clueless about what SEO is and how it works. An SEO agency is not always held to the same level of accountability as other agencies.
Rather than focusing only on results and ROI, many agencies will promise businesses results if they sign them on with the agency. This creates many problems because it creates a lot of false expectations, and none of the accountability businesses need to see actual results.
Business owners need to be aware of their own expectations because it's very easy to convince yourself that things are going well when you've already invested money in an agency, even when they're not.
If you're considering hiring an SEO agency, you need to learn how to set your expectations to avoid being taken advantage of. Don't fall into the trap of thinking that all you have to do is pay someone, and they'll bring you results. This approach won't work; you need to do your part too.
It's common to have expectations about how long it will take for your SEO campaign to start showing results. Still, SEO is not a method for generating traffic and revenue overnight.
Even if you do notice growth early in your campaign, you should be prepared for a long-term investment. If you hire an SEO company that promises quick results or bogus guarantees, run away as fast as possible.
You'll be much better off going with an honest and realistic agency about the process, not one that seems to overpromise. You can avoid the inevitable letdown when they don't deliver.
SEO Agency Hiring: Mistakes to Avoid
When hiring an SEO agency, make sure you do your homework before jumping in.  Many agencies are very persuasive and know how to get you to hire them. As a business owner, it's easy to be taken in by the hype and promises of what an agency can do for you.
To avoid these common but important mistakes, make sure to ask the right questions and find out more about the SEO agency before hiring them.
Here are some key points to look for:
1) Flexibility in Pricing:
Some SEO agencies may offer extremely low rates because they want you to hire them immediately. However, when a company is willing to give you a low rate upfront, that means they probably aren't looking at long-term goals. A company that is willing to adapt its pricing structure depending on your needs will be able to help you in the long term.
2) Make Sure They are Honest:
A good SEO agency should not have any problem being completely transparent about its services and processes. They should also be upfront if there is anything they can't or won't do for you. A dishonest firm can damage your reputation online, so be careful when interviewing potential agencies.
When evaluating an SEO agency, look for these signs of a good fit:
They understand your business goals.
They ask questions and listen.
They can clearly articulate the plan they'd use to achieve your goals.
Their references are solid.
You feel like they're invested in your success.
Closing Thoughts
As the digital marketing landscape continues to evolve, the decision to hire SEO agency for your business requires careful consideration. By entrusting your website's optimization to a team of professionals, you can alleviate the burden of managing every aspect of SEO on your own. From comprehensive research and technical implementations to content creation and link building, an SEO agency brings a wealth of expertise to the table.
However, it's essential to approach the hiring process with due diligence and avoid falling victim to unscrupulous practices. By following the guidelines outlined in this article and asking the right questions, you can confidently hire SEO agency that aligns with your goals and delivers tangible results. Remember, partnering with an SEO agency is an investment in your online visibility and long-term success.
Ready to hire SEO Agency? Contact Flying V Group today and discover how our expert team can elevate your business's visibility and drive organic traffic. With our tailored strategies and proven results, we are the SEO agency you can trust.