Reading Time:
5
minutes
Harnessing the power of social media is essential for businesses looking to thrive and grow. Social media monitoring plays a pivotal role in understanding customer behavior, enhancing brand reputation, and delivering exceptional customer service. However, there's another powerful tool that often goes unnoticed but can unlock even greater opportunities for businesses: social listening. In this article, we will delve into the world of social listening and explore how it can help your business soar to new heights through effective SEO strategies.
Founder of SEO PowerSuite&Awario, AlehBarysevich, shares six ways social listening can help your business grow through SEO:
Find unlinked brand mentions and turn them into links.
Monitor new links to your site.
Find guest blogging opportunities.
Keep an eye on your brand's reputation.
Grow brand mentions.
Learn from your competitors.
Social Listening vs Social Monitoring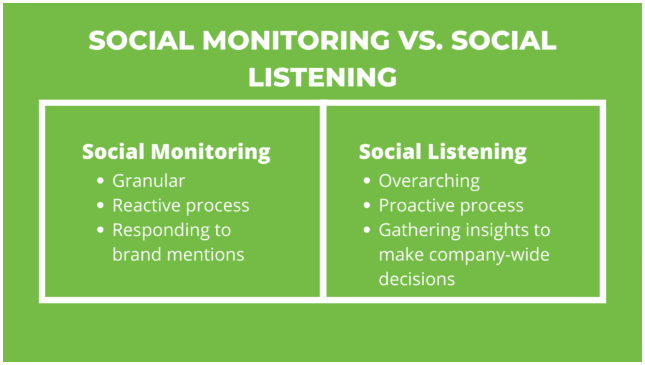 Source: SOCI
In this article, CRO at Brightpearl by Sage, Nicholas Shaw compares social listening and monitoring.
Social Listening: A Definition
When we talk about social media listening, we refer to the action of extracting data from social media channels to figure out how customers interact with a brand's products, services, and even competitors.
Social media listening incorporates social media monitoring, but it also includes other aspects that make it a much more complex and multifaceted process. For this reason, not many brands are taking advantage of social listening as a tool to better interact with and understand their audience.
Social Monitoring: A Definition
In social media analytics, social monitoring reigns supreme.  Most brands invest in this as it helps them to provide great customer service and support on all social media platforms.
Through social monitoring, a company representative is in charge of keeping a close eye on how the company interacts and engages with customers over social media. This allows brands to spot any potential issues, build solid relationships, enhance customer loyalty, and provide all-around exceptional customer service.
Social listening and social monitoring are, effectively, two sides of the same coin. On one side, you have the more quantitative aspect of your brand's mentions. Whereas on the other side, you have the quality of those mentions.
Social listening will help you collect first-party data and gain customer sentiment insights, whereas social monitoring will allow you to fine-tune your online customer care and service.
By combining both into your social media marketing strategy,  you can provide great customer service at all times,  unearth potential issues, drive innovative improvements, and keep abreast of your competitors."
Social Media Mentions Tracking
Here is a quick analysis of "social media mentions tracking" by Klara Malnar. She is the Customer Engagement Specialist at Mediatoolkit. According to her,
"Tracking mentions is essentially finding out when someone mentions one or more of your relevant keywords online. It can be your brand name, CEO's name, competitor's name, product, etc. You can find mentions on social media, media outlets, forums, etc.
Mentions found on social media are often called social mentions, and the process of tracking social media mentions is called social listening.
At the beginning of 2021, the number of social media users was 4.20 billion. These statistics show that manually tracking all social mentions is close to impossible. Not to mention all the time and effort that would go to waste doing that.
That's why media monitoring and social listening tools are the best options to do the dreadful task for you. These tools can save you a lot of time and money."
Benefits of Tracking Mentions:
By monitoring what people are saying about your business in real-time, you'll have an idea if there is anything wrong or needs improvement, which could prevent upcoming crises.
This will also help boost brand reputation by making customers feel confident when buying from the company because its goods/services haven't been talked about negatively in outside sources.
Tracking these conversations helps companies find opportunities within new markets that no one has yet approached, allowing them to charge entry-level prices due to lack of competition.
The more information you have on what people are saying about your business, the better. That's why it's essential to track mentions and gather all of this data so that when there is a need for analysis or reports, everyone will know exactly where they should go.
Equipped with the right social mention tools, you'll be able to build brand awareness and customer loyalty by responding quickly to positive or negative comments on Facebook, Twitter, Instagram, YouTube, and other social networks.
Social Listening Tools
Senior Content Marketing Manager, Kristen Baker, shares fifteen tools for social listening to monitor mentions of your brand; she says:
"Social listening tools can help you monitor several social media platforms in one place. You can check mentions of your brand, relevant keywords, and direct feedback through tags and DMs.
Many of these tools will allow you to post directly on your social media accounts from the dashboard. Additionally, when you integrate your various social media accounts, you'll see all your analytics in one area.
Here are the Top Five Social Media Listening and Tracking Tools according to Kristen:
HubSpot Social Media Management Software
Sprout Social
io
Hootsuite
Buffer
Unlinked Brand Mentions
If you're a marketer, you've already heard about unlinked brand mentions.
Unlinked brand mentions are when someone mentions your brand in a post or on social media but doesn't link to it. For example, if someone says, "I love my new Nike shoes," but doesn't include any links to the product or website, it's an unlinked mention.
Here's Why Unlinked Brand Mentions Matter:
If someone is talking about your company online and not linking to one of your online properties, they might be saying something negative (e.g., "I hate my new Nike shoes"). This can help you in identifying pain points before they become big problems.
You can use these mentions as part of your SEO strategy and improve how well Google understands your business and its products/services.
You can use an automated tool like Brand24 to monitor your brand mentions across social media networks, blogs, and more.
You Can't Afford to be Left Behind in the Digital Marketing Race.
It's time you maximize your money investment, time, and effort with SEO and achieve your ultimate business goals with this expert SEO guide!
We hope you enjoyed reading our 365+ SEO tips, so feel free to share this article with your friends and colleagues so they can learn more about growing their business with search engine optimization.
Next, connect with us so we can make things happen in your business.
Closing Thoughts
Embracing both social media monitoring and social listening is crucial for your digital marketing success. It allows you to provide exceptional customer service, foster brand loyalty, and gain a competitive advantage. By staying attuned to your audience, industry trends, and competitor activities, you can continually refine your strategies and connect with your audience on a deeper level. So, make social media monitoring and social listening integral parts of your digital marketing strategy, and reap the benefits of staying ahead in the ever-changing digital landscape.
Ready to take your business to new heights with effective social media monitoring? Contact Flying V Group today! Our expert team will guide you through the dynamic landscape of digital marketing, helping you build lasting customer relationships, enhance your brand reputation, and stay ahead of the competition.