Reading Time:
6
minutes
If you're looking to enhance your website's SEO rankings, selecting the right SEO web analytics tool is paramount. With a plethora of options available, ranging from free tools like Google Analytics and Matomo to paid solutions like HubSpot and Hotjar, determining the best fit for your needs can be challenging.
However, with the right SEO web analytics tool, you can effectively measure user behavior, collect valuable data on your audience, products, and campaigns, and make informed decisions to shape your marketing strategies. In this article, we'll explore the essential aspects of web analytics for SEO and delve into the most common metrics used to measure user experience, providing you with valuable insights to optimize your website effectively.
What Is Web Analytics?
Web analytics is the process of measuring user behavior online in order to inform future marketing strategy decisions. It allows businesses to collect data on their audiences, products, and campaigns so they can make informed decisions about what works and what doesn't.
Web analytics tools include Google Analytics (GA), Matomo (formerly Piwik), and Hotjar. These tools allow you to track traffic sources, conversions, and user behavior across multiple channels such as social media, email marketing campaigns, and more.
The first step to analyzing your website for SEO is to look at the user experience.
Do you know the most common metrics used to measure user experience?
Here are the top five:
1. Bounce Rate and Dwell Time
How long do people stay on your website? This can be measured by the number of pages visited and the bounce rate (the percentage of visits that only visit one page).
2. Broken/Dead Links
If a visitor clicks on a broken link, it will show them an error page or take them to another page on your site. If you have a lot of broken links, this can make it difficult for users to find what they're looking for on your site, which will lower their satisfaction with your site, increasing the bounce rate and reducing dwell time.
3. Scroll Depth
Scroll depth is another way of measuring how engaged visitors are with your content. It measures how many pages people scroll down before leaving your site, so if they go past the fold (the point where the screen goes from being full height to being half height), that's considered high engagement with your content.
Other key metrics, as revealed by the analytics blog, Matomo:
Internal Site Search
Another important metric is internal site search. This can gauge how many people are using your search bar on your website and what they're searching for. If you're not seeing any traffic coming through this metric, it may be worth guiding your visitors on how to best use the search bar.
Segments
It's also worth looking into segments to see where your traffic is coming from, desktop vs. mobile; country; browser; etc. This can help you to clarify where to focus your optimization efforts (e.g., mobile responsiveness, city-specific landing pages, etc.).
Google Search Console
The Google Search Console (GSC) is an all-in-one, free tool that gives you access to all the search data you need to improve your site's SEO. It offers detailed insights into your site's crawl errors and accessibility issues, as well as the ability to submit sitemaps for indexing by Google.
ManickBhan, Founder and CTO of LinkGraph, shares seven ways to use Google Search Console for SEO:
Track keyword rankings, impressions, organic traffic, average position, and click-through rate (CTR).
Understand index coverage and confirm that Google crawlers are properly indexing web pages.
Submit sitemaps, disavow files, and removals.
Identify and troubleshoot page experience, Core Web Vitals, or mobile usability issues.
Confirm Google sees schema.org markup so web pages can appear in rich results.
See security issues or manual actions Google has identified.
Analyze essential backlink data like total external links, internal links, top linked pages, top linking sites, and anchor text distribution.
Google Analytics SEO
Looking to know how to increase and optimize your organic traffic by leveraging Google Analytics?
SaaS writer, JolissaSkow, reveals the top 9 SEO hacks to increase your organic traffic using Google Analytics:
Get Detailed Insights from the Queries Report.
Understand Keyword Intent Using the Queries Report.
Track Focus Keyphrase Data in Google Analytics.
Monitor Referral Traffic for Link Opportunities.
Analyze Landing Page Reports to Increase Engagement.
Reduce Loading Time by Analyzing the Site Speed Report.
Use Campaigns to Track Your Traffic.
Set Up a Custom Alert.
Set Up a Custom SEO Dashboard.
For full details on these SEO analytics hacks, we recommend you read the complete blog post (see link above).
Enterprise SEO Analytics
Enterprise SEO Analytics: What is it, and why is it important?
Enterprise SEO Analytics refers to the analysis of search engine data across multiple websites and domains. Enterprises are often interested in collecting this data because they want to understand how their websites perform relative to their competitors' websites. They might also be interested in understanding where their users are coming from, so they can optimize their website based on these insights.
These days, many enterprises have multiple websites, each with its own unique business goals and audiences. The number of sites can vary widely; a small business may have one or two websites, while larger enterprises may have dozens or even hundreds of different sites. This makes analyzing website performance across the enterprise very challenging without some automation or toolset that takes care of all the grunt work for you.
Enterprise SEO Analytics tools help businesses automate this process by collecting all relevant search engine data from multiple sources (Google Analytics, Google Search Console, Bing Webmaster Tools). This data is then put into one centralized location for easy access and analysis by anyone within your organization who needs access to this information (web developers, content creators, marketing teams).
Pratik Dholakiya, Founder of Growfusely, a SaaS content marketing agency specializing in content and data-driven SEO, recommends Botify, "a top enterprise SEO software with three suites:
Botify Analytics
Enables you to see your website at every phase of search over a period of time with a log file analyzer (LogAnalyzer), keyword tracker (RealKeywords), crawler (SiteCrawler), and enterprise SEO analytics integration (EngagementAnalytics).
Botify Intelligence
Prioritizes high-impact opportunities and notifies you about critical SEO issues using machine learning.
Botify Activation
Tools that enable you to perform optimizations quickly and without resource constraints.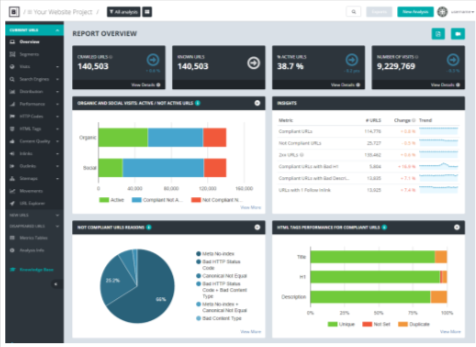 (Source: Growfusely.com)
Pratik further mentions:
"Botify works well for companies with large websites that want to increase ROI through organic search and for enterprise businesses with requirements like SLA, SSO, and adherence to search engine TOS."
Core Web Vitals
Core Web Vitals are a set of metrics that help you evaluate your website's quality, performance, and usability  (i.e., the overall user experience).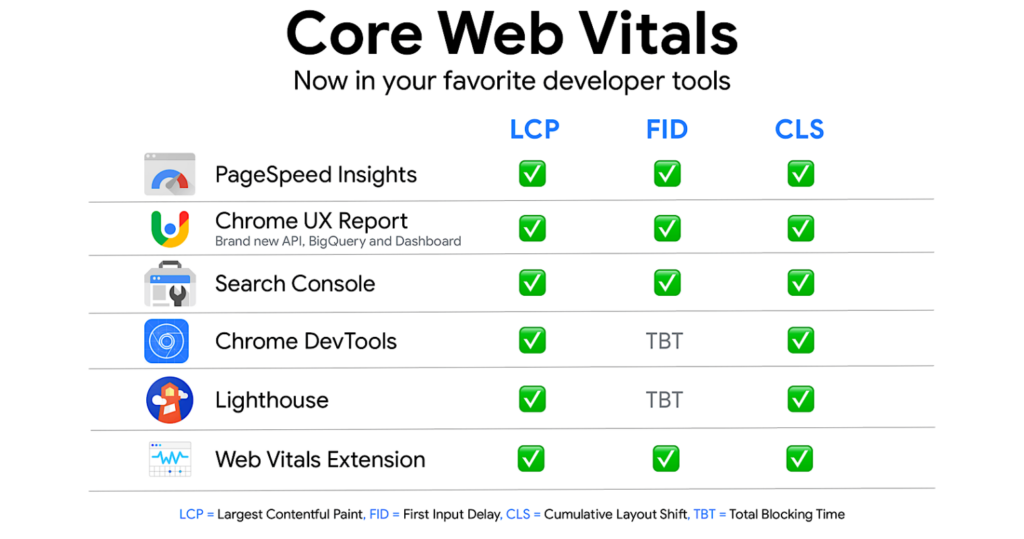 (Source: SEJ)
Google is using Core Web Vitals to encourage website owners and developers to create more user-friendly web experiences by following best and good UX practices.
Google Analytics Alternatives
Google Analytics is one of the most popular analytics tools on the market and for a good reason. It's free, easy to use, and has many features that allow you to track your website traffic. However, several alternatives to Google Analytics can provide similar functionality but with more advanced features.
Here are 25 of the best alternatives to Google Analytics.
Closing Thoughts
Harnessing the power of SEO web analytics is crucial for improving your website's performance. By employing the right analytics tool, such as Google Analytics, Matomo, or Hotjar, you can gain valuable insights into user behavior, traffic sources, conversions, and more across various channels. Key metrics like bounce rate, dwell time, broken links, scroll depth, internal site search, and segments allow you to evaluate and enhance the user experience.
Additionally, leveraging tools like Google Search Console and Google Analytics SEO can provide deeper insights into keyword rankings, organic traffic, site indexing, and backlink data. For enterprises with complex SEO requirements, dedicated enterprise SEO analytics tools like Botify can streamline data collection and analysis across multiple websites.
Lastly, keeping up with Core Web Vitals and exploring alternatives to Google Analytics can further enhance your understanding of website performance. By harnessing the power of web analytics, you can make data-driven decisions to optimize your website, boost your SEO rankings, and ultimately drive greater success for your online presence.
At Flying V Group, we offer a comprehensive suite of tools and expertise to help you harness the power of data and drive your website's success. Contact us today and soar above the competition with our cutting-edge SEO web analytics solutions. Together, let's achieve greatness for your online presence.