Reading Time:
8
minutes
In the highly competitive world of online marketing, protecting websites from Google penalties and their adverse effects on organic search rankings is of utmost importance.
Google penalties are punitive measures imposed on websites that violate Google's guidelines, posing a significant threat to a business by obstructing potential customers from discovering their online presence.
Thankfully, there are effective strategies to prevent such penalties, and one vital approach is leveraging SEO tools and consulting with SEO experts.
In this article, we explore the ins and outs of negative SEO and unveil a range of robust methods to shield websites from its damaging impact.
Negative SEO Protection
Negative SEO is the act of using black hat or unethical methods to undermine a competitor's ranking in search engines.
The first step in protecting your website from negative SEO is understanding how it could happen. Once you know what potential risks there are for your website, you can take steps to protect it.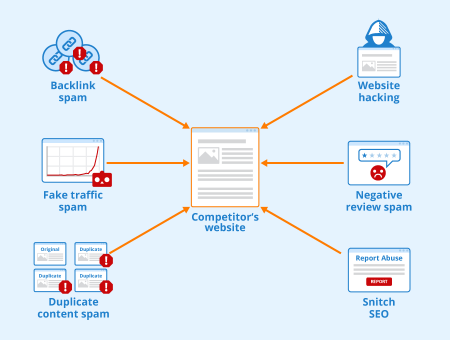 Source: Seobility
According to Co-Founder at Neil Patel Digital: Neil Patel says negative SEO attacks can take many forms:
Hacking your site.
Building hundreds or thousands of spammy links to your website.
Copying your content and then distributing it over the Internet.
Linking to your website with keywords like Viagra, Poker Online, and many others.
Making fake profiles on social media and ruining your online reputation.
How to Prevent Negative SEO Attacks
Neil recommends you do the following:
Setup email alerts via the Google Webmaster Tools.
Monitor your backlinks.
Protect your top backlinks.
Protect your website from malware and hackers.
Track your social media mentions.
Monitor the speed of your website.
Avoid making online enemies.
Knowing that some people might try to harm your website, you'll want to take steps to protect yourself. Implementing a comprehensive SEO content strategy will help you create content that is not only good for your business and links, but also helps you defend against negative SEO.
Link Audits
Whether you're a publishing house, a B2B company, an advertising agency, or a service provider, your website is an essential component of your content marketing strategy.
Link audits are an essential part of your website's maintenance. They can help you make the most of your online presence and protect your website from bad rankings, less traffic, and revenue loss.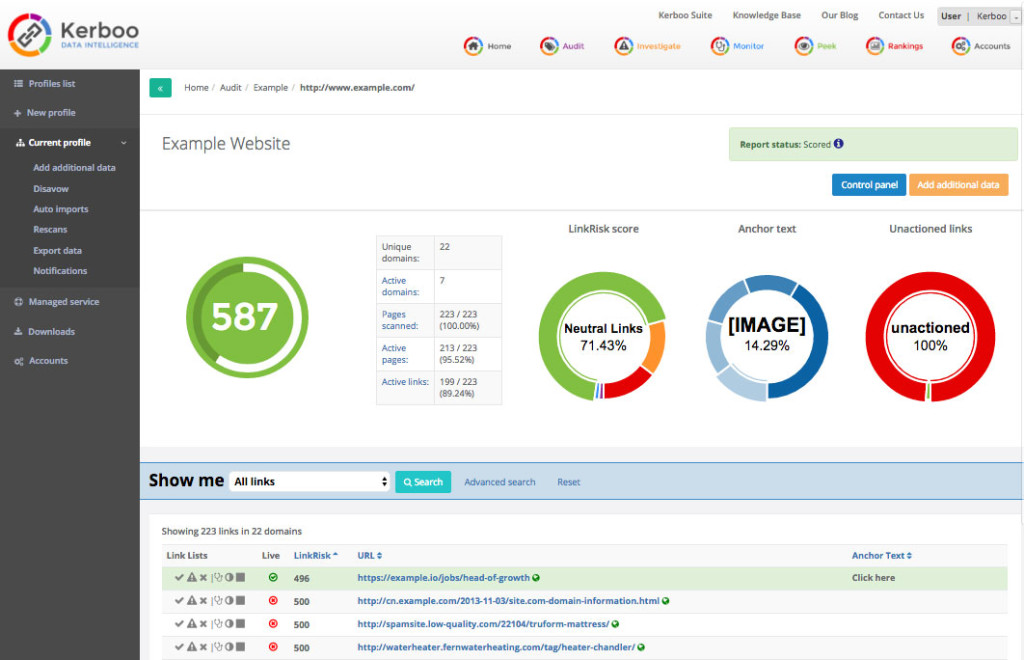 Source: Woorank
It's easy to lose track of the number and quality of incoming links to your website over time. This can impair your ability to build upon existing relationships with sites that can link back to yours while also cutting off those who've stopped linking to you.
Link audits are designed to identify both the sites that link to you and those you link to.
Link audits should be performed regularly,  but the frequency will depend on how frequently your site's content is updated. If it's updated daily, then every few weeks should be sufficient; if it's updated weekly, then monthly would suffice.
You may also want to perform link audits at other times of the year if there are specific campaigns or events that require extra attention from search engines (e.g., a new product launch).
The first step in any link audit is the tools you use for data collection. The second step is actually analyzing the data, and the third step is fixing any problems identified in the web pages used in data collection.
Brand Reputation Management
Caroline Forsey provides a clear overview of brand reputation management in this HubSpot Article. According to her,
"Brand reputation management is the process of monitoring how consumers perceive your business and taking strategic action when necessary to improve your brand's image.
Nowadays, reputation management is centered around monitoring and protecting your brand's online reputation in reviews, social media, and Google."
Caroline further adds that positive reputations strongly drive customer loyalty and revenue growth. Moreover, she mentions that a negative reputation can hurt sales and customer retention. But it can also help you learn more about your customers to make better business decisions.
WordPress Backups
Website backups are crucial. If you're not backing up your content, your SEO efforts will go down the drain if something happens to your site. You'd be surprised by how many small businesses and large corporations have had to deal with data loss due to hardware and software failures, human error, or malicious hacking.
For this reason alone, you must regularly back up your content, blog, and entire website.
But if you want to make sure you're doing it right and protecting yourself from mistakes that have ended in disaster for many, here are the top seven mistakes you need to avoid:
1) Not having a plan for backing up your website.
There are plenty of plugins and solutions out there that make this easy, yet, it takes time to find the right fit. Create an action plan and implement it so that no matter what happens, you're covered.
Here are a few things to remember when planning your backup plan:
Find plugins that will backup your site automatically.
Make sure your plugin is compatible with whatever host you're using.
Install more than one plugin, so if one fails, you have another to fall back on.
2) Not using a premium plugin.
When it comes to WordPress backups, a premium plugin is definitely your best option. While a free plugin might seem like a big enough deal, it often doesn't offer all the necessary features needed to have an efficient site backup.
3) Not taking a snapshot of your website's most current version.
This means that if you change your site's content or design, don't forget to create a backup before updating anything. Doing so could be a huge mistake if something goes wrong and you can't revert back to an older version.
4) Not keeping track of which backups are working.
It's easy to get into a habit of just making a new backup every week or two without checking whether it actually works when needed or when you need it the most. Make sure all backups are working or risk losing everything when the one that doesn't work is needed.
5) Not using multiple backup methods.
You should always have multiple copies of your files so that if something goes wrong with one, you still have others available that can get you back online quickly. Don't rely on only one method for all of your backups. It's safer and more reliable if you have several methods in place instead.
Also, we recommend backing up your site to an offsite and internal location. The offsite location is meant for storing your last complete backup, while your internal location stores incremental backups of your site's changes.
6) Failing to create backups on a regular basis.
This means more than once a year, every month, or every week is ideal (at least). You can schedule the backup process to happen automatically so that your site stays safe and secure at all times, even if you forget about it.
7) Relying entirely on your host for a backup plan.
Many hosts offer backups as an added service. This backup is convenient, but you shouldn't rely solely on it.
Everyone knows that it's a smart idea to back up your website and blog files regularly, but many people still fail to do so.
Google Disavow Tool
Google's disavow tool lets website owners provide a list of troublesome links they no longer want showing up in their search results. It allows you to tell Google, "Don't count these links because they're unreliable."
To use it, they log in to Google Search Console, click on the property they wish to see its status, or upload a new list with disavowed links.
When they do this, Google will crawl the other site and strip out those links from its index (so instead of showing up as helpful search results for your site, they'll essentially count as if they didn't exist).
If a site has been hacked, for example, all of the sites it links to might suffer as well. Before Google launched the disavow tool in 2012, people who wanted to make amends after such a breach had no way to do so.
Links you may need to audit and remove:
Links from pages that have been manually manipulated or that are unrelated to the site's content (e.g., pages with no text or a lot of unrelated keywords).
Links from irrelevant sources, such as low-quality directories or pages with "doorway" text (e.g., pages optimized for specific phrases by using spammy words or repetitive keywords instead of providing useful and relevant content).
Links from hostile sources (e.g., competitors' sites).
Google Algorithm Updates
The Google search engine is the most popular in the world. It is estimated to have more than 92.47 percent of the market share. The key to how it works is through constant algorithm updates.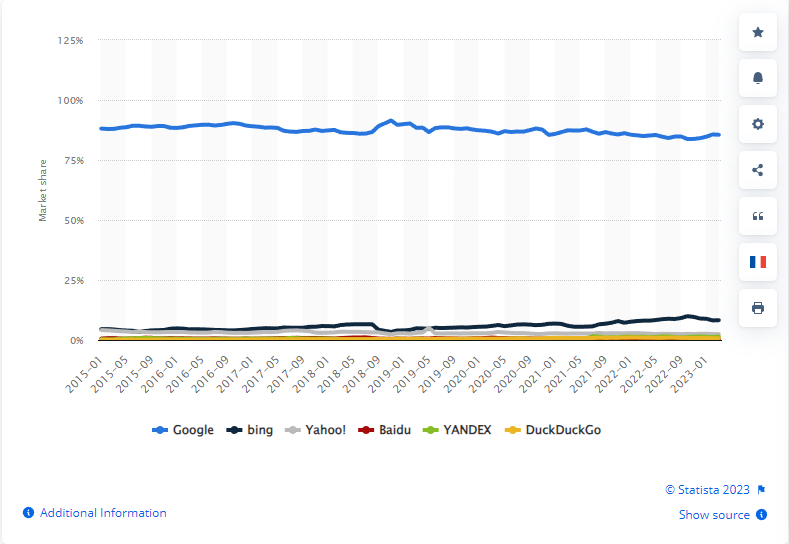 Source: Statista
Algorithm updates are changes to how Google's search engine works or what it considers relevant when delivering a search result.
Google has three main goals when developing its algorithm:
1) To provide the most relevant and useful results.
2) To provide quick access to those results.
3) To get users to stay on Google as long as possible so they can continue making money off of them.
Google regularly updates its algorithm to maintain relevance, freshness, and quality. When a user performs a search, the algorithm looks at a number of different factors like keyword searches, link structure, backlinks, relevance, and trustworthiness. The goal is to deliver the best results for any search query.
Consider the possibility that you are not in control. If you assume that you have complete control over your position in search engine results, you might overlook an important aspect of SEO: Google controls it.
Google may change its algorithm at any time and without notice. As much as we wish we knew how Google worked, it is ultimately up to them to decide what they want to display.
Since Google's algorithm is constantly being updated and "cloaked," this means it can change rapidly even while appearing to be static.
One of the best ways to keep your site safe is to be aware of all the updates and changes that have been happening recently and what they mean for your site.
Sites change continually as people adapt to the algorithm, and keeping up with those changes can be difficult. By staying updated on algorithm changes, you'll know what areas might be affected by the latest update, whether or not your site will be affected, and how you can get ahead of a possible update.
Another way to stay ahead of updates is to have an expert look at your site from top to bottom, left and right. They'll be able to spot any potential issues or gaps in what you're doing for SEO, link building, and content-wise, which will help ensure that your site stays secure even if major changes are coming down the pipeline.
Closing Thoughts
Safeguarding your website against negative SEO and Google penalties is a critical aspect of maintaining a strong online presence. By understanding the gravity of these risks and implementing proactive measures such as thorough link audits, meticulous brand reputation management, consistent WordPress backups, effective utilization of the Google Disavow Tool, and staying informed about Google algorithm updates, you can fortify your website's resilience and ensure its sustained success in the digital realm.
Remember, taking proactive steps and staying ahead of potential threats like negative SEO are paramount to preserving your website's visibility and reputation, and ultimately driving long-term growth for your business.
Protect your website from negative SEO and Google penalties Contact Flying V Group today and let our expert team of SEO professionals guide you toward boosting your online visibility and safeguarding your website's success. Get in touch with us today and secure your website's future.