Reading Time:
11
minutes
In the world of SEO rankings, there are several factors that can have a significant impact on your site's rankings and overall search engine optimization efforts. It's crucial to be aware of these factors and take appropriate measures to avoid any negative consequences. 
Additionally, understanding metrics like Domain Authority, Authority Score, and Domain Rating can help you gauge the strength of your website and improve your rankings.
In this article on SEO rankings, we will explore these topics and provide valuable insights and tips from industry experts.
There are things that can hurt your site rankings and minimize your SEO efforts; here are some of the most important ones you need to be aware of:
1) A poor user experience, poor navigation, broken links, content that is too long or too short, font size issues (too small), etc., all contribute to a poor user experience which can negatively affect your search engine rankings.
2) An outdated design that doesn't match your brand's aesthetic or a cluttered design with too many elements competing for attention on a page.
3) Slow site speed.
4) Duplicate content: having two pages on your website with the same or very similar information. It also includes duplicating other people's content without giving credit or linking back to their source.
If a search engine finds duplicate content on your site, it will penalize you by lowering your ranking or even removing you from its index altogether.
5) Low-quality content. This is one of the most common mistakes people make when ranking their site. They try to stuff as many keywords into their articles as possible, but all that does is annoy readers and make them leave your site. To rank well, create useful content that adds value to users' lives.
What are Domain Authority, Authority Score, and Domain Rating?
Domain Authority, Authority Score, and Domain Rating are metrics used by SEOs to determine the strength of a website. But what do they mean, and how can you use them to improve your rankings?
CEO & Founder, SISTRIX,Johannes Beus wrote an intriguing and  eye-opening post entitled:
"Why Domain Authority (Moz), Authority Score (Semrush) and Domain Rating (Ahrefs) can lead to wrong decisions."
Inside he shares tips on:
How are these metrics calculated?
How does Google do it?
What does it look like in real life?
The Right Way to Increase Domain Authority
ManickBhan, founder, and CTO of LinkGraph, advises on how to increase Domain Authority safely; here are five simple and effective methods:
Get listed in directories.
Write great content.
Contribute guest posts.
Invest in public relations.
Try broken link building.
Manick also shares other ways to use Domain Authority in your SEO strategy:
Choose keywords according to DA.
Identify your SEO priorities.
Pay attention to Google's guidelines.
Domain Authority and Page Authority
Domain Authority is a scoring system developed by Moz that measures the authority of a website and its pages. The score ranges from 1 to 100; the higher the number, the more powerful and authoritative the site, and therefore, the more likely it will be ranked highly in Google SERPs.
Domain Authority is not a Ranking Factor!
Page Authority is another scoring system created by Moz that measures the authority of individual web pages. It's similar to Domain Authority but focuses on individual web pages instead of entire websites. It also uses a 100-point scale. The scale ranges from 0 to 100, with higher numbers indicating higher page authority (and thus better rankings).
How to Optimize Images for Better Rankings and More Organic Visitors
Can images improve rankings and boost organic traffic?
How to leverage graphics to optimize your SEO
Amanda Milligan, Head of Marketing @ Stacker Studio, says:
"It's easy to look at image optimization as an afterthought in boosting SEO. However, when done correctly, it can help drive traffic to your website."
Inside her Semrush article, Amanda shares:
The Major Benefits of Using Visual Content
It helps break up a wall of text.
It aligns with Google's future goal of visual searching.
It gives better context to your webpage's content.
It allows readers to comprehend written content better.
Tips to Optimize Images:
Image file size and format: JPEGs are smaller than PNGs, so they load faster.
Descriptions and Names: That includes alt tags, image file names, and image titles.
Copyright: Make sure the images are yours.
Relevancy: Ensure the images are relevant to the content.
Mobile-friendliness: View the images to ensure they have the correct mobile dimensions.
How to Write Effective Alt Tags
"One of the best ways to improve your SEO instantly is to optimize your alt text. When writing alt text for your images, be sure to follow these rules:
Describe the image in as much detail as you can. Imagine you are describing it to someone who can't see it. In addition to being helpful for search engines, this also helps those who use screen readers better understand images.
You should not use your content keywords as the alt tag for every image on the page.
Just like keywords, the alt text should be used naturally without feeling forced. This means you shouldn't overdo it with keyword stuffing."
Ranking Site with NO backlinks (link earning)
Can you rank a website page or blog post without backlinks?
Is there any smart alternative to buying ads or writing guest posts?
Roberto Popolizio, International SEO Consultant, has the answer;
He wrote an article profiling a cybersecurity website that finds new data leaks and publishes them.
Roberto explains:
"This kind of information gets almost instantly shared on major newspapers and top websites in the tech industry, like Techradar.
The result is that each one of these pages gets hundreds of links from super-authoritative websites without guest posting."
PR Outreach Ranking
Can you use press releases to get better rankings and Google traffic?
Is PR worth the time, effort, and money?
PR and SEO are often seen as two separate worlds, but they can work together to help you achieve better results.
Press releases are one of the best ways to get noticed by journalists and bloggers in your industry. These people will then write about your business in their articles or blog posts, which can improve your rankings in Google search results.
But press releases aren't just useful when it comes to SEO. They're also great for building brand awareness and getting more traffic from social media sites like Facebook and Twitter.
The key to successful PR outreach is finding the right people who have an interest in the topics you want covered. So find out who these people are before sending out any press releases.
Justreachout.io wrote a case study where they profiled how Pipedrive used PR to rank #1 for their target term ("sales management," a high difficulty key term, with 30,000+ global searches per month, at the time of writing this).
Inside the full-blown article, you'll learn the eight steps the Pipedrive team took to reach their goal;  BradZomick, the former Director of Content Marketing at Pipedrive, reveals the process as follows:
Select the right topic.
Create bad-ass content for our blog.
Optimize on-page SEO & engagement metrics.
Build internal links.
Find people who would link to this content.
Ask people to link to our content.
Write guest posts on leading blogs.
Fine-tuning content with TF * IDF.
Expert Quotes and Expert Roundups
Expert quotes are a great way to add credibility to your content. But, how can you use them effectively?
We've found that the best way to use expert quotes is to:
Use a Variety of Sources
Use multiple experts in your industry, and don't be afraid of mixing it up with some outside voices as well. This will help you create a more diverse set of opinions and insights.
Include Context for Each Quote
The best expert quotes are ones that are relevant and interesting on their own but can also make more sense when placed in the context provided by your article or blog post.
Make Sure Each Quote is Accurate and Attributed Properly
You need to be sure that you're using accurate information from reputable sources when quoting anyone;otherwise, it can lead to problems later.
Here's an expert roundup example (blog post) we created for our agency:
Business Growth Strategies for Selling Digital Services:
18 Expert Digital Marketers Reveal How to Deal with Client Objections and Pricing Issues.
Expert Quotes Help with SEO. This is a fact.
This is the case because Google ranks pages higher when experts in their field write them. This makes sense when you consider that Google wants to provide the best possible results for its users. If readers see an article written by an expert, then it's likely that they'll find the information more trustworthy and accurate.
The only problem is that getting these expert quotes can be challenging. After all, most people don't have time to write them themselves, and asking other people to do so can also be difficult. That's why many people turn to expert roundups instead.
But expert roundups can be risky if you don't use them correctly.
Ten Biggest Mistakes to Avoid when Creating Your Crowdsourced Blog Post
Mistake #1: Not Having a Plan Before Starting the Roundup Process
If you're going to create an expert roundup, then there must be a purpose behind it.
What do you want to achieve? Is it simply to get more traffic? Or do you want more backlinks? Or is it just to generate brand awareness?
Once you know your goal, creating an expert roundup becomes much easier because you'll know exactly what kind of experts need to be included in it.
Mistake #2: Not Including Experts from Different Niches or Industries Within the Post
I've seen many times where someone has created an expert roundup post about blogging but includes only bloggers who specialize in blogging about blogging.
I don't know about you, but I'd also be keen to know what the average blogger, i.e., the person who has a job and doesn't blog full-time, has to say about their experience blogging outside of the blogging niche.
Mistake #3: Asking Too Many Questions
This makes it difficult for participants to answer all the questions in a genuine, authentic, and comfortable way.
Mistake #4: Not Giving Enough Direction with the Questions (or not providing any guidance at all)
This leads to long answers that don't easily fit into the format of the article, or worse, responses that aren't related.
Mistake #5: Assuming that Everyone Will Want to Participate
You need to have a good relationship with the experts you invite before you ask them to contribute.
Mistake #6: Asking Too Much Information from the Experts at Once
The more information you request from them (e.g., links, images), the less likely they'll want to participate in your roundup.
Mistake #7: Not Getting Enough Responses
If you have only one or two experts agreeing to participate, then you need to rethink your approach. You may have asked the wrong questions, or maybe your request came at the wrong time of year. Be flexible and try again later if needed, but don't let a lack of responses stop you from conducting an expert roundup.
Also,
If you ask ten people for quotes on a topic and only five respond, that isn't going to look good when the post goes live. If you want more people to contribute their expertise, make sure you have a compelling call to action in place.
Consider including an incentive like free products or services as well.  It doesn't have to be monetary, but sometimes just offering something free can get people excited about contributing their knowledge and expertise.
Mistake #8: Not Asking Specific Questions
If your goal is simply to get a "yes" or "no" answer from each expert, then your survey will probably fall flat. Instead of asking open-ended questions like "What are your top three SEO tips?" try asking specific ones like "How do you optimize images for SEO?" or "How can I improve my rankings on Google?"
The more detailed your question is and the more specific it is to their area of expertise, the better response rate you will likely get from them.
Mistake #9: Not Including Enough Experts
If you want your article to be successful, make sure you include at least ten experts in it. Ideally, you want to double or triple that number for maximum impact.
Keep an eye on the competition and out-rank them in terms of featured experts.
Mistake #10: Not Following Up with Experts
It's common for experts to ignore requests for quotes or interviews. This is especially true if they don't know who you are or what your business does. If an expert doesn't respond, send them another email asking if they received your original request and if they would like more information about the project.
Let them know that you have been in touch with other experts and would love their input as well. If they still don't respond after that, it might be time to move on to another expert.
SEO Schema

(Source: Moz)
What is schema, and how does it work to strengthen your SEO?
Brian Glassman, Director of SEO @ DreamHost, wrote a piece on how to
Use Schema to Enhance Search Results
He reveals:
"Schema is structured data that can help web browsers and search engines gain a deeper understanding of your page's content. By adding this markup, you can improve how your website displays (and ultimately ranks) in Search Engine Results Pages (SERP).
Using Schema to enhance content such as creative works, events, recipes, organizations, people, and products is recommended. For example, a search result using Schema will display richer information than one without.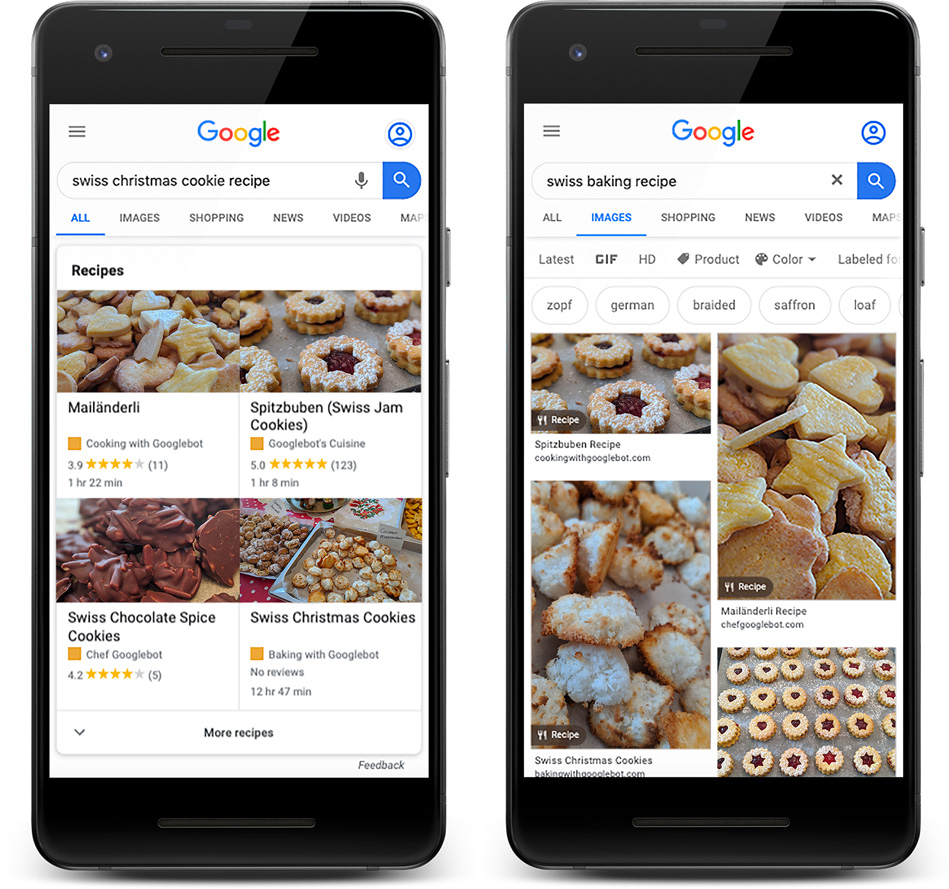 (Source: DreamHost)
As you can see in the example, one of the results displays ratings, images, and more. You can manually add this kind of markup to your posts or use one of the many tools available to test and improve your structured data. If you don't want to mess with the HTML of your posts, you can employ a dedicated plugin to help you take advantage of this SEO functionality.
Additionally, you can review Google's structured data guidelines, as well as numerous reports offered in their webmaster tools. Ultimately, Schema is a vital addition to your website if you want search engines to read your products' details rather than view your content as non-descript text."
SEO Rank Tracking Tools
SEO rank tracking is vital for any business to keep an eye on their rankings. But with so many options out there, it can be hard to find the right tool.
Here's everything you need to know about SEO rank tracking tools and which one is best for your business.
What is SEO Rank Tracking?
SEO rank tracking is part of any reliable SEO strategy which requires you to use a software tool that will help you monitor your website's search engine rankings automatically.
This enables you to see how well your site performs compared to other sites in your industry and how much traffic it receives from search engines.
By skipping manual keyword tracking and using SEO ranking tools instead, you'll be able to determine whether or not your efforts to improve your website's performance are working and when they need adjusting.
Rank tracking tools are a great way to stay on top of your rankings and outsmart competitors. Using these tools, you can identify trends and changes in your search engine ranking positions.
These are 3 of the Most Popular Rank Tracker Tools:
1. SEMrush:
Best for beginners and professionals alike, this is one of the most popular SEO tools available today. It has a nice interface that is easy to use and understand.
With their Position Tracking function, you can track any keywords, domains, and competitors on Google. Their tool makes it easy to track your campaign progress, spot and fix cannibalization, and optimize your targeting efforts based on the most accurate data, updated daily.
You can get seven days of full access to all its features and toolkits. Cancel anytime.
2. Ahrefs:
This tool also provides an excellent interface that allows you to easily see how your site ranks for keywords across multiple websites simultaneously. It also has many other features,  such as backlinks research and social media monitoring tools,  making it very useful for both beginners and professionals.
You can also get regular email reports detailing the most notable changes in your keyword rankings, along with a sample of gained and lost SERP features and performance data based on your tags.
3. Moz Pro:
This tool provides lots of helpful information about your site's performance in the search engines, such as keyword difficulty scores and more. The best part about this tool is that you can compare and optimize mobile and desktop visibility. For example, you can compare US mobile and desktop down to the national and local levels.
Check out other rank-tracking tools here.
Closing Thoughts
Achieving favorable SEO rankings requires a comprehensive approach that addresses various factors influencing your website's visibility. By focusing on providing a seamless user experience, avoiding duplicate content, and delivering high-quality articles that add value to users' lives, you can lay a strong foundation for improved rankings.
Additionally, understanding and utilizing metrics like Domain Authority, Authority Score, and Domain Rating can help you gauge the strength of your website and inform your SEO strategy effectively. Optimizing images with appropriate file size, descriptions, and alt tags, leveraging expert quotes to add credibility to your content, implementing schema markup to enhance search results, and utilizing reliable rank tracking tools can further contribute to your SEO success.
By staying informed about the latest SEO trends and continuously refining your strategies, you can propel your website toward higher SEO rankings and attract more organic visitors. Embrace these insights and take proactive steps to elevate your SEO game.
Ready to soar to the top of SEO rankings? Partner with Flying V Group, the experts in digital marketing and SEO. Stand out in search engine results with our cutting-edge strategies and industry know-how. Contact us today and elevate your website's visibility and success!