Reading Time:
7
minutes
In the fast-paced digital landscape, the question of whether to learn or outsource SEO has become a pressing dilemma for countless business owners. Let's face it, SEO is no longer a walk in the park—it's a complex and ever-evolving field that demands expertise and continuous adaptation. So, what's the right path for your website's success?
Introducing our captivating guide that delves into the depths of SEO optimization, shedding light on the advantages of both in-house and outsourced strategies. We're here to help you make an informed decision that will skyrocket your online presence.
Whether you're doing your SEO or outsourcing it, there are four main components to optimizing your page:
On-page optimization—Increasing the value of your page through HTML tags, content, visuals, and more.
Off-page optimization—Building inbound links that point back to your site from other websites, including but not limited to guest posting, guest podcasting, blog commenting, etc.
Local SEO—Optimizing for local search results through categories and ranking information.
Marketing research—Knowing what people are searching for so you can optimize for those terms.
In-House vs. Outsourced SEO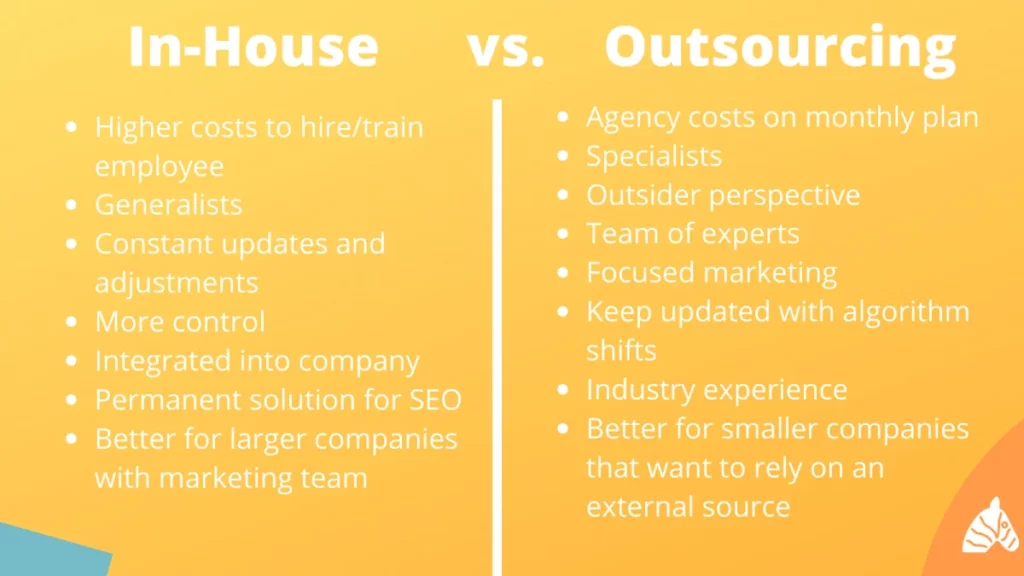 Source: Safaridigital
As a small business owner, you want to do whatever you can to attract traffic to your website. If you're not getting the traffic you want, it's tempting to try to hire an outside company to handle some of the more technical aspects of your online presence.
But how do you know whether hiring an in-house professional or outsourcing SEO tasks it's best for your company and your budget? It all depends on how much control and influence you want over SEO and how much money you can realistically spend.
If you manage your SEO work in-house, you'll need to decide whether you want to hire an employee or partner with a freelancer.
Hiring an employee has its perks: you'll be able to hire someone with extensive knowledge of the field and won't have to spend time training them on what they need to learn. However, hiring employees is more difficult than hiring freelancers because of the greater commitment and the required background checks.
On the other hand, freelancers offer complete flexibility; because you're only paying for their services when you need them, there's no long-term commitment.
The benefits of hiring an outside firm to take care of your SEO are the same ones you'd get from any other service provider. The experts will have more experience and knowledge than you do. They'll be able to specialize in what they do best and use more time-efficient methods, and they can focus solely on achieving your goals without having to balance your needs with their own.
Why Outsource SEO
There are many benefits to outsourcing your SEO. Here are a few:
1) Employing an expert allows you to focus on other parts of your business and achieve more success.
If you're a small business with limited resources, you have better uses for your time than learning about the latest algorithms and update cycles for various search engines.
For example, if you have an online store that sells handcrafted jewelry and you've reached a point where you're getting lots of organic traffic from Google, that doesn't mean it's time to stop working on SEO; it means it's time to start thinking about paid advertising.
2) You'll have access to specialists who know the ins and outs of SEO best practices.
No matter how much research you do and how many industry blogs you read, there's no substitute for hands-on experience.
Finding the right keywords to target, understanding the nuances of how Google ranks pages based on keyword relevance, and setting up tracking software. There are so many tiny details involved in the process that the only way to truly master it is to hire somebody else.
If someone with experience does not manage the project, it can be costly and take up a lot of time.
3) An in-house person could be overwhelmed by all the information that needs to be learned and spread across various departments. An outside firm will have access to more resources and staff than an individual can support. This allows for quicker research, implementation, and report generation turnaround.
When Should You Outsource SEO
There are a few different situations that might call for it.
First, if you're a small business with a small staff, it could be an easy way to bring in new talent without hiring more full-time employees.
Second, if you work in an industry where content is constantly changing or evolving, like news, tech, digital marketing, or fashion, it makes sense to have someone who can adapt and stay up-to-date. This is also a good approach for industries with regularly updated websites.
Finally, if you are getting off the ground and don't need SEO but plan to in the future, consider hiring someone as an outside contractor. Their expertise could give you a head start when it comes time to launch your site officially.
What's important is that you find the right person for the job. It's not so much about looking for someone who has been doing SEO for years; instead, look for someone who has done SEO for companies like yours and who understands your business and its needs.
Do some research into their online presence: are they active on social media? Do they attend industry events? Do they share articles that relate to your business? Look at their website design. Read testimonials. Ask for references.
You should also consider hiring someone when:
A) You have limited resources and need someone who can manage your SEO from start to finish (or when it's critical for you to be able to work on other aspects of your business).
B) You don't have the skills or knowledge necessary to execute some of the more advanced components of SEO.
C) You're looking for long-term planning and support (e.g., monthly reports).
D) Your business is growing rapidly and has significant opportunities.
How to Outsource SEO Services
Rachel Hernandez, Director of Brand Strategy at The HOTH, gives us the following advice:
"Outsourcing your SEO efforts might seem as easy as just hiring the top result on Google, but not so fast. To find the right partner, you must first understand your goals, needs, and budget.
Review your goals, budget, and needs.
What do you want to achieve with your SEO campaigns?
How much can you afford to spend?
What can you do in-house? (Writing content, designing pages, taking product photos, etc.)
Any self-respecting SEO firm will ask you these questions, so you need to have concrete answers before starting this journey.
A good way to estimate your budget is to look at what you're spending on PPC and other paid advertising.
You must be honest when considering what you can do in-house. Content and visuals must be professional to strike a chord with your prospects.
You wouldn't want your storefront to be marred by a horrible paint job or a hand-drawn sales sign with typos. Your website and blog are your digital storefront, leaving an impression on every potential customer.
If you're an agency looking to resell SEO services, you should consider the same things but from both your clients' perspectives and your own company's."
Outsource SEO to an Agency
I've always been a proponent of doing your own SEO, but as my business has grown, I have also learned that there is no replacement for expertise, especially regarding something so technical and nuanced as search engine optimization. If you're not a technical person and don't know much about SEO, hiring an agency to manage your SEO might be the best way to go.
Outsourcing your SEO to an agency can be a great decision for many businesses. It's not always the right call, but there are several reasons why you might benefit from outsourcing this aspect of your marketing strategy:
1) An agency can help elevate your brand and increase brand awareness. This is especially true if your company isn't well-known or if you're still trying to build a brand name for yourself in the marketplace.
The agency can help you establish a solid foundation that you can use to grow your business.
2) Hiring an agency gives you access to resources you might not otherwise have:
They may have connections to potential clients they can introduce to you, or they may already have established relationships with companies within various industries that they can leverage to get your business in front of new eyes.
You also gain access to data and insights that would be difficult for you to get on your own. They have the tools and the knowledge (and likely the experience) necessary to help you make informed decisions about what works and what doesn't when it comes to marketing strategies and tactics.
3) Hiring an agency could save you time:
You can spend more time on the things you're good at and less time worrying about SEO.
SEO agencies are also good for hiring full-time staff for your company to keep your website updated and ensure that everything is optimized for search engines.
Outsource Link Building
Outsourcing link building is an effective way to scale your outreach efforts and ultimately search rankings, but it comes with its own unique challenges.
Here are a few things to keep in mind when considering the option:
1. If you're outsourcing your link building, ensure you have a clear idea of who should be doing what.
Do you want interns to be working on this? A social media manager? An additional member of your content team?
Make sure everyone is on the same page and that there's clear ownership of the task among any team members involved.
2. Conduct interviews before making hires or signing contracts with agencies.
Understand who will work on the project, how they'll do it, and how they'll report progress (and know how much detail you want). This will help you determine whether or not an outsourced solution is right for you.
3. Be flexible when it comes to working with contractors and freelancers. Their availability may vary depending on their other clients' needs and schedules, so unless you need someone on staff at all times, don't hold a grudge if someone takes a week or two off between projects (at least).
Make sure whoever is managing the project understands what needs to be done and has enough time to complete it.
Closing Thoughts
The decision to outsource SEO should be based on your specific business needs, available resources, and long-term goals. By outsourcing SEO, businesses can benefit from the expertise of professionals, allowing them to focus on core operations and achieve greater success. Access to specialists, scalability, and quicker turnaround times are among the advantages of entrusting your SEO efforts to external agencies or contractors.
However, it's crucial to conduct thorough research, assess your goals and budget, and ensure the right fit when choosing an outsourcing partner. Ultimately, outsourcing SEO can provide the boost your business needs to elevate its online presence and drive meaningful results.
At Flying V Group, we specialize in helping businesses like yours succeed in the digital realm. If you're looking to maximize your online visibility and drive organic traffic, it's time to consider outsourcing SEO to our team of experts. Contact our team of experts today and discover the transformative power of our comprehensive digital marketing services.