Reading Time:
18
minutes
Are you feeling left behind in the ever-changing world of social media marketing? With algorithms, platforms, and trends changing almost daily, staying ahead of the curve can feel overwhelming. But don't worry — you can still make a few strategic pivots in your social media marketing strategy that will improve your ROI. 
By emphasizing value-driven content, leveraging video marketing and user-generated content, you can keep your social media presence relevant and engaging for your target audience. We at Flying V Group have used these three strategies to help our clients meet their social media goals and stay ahead of the competition.
This article will discuss how value-driven content, video marketing, and user-generated content can help you stay ahead of the curve in your social media marketing. We will also provide you with some tips to get started.
1. Emphasize Authentic and Value-driven Content
Social media marketing is not about just posting random pictures and videos. You must emphasize creating value-driven content that conveys your brand message and speaks directly to your target audience. By doing this, you can build trust and create a loyal customer base that will continue to engage with your brand.
Here are some of the ways to create authentic and value-driven content:
Know Your Audience
The first step to creating value-driven content is understanding who your target audience is. This includes understanding their interests, needs, and pain points. Once you know this, you can create content that speaks directly to them and resonates more effectively.
You can know your social media audience by understanding how they engage with your content, their feedback, and their conversations around your brand. For example, you can keep track of the hashtags they use or the topics that get them talking.
You could also use social media management tools like Hootsuite to monitor conversations around your brand and track audience sentiment. You'll then create Ideal Customer Profiles (ICPs) from the data collected and use that to inform your content strategy.
Source: VECStudio
You can create targeted content that speaks to their needs and interests by understanding who you are creating content for. This will help you build a stronger relationship with your audience, improving engagement and encouraging more people to follow and share your content.
Additionally, by refining your customer profiles, you can adjust your strategy as needed to ensure that it continues to meet your audience's needs. You can also track your content's performance and use that data to refine further.
Share Your Brand Story
Let your audience know who you are and what you stand for to be authentic. This is why it's so important to have a strong brand story. Your brand story should reflect your core values, mission, and vision — all of which should be tied to the needs of your audience.
Once you've identified what makes your brand unique, you can begin to craft engaging stories and content that capture the essence of your brand. Share these stories across all channels to ensure you connect with your audience emotionally and build genuine loyalty.
Provide Helpful Tips and Resources
People return to brands that add value to their lives. This is why creating helpful, informative, and entertaining content is important. Share helpful articles, tips, and resources to help your customers grow and succeed. Answer customer questions with blog posts, videos, podcasts, or webinars.
Doing this'll build trust and demonstrate to your audience that you care about them. This will help to create a strong bond between your audience and your brand.
For example, if you're an organic food company, you might offer helpful advice about nutrition and health. You could also create a social media post series about cooking healthy recipes using organic ingredients. This content will help your customers learn more about the benefits of healthy eating and show them that you're an authority on the topic.
You can also use social media channels like Instagram or YouTube to share behind-the-scenes looks into your company. This will give your customers insight into the passion and enthusiasm for producing your products or services. It will also show that you're a real person, not just a faceless brand.
Be Transparent and Honest
Transparency is essential for building trust with your customers. Show them that you're open and honest about your products or services. This will help your customers feel like they can rely on you.
You can show transparency by responding to customer questions, providing detailed information about your products or services, and highlighting areas where you could improve.
You could also showcase any awards or certifications you've received, as this will show customers that your business is reputable.
Responding to negative reviews and complaints also shows you're honest. If you make a mistake, apologize and do what you can to make it right. This will help build loyalty and demonstrate that your customers' opinions matter to you.
Finally, keeping your website up-to-date is essential for maintaining a trustworthy customer relationship. Make sure to update any changes to your business information, such as new products or services, pricing, or contact details.
Leverage Storytelling
Storytelling is a powerful tool to build trust with customers. To connect with your audience, share stories about the people behind your business, such as founders or employees.
You can also tell stories about customers who have had positive experiences with your company. This will help create an emotional connection that will make them more likely to engage with you.
Conversion content can only be possible through storytelling. You have to show the value of your products or services and how they can help customers solve their problems.
Create social media content that captures the attention of your target audience and encourages them to act on it. You can use videos, images, and compelling stories to tell a story that will have a lasting impression on your customers.
Creating conversion content is all about understanding the customer journey and providing solutions that meet their needs at every stage of the journey. If you can craft content that taps into their emotions and speaks to their needs, you will be more likely to convert them into paying customers.
Maintain a Consistent Brand Voice
Consistency is key when it comes to social media marketing success. A brand's message is remembered better if it stays on point and communicates the same message across all channels.
To create a consistent brand voice, try using the same tone and message in all your content: blog posts, emails, or social media updates. You should also use the same visuals and design elements wherever possible so that your brand is easily recognizable.
One way to ensure consistency is using a keyword or phrase your target audience can relate to. This will help establish recognition and loyalty among your followers and make it easier for them to spread the word about your brand.
For example, if you are a clothing store, you could use hashtags such as "outfitoftheday" or "styleinspo" to encourage customers to post pictures of themselves wearing your products and tag them. This will create a unified brand image, help establish your presence on social media, and increase customer engagement.
Another way to ensure consistency is by using the same color palette, font style, and logo on your social media accounts. This will create a unified look and make it easy for your followers to identify your brand across multiple platforms.
Be Timely and Relevant
Posting at the same time regularly and responding to customer inquiries promptly is a great way to show your customers that you care about their needs. Additionally, by staying up-to-date on your industry's latest news and trends, you can provide helpful content to your followers that is relevant to their interests.
To be timely, you can leverage social marketing tools such as Hootsuite and Sprout Social to schedule your posts in advance. This way, you can ensure they are published when your followers are most likely active.
2. Leverage Video and Interactive Formats
According to a recent study by Wyzowl, 91% of consumers want to see more video content from brands. This means the demand for video content is rising, and you can create content that stands out by leveraging video and interactive formats such as live streaming.
Here are ways to use video and interactive content in your social media marketing strategy: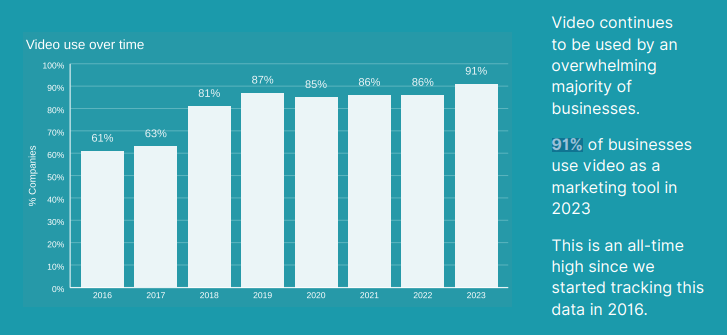 Source: Wyzowl
Create Engaging Video Content
Social media platforms offer various video formats, such as live streaming, short-form videos, and long-form content. To create engaging videos that attract your followers, consider using storytelling techniques to make your videos more captivating.
You can make explainer videos more interesting by using illustrations or creating product demonstrations with a hands-on approach. Regardless of your format, ensure to add an element of entertainment to your content to stand out from the crowd.
Utilize Live Streaming
Live streaming is an effective way to engage your audience, as it offers a more authentic and interactive experience. From hosting Q&A sessions with industry experts to running virtual events and using live polls, you can use live streaming to engage your followers in many ways.
Live streaming also allows you to build relationships with your viewers and create a real-time connection. It also helps create a sense of urgency as people act quickly when they know something is available in a limited time.
Develop Interactive Stories
Interactive stories are a great way to engage your audience and keep them hooked. You can create yours using Flipboard Stories, Adobe Spark, or Storify.
Interactive stories are usually presented in slides and videos with text overlays, allowing you to add context and break up the content. This storytelling format is especially effective when explaining complex topics, such as a new product launch or summarizing an event.
You'll also want to include visuals such as photos, videos, or infographics. This will help break up the text and make it easier for your audience to digest. Additionally, interactive elements such as quizzes and polls will help engage readers and increase shares.
Create Short-form Video Content
Video content is a great way to engage with your audience in an entertaining and informative manner. Short-form videos on Instagram, TikTok, and YouTube are viral. These can be used to introduce new products or explain complex topics in a fun and easily digestible way.
To maximize reach, produce videos with captivating visuals and compelling audio. Be sure to include clear calls-to-action in the video description that drives viewers to your website or other channels.
TikTok is particularly effective for reaching younger audiences, as it is known for its lighthearted and humorous content. Experiment with different formats—from challenges to educational tutorials—and avoid overly promotional content to ensure your videos engage with the audience.
Add Captions and Subtitles
Adding captions and subtitles to your videos increases engagement and viewing time. It provides an easy way for viewers to consume your content, even if they can't listen to the audio or watch the video at full volume.
To make the captions more engaging, consider including emojis or other symbols. This can make your videos even more shareable and help to increase overall reach. You could add an animated gif or meme to grab the viewer's attention.
Subtitles, on the other hand, provide an important accessibility feature for viewers who may be unable to hear the audio. Ensure you include subtitles in multiple languages so everyone can understand your message.
Finally, a major benefit of using captions and subtitles is that they are both searchable. This means more users can find your video as they search online, potentially leading to more views.
Captions and subtitles can make a massive difference to the success of a video. Adding captions or subtitles to your videos can make them more engaging and accessible for viewers. 
It's also essential to ensure that your captions and subtitles are accurate so viewers can get the most out of your offer. Captions and subtitles can help you maximize the reach and impact of your videos.
Track and Analyze Performance
It is said that only what is measured and reported grows. This is true for video marketing as well. Tracking and analyzing the performance of your videos is essential to understand what content works best, where viewers are engaging with it, and what needs to be improved upon (it can also help inform future content creation).
Tools like Google Analytics, YouTube Analytics, and social media analytics can help you track user engagement and measure the effectiveness of your content. It also helps to have a reporting system in place so that you can easily track the performance of your videos and present it to stakeholders.
Alternatively, you could use social media management tools like Hootsuite and Sprout Social to measure the impact of your videos across multiple platforms and track engagement metrics like likes, comments, shares, etc.
3. Focus on Community Building and User-generated Content
Community building and user-generated content are the third strategic pivot if you want to succeed in social media marketing. By leveraging user-generated content, you can get people to share their stories and experiences, creating a more personal connection with your brand.
Here are ways to encourage user-generated content and grow a community around your brand:
Be Responsive and Engage with Your Audience
You can foster relationships with your followers by responding to comments, addressing queries, and creating a two-way conversation. This encourages more engagement and strengthens your presence on social media.
You could always hire a social media marketer to be available to answer questions and respond to comments
Some tools can also inform you every time, your brand gets mentioned in any post or comment so that you can stay on top of things. For example, you can use Sprout Social's monitoring tool to get notifications whenever your brand is mentioned on social media.
Create User-generated Content Campaigns
You can create user-generated content campaigns to encourage your followers to share photos, videos, or stories. This can be a great way to get your audience involved and create content about your brand.
You can do this by setting up a hashtag, running contests or challenges, or offering perks and rewards for participation. Promote your campaigns on other social media platforms to help spread the word.
Engage with Influencers
Influencer marketing is a great way to reach a wide audience and create more engagement with your brand. 
Identify influencers in your industry and reach out to them about partnering up. You can offer incentives for them to promote your products or services, or you can collaborate on content creation. Influencers can add a lot of value to your brand and help to drive more engagement with your social media accounts.
Nano-influencer marketing is an effective strategy, as well. Nano-influencers typically have fewer followers than other influencer tiers but can be just as powerful in connecting with their audiences. These influencers are more cost-effective and can give your brand more direct engagement with potential customers.
Another great way to utilize influencers to build your brand is to have them endorse or review products. This can create trust among potential customers and encourage them to purchase. Similarly, influencers can provide valuable feedback about your products or services which can be used to refine and improve them.
Finally, influencer marketing can also reposition existing products and services by introducing them to new audiences. This is an effective way of getting potential customers to take notice of your brand and helping them decide to purchase.
Create Polls and Surveys
Polls and surveys are a great way to increase engagement with your followers. You can use them to get customer feedback or ask questions about their interests to help you develop new products and services.
Polls are also great for increasing engagement on your posts and helping to generate more conversation around them. Use polls to ask your followers what they think about specific topics or get their opinion on something related to your brand.
You can also use surveys to gain insights into customer sentiment or get feedback on a new product or service. Surveys can help you identify what people want and need from your business, allowing you to tailor your offerings and make more informed decisions.
Host Giveaways or Contests
Giveaways and contests are great ways to lift engagement levels on social media. Offer followers the chance to win prizes by sharing your post, using a specific hashtag, or submitting an entry.
Set rules and deadlines for your giveaways or contests, and announce the winner publicly. This will create anticipation for future events among loyal followers and attract potential new customers.
To make the events epic, offer a special prize related to your company — like one of your products. This will increase the value of the reward and draw more attention to your brand.
You could also create a scavenger hunt or use an interactive game like "name that tune" or "guess the emoji." Not only will these types of activities engage your followers, they'll also help build trust and loyalty.
Create a Sense of Belonging
When people feel they belong to something, they're more likely to show loyalty and advocate for the brand.
Create online communities for your followers to connect and share their experiences with your brand. Show appreciation for user-generated photos and reviews, respond to comments promptly, and highlight stories from your followers.
This way, they will feel connected and valued, which will encourage them to keep coming back.
Monitor and Moderate Conversations
Social media is the perfect platform to listen and learn from your customers. Monitor customer conversations, pay attention to feedback, and participate in relevant discussions.
By doing so, you can detect and address customer concerns quickly and efficiently. Not only does this make customers feel heard, but it also allows you to turn a negative customer experience into a positive one.
Finally, stay on top of all relevant conversations and be prepared to moderate them when necessary. This way, you can protect your brand's reputation and ensure that conversations stay positive and on-brand.
Sprout Social makes it easy to keep track of conversations and take action when needed. With its powerful analytics, you can easily analyze customer behavior and discover what customers say about your brand. You can also monitor popular topics and trends to stay ahead of the curve.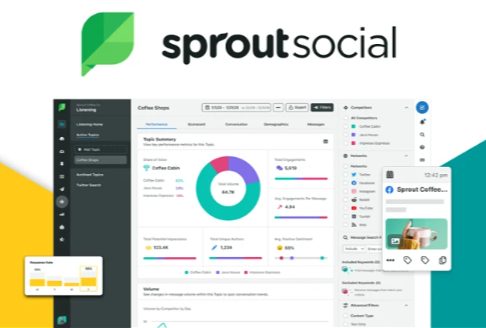 Source: SproutSocial
Cross-Promote Your Content
Cross-promoting your content is a great way to expand your reach and increase engagement. It involves sharing content across multiple channels and platforms, including social media, blogs, websites, email newsletters, etc. 
To maximize the impact of your cross-promotion efforts, use Sprout Social to keep track of the content you're sharing easily and who's engaging with it.
You can share links to your other social media profiles in other social media profiles. For example, share links to your Twitter and Facebook profiles in your email signature. This helps to increase the visibility of your content and attract more followers.
Leverage Hashtags
Hashtags are a great way to build a community around a brand. They make it easier for people to find relevant content. When creating hashtags, keep them short, unique, and relevant to your brand. Use the same hashtag across all your social media profiles for consistency.
One way to make hashtags viral is to use influencers. Collaborate with influencers in your field and ask them to help promote your hashtags. They can share your content and use hashtags to reach a wider audience.
Invest in Paid Methods
Community building is a process that takes time and patience. Consider investing in paid methods such as sponsored posts or ads to speed up the process. 
Running ads on social media can help you reach a larger audience and increase engagement with your content.
The key is to focus on one social media platform first and then expand to other platforms. Make sure you have a well-developed media strategy before launching any campaigns so that your efforts are focused on creating a strong brand presence. 
Finally, don't forget to track your progress and adjust the campaigns for optimal results.
Utilizing these tips ensures that your content is seen and appreciated by the right people. With enough time, effort, and creativity, your content will reach the right audience and give you great returns.
What To Look For When Hiring A Social Media Marketing Agency For Your Campaigns
Now that you know the three types of social media marketing strategies, the next step is hiring a social media marketing agency. Here are some factors to consider when looking for an agency:
They Maintain a Presence on Social Media
This is the most accurate way to know if an agency is successful. Check to see how long they have been active and how many followers they have. This will give you a rough estimate of how successful they are.
If they can build their following to a certain level, they should be able to do the same for your company. Go through their social media handles and see how often they post, the types of content they produce, and the type of engagement they get.
At Flying V Group, we understand the importance of doing what you preach. We have a massive following on all our social media platforms and consistently produce engaging informative, and entertaining content.
They Have a Team of Experienced and Expert Social Media Marketers
Next is to look at the team behind social media marketing. Find out if they have a team of experienced and expert social media marketers or if they subcontract their work.
At Flying V Group, we ensure that our team is well-equipped to handle all of your business's social media marketing needs. We have a team of experts with years of experience in social media marketing who understand the nuances and complexities of running successful campaigns.
We also know the tools and strategies to create engaging content that resonates with your target audience. Our team is knowledgeable about the latest trends in social media, so they are always up-to-date on the best practices for creating effective campaigns.
In addition, we have built relationships with some of the best social media influencers in the industry. These partnerships give us access to valuable insights that help us create even more impactful campaigns. We also use our extensive network of partners to expand our reach and ensure that we reach as many people as possible.
They are Creative and Innovative 
Creativity is crucial for creating effective social media campaigns. Our team is experts in developing unique ideas that resonate with our target audience. We always seek ways to stand out by using creative visuals, videos, and content.
When taking on a project, we'll ensure to understand the needs of your audience and the goals you're trying to achieve. We'll then develop a tailored social media campaign designed to meet those objectives.
We aim to ensure that your brand gets the necessary exposure and engagement from social media. We'll monitor our progress on an ongoing basis, making adjustments as needed to ensure that the campaign runs smoothly and delivers on its objectives.
See what Taylor Wise says about the Flying V Group: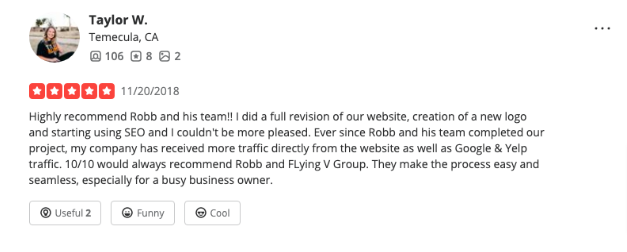 We also offer additional services, including content creation, influencer outreach, and analytics. By leveraging these services, we can ensure your social media presence is as effective as possible.
They have a Proven Success Record
Past customers always comment positively on the results they have achieved. Go through the Google and Yelp reviews of the social media agency to determine if they can deliver on their promises.
If customers give negative reviews, it could be a sign that the agency is not delivering on its promises. Look for reviews that mention the results they achieved with their social media campaigns and efforts.
Ask the agency also to provide examples of their past work. You can better understand how they will manage your social media account. Ask them to provide details on their strategies and tactics and how they have performed.
They Keep up with the Latest Social Media Trends
One way to determine if a social media agency is keeping up with the current trends and developments is to look at their blog.
Are they publishing content that is relevant to the current trends? Is their website up-to-date with information about the latest tools and techniques they use for their clients? By asking these questions, you can understand how knowledgeable they are about the industry and ensure that your account will receive the most current strategies.
At Flying V group, we are committed to staying up-to-date on the latest social media trends and technologies. We regularly post content related to our services, share best practices for using different platforms, and feature case studies of our success stories.
Our blog is a great way to keep up with our progress and see what sets us apart from the competition. We also attend industry events, participate in webinars, and network with other professionals to stay informed about the latest developments. With our team of experienced professionals, you can be sure that your account will benefit from our knowledge and expertise.
They are Transparent About Their Pricing 
Agencies that offer digital marketing solutions can be expensive. Some may even have hidden charges that are not disclosed until after the service has been provided.
At our company, we ensure all fees and charges are up front and clearly stated in our contracts. An honest and open relationship with our clients is essential to providing the best service possible.
Check out this review by Austin Walter, a client of the Flying V group: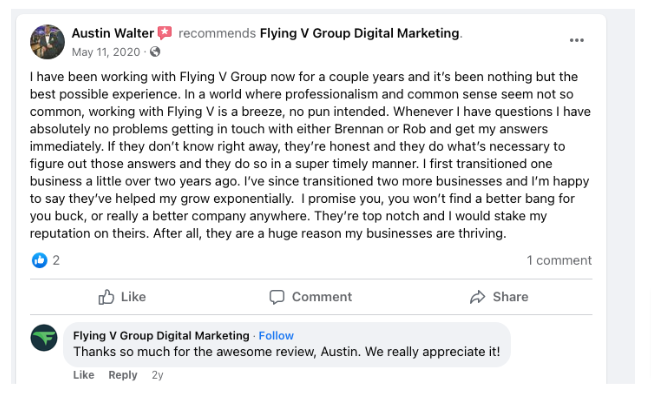 We offer different packages for various services that can be tailored to fit any budget. Our team is also happy to answer any questions regarding our services or pricing.
They are Committed  to Your Campaigns
The right social media agency dedicates their attention to your campaigns and can help you stay on track with your goals. They take their time to interview your workers to understand your product's value skew and tailor a strategy to match.
They even interview your customers to gain even more valuable insights. They use their findings to develop strategies that result in real return on investment and tangible results.
At Flying V group, we will have a sit down with you to discuss your goals and create an effective strategy that is tailored to your business. We will also conduct regular check-ins with you and ensure your campaigns meet their objectives. We will keep track of the metrics that matter most to you and provide meaningful insights from our data-driven approach.
See what Kendra Woody had to say about us: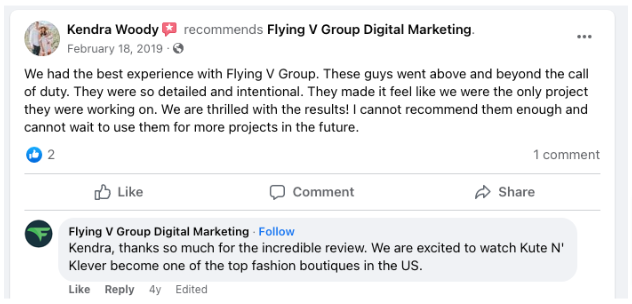 You want to work with an agency that responds to your questions and suggestions. This way, you can ensure they are on the same page as you and understand exactly what you need.
At Flying V group, we pride ourselves on being prompt and attentive to your needs. Our team is always available to answer questions and assist you with anything.
See what Ondrian Yeung had to say about our working relationship with him: 

We understand the importance of a close collaboration between you and our team, so we are always open to feedback and eager to make improvements whenever possible.
They Know How to Repurpose Content
Content repurposing is a crucial part of a successful digital marketing strategy. It allows you to reach a wider audience by taking the same content and creating different versions for different channels or formats.
At Flying V Group, our team is well-versed in content repurposing techniques and knows how to create content tailored to the needs of your target audience. Whether you're looking for videos, infographics, blog posts, or social media campaigns, we can help you effectively leverage existing content to reach more people.
We can create multiple pieces of content from one blog post, such as social media posts and videos. And then identify the best channels and platforms to promote them on. We can even turn the same content into a webinar or podcast, giving you an entirely different format to engage your audience.
Content repurposing isn't only about increasing reach but also about creating unique and interesting content that will keep your audience engaged. e can help you create fresh content from old material so your content never goes stale.
We understand that content shouldn't be published or shared for a few weeks to be forgotten. We believe that content should be distributed forever, so we offer content repurposing as part of our services. By turning your content into different formats, you can gain more mileage from your content and reach a larger audience.
They Track and Report Results
By tracking the performance of your social media content, you can identify which channels and types of content work best for your business.
We provide detailed analytics and reports to help you understand your content's performance and determine which content types are most effective for driving engagement. This data allows you to make better decisions about allocating resources for maximum impact.
You'll also see the gains we are making for your social content, such as increased engagement, more followers, and improved brand image. We'll show you how our strategies are helping to drive targeted traffic to your website and convert those engaged users into loyal customers.
Hire This Social Media Marketing Agency In Orange County To Create A Formidable Social Media Marketing Strategy
We at Flying V Group understand the importance of staying ahead in the ever-evolving world of social media marketing. With our comprehensive understanding and knowledge, we're committed to developing innovative solutions to help you succeed in the competitive social media landscape.
We design and implement data-driven social media marketing strategies customized to your target audience and product. From content creation to engagement optimization, our team works hard to create effective campaigns that reach your desired market. We also provide detailed analytics and reporting to measure the success of each initiative.
We are the ideal choice if you need an Orange County digital marketing agency to help you reach your goals. Contact us today to speak with our knowledgeable team and start taking your social media presence to the next level. We look forward to working with you!