Reading Time:
7
minutes
In the ever-evolving world of digital marketing, one strategy that continues to play a pivotal role in driving website traffic and improving search engine rankings is the utilization of SEO backlinks. Backlinks, also known as inbound links, are links from external websites that direct users to your website. They serve as a vote of confidence and credibility, signaling to search engines that your content is valuable and worthy of recognition.
However, harnessing the full potential of SEO backlinks requires a strategic approach. In this article, we will delve into the importance of backlinks, explore effective techniques to acquire high-quality backlinks and provide expert insights on optimizing their impact on your website's success.
Here are the most important things you should know about SEO and backlinks:
The content and its quality is more important than the number of backlinks.
You need relevant, audience-centered content on your website or blog.
The anchor text needs to match the content of your page
The anchor text does not need to be exactly the same as the one in the link's URL.
You want to create links that will help you rank in Google, but not ones that can get you banned from the search engine.
Backlinks Strategy
If you're looking to increase your website rankings and get more organic traffic, you need a backlinks strategy.
But what is a backlinks strategy? It's a step-by-step plan focusing on building quality links to your site in order to improve your search engine rankings. There are three main types of backlinks:
Natural links
Artificial, or "unnatural," links
Manual links
What makes a quality backlink?
Ben Goodey, Head of Growth Marketing at CustomerGauge, shares his take on the topic:
"A good website with high authority (check them in SemRush or Ahrefs)
Lots of traffic driven to that page
A contextual link. For example, a website like New York Times mentions your website as a tool they're using. Then others read the article and click the link. That is contextual, it looks organic, and people are actually clicking on it and coming from that site. Google values this very highly."
Backlinks Checker
What is the best backlink checker? Ahrefs, because it has the second most active web crawler after Google, this means that it has the best backlink database in the industry. Plus, this tool is 100% FREE!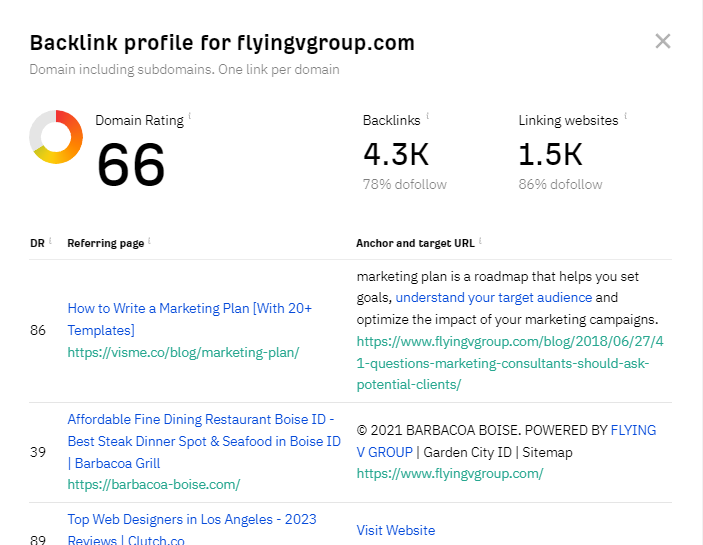 At the time of writing this, the company's website shows:
43 trillion Known Links.
170 million Unique Domains.
24 billion Pages Crawled Each Day.
Ahrefs' backlink index is updated with new data every 15 minutes.
Here are its top functions and why you'd want to give it a test drive:
See domain and page-level metrics for any target.
Monitor the growth and decline of backlink profiles.
Get a complete breakdown of the target's backlink profile.
See estimated organic traffic to each linking page & referring domain.
See all websites linking to your target with domain-wide metrics.
See the most linked-to pages.
See a complete breakdown of all outbound links.
In-depth link analysis features.
Bonus White Hat Backlinks
White hat SEO is a long-term strategy designed to improve the visibility and accessibility of your websites on search engines like Google and Bing. It involves using strategies that follow search engine guidelines and best practices. White hat SEO tactics include:
Creating high-quality content that's relevant to your audience and optimized for search engines.
Building links from other websites with related content that are likely to be clicked by visitors searching for your products or services.
Using social media platforms like Facebook, Twitter, and LinkedIn to promote your content and generate traffic to your site.
Optimizing your site, so it appears in search results based on relevant keywords, not just paid placement in "sponsored links" sections at the top of SERPs (which Google calls "Ads").
Jeremy Moser, CEO of Userp.io, answers the million-dollar question:
What makes content 'linkable'?
"Linkable content has one or more of the following characteristics.
(1) Evergreen
Evergreen content typically revolves around topics that have sustained levels of interest. In other words, it never goes "out of date" as people are always interested in it.
This article on what makes a great logo is a good example. It covers a topic that's always relevant. Countless people start a business each year, which means they'll need a new logo.
So how can you tell if a topic is an evergreen? One way is to use Google Trends, which shows interest over time, based on search volume. "
What are the other characteristics or key components of linkable content as revealed by Jeremy?
(2) Educational and
(3) Well-designed
Grey Hat SEO
To paraphrase Will Morris, staff writer at WordCandy, who wrote an intriguing post for ElegantThemes, here's a comparison between 'grey' hat, 'white' hat, and 'black' hat:
There are many ways to define 'grey hat' SEO, but the best way to think about it is as a spectrum. On one end, you have 'white hat' SEO: the tried-and-true methods that are approved by Google and other search engines. They're designed to create content that meets user intent, build links organically and provide a pleasant user experience.
On the other side, you have 'black hat' SEO: techniques that focus on getting results quickly, often by breaking the rules. Some examples include faking or buying links instead of building them, copying and spinning content (read: stealing content) instead of writing your own, or using cloaking techniques that hide content from search engines so they don't index it properly.
Grey hat SEO lies between these two extremes, but where exactly? That depends on how you choose to define it. As with ethical hacking, gray hat SEO is a nuanced concept that's often contentious. Some people say that any technique that isn't listed in Google's Webmaster Guidelines is a grey hat; others argue that only techniques that break Google's guidelines are grey hat.
Black Hat Backlinks
Adam Steele, entrepreneur scaling SEO for agencies @ Loganix, reveals:
What is Black Hat Link Building? (Definition)
"When it comes to backlinks, Black Hat Link Building is the process of acquiring links through illegitimate or unethical means. Many site owners and SEOs use black hat link-building tactics because they believe it is the most effective way to improve their website's search engine ranking.
While true in some circumstances, black hat tactics are often not worth the risk.
Sure, while these methods can provide short-term results, over the long-term, they are unsustainable."
"You see, black hat SEO techniques go against Google Search Central's guidelines (formerly Google Webmaster guidelines). And while many of these tactics were effective back in the day, Google's algorithm has improved dramatically over time and can now easily detect any SEO tactics that are viewed as manipulative or nefarious."
Broken Link Building
Broken link building can be a waste of time (if it's your only SEO technique)
I'm sure you have heard this before, but it's such a waste of time because you could be doing something else that gets you more links and traffic.
The most important thing about broken link building is that you should not be using broken link building as a core strategy for building links to your website.
Instead, use broken link building to supplement your inbound marketing efforts by finding relevant websites and reaching out to them to see if they are interested in linking back to your content or article on their website.
Broken link-building strategies include:
1) Find sites in your niche that have broken links, contact those sites and see if they would like to add backlinks from their website to yours.
2) Find sites in your niche that have out-of-date information (e.g., old articles), contact those sites and see if they would like to add backlinks from their website to yours (to update their content).
3) Identify niche forums where people talk about your topics and scan the posts for broken links, thin or poorly written blog posts, and articles.
Testimonial Backlinks
According to SEO speaker, and pro blogger, Matthew Woodward:
"Testimonial link building is the process of getting your positive comments about a product or service featured on the provider's website.
At its core, the testimonial link building technique provides a lot of value to the owner in exchange for a link from their site.
This Is How It Works
I recently created a video testimonial for MyThemeShop.
I'm incredibly happy with it's service when creating my Authority theme, and I wanted to share my thoughts about it.
I pitched them and asked if they'd like a testimonial from me.
They wanted one.  And now it's featured on their homepage."
Blog Comment Backlinks
Blog commenting SEO is an old technique that has been around since the early days of the Internet. It's a simple concept. You leave comments on other blogs to build backlinks and get traffic from those sites.
It's also one of the most misunderstood forms of link building.
What Blog Commenting Does for SEO Today
Content Specialist @ Close, Amy Copadis, provides the answer:
"There are plenty of reasons to keep commenting on blogs as long as you're doing it correctly and with the right goals.
So, what's blog commenting SEO good for today?
Creating Relationships with People in Your Industry
We keep hearing about how important real relationships are in the digital age. Connecting with the right people can be the difference between success and failure for your website.
So, use your blog comments to connect with people.
Establishing a relationship with the author or owner of a website through blog comments can be a great way to get your foot in the door for a guest post, which will get you a valuable backlink."
Infographic Backlinks
Infographics are visual representations of data, information, or ideas. They can be used for various purposes, including education, marketing, or even entertainment. They're usually created using a combination of charts, diagrams, and illustrations to show how something works in a simple way. The goal is to communicate complex information quickly and clearly so readers can easily understand it.
Why Are Infographics Such a Good Source for Backlinks?
The answer is pretty simple: because of their unique characteristics. They are easily shareable, highly linkable, and visual, which makes them great content for social media sites like Facebook, Pinterest, Tumblr, and more.
How to Get Backlinks With Infographics?
There are many ways to use infographics for backlinks:
Create an infographic about a topic related to your industry or business area. For example, if you sell car parts, you can create an infographic about the history of cars or the evolution of car parts.
These topics will attract people from other industries and make them want to share your content with their circles.
You should also include links to your website or blog in the footer of your infographic so that people can easily find them when they share them on social media channels like Facebook and Twitter.
Closing Thoughts
Leveraging the full potential of SEO backlinks is a crucial element for success. These valuable links not only drive traffic to your website but also enhance your search engine rankings and overall online visibility. By adopting effective strategies such as creating compelling content, engaging in outreach and relationship-building, and monitoring and optimizing your backlink profile, you can unlock the true power of backlinks.
Remember, the quality and relevance of your backlinks matter more than the quantity. So, focus on acquiring authoritative and contextually relevant backlinks that align with your target audience and industry. By mastering the art of SEO backlinks, you can position your website for long-term success and stay ahead of the competition in the ever-evolving digital landscape.
Ready to unleash the full potential of SEO backlinks and take your website to new heights? Look no further than Flying V Group, your trusted digital marketing partner. Our team of experts understands the importance of high-quality backlinks in driving traffic, improving search rankings, and boosting online visibility. Contact Flying V Group today and let's harness the power of SEO backlinks together!