Reading Time:
9
minutes
Does your large-scale organization constantly battle to gain online visibility? It's time to consider SEO for Enterprise as your winning strategy!
By meticulously optimizing your website and digital assets, you can secure higher rankings on search engine results pages, outperform your competitors, and drive more traffic to achieve your marketing objectives.
Brian Dean at Backlinko explains:
"SEO for Enterprise is the practice of improving search engine rankings for a large, enterprise company. Common enterprise-level SEO approaches include scaling content, ongoing technical SEO management, and automation."
Brian further shares a few examples of the types of sites that might need enterprise-level SEO:
Fortune 500 companies.
Large e-commerce sites with 10k+ pages.
Businesses with multiple locations.
Enterprise businesses with several websites.
You may be asking yourself:
"What tools or platforms are best for enterprise SEO, and how can we leverage them effectively?"
We asked a couple of SEO specialists this same question, and here's what they had to say:
Max Benz, Founder, and CEO at BankingGeek, write:
Deciding which tools or platforms are best for enterprise SEO is a complex decision. There are many factors to consider, such as the size of the organization, the industry, the level of competition, and the budget.
That said, some general guidelines can be followed. For example, larger organizations will likely need more comprehensive tools that can scale to their size.
On the other hand, smaller organizations may get by with less expensive and more basic tools.
Additionally, businesses in highly competitive industries may need to leverage more sophisticated tools to stay ahead of the competition.
Ultimately, the best way to determine which tools are best for enterprise SEO is to consult with an expert. Someone with experience in the field can assess the organization's needs and make recommendations accordingly.
Animesh Das, SEO Executive at FirstPrinciples.io, says:
Where there is a myriad of enterprise SEO tools, there are specific SEO tools that I prefer personally because of their usage benefits. SEOClarity is one of the best SEO tools, allowing users to create customizable SEO dashboards.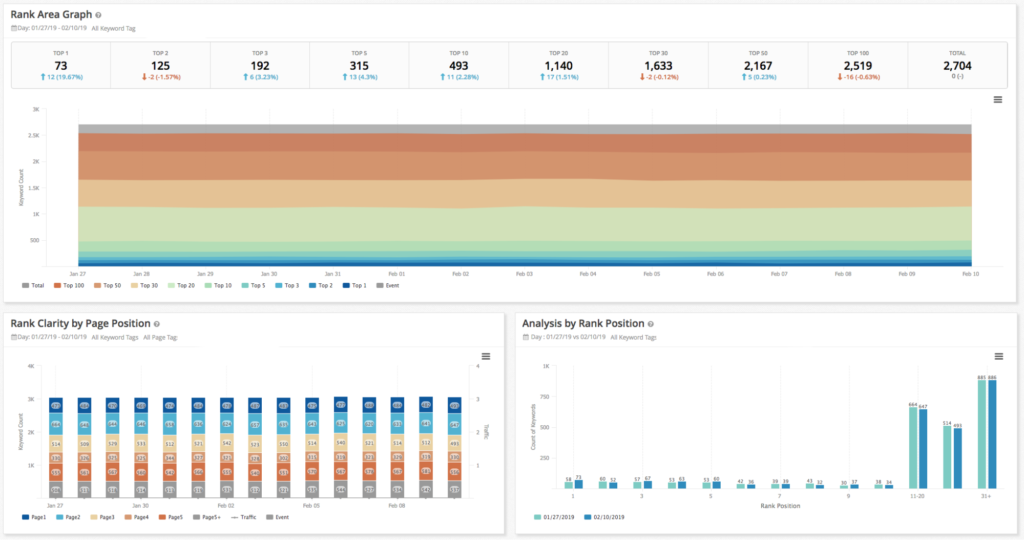 You can also perform site audits, and the tools assist in detecting duplicate content and site errors. Furthermore, for enterprises based in diverse locations, the tools have features that assist you in leveraging the local keywords helping you make your business discoverable.
Another tool such as Ahrefs offers you insights on the accurate number of backlinks to your domain. You can have brevity and asses when you have earned the most backlinks and identify broken links quickly.
The paid version of SEMRush displays the position for which a keyword ranks. It offers you the data on the amount of traffic driving to your site, and you can also drill down the keyword's search volume.
Leveraging SEMrush, you can conduct competitor gap analysis and audit your SEO copywriting.
Google Search Console, formerly Google Webmaster, is another excellent tool for enterprise SEO to get behavioral insights. You can get data on click-through rate (CTR), clicks, and impressions. Besides, the tool can easily be integrated with reporting tools such as Google Data Studio, and you can track down your SEO efforts to bring up-to-date search metrics.
These SEO tools offer you a  results-driven performance marketing strategy, the correct metrics to deliver the results, and also aid in fueling the approaches to optimizing campaigns and delivering results aligning with measurable goals.
Johannes Larsson, CEO of johanneslarsson.comshares:
I highly recommend Ahrefs for enterprises looking for an all-in-one SEO tool. It has all the features I need to rank better on Google, including keyword research, content gap analysis, backlink metrics, and much more.
It works incredibly well for my needs since I can use it for the different brands I manage. It's also great for collaboration, as I can give individual team members access to specific campaigns and pay on a per-user basis, making it very cost-effective.
Ivan Messina, CEO atSupportHost, writes:
Our SEO consultant, Roberto Popolizio, suggested using Ahrefs for competitors and backlinks analysis, Screaming Frog on one of our VPS for ongoing monitoring of our site's health, and a custom script to semi-automate our outreach process.
Combine all these tools with Google Sheets, and we have a complete set of data ready at hand at any moment for all team members.
The next step has been to leverage our coding abilities (we are a team of developers, after all) to automate as many processes as possible by integrating these tools and GA+GSC APIs to streamline our content performance reporting.
The key benefits we can see from this system are a better capability to measure our results and immediately identify issues or room for improvement in our processes. APIs for data integration and management are really the key here.
James Parsons, Founder, and CEO of Content Powered, says:
Because most enterprise-level websites have many pages, leveraging regular on-page optimization and robust link-building efforts can boost rankings quickly.
The SEO strategies for enterprises don't apply traditional SEO suitable for small websites. Attaining a multi-million dollar enterprise-level website entails using a robust SEO tool that can effectively, accurately, and securely analyze data.
SEMrush is a reliable enterprise SEO tool that can help attain this goal. With its paid version, enterprise-level marketers can expose keyword rank positions across search engines, providing keyword search volume.
This SEO tool reduces the crawl ability, indexability, prioritization, team collaboration, and legacy site issues that most enterprises face because of its intuitive metric tracking features and dashboard.
One can easily audit SEO content, research relevant topics, and analyze competitor SEO performance.
Michael Haas, President, and Pitmaster @AngryBBQ
BrightEdge is a top enterprise-grade SEO platform that doubles as a content performance management platform. It integrates website analytics data with content performance and social data to view your SEO program thoroughly.
Share of Voice is a unique feature that businesses like you should take advantage of. It can comprehensively measure your content's visibility based on tools such as local carousel, video, images, links, and videos. Through a single dashboard, you could understand how your content is faring in search engine results pages compared to competitors. This way, you can prioritize your content plans and keep abreast of changing trends.
Abe Breuer, CEO and Owner, VIP To Go affirms:
seoClarity is a highly reliable enterprise SEO for unlimited site audits. You can crawl your site whenever necessary as it carries out over 100 technical health checks,  broken links, 404 errors, and duplicate content. This way, you can ensure that your site is always accessible, indexable, and possesses all SEO elements needed to improve the user experience and rankings.
You can quickly add meta titles, descriptions, and alt tags in your posts, especially if it's missing them. You can customize the SEO reports, too, to show the most important metrics for your brand.
seoClarity's basic plan starts at $750 per month.
Jamie Irwin, Director & Founder of StraightUpSearch.com, shares:
Pitchbox
Pitchbox is one of the leading tools for enterprise-level email outreach. It offers a powerful suite of features that make it easy to manage large-scale campaigns with precision and efficiency. Some of the key benefits of Pitchbox include its ability to automate your outreach process, analyze campaign performance in real-time, and personalize each email with dynamic responses. This is something we couldn't live without when servicing enterprise-level clients
Ahrefs
Ahrefs is a powerful suite of tools widely used for our enterprise-level SEO clients to analyze and optimize their website performance. Some of the key features of Ahrefs include its ability to track rankings, crawl and audit websites, identify backlink opportunities, and monitor keyword performance over time.
Wrap Up
What makes both of these tools essential for our client's service is the reporting facilities within each. KPIs and transparent reporting are crucial for enterprise SEO as they often have to provide feedback on marketing campaigns to internal and external stakeholders like investors.
Some key factors to consider when choosing a tool include its ease of use, price, level of automation, features, and overall performance. Ultimately, the best way to fully take advantage of these tools is by working closely with an experienced SEO expert who can help you customize and optimize your campaigns to achieve the best results. With the right approach and planning, you can leverage tools like Pitchbox or Ahrefs to successfully scale your enterprise-level SEO efforts and achieve top rankings in your industry.
Roberto Torres, owner of The Local Marketer, says:
I recommend Sitebulb for enterprise SEO for a variety of reasons. The first is its client-side crawler.
For larger enterprise websites, thousands of pages can make hosted solutions very expensive.
Second, their documentation and guides are top-notch.
Sitebulb provides solutions for the hints and errors it finds after crawling your site. This enables an internal marketing team with a wide variety of skills to learn and use best practices within the whole team. Lastly, Sitebulb shines in customer support.
Enterprise customers need access to support that is responsive and able to move quickly. If you look at their release notes, you'll find an agile response to problems and bugs discovered.
Gosia Hytry, Head of Content @Spacelift, writes:
Many enterprise SEO tools/platforms are available at our disposal nowadays, each with its competitive advantages. There's Conductor, BrightEdge, seoClarity, and more; however, I have always enjoyed using Semrush, and here's why:
It's an all-in-one SEO platform that analyzes the traffic distribution from the channel down to the referring site and keyword levels in the Traffic Analytics report across mobile and desktop.
The platform can track up to 5K keywords (updated daily) from the country to the postal code level in the Position Tracker report. It also automates site crawling and action item recommendations.
Semrush is useful for extracting actionable insights from the data and is trusted by brands such as Amazon, Tesla, and P & G.
Sofie Koevoets, Digital PR & SEO Content Manager @ Superside, affirms:
As the SEO specialist for Superside, I use several platforms that make my daily life much easier! Platforms like Buzzstream, Ahrefs, and SEMRush help us with outreach and site audits.
Of course, we also keep a good eye on our own performance and the Google Suite products like data Studio and Search Console.
Sean O'Dell, Head of Developer Relations @Spacelift, recommends:
SEO Powersuite
SEO Powersuite is the most powerful installable SEO software you can download to Windows, Mac, and Linux. SEO PowerSuite is a suite of SEO tools that comes in one package. It includes four apps:
Rank Tracker: To track the rank of unlimited keywords.
SEO Spyglass: To track the various SEO metric of the website.
Link Assistant: To track the backlinks and find the backlink opportunities.
Website Auditor: To audit the website for crawl-ability and indexing issues.
Regarding enterprise SEO, cloud SEO apps, including Semrush, Ahrefs, and KWPro, demand very high pricing. Though an enterprise can afford it, it does not need all those features all the time. We cannot scale up/down quickly. Hence, enterprises end up paying for the unused resources.
SEO Powersuite allows us to scale it up whenever there is a requirement. It runs on the local server, and if we ever need more power and performance, we can migrate the software to a dedicated server, which costs significantly less than cloud SEO tools.
The biggest advantage of SEO Powersuite for enterprises is data security. All the cloud SEO apps collect data by crawling the website. SEO Powersuite stores data to the local disk, so there is no risk of data sharing with competitors.
SEO Powersuite is a must-have tool for any enterprise doing SEO. And for $199/year, it is a steal deal if we compare the cost with the advantages.
Chris Zacher | Content Marketing Strategist @ Intergrowth, writes:
Linkdex
Linkdex is a collaborative tool that allows teams to plan, track, and measure link-building campaigns.
Like Ahrefs and SEMRush, Lindex shows you which domains link to your competitors' sites. However, it also has project management features that allow you to keep track of all your outreach efforts. You can organize your publisher correspondences, pending pitches, and link disavowal attempts in the app.
It's an excellent tool for big teams conducting large-scale backlink outreach.
Ilija Sekulov, Digital Marketing Consultant & Senior SEO/SEM Specialist at Mailbutler GmbH, answers:
I am mainly using these tools:
Ahrefs (Inbound Links)
SEMRush (Keyword Research)
Google Search Console (Keyword Research)
Systeme io combines all the essential tools to create and manage an online business.
With a little on-page optimization and link building, most enterprise domains contain many pages that can easily make up ground in the rankings against competitors. And with those bigger budgets for SEO, they can afford high-quality tools to accomplish their SEO goals. But even with one tool like SemRush and Google search console, you can achieve great results.
Nunzio Ross, Founder and CEO ofMajesty Coffee, says:
BrightEdge is one of the best enterprise SEO platforms with intuitive and newbie-friendly features for an inexperienced SEO team. It gives valuable insights into your SEO bottlenecks and challenges you can leverage to prioritize tasks to manage your SEO weak points more effectively. It offers a unique Share of Voice feature that shows your overall presence and visibility in different e-commerce signals.
Closing Thoughts
SEO for Enterprise is crucial for large, enterprise companies that need to improve their search engine rankings. A well-optimized website can improve brand visibility, increase website traffic, and drive leads and conversions. However, implementing SEO at the enterprise level requires careful planning, collaboration, and resources. Choosing the right SEO tools or platforms can be complex and requires consideration of factors such as the size of the organization, industry, level of competition, and budget.
Additionally, staying up-to-date with the latest SEO trends and algorithm updates is crucial to maintaining a competitive edge in search rankings. By prioritizing SEO and investing in the right tools and resources, you can improve your online presence and achieve long-term success in the digital marketplace.
Don't let your enterprise fall behind in the digital marketplace! Our expert team at Flying V Group can help improve your search engine rankings, increase website traffic, and drive leads and conversions. Contact us today to learn more.