Reading Time:
5
minutes
As the online world continues to evolve, it's becoming harder and harder to stand out from the crowd. That's why businesses and individuals are always on the lookout for new and innovative ways to improve their online presence. One trend that's gaining popularity in the world of SEO is Podcast SEO.
Podcast SEO is a new form of SEO that people are just starting to catch on to. This is how you can use podcasting to help your SEO and get your blog or website to rank higher in search engines.
A podcast is essentially a series of audio or video files uploaded to a website and then subscribed to by other users who want to receive regular updates when new episodes become available.
Podcasts allow people to listen while driving, walking, or doing any other activity that doesn't require their full attention.
Podcasts have been around for decades, but they started gaining popularity in 2004 when Apple introduced iTunes 4, allowing users to subscribe directly from their device rather than manually searching for new episodes each time one became available.
Here's how to leverage podcasts for SEO to help propel both your website and podcasts into the top SERPs.
Transcribe Every Podcast Episode
Phil Belleville, Internet marketing veteran, explains:
"One of the ways that your podcast can be understood by search engines much better is through the use of transcriptions. This not only helps users have a text version of your podcast episode but also allows Google to understand the content in the same way that video transcriptions on YouTube help do the same, thus improving its searchability.
Based on the demonstration at Google I/O, it looks like Google's way of picking parts of the episode related to a keyword is through reading audio transcriptions.
While podcast transcriptions can cost a significant amount, it is an investment worth making, as you are helping your podcast get more listeners to discover your content."
Provide Timestamps
Anya Logue, Digital Content Creator at Kagool, writes:
"Most people have a specific question in mind when they come to Google. If it takes too long for them to find their answer in your content, they'll click off and go elsewhere. So you've got to make it easy for people to skip  what they need."
Anya recommends splitting your podcast into different parts with questions or topics. Then you can list a table of contents with timestamps in your show notes and episode descriptions so listeners can easily find what they want.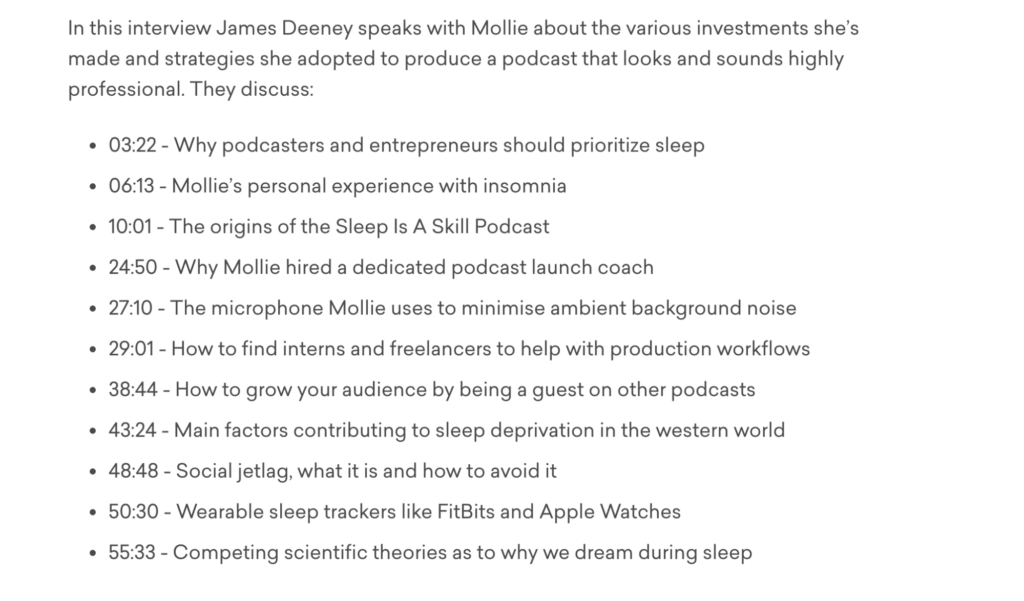 Source: Podcast.co
Repurpose Your Podcast Into Blog Posts
Blog posts still make up the majority of search results, so it's an excellent way to improve your SEO. Start by using a raw transcript from your podcast as the starting point for an article, and then develop it further by adding headings, explanations, and other text chunks that you can break into easily-readable sections.
Further reading:
7 Easy Ways to Repurpose Your Podcast.
Use Internal Links
When people come to your website, you want them to come back again and again. The same applies to podcasts: you want your listeners to feel loyal and keep coming back. To achieve this, strive to create content they can't get anywhere else.
Lilach Bullock, social media power influencer, admits:
"You should do things based on the principle of "ask, and you shall receive." You can leave options for them to make a request or leave a link for them to listen to another related episode. You can leave two or three links to a few episodes.
Make sure you categorize your pages or have a category list for users to navigate the website conveniently. You can group the podcasts based on the theme or other related elements.
Include links so that they help with not only enhancing user experience but also the distribution of authority between pages. It will also help the pages rank high in search results. You can look up the most commanding pages with the links and share the juice content by linking them to your podcast episodes."
Optimize for Podcast Searches
Marie Turner, an SEO Specialist at Vertical Leap, writes:
"Podcast searches take place across two key platforms: search engines and dedicated podcast discovery platforms like Spotify and Apple Podcasts."
Marie further articulates a key fact:
"Google is among the biggest players in both of these fields, with the world's number one search engine and its own dedicated podcast platform Google Podcasts. Best of all, Google shows podcast content in the organic SERPs for relevant searches, so people looking for things like 'business podcasts' may see something like this: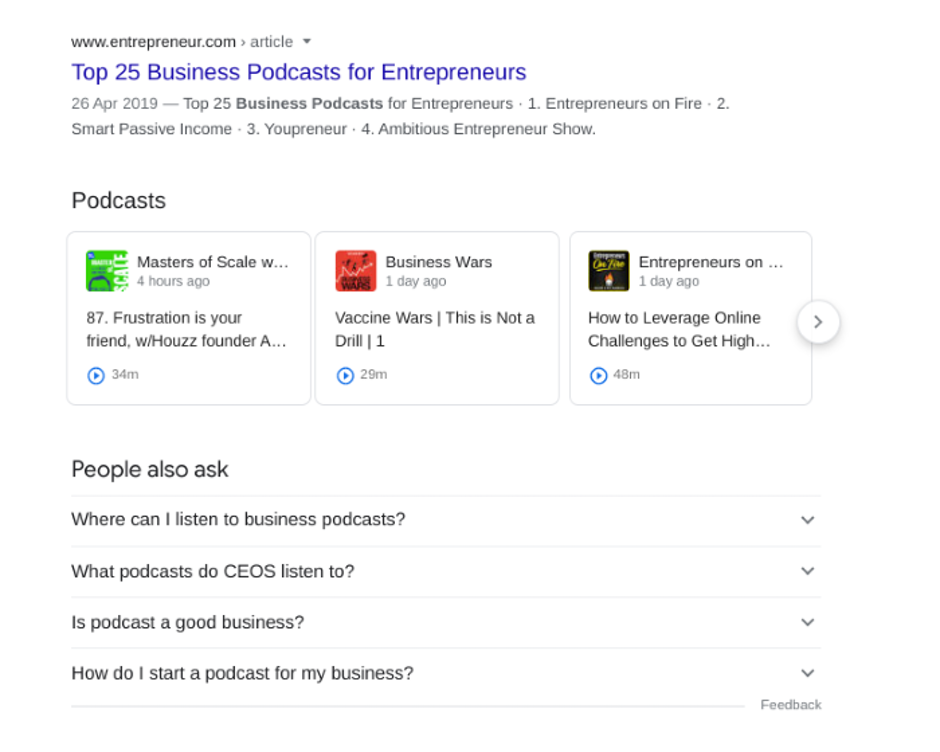 Source: thedrum.com
This is ideal for head term keywords involving the primary subject covered in your podcast content. To get your episodes ranking in Google Search, you need to claim your podcast on Google Podcasts Manager, which makes you discoverable in both Google Search and Google Podcasts."
Follow the Basics of SEO Keywords and Structure
Planning your podcast is not just about creating great content but also identifying relevant keywords and topics that will help you reach more people with the correct information.
To do this successfully,  we as podcasters (and potential guests)  must plan out the questions we want answers to or issues to be addressed before recording our shows so they don't end up being generic ones like "How should I start my business?" rather than something tailored explicitly towards one's niche audience such as entrepreneurs who are just starting off.
Hannah Jesse, Social Media Strategist at fischerAppelt live marketing, has some practical SEO insights for podcasts:
"When planning your podcast, you should already be researching keywords to identify topics, questions, sub-aspects, and related issues that are relevant to the target audience.
Don't just address these topics and questions in the podcast itself, but also mention them in the description text.
You should also structure your description text by using the following elements:
For structuring your description, use headings starting with H2 since H1 is reserved for the main heading, i.e., the page's title
Text-structuring elements such as paragraphs, bullet points, lists, and highlighted text elements
Internal links to your other landing pages with additional podcast episodes with similar content
Research a relevant, unique focus keyword, and provide a title and meta description for the snippet of every page, as well as a title and alt tags for images.
Where appropriate, you should not only insert the keyword and the word "podcast" or related terms in several places in the text but also in the headings, title, and image title. "
Build Each Episode Around a Keyword
Marketing Manager, Akash Singh, recommends in his article,  'How to Get Your Podcast to Appear in Google Results' the following:
"With your title and meta description optimized, you now should use your keyword research to plan your episodes.
Build each episode around one targeted keyword. Doing this increases the opportunities for episodic content to appear in rankings.
The narrower topic also boosts the chances that a searcher with informational intent will listen.
The episode keyword should be used in the episode title and description. As with the podcast title and description, the episode title and description should clearly convey what it covers, particularly as it relates to a searcher's intent.
Social Promotion is Key
Blythe Brumleve @ Digital Dispatch Podcast warns us not to be afraid to share our episodes on social channels more than once; the reason is that:
"Social media algorithms are a beast, and chances are only 5-10% of your audience (if that) saw the post the first time around.
Share an episode multiple times, and don't forget to tag any guests/companies/tools mentioned during that episode to help with additional organic boost."
Closing Thoughts
Podcast SEO is an innovative and effective way to enhance your online presence, ensuring that your content reaches a wider audience.
By diligently implementing the strategies outlined in this article, you can enhance your website's search engine rankings while also increasing the visibility and appeal of your podcasts.
Keep in mind that podcast SEO is an ongoing process, and regular analysis and adjustments are crucial to achieving long-term success.
Dive into the world of podcast SEO, and watch your audience and engagement soar!