Reading Time:
5
minutes
Creating social media content is not as easy as it looks. Platforms like Facebook, Instagram, Twitter, and even YouTube are commonly being used today by almost every user who has a mobile phone.
According to recent statistics, there are more than 3,000 million active users on Facebook, 2,500 million active users on YouTube, and around 1000 million users on Instagram.
In previous years social media was only used for the purpose of making friends and having fun, but today, the purpose of these platforms has changed. Today you can see people making money from these platforms.
Some social platforms like YouTube and Facebook help you earn money directly, whereas some would provide you grounds to establish yourself and your business.
If you want to be successful on social media, then you need to know the art of engaging and attracting followers to your profile or feed.
This can only be achieved if you generate engaging content and regularly post it on your profile.
The success and popularity of your profile depends on the engagement you have with your followers.
As we have mentioned earlier, creating engaging posts is not a child's play, and inexperienced users can never create attractive posts for their audience.
In this draft, we have stated some of the popular ways using which you can create engaging content for social media.
Five Tried and Tested Ways to Create Engaging Social Media Posts
There are many ways using which you can create engaging posts for your social media feed.
But in this section, we have only mentioned a few helpful ones which are being used by top influencers across the globe.
1. Know Your Audience and Generate Relevant Content to Their Interest
The best way to create engaging content is by first knowing who your target audience is, you must know that different audiences have different tastes.
If you are creating content specifically targeting a male audience, then you would irritate off the female users coming on your feed and vice versa.
So the most important strategy that you need to focus on is to first know who your target audience would be.
You need to target people on the basis of their age, gender, and also geographical factors.
You have to create specific content for people of different ages, genders, and locations.
Once you start creating different posts targeting different audiences, you will see that your engagement rate will surely increase.
Creating content without any research and knowledge of your audience is nothing but a waste of time.
2. Always Keep Content Short, Sweet, and Spicy for the Audience
A rookie mistake that most people would make is that they create lengthy content for their feeds.
Well, you must understand that social media is not a website or book; rather, it is a place for short engagements.
If you are creating wordy and lengthy posts, you would see that users coming to your profile would bounce off.
If you want users to engage with your content, then you need to make sure that your content is short, crispy, fun to read, and has some spicy information in it.
Boring content never works on social media, so you need to find unique and attractive information that would appeal to the audience.
Talking about the latest news, movie launches, scandals in industries, and trending topics is the best way to engage an audience.
You can use utilities like Google trends if you want to know about the trending topics on social media platforms, from there, you can find out what kind of people are interested in the trending hashtags.
After getting enough information about the topic, you can create your own fun version for your audience.
3. Rephrase Your Old Engaging Posts in a New Manner with Tool
Now it is true that creating engaging content is important for every social media user who wants to get followers, but at the same time, it is a fact that creating original content every now and then is impossible.
There are very few topics and ideas on which one can create entirely new content.
This is why one has to keep on using old ideas and posts on which they got good views and engagement.
If you have an old post that has sunken down at the end of your profile feed, then you can easily revive it by rephrasing it.
You just need to collect the idea or insight from that particular post and rephrase it in a new way.
Users coming on social media are clever, and so you must make sure that there is no plagiarism in your new posts.
Rephrasing your own old posts or that of your competitors can be tricky as there is always a chance of plagiarism accusation.
Use the online rephraser if you don't know how to restate content manually.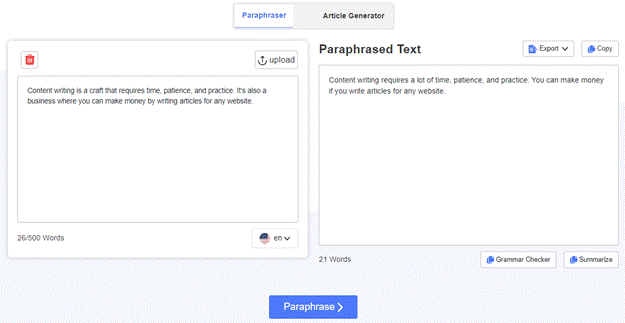 Rephraser tool can create plagiarism-free content by using already published ideas. Users just have to provide ideas/content to work on. You can borrow content from your old posts or from your competitors.
4. Try to Add Visual Content to Your Social Media Posts for Better Engagement
Those days are gone when creating only textual content was enough for readers or users coming on social media.
Today if you create text-based content, then you are not going to get much engagement.
People are more interested in seeing media content/posts because they are more understandable and digestible.
It is best that you get some images related to the topic or idea that you want to post. You don't have to panic about creating new images for your posts.
You can use the reverse image search feature of Google and find out commercially licensed images for your social media posts.
Using these kinds of images would not require you to add any credits to your social media post.
You can find hundreds of images by providing a single keyword or phrase.
5. Provide Solutions to Multiple Problems in Your Social Posts
A very easy way to drive and engage traffic is by talking about solutions to common problems on social media.
You can write about solutions, add images, or can also shoot small videos.
You can see today that many people are adding DIY videos on social media and getting hundreds of millions of views.
In the same way, you can find out problems that your target audience might be facing in their day-to-day lives.
Giving easy solutions for these problems in your social media posts would help you get 100% engagement.
This is a sure-shot method of winning engagement on social media through regular posting.
Here in this post, we have talked about the five different ways to create posts that would engage the audience for your profile.
We would like you to know that creating posts while keeping these tips in mind is not enough.
The biggest thing that you need to worry about on social media is regular posting.
If you are not posting or communicating with your followers/subscribers with consistency, then all your efforts are going to be wasted.
Social media is a very competitive platform, so you need to make sure that you are active and punctual in creating and posting engaging content. Otherwise, your competitors would outrun you!
---
Thank you so much for reading 5 Ways to Write More Engaging Social Media Posts. We really appreciate it! If you have any questions about our article, or can suggest any other topics you think we should explore, feel free to let us know.
Be sure to sign-up for our newsletter to receive monthly emails on all of the latest trends and happenings in the digital marketing space. You will also receive our FREE E-Book with the Amazing Marketing Tools for Powerful Business Growth. Sign-up below!
Also, if you received some value out of this article, please share with your friends or colleagues, or leave a comment/question below. We really appreciate you reading our blog and every share/comment means the world to us and allows us to continue producing valuable tools to help you grow your business!