Reading Time:
8
minutes
Are you a healthcare provider looking to increase your online visibility and attract more patients? Then you need to know about the power of local SEO for healthcare.
With 82.8% of patients using search engines to find healthcare providers, it's essential to rank in the top spot on search engines like Google and Bing. In the past, it was challenging to rank in the top five on Google, requiring high-authority backlinks, organic visitors, and an impeccable reputation. But now, with Google's local 3-pack and the prominence of local SEO, even smaller practices can appear at the top of the search engine results pages (SERPs).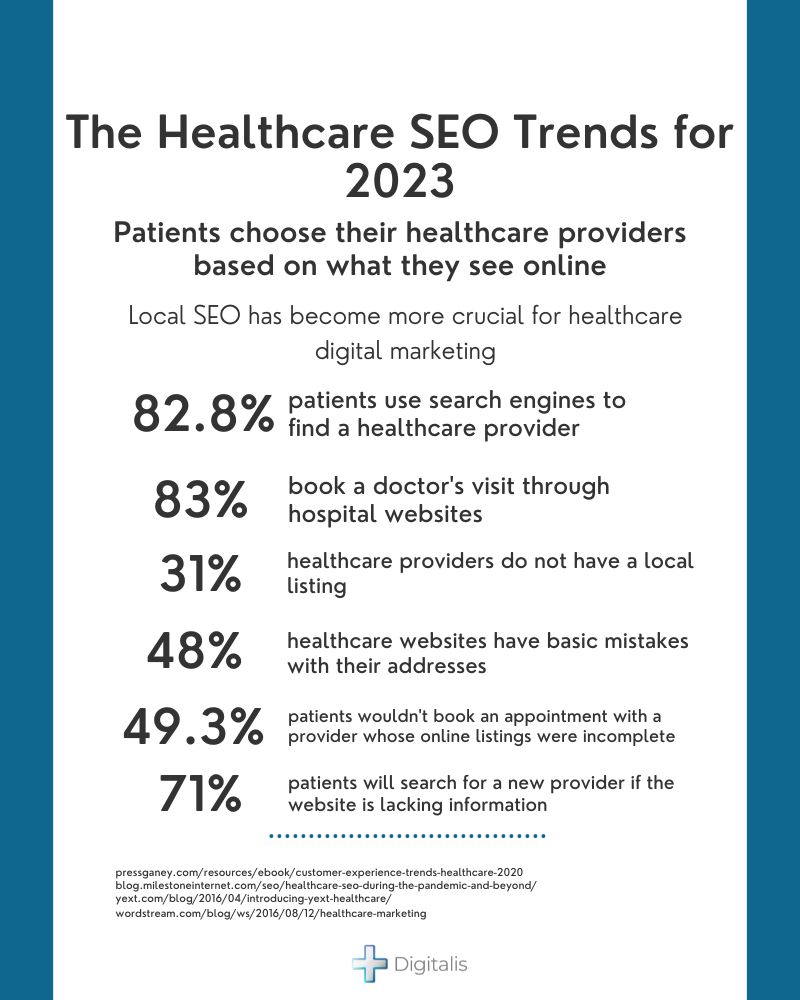 In this comprehensive guide, we'll show you how to develop a winning SEO campaign to attract tons of prospective patients to your medical website and dominate local search. Here is what we're going to cover:
What is Local SEO For Healthcare?
Why Should Healthcare Providers Consider Local SEO?
How to do Local SEO For Healthcare Providers And Get Good Results
What is Local SEO For Healthcare?
Local SEO is a digital marketing strategy focused on optimizing a business's online presence for better rankings in local organic search engine results. Unlike global SEO, local SEO targets specific geographic locations to attract nearby customers looking for quick solutions.
When Google recognizes local intent in a search query, they often serve a Map Pack, which is a listing of three or more local businesses that appear above organic search in the search engine results page (SERP).
Thus, local SEO for healthcare is essential to a doctor's practice's success because it focuses on improving a medical practice's visibility in local search results. This is crucial for healthcare providers since patients often search for medical services and providers close to their location.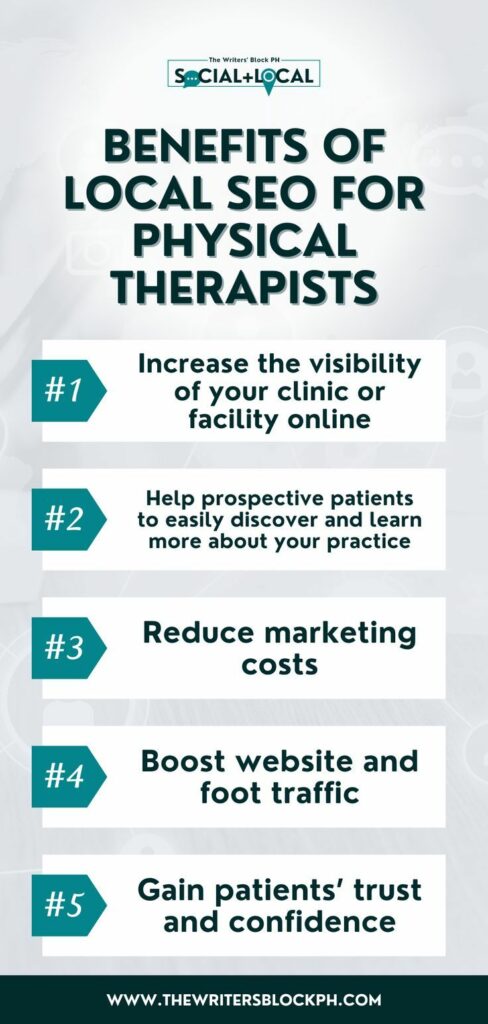 Why Should Healthcare Providers Consider Local SEO?
As the healthcare industry continues to grow, so does the importance of online visibility for healthcare providers. In today's digital age, more and more patients are turning to search engines to find local healthcare providers, and having a robust local SEO strategy can help healthcare providers connect with these potential patients.
Here are some statistics that emphasize the importance of local SEO for healthcare for your optimization marketing strategy:
Approximately 46% of all searches on Google are looking for local information
92% of users pick businesses on the first page of local search results.
80% of consumers use search engines to find local information
33% of patients today use tablets and mobiles to look up and book appointments.
67% of smartphone and 72% of tablet or computer users want advertisements customized to their zip codes or city.
Below are some of the key reasons why healthcare providers should consider local SEO:
Reach More Local Patients
According to recent statistics, 46% of all Google searches seek local information, and nearly one-third of all searches pull up a local map pack. This means that healthcare providers need solid local SEO content strategies to avoid missing out on many potential patients in their area.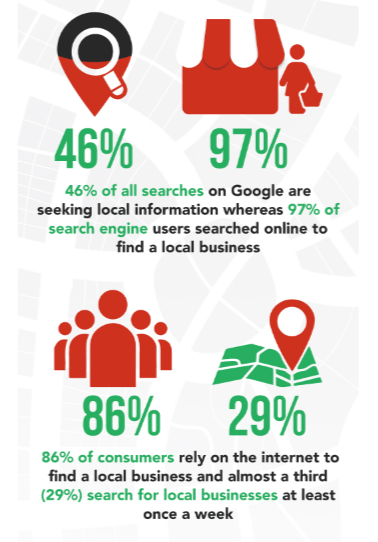 Improve Your Site's User Experience.
A robust local SEO strategy can also help improve a healthcare provider's website user experience. They can provide potential patients with the information they need, such as hours of operation, location, and services offered if they optimize their website for local search.
Provide Content Relevant to Your Target Patients.
One of the key benefits of local SEO is that it allows healthcare providers to provide content relevant to their target patients. It enables them to tailor their conversion content to the needs and interests of their local patient population, which can help them attract and retain more patients over time.
Create a Positive First Impression and Build Brand Authority.
Finally, a solid local SEO strategy can help healthcare providers create a positive first impression and build brand authority. You can establish yourself as a trusted provider in your local community by appearing in local search results and listings.
How to do Local SEO For Healthcare Providers And Get Good Results
With local search becoming increasingly popular, it's essential to master the basics to ensure that your practice appears prominently in search results. We'll cover everything you need to know to get good results from local SEO for healthcare providers. Let's dive in!
1. List Your Practice On Google Business Profile
Google Business Profile (GBP) is a crucial component for local SEO. The GBP provides Google with relevant data such as the name, address, hours of operation, and location on Google Maps.
Without a GBP, medical practices have no chance of appearing on the 3-pack, so creating one is vital. To find out if a business has an existing GBP listing, search for the business name along with the city and state on Google.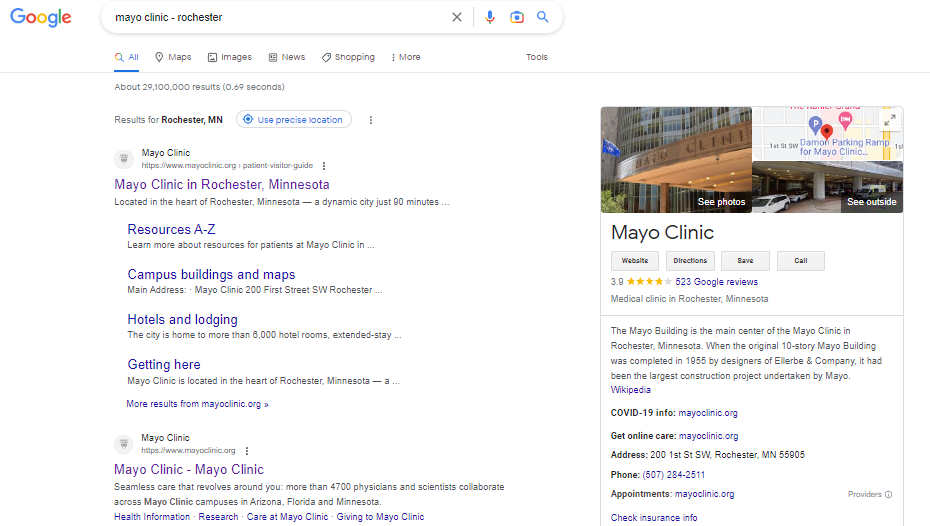 If there is a listing, claim it by verifying the business. If not, create one by hitting the Manage Now button on the GBP homepage.
You must select the correct business category for the practice, as this step plays a significant role in GBP's signals, affecting Google's local search algorithm. GBP allows one primary category and up to nine secondary categories.
2. Ensure Your NAP and Office Addresses Are Listed Consistently
Check that your NAP (Name, Address, Phone number) and office addresses are listed consistently across all online platforms. This includes your Google My Business profile, business directories, social media, and other citation sources.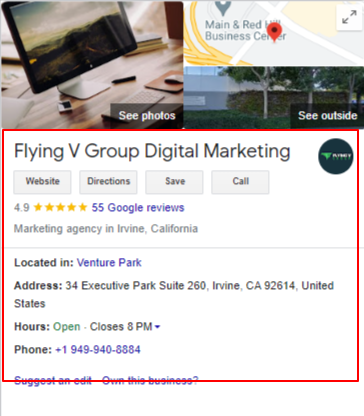 When search engines, particularly Google, crawl the web to evaluate your website's authority and relevance, they consider all your online citations. Therefore, having inconsistent NAP information can harm your local SEO efforts, making it difficult for potential patients to find your practice online.
Moreover, consistent NAP information helps search engines understand and verify your practice's physical location and contact information, which is particularly important for local search results. You must update your NAP information regularly if you change office addresses or phone numbers.
3. Manage Your Local Listings
Managing your local listings is an essential part of local SEO for medical practices. With accurate and consistent information on various directories, search engines can provide patients with relevant information about your practice, such as location, hours of operation, and services offered. Here are some tips for managing your local listings effectively:
Add health and safety attributes to your listing:
In the wake of the COVID-19 pandemic, people are more concerned about the health and safety measures that establishments have in place. Google has recognized this concern and has added health and safety attributes to GBP listings. These attributes include safety measures like temperature checks, mandatory masks, staff precautions, waiting room policies, and whether you accept walk-ins.
Link booking to listings:
You should add booking functionality to your listing to make it easier for patients to book appointments with your practice. You can link directly to a single physician or a whole practice and consider adding on-site models that shorten the overall appointment booking process.
Create profiles on third-party review platforms and local directories:
It's best practice to create profiles on all the major third-party review platforms, including Yelp, BBB, and Glassdoor. You should also ensure that you have up-to-date and robust profiles on local directories, both universal directories and niche medical directories, such as Yellowpages, Apple Maps, and Foursquare.
Use tools to manage your local online listings:
Managing your local online listings can be time-consuming, especially if you have multiple listings across various directories. Tools like LocalFX can help you manage your local listings by syncing listings across 100 manuals, checking listing reports to measure performance, and monitoring listing status.
4. Ask for and Respond to Patient Reviews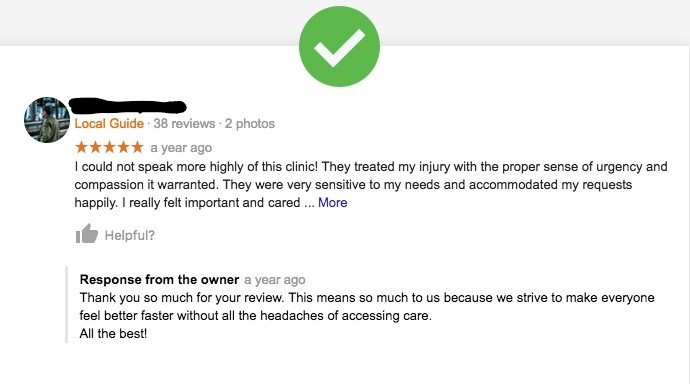 One of the most important aspects of improving your local SEO as a healthcare provider is gathering patient reviews. According to healthcare marketing trends in 2022, reviews are one of the most critical ranking signals for Google, and practices with several solid five-star patient reviews are often at the top of Google's "3 Pack."
However, doctors sometimes hesitate to ask for reviews because they fear receiving negative feedback from disgruntled patients. While this concern is understandable, it's important to counteract this by consistently generating new, high-quality reviews.
5. Perform Local Keyword Research
Local keyword research is crucial for optimizing your website's content for local search results. This involves using specific keywords relevant to your local area and the services you offer.
One important tip is to use long-tail keyword phrases containing more than two words. These can include location-specific phrases like 'near me' or 'best doctor in (city).'
You can use various keyword research tools to find the right local keywords. For example, The Hoth's Google Keyword Planner Tool and Ubersuggest are free and practical tools for uncovering desirable local keywords. They provide insights into search volume, backlinks, top pages, and more.
6. Improve Your Website
Your healthcare website serves as your organization's first impression for potential patients. Therefore, it's essential to use tools for website optimization to optimize the web design and user experience of your website. A cluttered website that's difficult to navigate will confuse and discourage your users, leading to them leaving your website to fill their needs elsewhere.
To avoid this, build a website that's effortless to navigate and gets straight to the point. The average internet user only has so much time and attention span to devote to a website, given the number of ads, emails, social media posts, and other forms of "noise" they encounter daily. Therefore, it's crucial to communicate what you do and how you can help patients clearly and concisely.
7. Create Relevant Content for Your Target Patients  
If you consistently release high-quality content, you can establish your practice as a thought leader in your field, rise through search engine rankings, and educate and inform your audience.
You can create several types of content to engage with your target patients. Informative blog posts on health and wellness topics, symptom checklists for various conditions, detailed infographics containing medical facts and statistics, healthcare podcasts, and eBooks are all popular formats that can generate organic traffic and attract new prospective patients.
If you need help with your local SEO strategy, consider searching for the following:
Social media management companies near me
Website designers in Los Angeles
Marketing firms near me
Digital advertising near me
Advertising agencies near me
Marketing near me
Orange County marketing agencies
Orange County digital marketing
Marketing agency in Orange County
Get Started With Local SEO For Healthcare Today
Optimizing your medical practice's website for local SEO for healthcare is crucial for securing a top spot on the search engine results pages. By following the steps we've discussed, you can attract more website traffic, phone calls, and new patient leads as you monitor the growth with the best rank-tracking tools.
While it may seem overwhelming, investing the time and energy in local SEO will be worth it in the long run. If you need more time or expertise to manage your medical practice's SEO campaign, consider working with a managed SEO service or scheduling a practice acceleration session with a team member for an SEO audit.
Be sure to improve your medical practice's online visibility and attract more patients to your door.