Reading Time:
7
minutes
Digitization has made it vital for all businesses, healthcare practices included, to have a robust online presence. According to recent studies, there are 100 billion searches on Google for healthcare annually.
With the increased number of people turning to search engines to find healthcare-related information, it has become increasingly essential for healthcare websites to be optimized.
Optimization is, however, challenging as sites have to identify the right keywords through keyword research to attract prospective clients.
This article explores tips to help you turbocharge your healthcare SEO keyword research to improve your site's visibility. Here's what we're going to cover:
What is Keyword Research in Healthcare SEO?
Why Keyword Research is Important in Healthcare SEO
Hacks to Boost Keyword Research in Your Healthcare SEO
What is Keyword Research in Healthcare SEO?
Keyword research is a strategy used to create conversion content, and it involves identifying phrases that people use when searching for something online.
It's among the most effective SEO content marketing strategies where sites find the most relevant and valuable keywords and use them in their content and site to improve visibility and generate organic traffic.
For instance, if you're a digital marketing agency, incorporate keywords like "marketing firms near me", "digital advertising near me", "marketing near me", or "advertising agencies near me" in your content to attract prospective clients near you.
Data from Think with Google indicates that relevant searches influence 39% of conversions. Keyword research is vital for healthcare SEO as it assists healthcare providers in identifying words that their target audience is using when searching for services.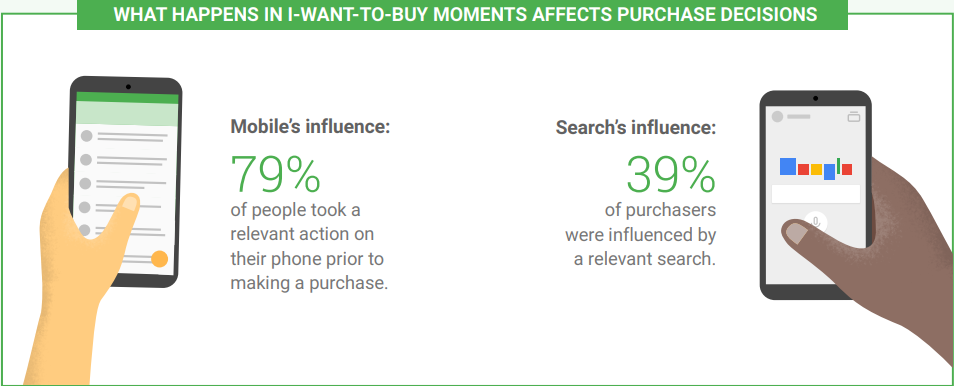 Let's explore reasons healthcare SEO is essential.
Why is Keyword Research in Healthcare SEO Important?
Healthcare organizations must incorporate optimization marketing strategies like keyword research in their SEO approach to attract prospective clients and have a competitive advantage. Here are some reasons keyword research is crucial for healthcare websites:
You Land High-quality Leads
Incorporating relevant keywords into your site elements like metadata and content helps healthcare practices improve visibility in SERPs. A study by Think with Google established that between 2017 and 2019, "near me" and "where to buy" queries grew by 200%.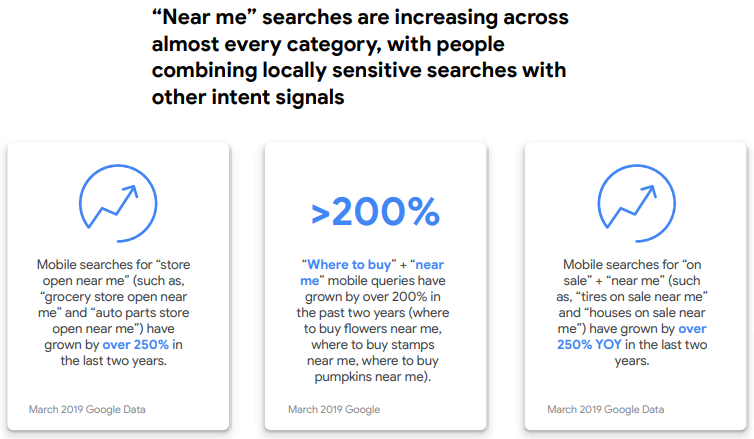 Identifying and using keywords strategically in site content helps healthcare organizations rank higher in relevant queries and attract target traffic. Targeted traffic is more likely to convert into high-quality leads since the users are actively searching for healthcare services and are more likely to be interested in what the provider offers.
Enables Long-term Affordability
Keyword research helps healthcare organizations identify high-potential keywords with low competition, which they can use to attract traffic without relying on pricey advertising campaigns.
According to Terakeet, SEO reduces customer acquisition expenses by 87.4% compared to other marketing mediums.

Effective keyword research strategies can help reduce healthcare organizations' reliance on paid advertising channels like Google Ads, which are expensive in the long run.
Builds Brand Authority  
Identifying relevant keywords helps healthcare organizations create high-quality content that addresses these topics and keywords, thus establishing themselves as experts in their field and building trust with prospective clients.
For instance, a marketing agency in Orange County can use keyword research to establish brand authority by identifying relevant keywords frequently searched by their target audience.
If they specialize in social media marketing, they can research keywords related to social media marketing like "social media management company near me," "marketing questions to ask clients," "Facebook marketing," "Instagram marketing," etc.
They can then use these keywords to generate content to help clients understand their services better.
Using industry-specific keywords helps healthcare companies communicate their understanding of the industry and showcase their ability to provide high-quality care to prospective clients.
Even though keyword research can be a hectic and time-consuming process, there are various strategies you can use to improve and streamline your keyword research efforts, such as:
1. Focus on More Specific Terms To Better Target Your Desired Audience
Focusing on specific terms will help healthcare websites target their desired audience better, thus attracting more quality leads and establishing themselves as experts in their industry.
For instance, Orange County marketing agencies can use more specific terms to target their audience better by using niche words like "social media marketing for SMEs." This will help them create targeted and effective marketing campaigns that resonate with their audience and, ultimately, more business.
Using specific terms also helps healthcare sites distinguish themselves from their competition as they tailor their content to niche audiences and establish themselves as experts in a given field. This helps their sites rank higher in SERPs for the niche areas attracting more targeted traffic.
2. Research Local Online Forums And Review Sites To  Know What Customers Are Looking For
Researching review sites and local online forums can help healthcare organizations boost their keyword research efforts and understand what prospective clients are searching for. These platforms offer much information on patient expectations and experiences in a specific area.
Analyzing this content will help healthcare websites identify common keywords users use to search for healthcare services in their area and use them to optimize their metadata and content to increase the chances of their sites ranking higher.
Further, assessing review platforms can assist medical centers in understanding the targeted audience's concerns and pain points and creating content to address these issues. A recent study established that customer satisfaction increases by 99% when healthcare websites address negative feedback.
3. Utilize Modifiers Such As Geographic Regions Or Particular Services
Modifiers like geographic regions or specific services can help healthcare websites attract high-quality leads to their site. When you add modified phrases to the base keyword, you make it more specific and targeted, and it helps narrow down the keyword's focus to target a particular audience.
For instance, website designers targeting prospective clients in a particular area can add the region's name as a modifier to their base keyword, such as website designers in Los Angeles. In healthcare, if you specialize in a specific service, add the treatment in your base keyword.
Using modifiers also helps healthcare websites stand out from their competition and establish themselves as experts in their field.
4. Add Long Tail Keywords In SEO Content
Long-tail keywords are phrases that are more specific and longer than the standard keywords and are used to conduct more specific searches. Data from recent research indicates that 92% of keywords used in search queries are long-tail.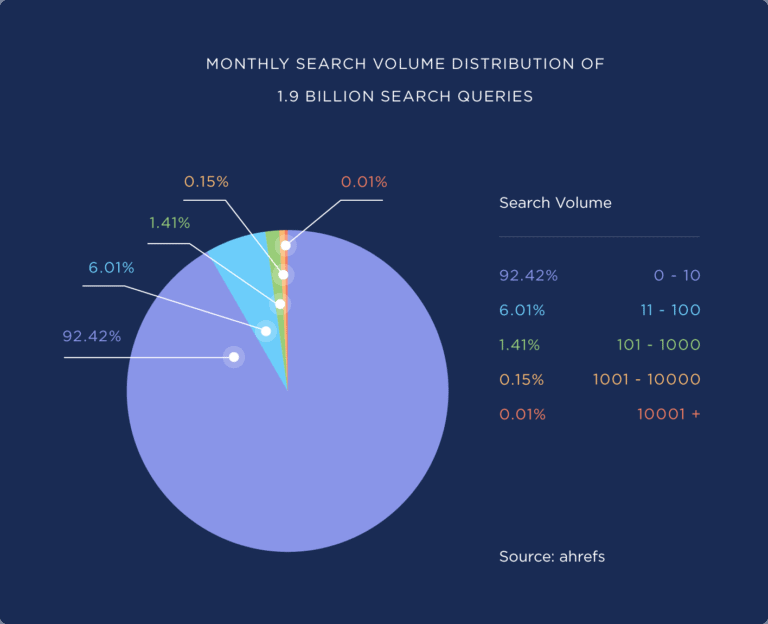 Adding long-tail keywords in SEO content will aid healthcare sites in targeting their desired audience efficiently and increase their chances of ranking higher on SERPs because long-tail keywords are more specific and less competitive than generic ones.
Incorporating long-tail keywords help healthcare sites offer more informative and relevant content that directly answers prospective patients' questions; thus, they establish themselves as reliable information sources and increase conversion chances.
5. Leverage Revenue Generating Keywords
Revenue-generating keywords are specific and target clients seeking high-value healthcare services. Identifying and leveraging revenue-generating keywords in your SEO approach will help you attract high-quality leads, increasing conversion chances and increasing revenue.
Further, these keywords also help your site to stand out from competitors and establish yourself as an expert in your field. Targeting high-value treatments and services positions your practice as an industry leader, which boosts your credibility and attracts more prospective clients.
Leveraging these keywords requires a deep understanding of your target audience. There are various tools for website optimization, like keyword research tools, that can help you identify high-value keywords relevant to your practice.
6. Group Related Topics Into Keyword Clusters
Keyword clustering involves grouping related keywords to create cohesive and focused content targeting a particular audience. Keyword clustering helps enhance content quality and relevance, making it appealing to prospective clients and search engines.
According to CMI, 83% of businesses try to stand out by creating quality content.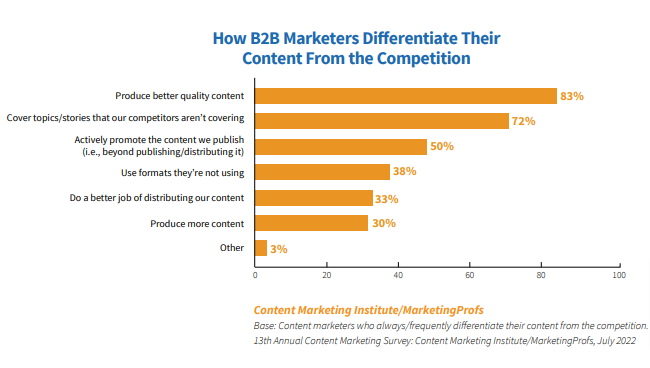 (Source: Content Marketing Institute)
Keyword clustering also helps healthcare websites to create a comprehensive content strategy that covers a range of related topics, ensuring that all aspects of a particular healthcare topic are covered. This helps establish the website as a trusted source of information in their specific practice area.
Additionally, clustering helps healthcare organizations have a structured SEO strategy approach as they have a logical content hierarchy that helps search engines understand better the relationships between different pages on their site.
7. Incorporate Primary And Secondary Keywords
Primary keywords define a site's main focus, while secondary keywords offer relevance and additional context to content on a web page. Integrating secondary and primary keywords in a healthcare site helps search engines know what their site is about, thus increasing their chances of ranking higher.
Ranking higher on SERPs increases a site's visibility; thus, they attract more quality leads. Incorporating primary and secondary keywords also helps healthcare sites create focused content relevant to their intended audience, thus improving user experience.
Nevertheless, you should insert keywords organically, as keyword stuffing can harm user experience and result in penalties from search engines.
8. Analyze Competitors' SEO Strategies Using SEO Tools
Assessing your competitor's SEO strategies offers insights into the keywords they're ranking for and their backlink profile. This will help you identify opportunities to improve your SEO efforts as you'll create targeted content around keywords your competitor is ranking for.
Analyzing your competitor's backlink profile also helps you identify high-quality things you can use on your site. It also helps you identify gaps in your content and new topics to create informative and engaging content for your audience.
Besides assessing competitors, you should invest in rank-tracking tools to help see how your site is performing and ensure your SEO strategy aligns with SEO best practices. The best rank-tracking tools on your healthcare SEO website include SEMRush, SE Ranking, and Authority labs.
Final Thoughts On Healthcare SEO Keyword Research
Keyword research in an essential successful healthcare SEO strategy. Following the tips recommended in this article will help healthcare websites improve online visibility, attract quality leads, and establish themselves as reliable information sources.
Keyword research is a continuous process that needs constant optimization and monitoring. Healthcare organizations should regularly review and update their keyword research strategy to ensure it aligns with their audiences' needs.