Reading Time:
10
minutes
Facebook has grown tremendously since its launch in 2004. In less than 15 years, it has evolved from an upstart social network to an international giant with over 2.80 billion monthly active users and over 200 million small businesses actively advertising on the platform.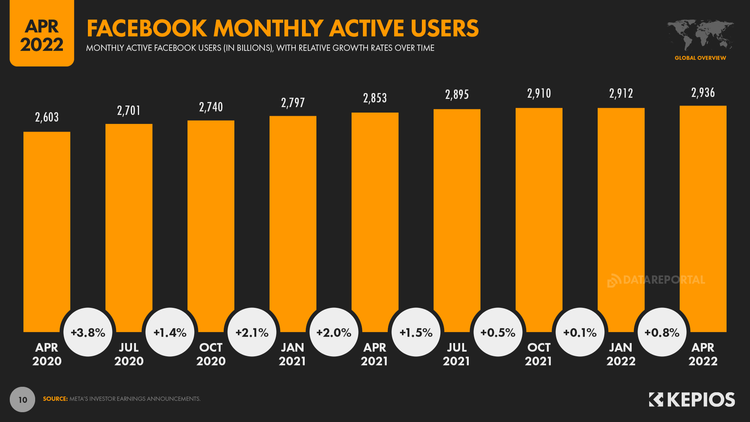 (Source: Data Portal)
Facebook Ads for healthcare works the same way traditional Facebook advertising does, but with features specifically designed to help healthcare providers find and convert potential patients on Facebook.
You'll learn more about how this all works, but first, a sneak peek at what we'll cover:
Facebook and Healthcare: How It Works

Top 6 Reasons Your Medical Practice Should Leverage Facebook Ads

Facebook Ad Targeting: Best Options for Healthcare

Facebook Ad Policies Affecting the Healthcare Industry

11 Steps to Create a Successful Facebook Healthcare Advertising Campaign

Facebook Healthcare Advertising Best Practices
Keep reading!
Facebook and Healthcare: How It Works
Doctors and medical practices have been leveraging the internet to grow their business and build their brands with incredible success over the past decade. Still, one of the fastest-growing areas of internet marketing has not yet been fully tapped by most medical practitioners – Facebook ads.
This revolutionary new form of marketing enables any business to reach out to highly targeted demographics of people based on their location, age, interests, occupation, etc., at a meager average cost per click of $1.32, below the average CPC across all industries.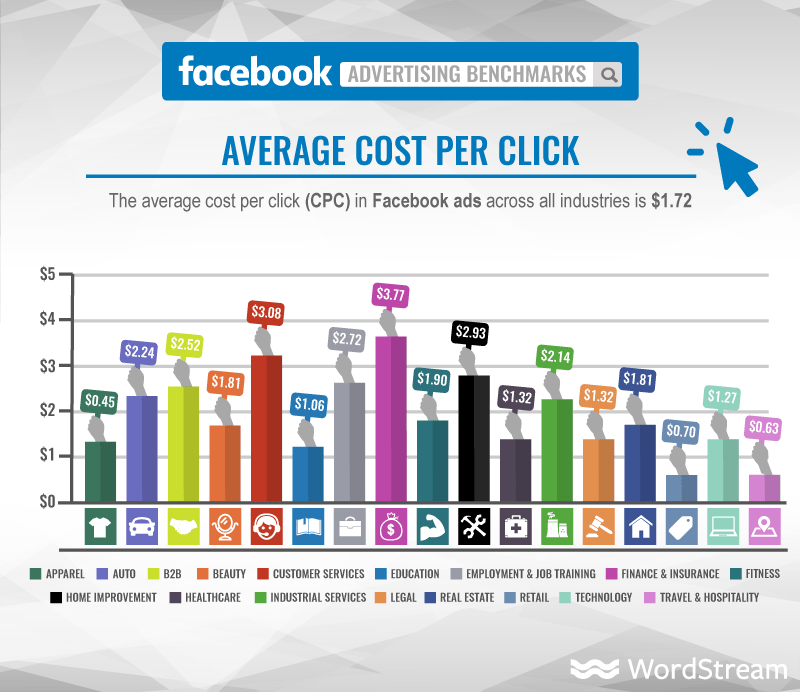 (Source: WordStream)
Facebook's ability to boost posts and increase engagement has been growing exponentially. Hence, many companies, particularly those within niche industries such as healthcare products, are turning to  Facebook ads for healthcare to boost their marketing efforts.
Top 6 Reasons Your Medical Practice Should Leverage Facebook Ads
Facebook ads for healthcare are a potent marketing tool, especially when targeting prospective patients who already know and trust your medical practice.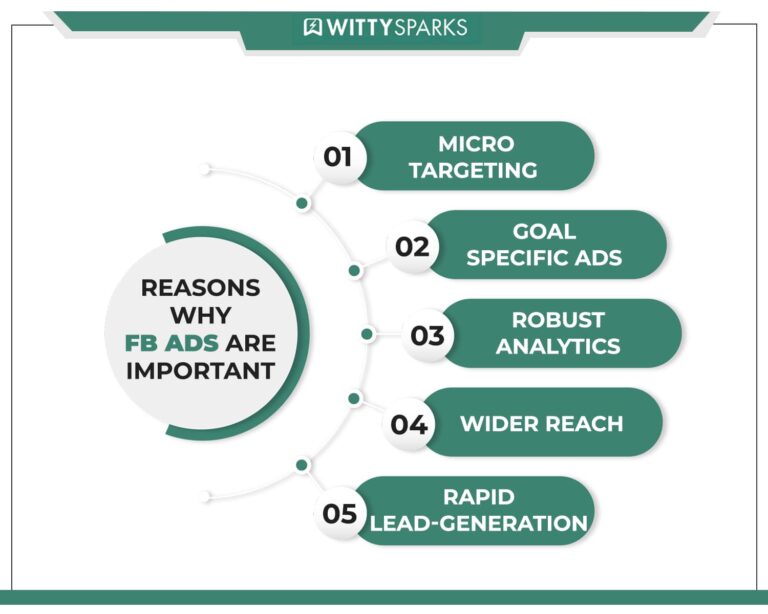 (Source: Witty Sparks)
Here are the top six reasons why medical firms should be leveraging healthcare Facebook ads to grow their business.
1) Build Brand Awareness
Brand awareness is a significant factor in medical PPC. Patients who trust and recognize your brand are more likely to seek out your services, which means you have an opportunity to generate business from those people. There are many ways that your practice can gain brand awareness, but one is by leveraging social media platforms like Facebook.
2) Grow Patient Database
It's hard to gain new patients if you don't have a reliable way of reaching them. Facebook can be an effective tool in helping your practice grow its patient database, both organically and through paid ads.
There are several options for healthcare PPC ads on Facebook, but one that works particularly well for medical practices is boosting posts. Boosting will help spread the word about your practice (for instance, a new office has opened or a special sale is going on) to existing fans, followers, friends, and family members.
3) Reduce Cost Per Lead (CPL)
Anoter vital factor when deciding whether or not your medical practice should be leveraging Facebook ads for healthcare is that they can cost less than traditional lead generation methods.
Because you don't have to pay an intermediary to get your message in front of interested individuals, you save money and can offer potential clients even more value. They will be happy with your services and thus become regular patients. If you aren't already using healthcare Facebook ads, it's time to give them a try.
4) Increase the Number of New Patients
Leveraging healthcare Facebook ads will bring in a new influx of new patients. But, more so, it can also lead them straight to your practice.
You can make a custom ad that shows your practice name, address, and phone number (NAP) for an affordable price. Potential patients will be directed right to your door, and there's no easier way for people to see what kind of practice you run than by giving them a quick tour.
If someone finds something they like about your page or business, they'll inevitably visit again and possibly become patients.
5) Raise Conversion Rates on the Website
Although you won't want to use Facebook ads for healthcare as a sole advertising method, but your business can benefit if you know how to leverage it. Even small practices can increase their website's visibility through healthcare PPC ads on Facebook and improve their brand image at no cost over social media channels with organic outreach.
6) Reach Patients in Their Moment of Need
With healthcare Facebook ads, you can offer your services directly to patients. Whatever you decide to target with your Facebook ads for medical practices, remember that those individuals are probably already interested in what you have to offer; they just need a reminder. Highly targeted advertising can be highly effective and lucrative here.
Facebook Ad Targeting: Best Options for Healthcare
Facebook ad targeting, when done correctly, can be an incredibly effective tool for growing your practice or attracting new patients. Facebook lets you choose from several different ad targeting options that will allow you to precisely select your audience and make sure only the right people see your healthcare Facebook ads.
These ad targeting options are:
Demographic targeting

Detailed targeting

Audience targeting
1. Facebook's Demographic Targeting
Demographic targeting is an effective way to generate new leads and re-engage current patients. It's also an excellent way to determine what groups of people will be most interested in your healthcare marketing campaign.
Facebook has many demographic targeting options, and it's essential to know how they work to make the most of your efforts and money spent on Facebook ads or posts.
To help you get started with an effective ad campaign, we've come up with five crucial healthcare-related demographics that you should target right away:
Gender

Age group

Relationship status

Educational level 

Geographic location

Employment

Spoken languages

Family connections
These five demographics will help you find potential patients who are most likely to need your services, saving you time and effort on lead generation.
2. Facebook's Detailed Targeting
Facebook ads for healthcare offers marketers many different ways to target specific audiences. Facebook recently announced the addition of more detailed targeting options that have the potential to expand marketers' reach on the platform greatly.
We'll walk you through detailed targeting features and how you can use them in your campaigns.
Step 1: Create a Custom Audience
You can create a custom audience from a customer list, essentially anything that contains email addresses and phone numbers. Even if it's just an email newsletter sign-up form on your website, use that for now.
The more data you have about your customer base and their buying habits, likes and dislikes, etc., the better you can target them with ads in the future. It's essential to remember that people must opt in before appearing in your custom audience.
Step 2: Customize the Audience by Interests, Behaviors, or Demographics
Once you've decided on your primary and secondary targeting parameters, you can further refine your audience by interests, behaviors, or demographics. It allows you to be more specific with your targeting efforts.
3. Facebook Targeting Options for Audiences
Facebook allows you to target several different audience members and patients in your healthcare advertisements. So, whether you're just starting or you're a seasoned veteran of social media marketing and advertising on Facebook, here are the audiences that Facebook allows you to target:
Custom Audiences
If you're looking to target patients in your area, one method is through a custom audience. For example, if you own a clinic or doctor's office and have a database of clients or contacts, you can create custom audience lists around your customers (this will also get them more engaged with your brand). Then target these audiences directly through Facebook ads for healthcare.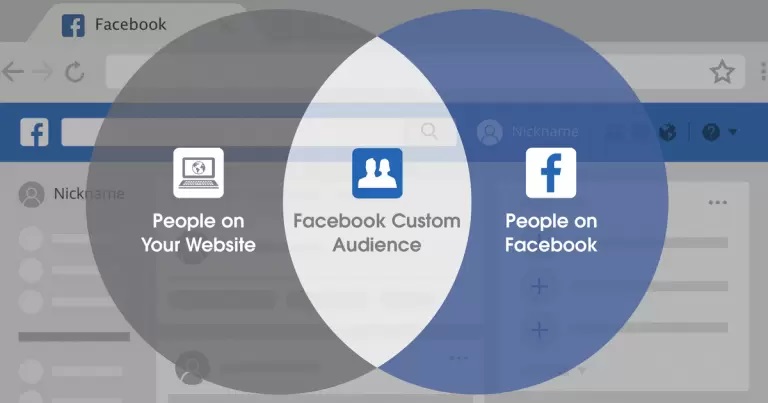 (Source: SEM Updates)
So if they fit into one of your custom segments based on their email address or other information, they will automatically be added to that audience list; hence it's called custom.
Lookalike Audiences
People who look like your current customers are more likely to buy from you, but that doesn't mean you should just grab random people with similar characteristics and hope for a fit. Instead, take some time to learn about these potential clients and where they hang out online so you can identify which groups are a good match.

(Source: Amzecom)
To help with your analysis, use Facebook's Audience Insights to find interests and other demographics that might align well with your target customer base. Finally, think about how similar customers came into your business — through advertisements, paid search results, or organic social media?
Core Audiences
Defining your core audience is probably one of your priorities. There are a variety of ways to go about doing so. For example, you could think about your top three customers most likely to purchase from you or those who fit into a specific demographic.
Facebook Ad Policies Affecting the Healthcare Industry
Facebook's advertising policies guide the types of ad content advertisers use on the platform. Because Facebook has access to user information, these policies also help to protect users' privacy. So, the platform reviews every ad to ensure that it conforms to these policies.
One of the policies affecting the healthcare industry is the Personal Health policy, which states that "Ad content must not imply or attempt to generate negative self-perception in order to promote diet, weight loss, or other health related products."
Facebook also has rules guiding the promotion of prescription and over-the-counter drugs and demands that "Ads that promote over-the-counter medicines must comply with all applicable local laws, required or established industry codes, guidelines, licenses and approvals, and include age and country targeting criteria consistent with applicable local laws."
It also prohibits the promotion of unsafe substances–"Ads must not promote the sale or use of illicit or recreational drugs, or other unsafe substances, products or supplements, as determined by Meta in its sole discretion."
For health-related lead ads, Facebook states that "Ads must not request health information, including physical health, mental health, medical treatments, medical conditions or disabilities without our prior permission."
Therefore, your healthcare ads must comply with these rules before you can run them on Facebook.
9 Steps to Create a Successful Facebook Healthcare Advertising Campaign
Creating an effective Facebook ads for medical practices campaign can be daunting, especially if you're new to Facebook advertising. But with some careful planning and the right strategy, you can create an incredibly effective ad campaign that will get you in front of your ideal customer at an affordable price point.
Here are the 9 steps you need to follow:
1. Establish Goals
The first step in creating successful Facebook ads for healthcare campaigns is determining goals.
Is your organization seeking new patients, increased brand awareness, or community engagement?
Whatever your goals are, be sure they align with your current resources and that they're measurable. These goals will help guide your medical PPC marketing strategy, so be as specific as possible.
2. Collect Data
Before you can make Facebook ads for healthcare campaigns, you need data. Finding out what your specific audience likes and is interested in will help you create a more targeted healthcare PPC ad campaign.
3. Choose Your Audience
There are many steps you can take to ensure your campaign is successful. Still, one of the most crucial is choosing your audience. By selecting an appropriate target demographic, you'll be able to appeal directly to those who will best respond to your healthcare PPC ad campaign.
4. Choose a Location for Driving Traffic
If you have experience in healthcare marketing, it's likely that you already have an idea of where you want to send traffic. If not, take some time to brainstorm and research ideas for audiences and platforms. You might discover a new niche or new audience that wasn't originally on your radar.
5. Would You Like to Create an Offer?
Before creating an ad, you need to figure out what you want people to do when they see it. Is your goal for them to download a whitepaper? Schedule a consultation? Book an appointment? The more specific your offer, and therefore ad copy, is, the more likely people will take action.
6. Define Budget
Another crucial step in creating an effective Facebook ads for healthcare campaign is determining how much money you have available to spend. Doing this will help reduce ad spending and wastage.
7. Create Ad Creative & Image Options
Facebook ads for medical practices can have one of several different formats.
There are standard ads, which are widely used in many industries; there are story ads, which tend to work better for brands that have some kind of unique selling proposition or unique angle about their product; and then there are canvas ads, which provide advertisers with more room and options.
And if you're looking for something even more specific, there are always custom creatives. With all these options, it's crucial to determine what ad format works best with your brand and what creative style is most appropriate.
8. Write Copy & Review Ads Before Running Them
It's essential to write and review all of your healthcare ads on Facebook before running them. While it might be tempting to think you can do it as you go, writing and examining ads before they run is something that savvy marketers recommend every time.
9. Test Your Ads, Evaluate Results and Optimize for Maximum Impact
It's not enough just to create great healthcare Facebook ads. You need to test them, optimize them, and track your results. With healthcare marketing, you want to get as much bang for your buck as possible. It means testing different images, copies, and target audiences until you find what works best for you.
Facebook Healthcare Advertising Best Practices
Are you still relying on conventional marketing strategies to build your patient base?
If so, you're missing out on a significant amount of revenue that could be yours if you were using healthcare ads on Facebook to attract new patients to your practice. Emarketer reports that 86% of marketers in the US prefer using Facebook for marketing.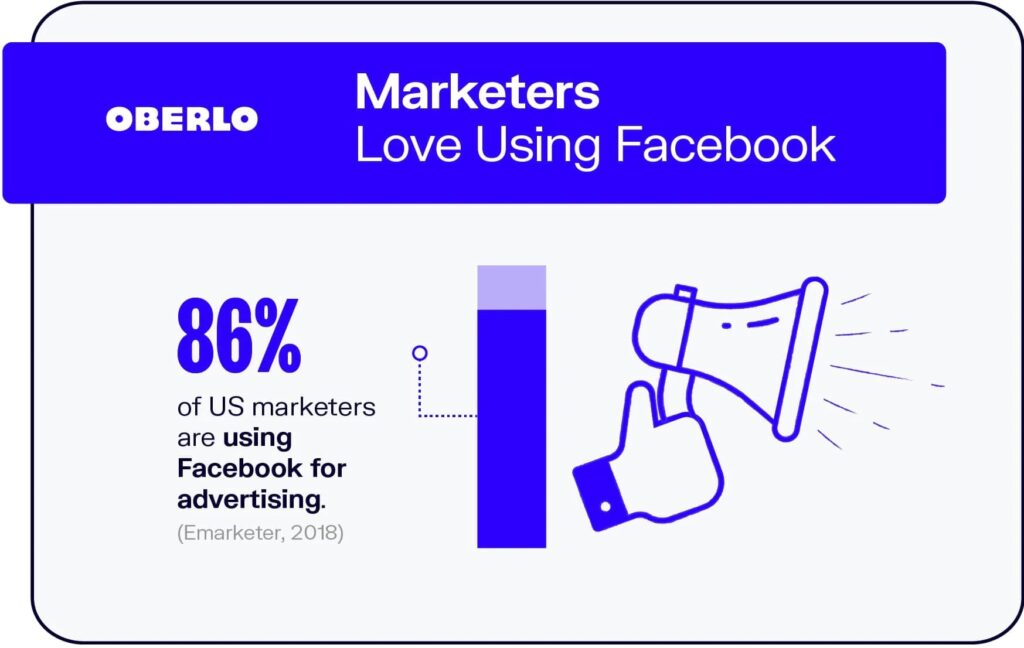 (Source: Oberlo)
The following are the 4 best practices of Facebook ads for healthcare to increase your ROI and attract more people to your facility.
Know Your Target Audience
You must identify your target audience because understanding how your target audience operates and thinks will help you craft more targeted advertising campaigns and messages that resonate with them.
Select the Appropriate Image for Each Ad
A business's image can significantly impact its success. For example, it may be tempting for a healthcare provider to use a photo of their practice or team in their healthcare ads on Facebook, but selecting an image that most accurately represents your brand and what you stand for is essential.
Write an Attention-Grabbing Headline
Before you start writing your content, you must have an attention-grabbing headline in mind. Then, look at other social media posts and see what type of headlines seem to be most effective. Try using action verbs, numbers, questions, lists, or statistics.
Come up with a title that makes someone click through because they want to know more.
Set a Reasonable Budget
Facebook advertising is one of several affordable options for healthcare marketers, but it's important not to get carried away and set budgets too high.
The power of healthcare ads on Facebook is in their affordability, so don't feel like you have to pay big bucks just because your competitors are doing it. With some research, planning, and continuous experimentation, you can grow a respectable audience on Facebook without breaking your budget.
If you intend to partner with a healthcare Facebook ads company to run your campaign, put that in your budget as well. Ensure you find out the cost of hiring a professional healthcare Facebook ads firm and see if it fits into your budget.
Reach Millions of People with Your Facebook Ads
More hospitals, doctor's offices, and other healthcare providers use Facebook to market themselves and bring in new patients. As a result, it has become imperative to know how to advertise on Facebook to maximize your results and get the most ROI from your marketing campaigns.
Why not let a healthcare 

Facebook ads company

 manage your campaign?
At Flying V Group, we understand that your medical practice demands your time and attention, so we would like to help you run your Facebook Ads for healthcare campaign from start to finish. Our healthcare Facebook ads firm has the skills and resources you need to get thhe right clients. Contact us.