Reading Time:
37
minutes
Is your manufacturing business looking for an effective way to boost customer engagement and increase sales?
Recent studies reveal that social media as an advertising channel is growing 25 percent YoY, overtaking paid search advertising channels and growing to over $137 billion.
Paid social media advertising refers to making payments to display advertisements on social media sites, such as Facebook and Instagram.
Some business owners and marketing professionals are skeptical about the effectiveness of B2B manufacturing marketing for paid social media ads. Still, this approach can be extremely effective if you apply it correctly.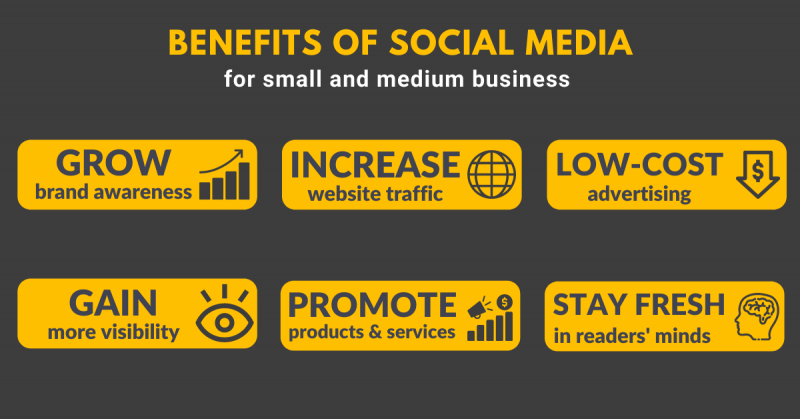 (Source: Firmbee)
This article will teach you how to make the most of your paid social media ad campaigns.
Here's what we'll cover:
An Introduction To Paid Social Media Advertising For Manufacturers

Why Paid Social Media Ads Matter for Manufacturing Industries

Best Social Media Advertising Platforms for Manufacturers

Types of Ads for Each Paid Social Platform

8 Steps for creating ads on Facebook, Instagram, LinkedIn, Twitter, and YouTube

How Effective is Paid Social for Manufacturers?

10 Costly Mistakes Manufacturers Make When Using Paid Social Media Ads

Social Media Marketing For Manufacturers: Best Practices

How to Track the Success of Your Social Media for Manufacturers Campaign (Key Metrics to Track in a Paid Social Campaign)

Understanding How Social Media Remarketing For Manufacturers Works

7 Biggest Challenges Manufacturers Face When Using Paid Social Media Ads

Why You Need A Paid
Social Media Advertising Agency

How To Choose The Best Agency For Your Paid Social Campaigns
Let's proceed!
An Introduction To Paid Social Media Advertising For Manufacturers
Paid social media advertising is a form of online marketing. When you pay for an ad, your sponsored post will have priority placement over other posts in news feeds and search results.
According to research, 70 percent of consumers would rather businesses have a social media presence. 

(Source: Blue Corona)
You'll need to research the audience of the networks you plan to advertise on so that your manufacturing ads will be relevant to their interests. With any luck, they'll notice your message, become engaged with it, and share it with their friends.
After all, what's likely to get a person's attention: a generic ad or one targeted specifically at them?
Paid social media advertising helps marketers make more efficient use of their budgets. Because these B2B manufacturing marketing for paid social ads are based on ad inventory and not gross impressions, you can optimize campaigns to run only as long as they generate conversions.
In many cases, paid social media advertising gives users a bigger bang for their buck. As long as you have enough budget, you can target a narrower audience in paid social media campaigns and still achieve a large volume of potential customers at a much lower cost per impression.
Facebook and Twitter are well-known social media platforms, but many others cater to specific audiences.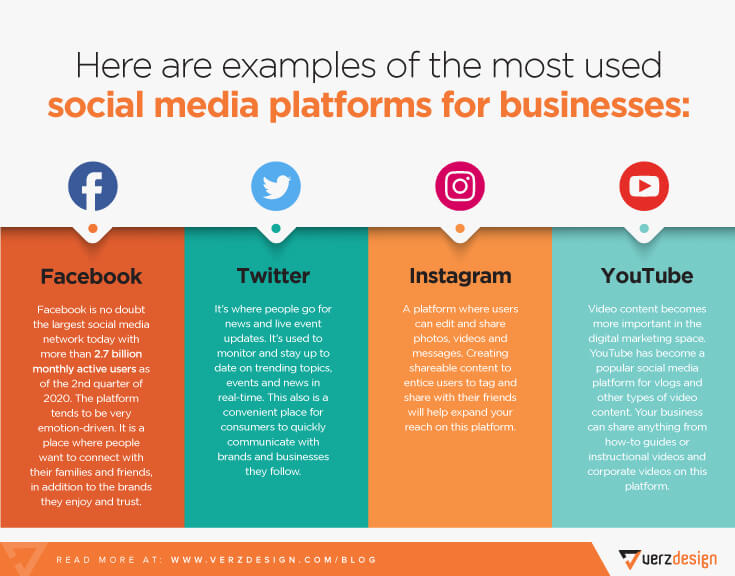 (Source: Verz Design)
Here are some popular ones for manufacturers:
Facebook

Twitter

LinkedIn

Instagram

YouTube

Pinterest

TikTok
When to Use Paid Social Media Ads
If you want to reach more people with your message, or if you want to target very specific audiences with tailored messaging, paid social media advertising is a powerful tool.
If your company is launching a new product, for example, paid social media advertising for B2B manufacturing marketing can be an effective way to market it.
Conversely, if an existing product needs additional visibility to compete against other products in its space (in terms of price and quality), paid social media advertising may be just what your company needs.
When used correctly, paid social media ads are great tools for brand recognition and increased sales.
Why Paid Social Media Ads Matter for Manufacturing Industries
Paid social media ads are no longer just a fad; they're here to stay and matter more than ever to manufacturing companies.
Whether you're looking to increase brand awareness, expand your reach, or simply draw the attention of new customers, this advertising method can help you accomplish your goals faster than any other manufacturing marketing strategy today.
Paid social media ads are one of the most effective ways to market your manufacturing company, but many manufacturers still don't realize how powerful these ads can be.
If you're not yet convinced that these paid ads are worth the cost, here are the top 10 reasons why they matter to your B2B manufacturing marketing, especially if you're struggling to reach the right audience on social media.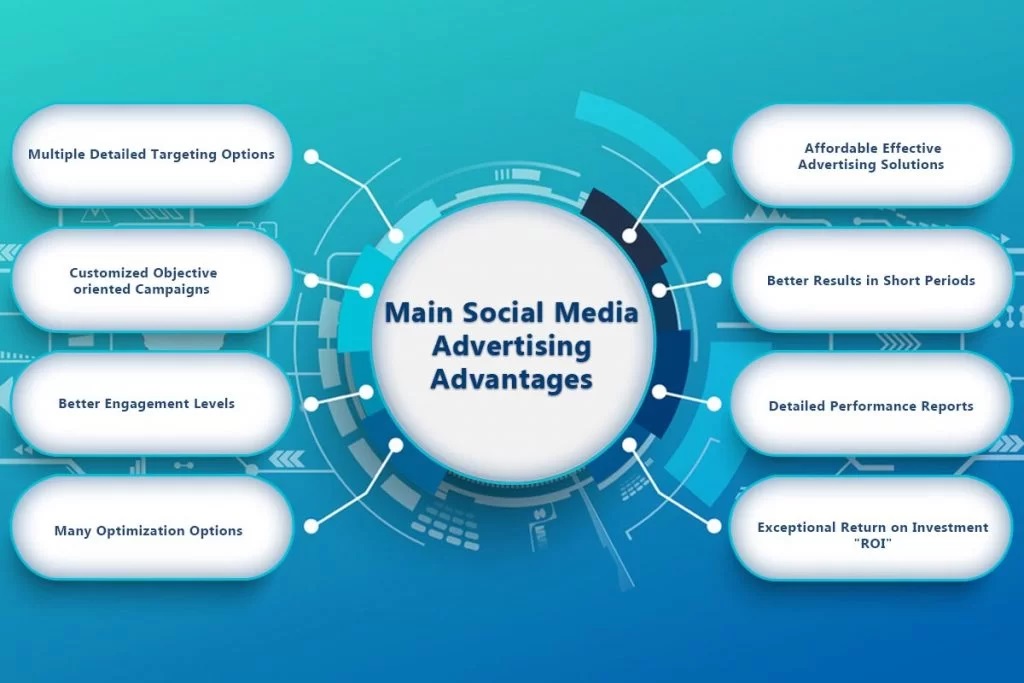 (Source: Sendian Creations)
1) Paid Social Media Ads are Measurable
When you advertise on social media, you can track your return on investment (ROI) and make sure that you're making a profit. If something isn't working, it's easy to tweak or stop what isn't getting results.
Additionally, an ad is only shown to people who have liked your page or have expressed interest in similar pages, which saves money because you aren't wasting money trying to sell something to someone who has no use for it.
When people see an ad they are interested in, they can click through and find out more about your product from your website and get a more personal touch.
2) They Can Generate Leads
Suppose you have a lead generation campaign with a short-term, time-sensitive goal or something that needs to be completed immediately. In that case, social media advertising is an easy way to reach your target audience.
That's because paid social media ads are served in real-time as users scroll through their feeds. So when they see something they like, they can easily click on it and respond immediately.
It also allows you to craft your messaging and display ads specific to their unique preferences and interests.
3) They Keep Your Brand Top of Mind
By showing up on Facebook, Twitter, Instagram, or LinkedIn feeds in viewers' newsfeeds, paid social ads remind people that your brand exists.
If they're genuinely interested in your product or service and need to know more, they can follow a link to your website or get in touch with you directly. If not, users can ignore it as just another ad; but you'll have made an impression either way.
Since we live in a world where brands are drowned out by competitors clamoring for our attention daily, making impressions is no small feat. Fortunately, paid manufacturing ads will help you do that consistently enough.
4) They Build Awareness
The goal of any digital marketing for manufacturers campaign aims to connect with your audience and help them understand what your brand can do for them. Engaging with potential customers one-on-one will help you build awareness, credibility, and, more importantly, trust.
It is especially true in B2B manufacturing marketing, where consumers are more skeptical of product claims until they see real results. If a consumer sees you investing time and resources into connecting with people on social media, they'll likely also see value in your products.
5) They Allow You to Target Your Message
You're no longer limited to local advertising or expensive trade magazine ads as a manufacturer. Rather, with social media, you can target your message to individuals and groups who have demonstrated interest in your product or service based on their online activity.
6) They Can Help Increase ROI on other Marketing Efforts
Like any other sector, companies in manufacturing industries need to look at how all their marketing efforts stack up when generating revenue.
Do search ads pay off? Are there search terms that lead to customers? How do we even measure if digital marketing for manufacturers' campaigns has worked or not? And so on.
These are hard questions to answer, especially when you have limited resources and competition.
That's why paid social media advertising could be a real asset: If your company is already investing in other kinds of digital marketing for manufacturers, you might as well reach out and touch more people on social media while you're there.
7) They Generate Traffic that Converts Into Customers
There is nothing more important to your digital marketing for manufacturers campaign than acquiring new customers, and paid social media advertising allows you to tap into a wider audience.
One of the best ways to increase profits is by increasing sales volume; it's as simple as that. In addition, advertising on social media can effectively spread awareness of your products while enticing more consumers to make purchases.
With Facebook ads, Twitter ads, and B2B LinkedIn ads available to you, running a comprehensive social media campaign will be easier. You can quickly and easily reach thousands of people who would never hear about your products or services.
8) They Help Move Products Quickly Off the Shelves
The job of manufacturers is to make things, which sometimes takes time. Even with efficient production lines and streamlined processes, consumer demand sometimes outpaces supply.
In those cases, you'll need to rely on paid social media manufacturing ads as a way to move extra inventory quickly before it expires or goes stale.
When used correctly, paid social media ads can help build a strong following for your products and generate word-of-mouth recommendations. In short, if you can create a good enough product, people will start talking about it, which ultimately means more sales.
9) You Can Use Them with Other Marketing Campaigns
Paid social media ads are a great addition to your other campaigns. For example, you can run paid manufacturing ads targeting your best customers and then make sure to include them in all of your future marketing material.
For example, you can take advantage of Facebook's Custom Audiences tool (which can match customers who have interacted with specific posts or offers with their email addresses). Then leverage those users' email addresses in future advertising efforts so they know you're still interested.
10) You Only Pay When Results are Achieved
First, social media advertising is a cost-per-action (CPA) model. When you pay to promote your posts on Facebook or Twitter, you're only charged when people click on your content and visit your site.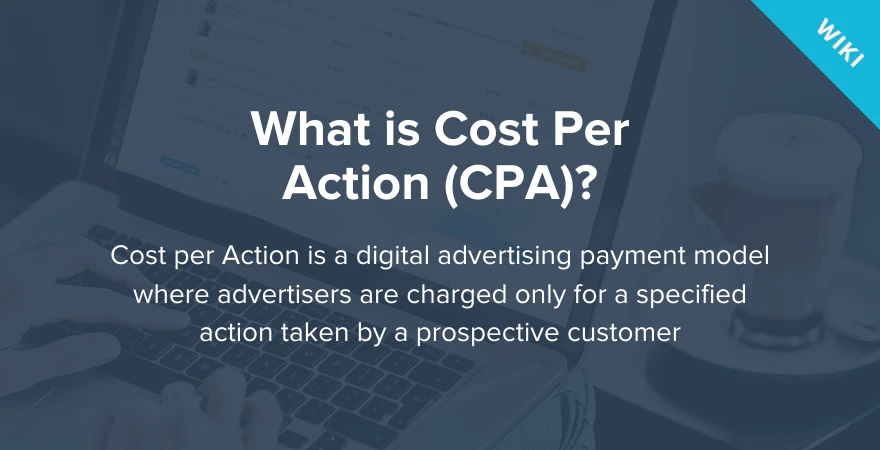 (Source: Oberlo)
You don't need to worry about buying ad space that doesn't get results; the platform will optimize your ads automatically based on performance.
If you invest time creating quality marketing for manufacturing companies, you don't have to worry about throwing money away on wasted impressions and clicks that don't result in business opportunities.
7 Best Social Media Advertising Platforms for Manufacturers
A recent study found that nearly half of adults who use social media say they learn about new products and services, so it's no surprise that businesses use the same platforms for advertising their goods and services.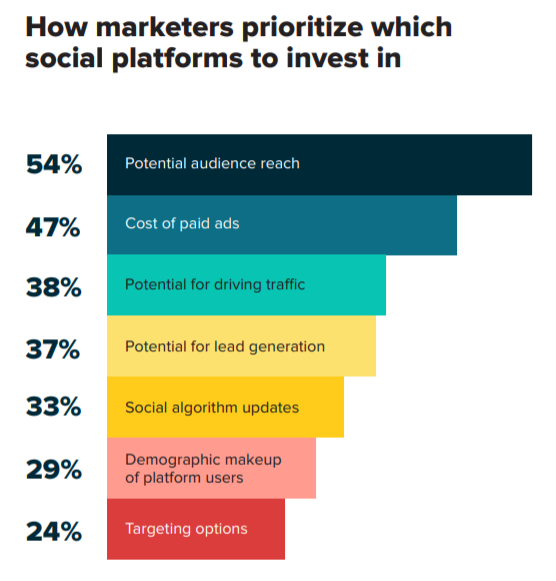 (Source: Sprout Social)
So whether you're an established manufacturer or brand-new to the scene, your company needs to be present on at least one major social media platform, preferably more.
For B2B manufacturing marketing teams, keeping up with the Joneses (or, in today's world, the Kardashians) in the social media world can be challenging. Just when you think you have seen it all, something new pops up to throw you off your game.
With many companies jumping on the social media advertising bandwagon, it can be hard to determine which platforms offer the best value for your money when reaching your target audience.
Here are 7 social media advertising platforms that will help you get ahead of the Joneses so that they don't get ahead of you.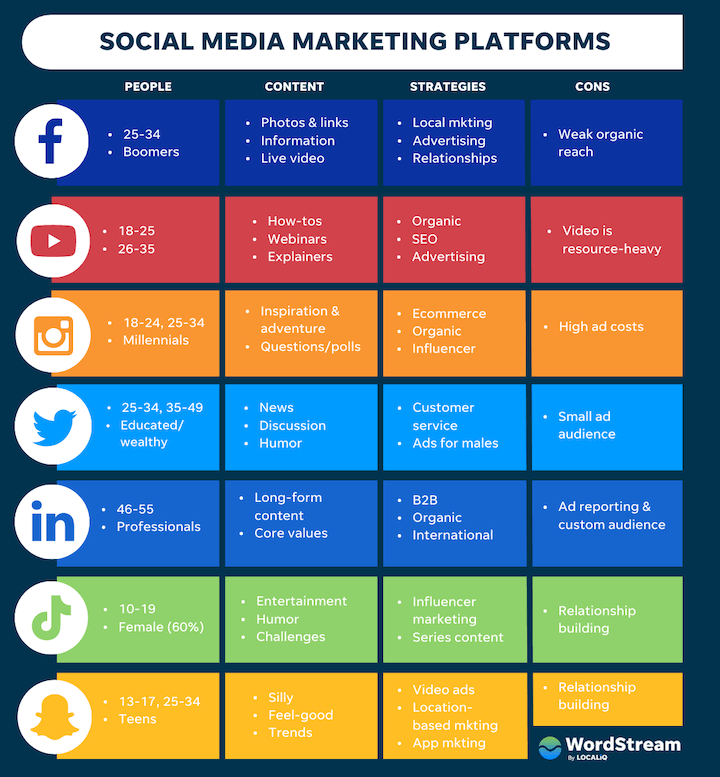 (Source: WordStream)
1) Facebook Ads
Facebook currently has at least 10 million active advertisers, according to Statista. Therefore, if you're not using Facebook ads to reach new audiences, you might want to start. These ads can help you spread awareness about your products and build credibility, which leads to higher sales.
Use these five platforms when setting up a campaign on Facebook: Facebook posts, mobile site clicks, carousel ads, video views, and lead ads.
2) Twitter Ads
Twitter is more than a space for political rants and gif battles. It's a great platform for business owners who want to increase brand awareness or drive traffic to their website through targeted tweets.
Like Facebook ads, Twitter ads allow you to target people by location and interest. However, they are much cheaper ($0.38 per click) than their Facebook counterparts ($0.97 per click).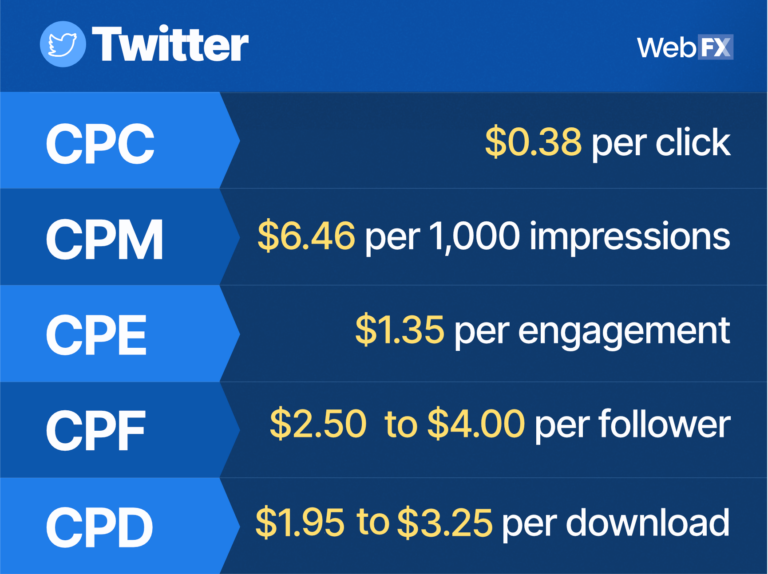 (Source: WebFX)
3) LinkedIn Ads
LinkedIn B2B ads can be a great way to get your manufacturing brand in front of new audiences. That's why LinkedIn is important for business.
Of course, most people see LinkedIn as a place for professionals to network and look for job opportunities. But did you know that professional social media marketing can also work for B2B brands?
Still, on why LinkedIn is important for business, the website allows users to target viewers based on their specific demographics (including company size), interests, and preferred content types. This targeting is even more focused than Facebook's advertising platform, specifically designed with consumer data.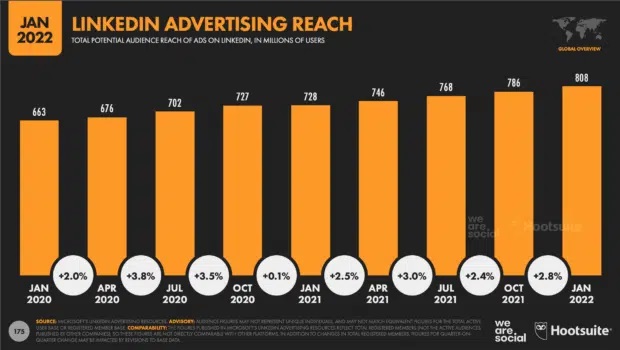 (Source: Hootsuite)
4) YouTube Ads
YouTube is a powerhouse for reaching millennials and Gen Z. It's also a great place to advertise your products. Not only can you use it to promote your actual video, but you can run paid ads on videos from channels related to your target market.
This B2B manufacturing marketing strategy ensures that even people who don't care about your product will still see it while watching other related content. Manufacturing ads on YouTube include in-stream, pre-roll, and overlay ads.
5) Instagram Ads
Instagram ads are a form of paid social media advertising that allows businesses to promote their products or services on the popular photo-sharing platform.
Instagram's engagement rate of 0.83% is 6x higher than that of Facebook at 0.13%.
So, by using relevant hashtags, targeting a specific audience, and creating compelling visuals, manufacturers can reach a wider audience and generate more leads.
6) Pinterest Ads
Pinterest reports that 7 in 10 Pinners choose the platform as their go-to place when searching for trustworthy products and services.
Pinterest ads are extremely effective for driving traffic to your site. For example, if you're a manufacturer, Pinterest may be a good place to reach potential customers looking for inspiration or new ideas in their homes.
If you can find a way to connect with your target audience on Pinterest, then it may be worth considering advertising there to maximize exposure and boost sales conversions. Here are some tips to help you do just that:
Tip #1:
Post inspirational images and videos. Whether they contain mood boards, DIY instructions, product usage videos, or anything else under the sun, this will inspire your target audience and motivate them to purchase products from you.
Tip #2:
Promote trending pins from other businesses that have something similar to what you offer (e.g., different colors of paint). These pins often go viral because people see them as an inspirational resource when designing their homes.
Tip #3:
Advertise special offers on sale items so they'll come across at opportune moments during users' scrolling sessions and catch their attention more easily.
Tip #4:
Work out trade partnerships with other manufacturers to create promotional posts. It might take some time, but doing so will create brand visibility and increase the chances of getting a pin featured on another company's page.
Tip #5:
Include calls-to-action that invite consumers to share your business page among friends on Facebook, Twitter, Instagram, etcetera via links at the bottom of each post.
Types of Ads for Each Paid Social Platform
Social media advertising has grown in popularity among businesses over the past few years. There are plenty of different ads you can run on paid social media platforms to appeal to your customers.
Each platform caters to specific manufacturing ads, and here you'll find an overview of the most common ads you can run on each one, so you can choose the right social platform and manufacturing marketing strategy to suit your business needs.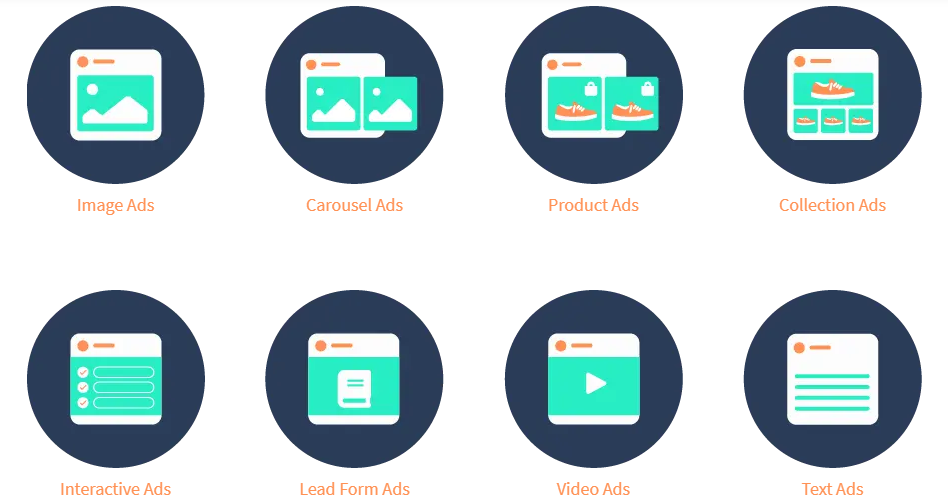 (Source: Digivizer)
1) Facebook
One of the best things about Facebook is that you have many options for formats for your ads.
Businesses can set up single-image, carousel, and video ads, allowing you to get creative with your content and engage audiences differently depending on your ad type.
Single-image ads are simple, straightforward posts that include just a photo or illustration (you may also add a link). Carousel ads feature multiple images and allow viewers to swipe through them vertically.
Video spots include audio and visual components in one, offering an opportunity to tell your brand story visually and verbally. For those with time and budget constraints, shorter videos like 15 seconds might be a better option.
Plus, short videos can work great if you have compelling visuals or testimonials but not much time to say anything else.
2) Twitter
Twitter allows advertisers to pay for promoted tweets, which appear at a top position in users' timelines and must include a photo or video.
Twitter also introduced Promoted Video ads that can be up to 30 seconds long and auto-play when people scroll through their timelines (they can be muted by clicking on them).
Because Twitter's format is so visual and its ad platform is built around its rich media assets, it is among the best platforms for advertising anything visual, from products to vacations or food.
3) LinkedIn
The LinkedIn platform is a paid social network where you can reach people and companies in your industry.
What are the most effective LinkedIn ad types?
The network has six formats: image, carousel, interactive, lead form, video, and text ads.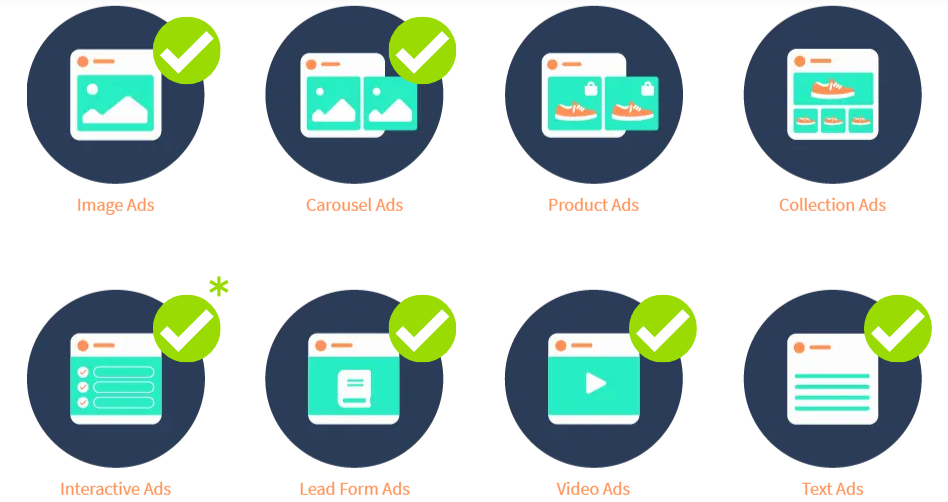 (Source: GRM Digital)
If users click on any of the ads, it will take them to whatever landing page or website you specified in your ad copy.
4) YouTube
YouTube has various ad formats that manufacturers can utilize in advertising their products.
Bumper ads are six-second unskippable ads that play before a video starts. As a result, even viewers who stay and watch are often annoying and have lower engagement (rather than increasing it).
If you want to run a Bumper ad, you can choose between skippable and non-skippable versions. Both will only be shown in an in-stream pre-roll before your video begins; they won't run with your videos on other parts of YouTube like suggested or relevant videos.
Non-skippable Bumper ads are the traditional way to advertise on YouTube. As mentioned above, these manufacturing ads have limited effectiveness but still allow advertisers some control over where their content is shown.
Skippable Bumper ads are a newer type of YouTube ad that people can skip after five seconds. These types of bumper ads are better suited for shorter messages because viewers have the option to skip past them at any time.
In-stream skippable ads take up more space on YouTube and might compete with organic content from the channel currently playing. As such, we recommend using these types of ads sparingly to maximize success.
5) Instagram
The great thing about Instagram ads is that they tend to be cost-effective compared to other paid platforms.
Video and photo ads can start at just a few dollars, and you can run up to 10 campaigns per month with no minimum spend. That's enough room for some serious testing.
A few notes: Your video or photo has to include a CTA (call-to-action) like Shop Now, Book Now, etc., or link out to an external URL where that information exists.
6) Pinterest
In most cases, people don't search for things to buy directly through Pinterest. That's why you want to boost your content so that it will be seen by more people interested in what you offer.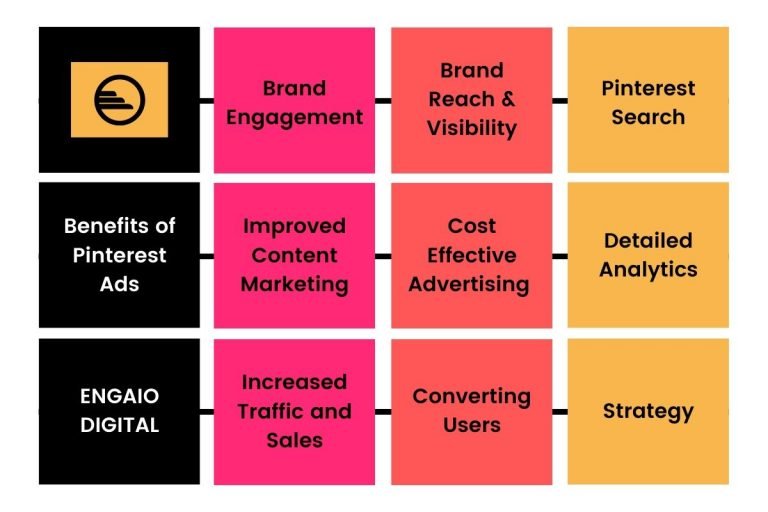 (Source: Engaio Digital)
Pinterest uses images, carousels, products, collections, lead forms, and video ad formats. The latest addition is the promoted app pin.
If you choose to use promoted pins, they'll appear in a user's newsfeed based on your target audience. A promoted pin is an image or video paid for and can lead a viewer to your website.
For a promoted pin to work best, it should have at least some text or be rich with information about your business to be relevant when users look at their feed and decide what they want to click.
7) TikTok
According to Shopify, it is expected that the number of brands using TikTok will increase by 40% this year.
TikTok is very similar to Instagram and allows you to post videos in a non-chronological order.
It allows you to create up to 30-second video ads for $1 a piece. The platform supports many formats, including live-action, animated, and stop-motion. TikTok also allows you to add sounds, music, and text overlay at no additional cost.
8 Steps for Creating Ads on Facebook, Instagram, Linkedin, Twitter, and Youtube
If you're running your own manufacturing business, you know how important it is to be able to get your message in front of as many people as possible.
With today's online B2B manufacturing marketing options, there are more ways than ever to advertise your business and attract customers who are ready to buy.
Social media advertising is one of the best ways to reach your audience directly in today's fast-paced world. Social media platforms like Facebook and Instagram have made it incredibly easy to run campaigns targeting specific groups based on location, age, gender, interests, behaviors, and more.
Here are the steps you can take to create manufacturing ads on the top social media platforms: Facebook, Instagram, Linkedin, Twitter, and Youtube. You'll learn how to ensure that each ad campaign is successful and cost-effective so that you reach your target audience without spending a fortune on advertising.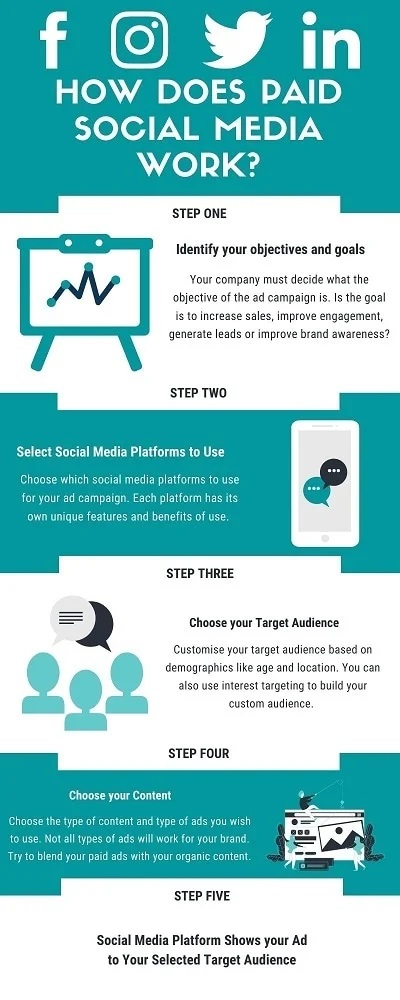 (Source: AZO Network)
Step 1: Choose Your Target audience
The first step to creating effective digital marketing for manufacturers' campaigns is understanding who your target audience is. It includes age, gender, location, interests, and more. Once you know who you're targeting, you can create ad content that appeals to them.
For example, if your target audience is women in their 20s living in the United States, you could show a picture of a pair of shoes and post a discount code for the shoes.
However, if your target audience is men in their 30s living in Europe, you could show pictures of cars or offer discounts on specific car models.
You may also want to consider the time and day of the week when posting your ads because there are different trends at different times. For example, you might find that people are more interested in certain types of ads on Sundays than they are on Wednesdays.
Step 2: Set Goals
Each business has different goals, but one thing's for sure: You can't reach them all. So if you want to build a loyal following on social media, create marketing campaigns that go viral, and sell more products, you must be smart about spending your time and money.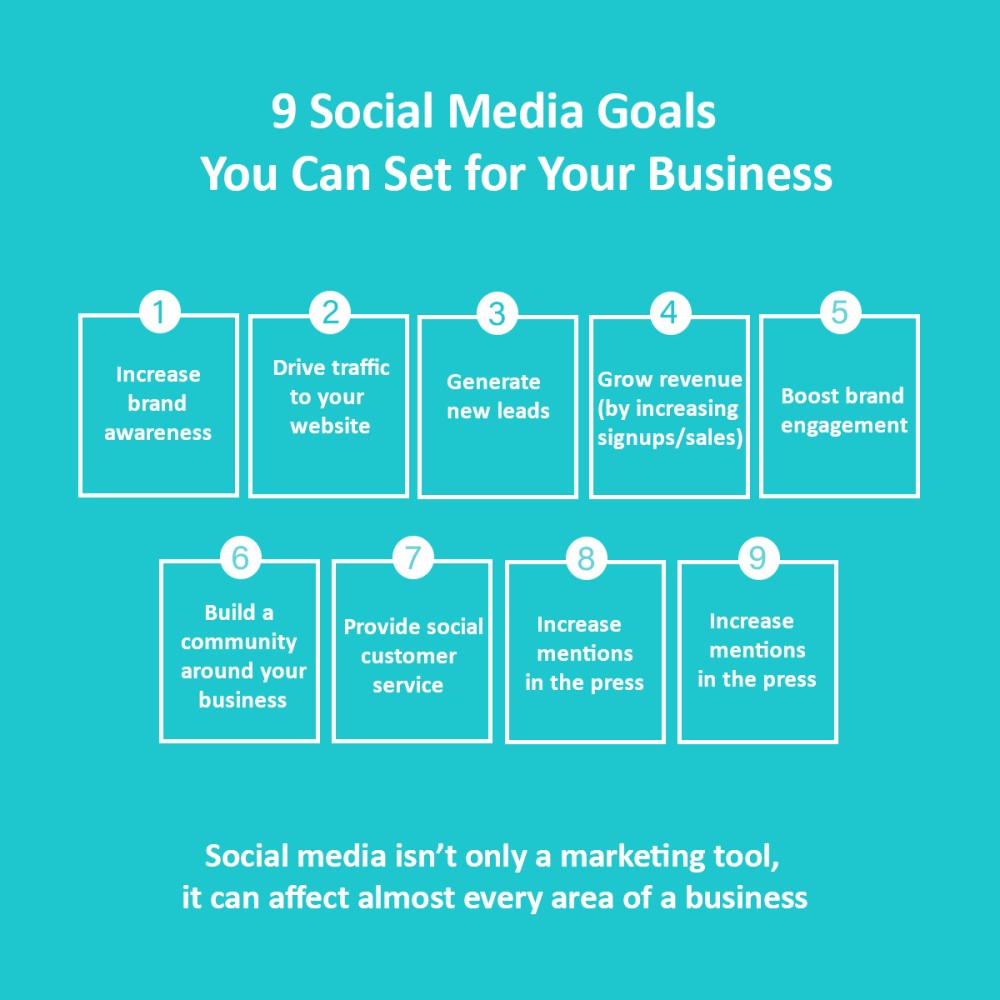 (Source: Sukhpreet Singh on LinkedIn)
Start by creating a simple list of what you hope to accomplish with social media. Then, cross off each item until you're left with only your top priority goal.
Your ad must have a purpose. The purpose of your ad may be to raise awareness for your brand or product, generate leads, or increase sales. Whatever your goal is, make sure it is specific and measurable.
Step 3: Set a Budget
Before you create an ad, you need to set a budget. It will help you determine how much you can spend on each ad and how many ads you can create.  For example, if your budget is $1,000 per month, then you would have $20 per day to spend.
When setting your budget, it is important to remember that when people see your ads, they are not obligated to click on them. Therefore there is no guarantee that the people who click through will buy anything from your business or make any purchase.
It's also important to note that Facebook ads tend to be more expensive than other platforms because of their high targeting options.
Step 4: Choose Your Platform
Before creating an ad, you must decide which paid advertising platform is right for your business. Each platform has its strengths and weaknesses, so it's important to choose the one that will work best for you.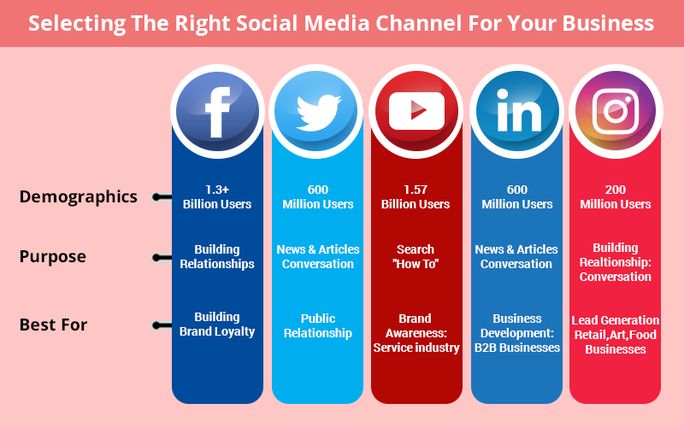 (Source: Social Pilot)
For example, Facebook has a massive user base, but LinkedIn might be more effective if you target a professional audience.
To find out what platform would be best for your ads, consider these questions:
What is my goal? 

How much money do I have? 

Who am I targeting? 

What are my 

competitors using

?

Which platform is already popular with my target audience? 

Do I want to boost something from another platform or advertise new content differently? 
You can also ask yourself how your customer behaves on each platform. For example, people usually browse their feed (Facebook) rather than search for content (LinkedIn). It's worth testing out different platforms before deciding which one to use.
Step 5: Choose the Right Ad Type
Depending on your digital marketing for manufacturers' business goals, you'll want to choose an ad type that best suits your needs.
For example, if you're looking to generate leads, you might want to use a lead generation ad. On the other hand, if you're looking to increase brand awareness or boost website traffic, consider using a link-click ad.
Remember that each social media platform offers different ad types, so be sure to select the one that's right for you.
There are four types of Facebook ads: video, image, carousel, and slideshow.
Instagram has three types of ads: video, image, and carousel, while Twitter has four types of ads: video, image, carousel, and lead generation.
Finally, Youtube has five types of ads: video discovery, in-stream, bumper, overlay, and display.
And what are the most effective LinkedIn ad types? Linkedin has two types of ads: text and image.
The easiest way to find out the difference between each type is by visiting their website.
Step 6: Design a Compelling Ad
Designing an effective ad is key to driving conversions. Before creating your ad, you'll need an image or video. It will be the main focus of your ad, so make sure it's high quality and catch the eye.
Here are a few tips: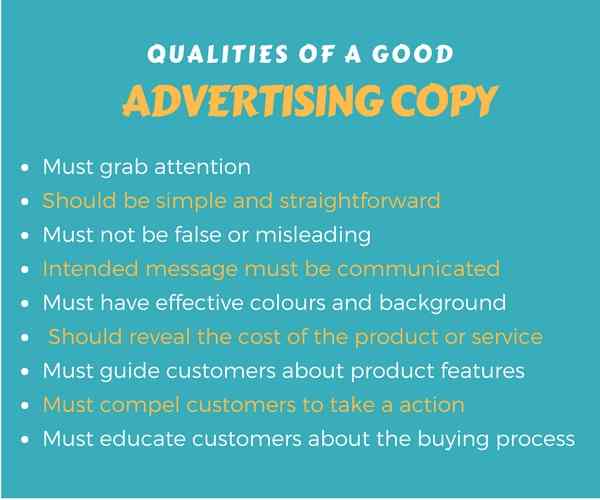 (Source: BBA Mantra)
Use 

high-quality images

 or videos that are relevant to your product or service. 

Keep the text short and to the point, using strong calls to action. 

Use attractive colors and fonts that match your brand identity. 

Make sure the ad is mobile-friendly, as more and more people use social media on their phones. 

Utilize headlines in bold and striking font type, followed by subtitles in a much smaller font size that provides some details about the offer. 
A good rule of thumb is that 1-2 lines of copy should be able to fit on one line of copy in 24 pt font. Also, be sure not to use all caps (text written entirely in capital letters) when designing ads, as it can appear unprofessional or angry.
These tips will help you create manufacturing ads that stand out from the rest and grab attention. Remember: When designing an ad, your goal should be to capture the viewer's attention quickly without becoming pushy, overbearing, or impersonal.
Step 7: Optimize it for Each Channel
You've created your B2B manufacturing marketing ad; it's time to make sure it's tailored for each social media platform.
For example, Facebook and Instagram users are more likely to respond to ads with images, while LinkedIn users are more receptive to text-based ads. Likewise, Twitter users are used to seeing short, concise content, so keep your ad copy brief and to the point.
When creating ads on YouTube, think about what you want people to do after watching it; is it a product demo? A call-to-action? The main thing is that you want them to click the link in your description that leads them back to your website.
YouTube videos also come with links at the bottom of the video screen, but these links only take people to other videos or an informational page of your company. To get customers back to your site, include a clear call-to-action in the video or onscreen text like click here or learn more.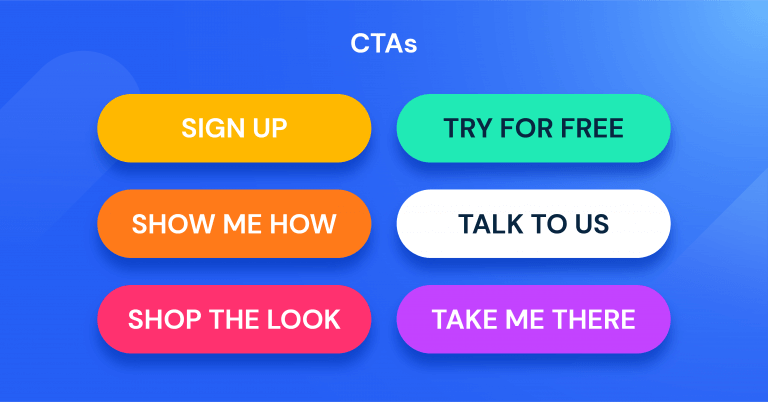 (Source: Similar Web)
Step 8: Preview and Publish Your Ad
After you finish creating your ad, you can preview it to see how it will look on the platform where it will run.
To do this, click the Preview button in the top-right corner of the screen. It will open a new window showing how your ad will look.
If everything looks good, go ahead and click the Publish button. Your ad will now be live and running on the social media platform of your choice.
How Effective is Paid Social for Manufacturers?
Paid social media is a powerful marketing tool for manufacturers. But how effective is it?
Let's look at some common questions about the effectiveness of paid social media for B2B manufacturing marketing:
But, how do I 

measure my ROI

 on paid social media? 

How can I ensure my campaigns are as effective as possible when using paid social and that they're producing quality leads, if any, at all? 

What do I need to remember when measuring campaign results from ads on other websites such as Facebook and Twitter? 

What does social proof mean, and why does it matter so much with paid social ads?
One common complaint about paid ads is that they are expensive and don't get many clicks. Of course, that's true in some cases, but it doesn't have to be like that, particularly if you approach them with a certain mindset.
The most important thing is understanding your target audience so you can craft specific ads tailored to their needs. Once you know what works best for your company, your next task is tracking that audience on Facebook and other social platforms.
It may seem counterintuitive, but one of the best ways to spend less money on Facebook advertising is by using high-performing campaigns from earlier months as templates instead of creating new ones from scratch each time.
For example, say you want to run an ad promoting the release of a new product. You could create an ad designed for people who already liked your company page on Facebook and had followed your posts since before you created the campaign.
10 Costly Mistakes Manufacturers Make When Using Paid Social Media Ads
Paid social media ads are a great way to bring your products and services to the attention of potential customers. Using paid social media ads can increase your website traffic, brand awareness, and sales.
Unfortunately, you can also make plenty of mistakes that will negatively impact your B2B manufacturing marketing efforts and cost you more money than you'll earn from your ads.
If you're thinking about starting an ad campaign but don't know where to start, read on to avoid these 10 costly mistakes manufacturers make when using paid social media ads.
1) Not Learning How to Run Paid Ads on Different Social Media Platforms
Many manufacturers make the mistake of thinking that paid social media ads are a one-size-fits-all proposition. The reality is that each platform has its quirks and best practices. For example, Facebook requires a different approach than LinkedIn.
Failing to learn the nuances of each platform will result in wasted ad spend and poor results.
2) Not Measuring Campaigns with Analytics
You can't improve what you don't measure. That's why it's critical to track the performance of your paid social media campaigns with analytics. Without data, you're flying blind and wasting money.
3) Being Vague in Campaign Goals
Trying to be everything to everyone is a recipe for disaster regarding paid social media advertising. You need to know who your target audience is and what you want them to do before you start spending money. Otherwise, you're just wasting your time and money.
4) Choosing Unprofessional Images
Your ad reflects your brand, and if you want to present a professional image to the world, you need to use professional-looking images. Blurry, dark, or unappealing photos will turn people off and make them less likely to do business with you.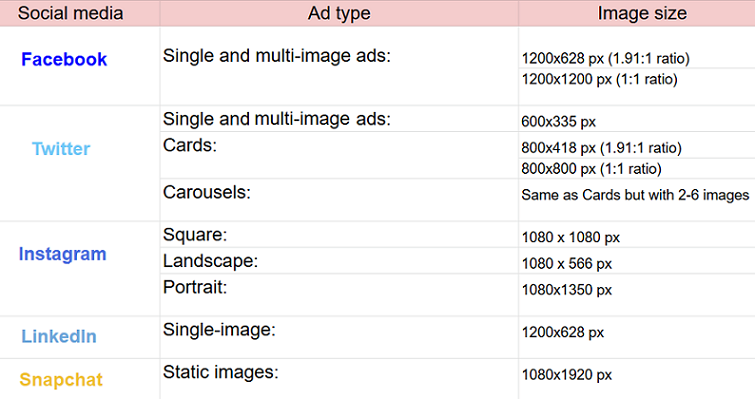 (Source: PPC Hero)
5) Neglecting Personalization
Personalization is key when it comes to social media advertising. By segmenting your audience and tailoring your content to them, you can create more likely to resonate and convert manufacturing ads.
Additionally, personalization can help you build trust with potential customers, which is essential for driving sales.
However, many manufacturers neglect personalization in favor of generic, one-size-fits-all content. As a result, they waste money and miss out on valuable opportunities to connect with consumers.
6) Lack of Strategic Targeting
A lack of strategic targeting is one of the most common and costly mistakes when using paid social media ads. You'll waste a lot of money on ads that reach the wrong people without knowing who your target audience is.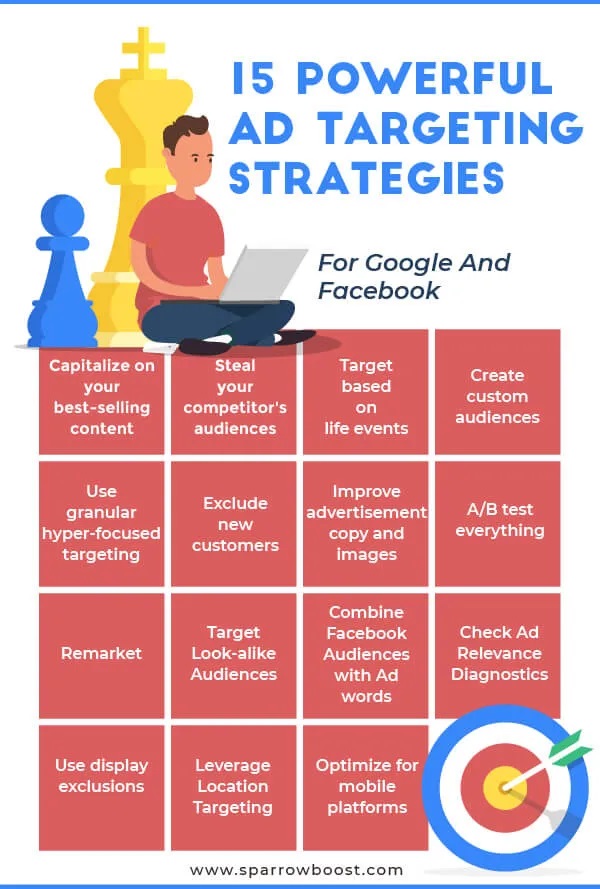 (Source: Sparrow Boost) 
Not only that, but you'll also miss out on potential customers who would have been interested in your product or service.
7) Neglecting the Local Audience
One of the most common and costly mistakes when using paid social media ads is neglecting their local audience.
You're missing out on potential customers right in your backyard by targeting a national or global audience. Instead, target your manufacturing ads to people in your city, state, or region to maximize your reach.
8) Poor Ad Copywriting Skills
Your ad copy is the first thing potential customers will see; if it's not well-written, they will likely move on.
Here are five tips for writing effective ad copy: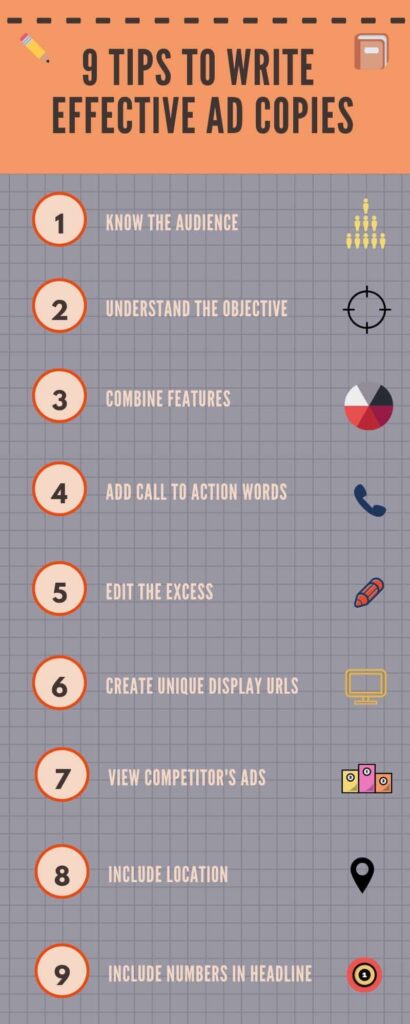 (Source: Inspiration Feed)
Keep your message clear;

Include an emotional appeal;

Tell a story about your product or service; 

Use images that are relevant to your product or service;

Add keywords so that when someone searches for them in Google, they find your ad instead of your competitor's;

Research the best time to post your ads. You can do this by tracking your competitors' performance;

Avoid using too many hashtags or using words that have nothing to do with what you're selling (i.e., #sports, #love); 

Don't use slang words to appear cool; 

Remember to track results and make changes as needed
9) Lack of Campaign strategy
Another mistake is not having a B2B manufacturing marketing campaign strategy. Before you start paying for social media ads, you need to know what your goals are and who your target audience is. Otherwise, you'll just be throwing money away.
10) No Plan for Data Analysis and 0ptimization
Without data, it's impossible to know if your paid social media ads are working. Are you reaching your target audience? What's your click-through rate? How much are you spending per conversion?
You need to set up a system to track this data so you can make informed decisions about your ad spend. Otherwise, you're just throwing money away.
Social Media Marketing For Manufacturers: Best Practices
Paid social media ad marketing can be incredibly effective if you know how to use it correctly. But, it's easy to make common mistakes that ruin your campaigns and leave you with less money than you expected or wondering where your traffic and leads went.
If you want to run successful paid social media ads campaigns, follow these 7 tips for manufacturing marketing success and improve your online marketing results today.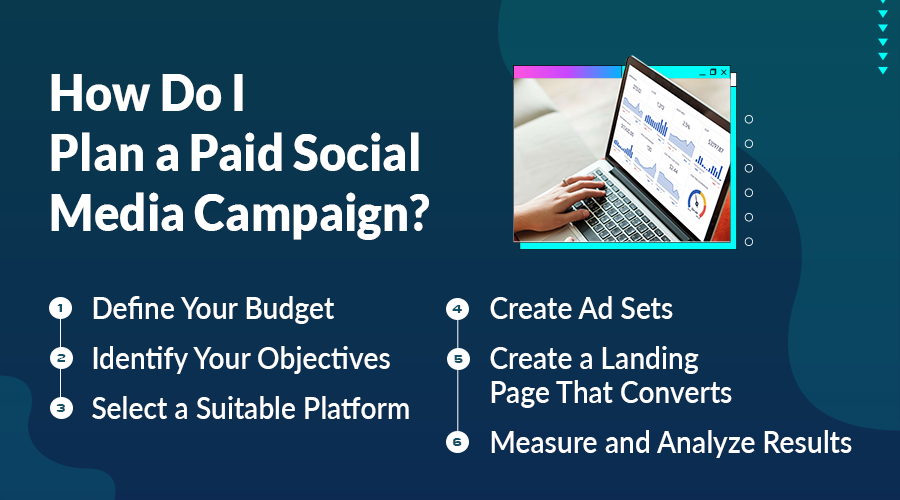 (Source: Grazitti Interactive)
1) Define Your Objectives
Before starting a social media campaign, figure out what you're trying to accomplish. Are you selling an existing product? Are you marketing a new product? Are you trying to drive traffic to your website?
Your objectives will guide all your decisions down the line—from choosing which platforms to advertise on, where in your ad copy to make offers, and what types of images work best. It also helps you stay focused if manufacturing ads aren't bringing any conversions.
2) Target the Right Audience
The first step in creating a successful paid social media campaign is figuring out where to advertise. If you aren't advertising on sites your target audience already frequents, you're wasting money.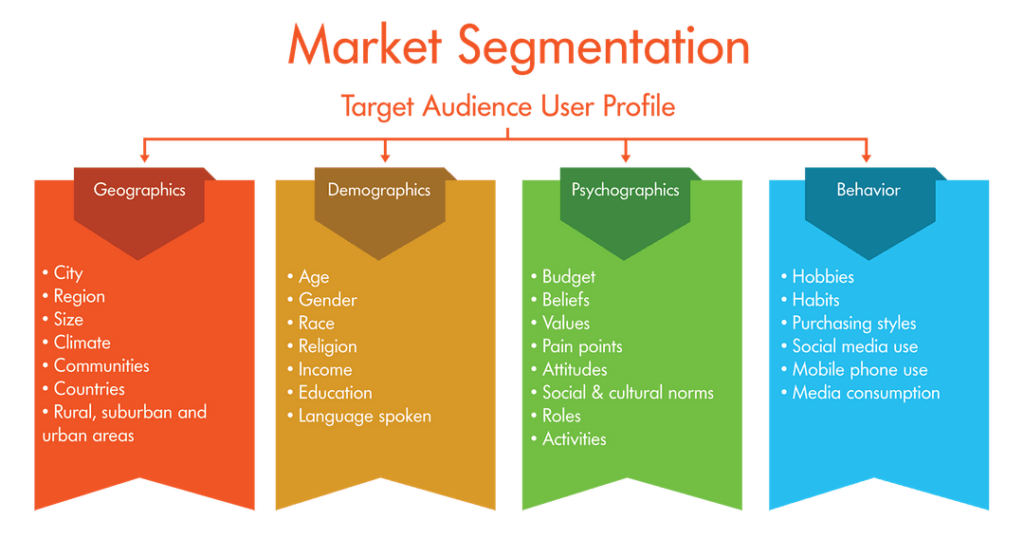 (Source: Taplink)
Crafting a message is pointless if you don't know who you're speaking to. For example, if your business makes makeup products but only caters to middle-aged women, no one else will care what you have to say.
So start by researching before plunging into social media ads; understand who your customers are, and craft a compelling message that will draw them in and keep them coming back.
3) Engage with Customers Before You Sell to Them
Your customers are smarter than you think. One-way social media engagement is effective, but a two-way dialogue can be priceless. It also helps give your brand a human face and makes people feel more comfortable with you.
It means that your customers will have a better idea of what kind of service they should expect from you, and you'll feel closer to them because they won't be just random faces in an audience anymore.
4) Promote on Social Media Channels
Facebook and Twitter are two of the most popular social media channels for advertising. Others include LinkedIn, Instagram, YouTube, Pinterest, and TikTok.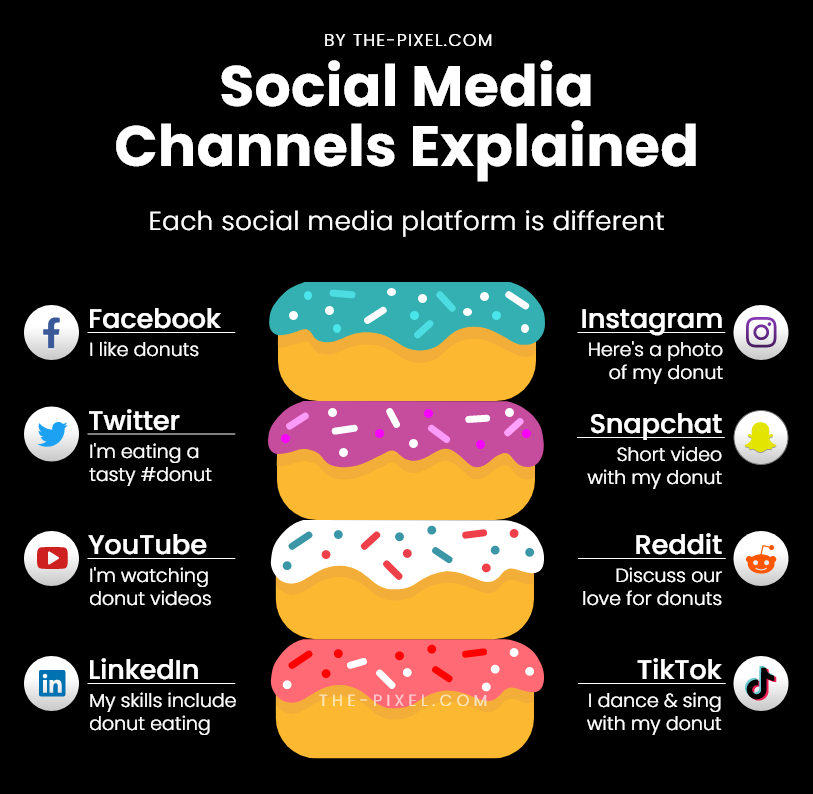 (Source: ThePixel)
If you're a B2B company, Facebook will probably be your best bet. Although it can get expensive, it offers a wide variety of targeting options to help you reach specific audiences. For example, it allows you to promote posts, boost your brand's page engagement, create sponsored ads, etc.
5) Make Sure There Are No Duplicates in the Marketplace
Before starting your social media campaign, look at other companies in your market using social media to advertise. You want to make sure you have different content on Twitter and Facebook than they do because if you don't, it may seem like you're being redundant with your messaging.
In addition, your social media ads will be much more effective if they stand out from your competitors.
6) Use Consistent Messaging Across All Channels
It's common in paid social media ads to see different hashtags and URLs with each post. While we're sure, you have good intentions, using consistent messaging across all your channels is an absolute must if you want to make paid social media marketing work.
Not only will it help increase your conversion rates, but it'll also ensure that you're building a cohesive manufacturing marketing strategy.
7) Track Performance Continuously. Then Adjust Your Course Based on Performance
We've said it before, and we'll say it again: advertising is an art, not a science.
You can read all of our tips and best practices in hopes that you become a master at paid social media ads, but most important is doing your research, testing different B2B manufacturing marketing strategies, learning from each one, and tracking your performance.
Because social media is so fast-paced, it's important to track performance continuously.
If you aren't measuring, you can't learn from your mistakes. And if you aren't learning from your mistakes, you won't be able to adjust the course based on what worked and didn't.
Like any other ad campaign or marketing strategy for a manufacturing company, you need to pay attention and constantly improve based on changes in traffic numbers, responses, and conversions.
How to Track the Success of Your Social Media for Manufacturers Campaign (Key Metrics to Track in a Paid Social Campaign)
Paid social media marketing can be hugely successful, but it's not easy to track the success of your campaign. However, you can track many manufacturing KPI metrics to determine how well your paid campaign is doing and make adjustments if necessary.
By monitoring these key metrics, you can ensure that your manufacturing company gains the most traction from its paid social media marketing campaign.
These seven manufacturing KPI metrics will help you understand the success of your social media campaign and whether or not it's worth continuing.
1. Number of Clicks
The number of times a link has been clicked on is a good metric to track. If your campaign involves more than one link, you can calculate engagement by dividing that number by your budget and multiplying it by 100.
For example, if you've spent $1,000 on an ad and received 10 clicks on one of three links in that ad, then you have 3 percent engagement ($10 divided by $1,000 times 100 equals 3).
You can also see how many people are clicking each link within an ad. That gives you an idea of what people find most interesting about your content and allows you to create more tailored links in future campaigns.
2. Number of Website Visits
If you're not driving traffic to your website via social media, your campaign isn't working as well as it could be. Pay attention to how many visitors you're getting each day, and ensure that number grows over time.
You can calculate daily growth in traffic by dividing total visits by the number of days since launch.
This metric will also tell you whether or not to continue a campaign once it runs out; if it's still growing, then great!
Just keep spending money on it until you don't see those numbers climb anymore (or until budget constraints make other advertising impossible). Otherwise, move on to a new channel with fresher results.
3. Number of Conversions
Conversions refer to the number of clicks, page views, or sales that resulted from your ad campaign. You can only attribute conversions to a specific campaign using Google Ads conversion tracking.
In addition, ensure you're targeting only one audience with your campaign; otherwise, you won't be able to differentiate between conversions from different campaigns.
If a click doesn't lead to a conversion (e.g., if someone clicked on an ad but immediately returned to their search results), then that click won't be counted as part of your number of conversions.
4. Cost Per Click
Cost per click is a metric calculated by dividing your total cost by your total number of clicks. This number reflects how much you spend per click to drive traffic to your site.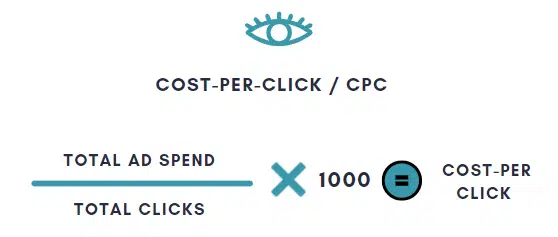 (Source: Attention Experts)
You'll want to keep an eye on it to know when it's time to adjust bids or target new audiences and when it's time to end a campaign that isn't performing well.
If you want more control over how your ads look, advertising on Google for financial advisors gives flexibility in designing creative content for your campaigns.
Financial advisors can choose from multiple formats, including text only, image only, text + image, and even video options, to cater to each campaign specifically toward their target audience.
5. Cost Per Conversion
As mentioned above, cost per conversion is one of the major manufacturing KPI metrics. A high cost per conversion may indicate you're paying too much per click or that your landing page is so weak that leads aren't completing offers, which will hurt your lead quality score.
To lower your cost per conversion, review your landing page and raise it to a level where more leads complete your offer. You may also need to adjust how much you bid on keywords.
And if you're paying a high amount for each click and getting very few leads, you might need to reconsider how many keywords and manufacturing ads you use or whether some are worth spending money on.
6. Impression Metrics
An impression is what happens when your ad appears on a web page. It's also referred to as an ad view and typically represents a single visit from one user.
Impressions are usually sold on a CPM (cost per thousand impressions) basis, where you pay $x per 1,000 times your banner is shown.
When analyzing impressions, look at two key manufacturing KPI metrics: 1) overall impressions and 2) unique views. Overall impressions should increase over time to keep viewers interested in your brand; if you're not getting enough impressions, try lowering your CPM or buying more.
7. Click Through Rate (CTR)
CTR measures how many people click on your ad after they've seen it. If you have a low CTR, it means your ad is not getting noticed.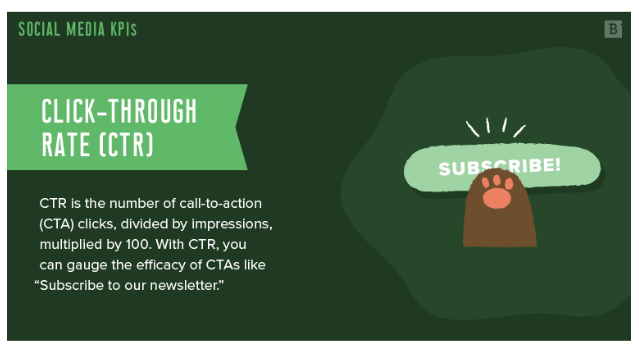 (Source: Brafton)
For example, if 100 people see your ad and 5 of them click through to your website, your CTR is 5%. The more appealing or useful (to those searching) your ad is, the higher your CTR will be and hopefully lead to more conversions of followers.
Understanding How Social Media Remarketing for Manufacturers Works
The term remarketing has been around for a long time, but how does it work, and how can you use it to grow your business?
Remarketing involves using online advertising to display ads to customers who have visited your website based on their interests and past purchases.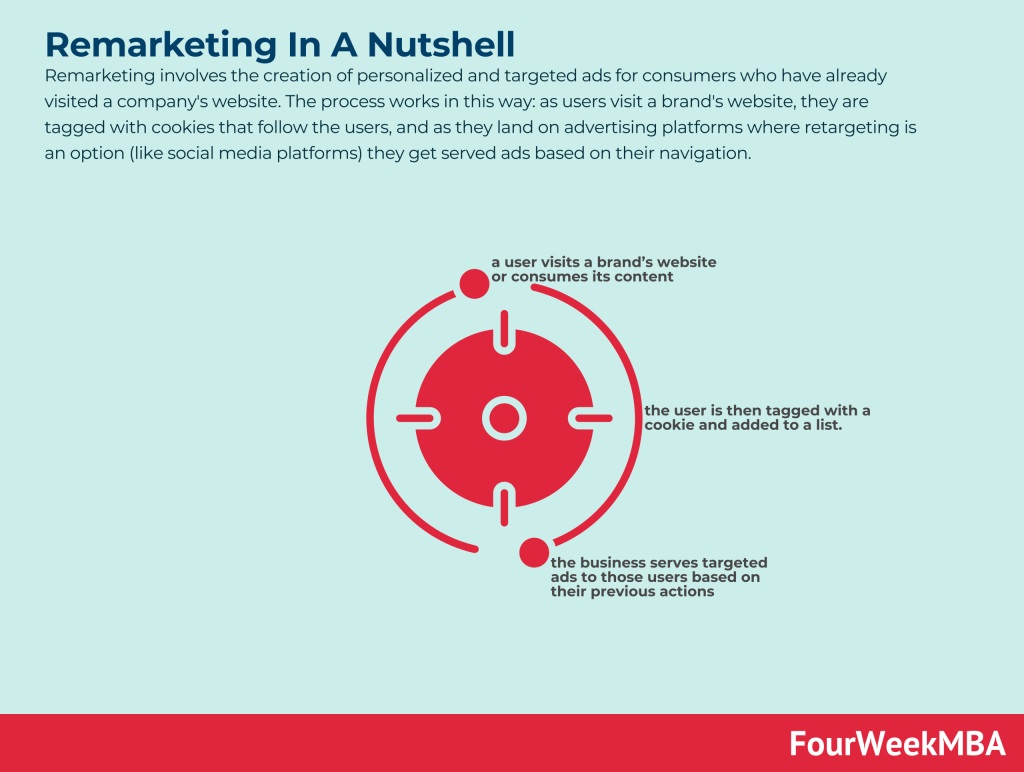 (Source: FourWeekMBA)
With the rise of social media, remarketing has become increasingly popular with manufacturers because it allows them to keep their brand in front of potential customers without spending money on advertising.
What is social media remarketing?
Social media remarketing is a very specific online advertising approach. With social media remarketing, an advertiser can reach people who have previously visited their website but haven't made a purchase.
Social media remarketing allows you to do that by serving manufacturing ads based on whether or not a Facebook user has previously visited your website. As a result, visitors will see an ad related to your company, but they won't know it's from you until they click on it.
By adding social media remarketing pixels to your website and linking them with Facebook via app events, you'll be able to serve ads on Facebook based on what people did and didn't do in real-time after visiting your site.
Why use it?
Social media remarketing allows you to target people on specific social networks. There are so many benefits to using social media remarketing.
To name a few, it's cheaper and less time-consuming than traditional digital advertising, plus you can target your audience based on their interests and preferences.
Social media remarketing also allows you to target a broader range of demographics. For example, you can reach users who aren't interested in your products/services by building relationships with them through content marketing for manufacturing companies.
These reasons make social media remarketing an essential part of any modern manufacturer's marketing arsenal!.
How does it work?
Unlike other online advertising methods like PPC ads or banner ads, social media remarketing is less pushy. For example, instead of an ad interrupting users as they browse their newsfeed, it pops up after they've already interacted with your page.
If you're familiar with Facebook's like button, you understand how remarketing works: if someone likes your page, they will see a follow-up post related to what drew them in (e.g., your products).
For example, if someone visits your furniture store's Facebook page and then likes it, they'll see relevant furniture ads on their newsfeed once they start browsing other pages or sites.
As the audience scrolls through their feed, a small advertisement from your company may pop up alongside sponsored posts from friends or other companies.
How can you utilize it for your business?
Now that we know how this system works, let's look at how you can use it to grow your business.
Target specific groups within your niche;

Save money by paying when visitors make purchases; 

Keep customers engaged with long-term marketing messages;
One of the most important aspects of running a successful manufacturing business is retaining clients and ensuring they keep coming back. Luckily, social media remarketing offers many ways to do just that.
Best Practices for Using Social Media Remarketing
Using remarketing lists can be a powerful tool to help draw in prospective clients who have already expressed interest in your business. But it's important to remember that these ads are like any other – they only work if you know how to get people's attention and entice them into taking action.
Experiment with different ad formats, types, and bids (and don't forget about budgeting). Make sure you're always looking at how many visitors take action on your ads so you can find which ones are truly working for you.
With a little trial and error, social media remarketing has great potential for creating sales, building brand awareness, and even helping generate leads for new business opportunities.
7 Biggest Challenges Manufacturers Face When Using Paid Social Media Ads
Many manufacturers use paid social media ads to sell their products effectively as part of their manufacturing marketing strategy.
However, using social media ads as part of your B2B manufacturing marketing campaign can be challenging because many variables can affect your ad campaigns' success, such as the size of your budget and the length of time you run the ad.
To determine whether or not you should use paid social media ads, look at this list of the seven biggest challenges manufacturers face when using paid social media ads.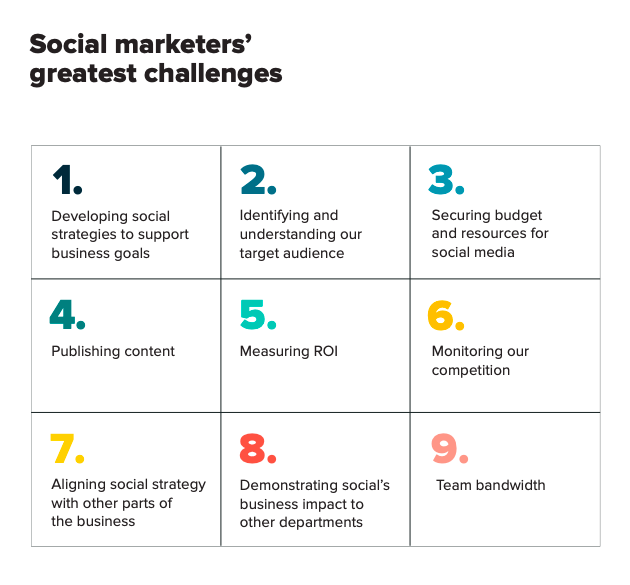 (Source: Sprout Social)
#1. Difficulty Finding Ideal Influencers
The first challenge manufacturers face when using paid social media ads is difficulty finding ideal influencers.
With so many people on social media, narrowing down who would be the best fit to promote your product can be hard. First, you want to find someone with a large following who is also engaged with their audience.
#2. Difficulty Getting Targeted Traffic
The second challenge manufacturers face when using paid social media ads is difficulty getting targeted traffic.
This challenge arises because most social media users are not actively looking to buy products or services. Instead, they are there to connect with friends, family, and others who share their interests.
It means you must be very careful about who your manufacturing ads target.
#3. Difficulty Optimizing PPC Campaigns
One of the most difficult aspects of using paid social media ads is optimizing your campaigns for maximum effectiveness. You must constantly split-test different ad copy, images, and targeting options to see what works best for your products and audience.
It can be time-consuming and expensive, but it's essential if you want to get the most out of your social media B2B manufacturing marketing campaign.
#4. Difficulty Measuring ROI
Many manufacturers still struggle to measure their paid social media campaigns' ROI accurately.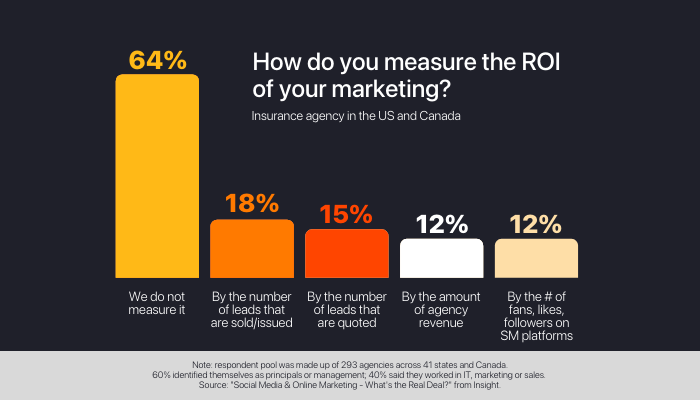 (Source: Trend)
One of the main issues is that social media platforms don't provide enough data to show how users interact with ads. Additionally, tracking sales made directly from an ad campaign can be difficult.
And even if you can track sales, it's hard to determine how much of that can be attributed to the ad campaign and how much would have happened anyway.
#5. Difficulty Building Engagement with Customers
Paid social media advertising is a great way to reach out to potential customers on various platforms. However, one of the challenges manufacturers face is building engagement with customers.
It can be difficult because customers are bombarded with ads and content from different brands and companies, and it can be hard to stand out.
#6. Difficulty Determining the Best Time to Post
Many manufacturers still use traditional marketing methods to reach their target audiences, which means they may not be sure when the best time is to post on social media.
They also may not have the resources to monitor their social media accounts constantly to see when their target audience is most active.
#7. Difficulty Following Up on Leads
One of the manufacturers' main challenges when using paid social media ads is difficulty following up on leads.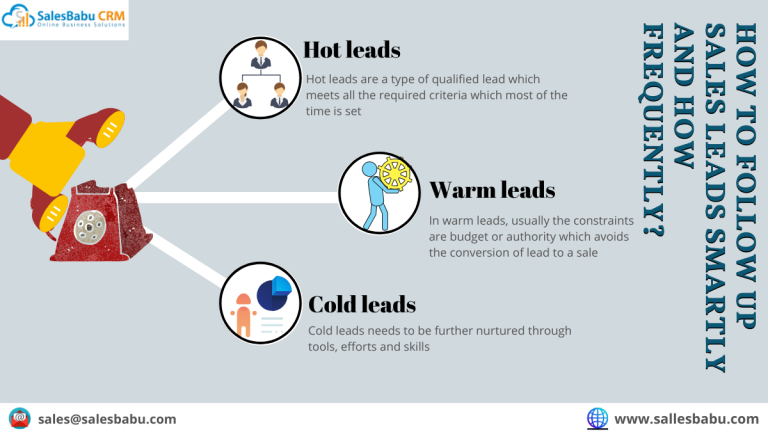 (Source: SalesBabu)
There are a few reasons for this:
there is often a high volume of leads, making it difficult to keep track of them all; 

leads may come from all over the world, making it hard to connect with them promptly; and 

some leads may not be interested in your product or service, making it a waste of time and money to follow up.
Why You Need a Paid Social Media Advertising Agency
As the competition gets increasingly fierce, you need to stay on top of your game to stay afloat in the manufacturing industry. One key way to do this is through social media marketing with paid advertising.
However, not all paid advertising agencies are the same, and choosing a manufacturing digital marketing agency that works best for your business needs is important.
Here are 9 reasons you should hire a
manufacturing marketing agency that provides paid social media services.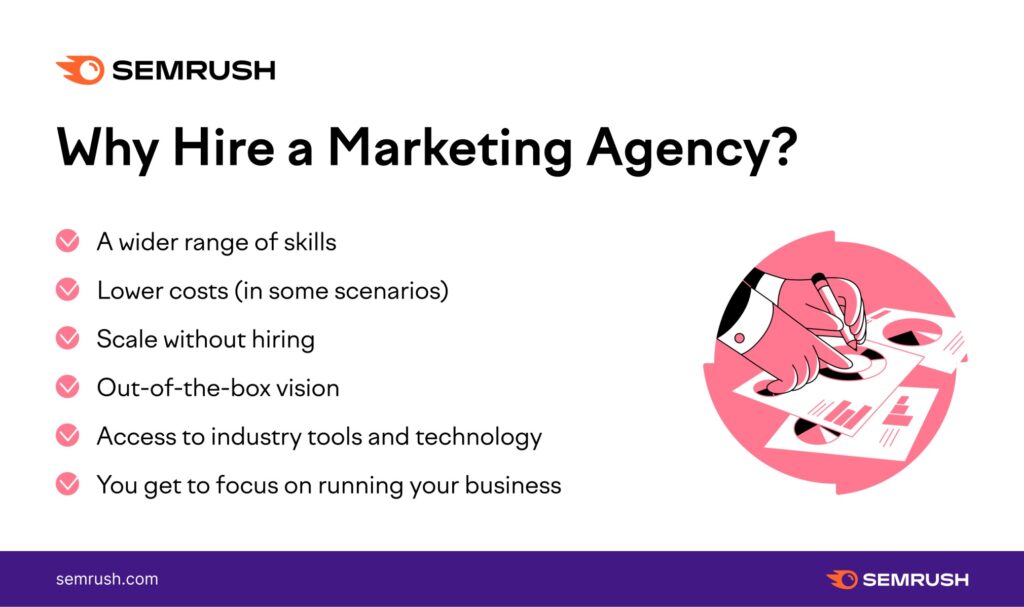 (Source: SEMRush)
With WordStream, you can do everything from keyword research to automatic bidding to landing page creation. When it comes to a healthcare marketer, you'll get access to hundreds of healthcare-related keywords that you won't find with other tools.
The software also has conversion tracking features so that once someone lands on your landing page after clicking on an ad, you can see how they engaged with your site and what action (if any) they took on your website.
If a user clicks on one of your ads but doesn't go anywhere else on your site, then that's essential information for PPC and marketing efforts moving forward.
Quicksprout is one of the best—and cheapest—Pay-Per-Click management solutions around if you're in healthcare. The analytics are precise, and all told, it's an excellent solution to have at your disposal if you work in digital marketing or advertising.
If anything goes wrong with your account or ad spends gets out of hand, Quicksprout won't let you burn through too much money before they step in.
1) To Ensure High Quality of Work
When running a manufacturing business, there are many balls to keep in the air.
You must worry about production, quality control, shipping, and more. And on top of that, you must ensure that your marketing is up to snuff.
That's why it makes sense to hire a manufacturing digital marketing agency makes sense. They will take care of your social media needs so that you can focus on what you do best: running your business.
2) To Focus on What You Do Best
You know how to manufacture products and run a business, but social media advertising requires time, effort, and skills you may not have.
That's where a manufacturing marketing agency comes in. They can help you create and execute an effective social media advertising campaign so you can focus on running your business.
In addition, these agencies have the expertise to create targeted ads and messages that resonate with the right audience. For example, you don't want your product marketed towards kids when designed for adults or vice versa.
With paid social media advertising agencies, they'll have you covered across all platforms like Facebook, Twitter, LinkedIn, etc., ensuring maximum exposure.
3) Simplify the Process
Many moving parts are involved in running a manufacturing business, and social media advertising can be complex. A manufacturing digital marketing agency can simplify the process and help you maximize your results.
4) Increase Results
A good social media advertising agency will have a team of experienced professionals who know how to create and execute effective campaigns. They will also be up-to-date on the latest trends and changes in the social media landscape.
As a result, they can help you increase your reach, engagement, and conversions.
5) Manage Multiple Social Media Platforms at Once
Trying to keep up with multiple social media platforms can be overwhelming, and it's easy to fall behind or make mistakes.
A manufacturing digital marketing agency can help take some of the burdens off your shoulders by managing multiple platforms simultaneously. They can also help create a more cohesive social media B2B manufacturing marketing strategy across your platforms.
6) Get Skilled Team Members Who Will Do Their Job Right
A good paid social media advertising agency will have skilled team members who know how to create and place effective ads. They'll also be able to track the results of your campaigns and make necessary adjustments.
This level of expertise is hard to come by if you don't have an experienced team working on your behalf.
7) Focus on Other Important Tasks in the Office
As the owner of a manufacturing business, your time is valuable. You can't afford to waste time on social media when you should be working on your business.
A manufacturing advertising agency can help you save time by managing your social media accounts and creating content that will engage your audience.
They will take care of your online presence while you focus on other important tasks in the office.
8) Benefit From an Agency that Specializes in Manufacturing Businesses Like Yours
An agency that specializes in manufacturing businesses can bring many benefits to your company.
They will be able to understand your specific needs and develop strategies that are tailored to your business. Additionally, they will be up-to-date on the latest trends and best practices in the industry, which can help you stay ahead of the competition.
9) They Stay Up-to-Date on the Latest Trends and Changes in the Social Media Landscape
A good social media manufacturing advertising agency will have its finger on the pulse of the latest trends and changes in the social media landscape. This way, they can adapt your marketing strategy for a manufacturing company accordingly and keep you ahead of the competition.
How To Choose The Best Agency For Your Paid Social Campaigns
Paid social campaigns can effectively promote your brand online, but they aren't necessarily easy to pull off on your own.
Instead of figuring out what you should and shouldn't do on social media, you should work with an agency specializing in paid social B2B manufacturing marketing campaigns with the experience and expertise needed to produce quality results and ROI-positive campaigns.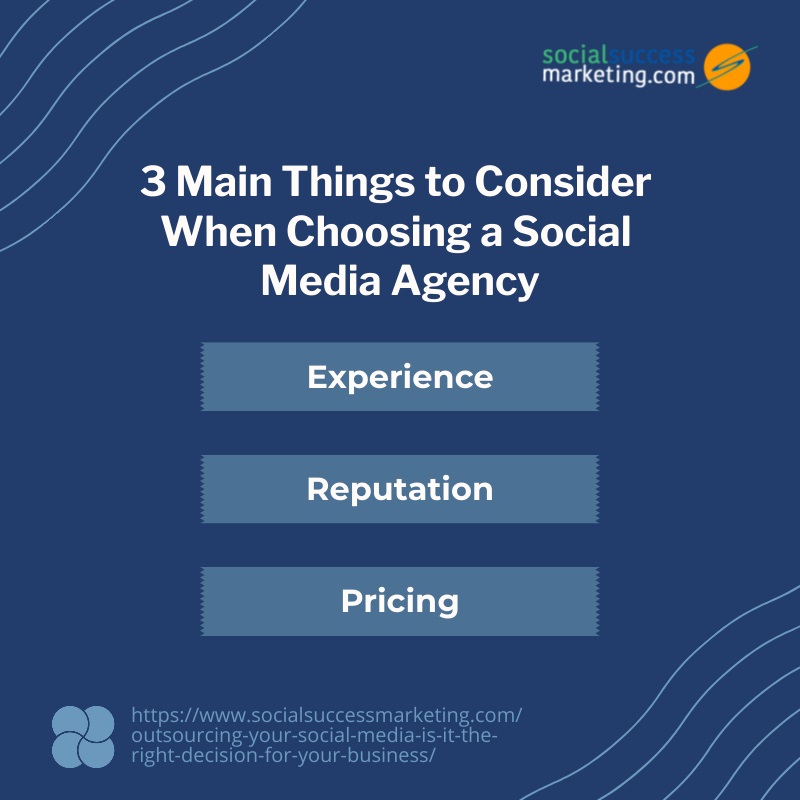 (Source: Social Success Marketing)
When deciding which manufacturing digital marketing agency to hire, consider these 14 criteria:
1. Do They Have a Dedicated Sales Team?
A good manufacturing advertising agency will have a dedicated sales team to generate new leads and business. This team should be knowledgeable about the products and services offered by the agency, and they should be able to answer any questions you may have.
2. Do They Have a Proven Track Record?
A good manufacturing digital marketing agency will have a proven track record of success with its paid social campaigns. They should be able to show you examples of past campaigns they have run, and they should be able to tell you how those campaigns performed.
3. Do They Offer a Money-Back Guarantee?
A good manufacturing advertising agency will offer a money-back guarantee on their services. It means that if you are not satisfied with the results of your campaign, you can get your money back.
It also means you can try out the agency's services without worrying about long-term commitments.
4. Do They Specialize in a Specific Industry?
There are many paid social campaigns, from LinkedIn B2B ads to Facebook lead gen. Make sure the agency you're considering has a specialty that aligns with the type of campaign you're looking for.
A good agency will specialize in one industry or niche area only so they can focus all their attention on being an expert in this area.
Working with a manufacturing advertising agency specializing in general marketing and specific industries or niches might be better if your business is not in this niche area.
5. Have They Worked on Similar Projects?
It's important to choose an agency with experience with similar projects. They should understand your market, target audience, and goals. Ask for examples of their previous work to understand their style and approach.
6. Did They Answer Your Questions?
If you're looking to hire an agency to manage your paid social B2B manufacturing marketing campaigns, it's important to ask them many questions. You must be assured that they understand your business and your goals.
7. Can You Test Their Knowledge?
Before you sign on the dotted line, put your potential agency to the test. Ask them pointed questions about the paid social landscape and see how they answer.
If they're unable to give you a satisfactory answer, move on. You want an agency that is up-to-date on the latest changes and trends.
8. What's Their Social Media Following Like?
A large social media following is a good sign that the agency is popular and has a good reputation. It also means they're likely to have a lot of experience with paid social campaigns. So they're more likely to have better conversion rates than an agency with fewer followers.
9. What's Their Background?
When deciding on an agency, it's important to find out their background in social media management.
How many years do they have? How many campaigns? What kind of clients do they work with?
There are so many different types of agencies, but it all comes down to research and asking yourself which one is best for you based on your needs and budget.
10. Are They an Agency or Just Freelancers Within a Bigger Organization?
Another thing you should consider when choosing a manufacturing marketing agency is whether they are an agency or freelancers within a bigger organization.
Both pros and cons are, so weighing your options and deciding what's best for your business are important.
Freelancers can offer more specialized expertise in a certain area, while agencies might have better rates and more specialists on staff. It all depends on the needs of your company.
11. Do They Have Any Industry Awards Under their belt?
The first thing you should look for when choosing a manufacturing marketing agency is whether or not they have any industry awards. It will give you a good indication of the quality of their work.
Furthermore, check to see if the agency has won any awards specifically for paid social campaigns. You can be sure they know what they're doing if they have.
12. Are They Transparent About What They Do?
Any manufacturing marketing agency worth their salt will be happy to show you what they did for a past client and how they achieved the results they did.
If an agency is being cagey about their methods, it may be because they're using black hat tactics that could get your account banned.
13. Will You Work With a Person or an Account Manager?
When looking for a manufacturing marketing agency to handle your paid social campaigns, you'll want to consider whether you'll work with a person or an account manager.
If you're the type of person who likes to have much control over their campaign, then working with someone may be the best option. On the other hand, if you prefer to have someone else handle the day-to-day details, then an account manager may be a better fit.
14. Will You Get Value from Them Outside Paid Campaigns Too?
Agency selection is an important decision for any business, but it's especially critical regarding paid social campaigns. After all, these experts will be responsible for driving your brand's visibility and engagement on platforms like Facebook, Instagram, and Twitter.
Get the Most Out of Your Paid Social Ads!
Paid social media ads can be a powerful tool in the arsenal of any manufacturer looking to improve sales and boost customer engagement in their brand.
These ads work perfectly with B2B manufacturing marketing campaigns to provide an excellent opportunity to build brand awareness, drive sales, and communicate with customers without having to wait for customers to come to find you online.
You can reach out to us if your company wants to reach consumers directly but finds it difficult to use these paid social ads.
At Flying V Group, we can help you to develop a more cohesive marketing strategy and boost your engagement and conversion rates by targeting the right people at the right time with the right message using social media platforms like Facebook, Twitter, LinkedIn, Instagram, and YouTube. Contact us!