Reading Time:
10
minutes
Navigating the digital landscape can be a challenge, even for businesses with a strong local presence. 
But with a strong SEO strategy in place, you can easily excel, capture the market, and make 3x or more sales.
Here's an SEO case study to prove our point.
Bliss Car Wash, a client-centric car wash business, experienced this first-hand. They faced the daunting challenge of visibility in a digital world teeming with millions of active websites. 
Despite offering top-notch services, they found themselves lost in the crowd, struggling to make it to the first page of search engine results pages (SERPs). 
Their dilemma: How do they increase their online exposure to generate leads and grow their business?
Enter Flying V Group, a seasoned digital marketing agency committed to helping businesses conquer their digital challenges.
Our initial encounter with Bliss Car Wash involved conducting an in-depth SEO audit to identify the root causes of their digital visibility issues. 
We discovered that their online presence was hindered primarily by the inadequate optimization of their website's metadata. 
The metadata was an issue because Google showcased the H1 tag and content from their page instead of displaying the crafted metadata. 
This prevented Bliss Car Wash from ranking for essential keywords.
Additionally, the audit revealed several other areas for improvement: backlink profile, website structure, and local SEO. 
These components were underutilized, leaving considerable potential for increasing their online visibility untapped.
The Solution
At Flying V Group, we have spent years perfecting our approach to these very digital marketing problems. 
Our solution was a comprehensive SEO strategy tailored to Bliss Car Wash's specific needs. 
The strategy had several moving parts – extensive keyword research, meticulous on-page SEO optimization, technical SEO enhancements, and a thoughtful link-building approach.
Keyword Research Strategy
Keyword research involves identifying the words and phrases that potential customers are using to search for products or services similar to those offered by Bliss Car Wash. 
As you'll see in this SEO case study, we improved Bliss Car Wash's visibility on search engine results pages (SERPs) and drove more organic traffic to their site with more keyword research.
Understanding Business Needs and Audience
The initial step in our keyword research process involved a thorough understanding of Bliss Car Wash's business objectives and target audience. 
We identified their core services, operations' geography, and their unique selling propositions. 
Understanding the target audience's queries and needs was crucial to our keyword selection.
Seed Keywords Identification: We identified the "seed" keywords – these are broad, highly relevant terms related to the car wash business. 
For instance, some of the seed keywords included 'car wash,' 'car cleaning,' 'car detailing,' and 'auto wash.'
Keyword Expansion and Refinement
Using the seed keywords as our base, we expanded and refined our list using keyword research tools like Google Keyword Planner, SEMrush, Ahrefs, and Ubersuggest. 
These tools helped us discover related search terms, long-tail keywords (more specific, less competitive phrases), and variations that potential customers used.
Competitive Analysis
We performed a competitive analysis to identify the keywords that were driving traffic to competing car wash businesses. 
By doing this, we were able to discover additional keyword opportunities and gain insights into the competitive landscape.
Keyword Difficulty and Search Volume Analysis
We evaluated every keyword for its search volume (how often it's searched) and keyword difficulty (how competitive it is). 
We aimed to find a balance between high-volume keywords and those that had less competition. 
This approach allowed us to achieve quick wins while also focusing on more competitive terms over the long term.
Keyword Intent
We also considered the search intent behind each keyword – whether users were looking for information, comparison, transaction, or local services. 
For instance, a user searching for 'car wash near me' has a clear local and transactional intent, and optimizing for such phrases was crucial to driving ready-to-convert traffic.
Finalizing and Grouping Keywords
Finally, we selected the most relevant, high-potential keywords and grouped them by themes or topics for content creation.
The keyword research conducted by Flying V Group provided a solid foundation for the SEO campaign of Bliss Car Wash. 
These keywords guided our content creation, on-page optimization, and link-building strategies, ensuring that all efforts were targeted and cohesive.
We didn't end our SEO there. In fact, keyword research is just a scratch on the surface of SEO. We analyzed and made some changes to their website.
On-Page SEO Strategy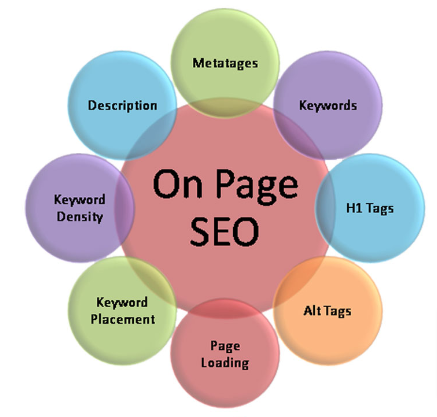 On-page SEO involves optimizing individual web pages of the site to rank higher in search engines and attract more relevant traffic. 
The primary objective here is to ensure that the website's content and structure are optimized for both search engines and users. 
Here's how we went about it for Bliss Car Wash:
Title & Meta Tag Optimization
The title tag is a major ranking factor and serves as the headline for the webpage in SERPs, whereas meta descriptions provide a concise summary of the page content. 
We optimized these elements for each webpage, ensuring they were within the recommended character limit and included relevant keywords. 
This not only improved Bliss Car Wash's visibility in SERPs but also made their listing more attractive, potentially increasing the click-through rate (CTR).
Heading Tag Optimization
Heading tags (H1, H2, H3, etc.) help structure a page's content and provide cues to search engines about the page's content. 
We ensured that primary and secondary keywords were included in these headings in a natural way that provided value to the reader.
Content Optimization
Search engines prefer relevant, engaging content that provides value to the users. We created a series of blog posts and other relevant content that'll be useful for their audience. 
We also ensured that the keywords identified during our research were naturally incorporated into the content, thus increasing its relevance to the target query.
Image Optimization
Images play a crucial role in improving the user experience and can also contribute to SEO when properly optimized. 
We added relevant alt tags (a text alternative for images) to all images, which helped search engines understand the context of these visuals.
Internal Linking
Internal links connect different pages of the same website, facilitating seamless navigation and improving the site's crawlability for search engines. 
We added relevant internal links within the content, improving the flow of 'link juice' across the website and enhancing the visibility of key pages.
Schema Markup
We implemented schema markup (a type of structured data) to further improve how the website communicates with search engines. 
This helped search engines better understand the website's content and resulted in more attractive listings in SERPs (e.g., featured snippets, rich results), improving CTR and driving more traffic to Bliss Car Wash's website.
By meticulously optimizing each on-page element, we were able to increase the relevance and visibility of Bliss Car Wash's website in the eyes of both search engines and users. 
Technical SEO Strategy
Technical SEO refers to optimizations that make a website more efficient to crawl and index by search engines. 
It involves improving site structure, ensuring it's mobile-friendly, enhancing page speed, and more. Let's break down what we did for Bliss Car Wash.
Structured Data Implementation
One of the most crucial parts of our technical SEO strategy was implementing structured data markup (schema markup). 
Structured data provides explicit clues about the meaning of a page to search engines. It's used to improve search engine understanding and presentation of a webpage's content.
For Bliss Car Wash, we analyzed the website and its business type to determine the most relevant schema types to implement. 
We used local, organization, and website schema markup to better communicate the site's content to search engines. 
This not only helped improve visibility in SERPs but also positively impacted the presentation of the content to users, enhancing click-through rates.
Website Speed Optimization
We ensured the site loaded quickly, as page speed is a known ranking factor for Google. Faster websites provide a better user experience and are more likely to keep visitors engaged.
Mobile Optimization
Given that most internet traffic comes from mobile devices, we ensured the site was mobile-friendly. 
This optimization ensured that users on smartphones and tablets could navigate the site easily and quickly, reducing bounce rates and improving overall user experience.
XML Sitemaps & Robots.txt
We created and optimized an XML sitemap to help search engines better understand the site structure and find new content. 
We also properly configured the robots.txt file to guide search engine crawlers on which pages or parts of the site they should or shouldn't index.
Fixing Broken Links & Proper URL Structures
We scoured the website for any broken links, which could create a bad user experience and damage the site's search rankings. 
Additionally, we ensured that URLs were SEO-friendly– short, descriptive, and including relevant keywords.
Indexing & Crawlability
We made sure the website was easy for search engines to crawl and index. This involved removing any unnecessary pages from the index, ensuring there were no crawl errors, and verifying that all important pages were easily discoverable by search engine bots.
In the end, addressing these technical SEO aspects significantly enhanced the user experience on the site and made it more appealing to search engine algorithms.
Local SEO Strategy
Local SEO is an effective way to market local businesses online. It helps businesses promote their products and services to local customers at the exact time they're looking for them online. 
For Bliss Car Wash, which operates in specific geographic locations, local SEO was critical to ensuring they were seen by the right people, at the right place, and at the right time.
Google My Business (GMB) Optimization
GMB is a free and easy-to-use tool for businesses to manage their online presence across Google. 
We started by creating and optimizing Bliss Car Wash's GMB listing for each specific location. 
This included accurately filling in all the necessary business details, adding relevant photos, and regularly updating the information. 
By doing so, we ensured that when local customers searched for a car wash, Bliss Car Wash would appear in the local search results or map listings.
Local Keyword Optimization
Our keyword research wasn't only focused on high-volume phrases. We also targeted local keywords. 
These are terms that local customers might use when searching for a car wash service, such as "car wash in [location]" or "[location] car wash services." 
We incorporated these local keywords seamlessly into the website content, meta tags, and headings to boost local search visibility.
Local Directory Listings
We submitted Bliss Car Wash to reputable local directories. This helped create high-quality, location-specific backlinks, enhancing the car wash's online presence and credibility. 
Directories also often show up in local search results, creating additional avenues for potential customers to find Bliss Car Wash.
Reviews and Ratings
We encouraged Bliss Car Wash to actively seek customer reviews and feedback. Reviews are a significant local SEO ranking factor. 
It worked, and we got a  steady stream of positive reviews that not only helped improve local search rankings but also boosted their business reputation and customer trust.
On-Page Local SEO
We optimized each location page on the website with the right local keywords, local business schema, and accurate contact information. 
We also ensured each location page had unique and engaging content to help improve its visibility in local search results.
Our local SEO efforts helped Bliss Car Wash achieve a stronger online presence in their operating locations, resulting in increased visibility, more customer visits, and, ultimately, higher revenue. 
Local SEO was not just a subset of our SEO strategy but an integral part of the project's overall success.
Link-Building Strategy
Recognizing the immense potential and necessity of a robust link-building strategy, Flying V Group took a comprehensive, systematic approach.
Backlinks, or inbound links, are critical for SEO as they signal to search engines that your site is a reputable source of information. 
Google and other search engines interpret these links as a form of endorsement, which can greatly enhance a website's search ranking. Here's what we did for Bliss Car Wash;
Competitor Backlink Analysis
Initially, we conducted a detailed competitor backlink analysis. This involved identifying who was linking to Bliss Car Wash's competitors and evaluating the quality of these links. 
We used Ahrefs for this process. But tools like SEMRush and Moz's Link Explorer can get the job done. 
Our goal was to identify potential opportunities for earning backlinks and understand the industry's content types that attract high-quality links.
High-Quality Content Creation and Promotion
We focused on creating and promoting high-quality, informative, and engaging content that could naturally attract backlinks. 
This involved analyzing what content resonated with Bliss Car Wash's target audience and producing relevant blogs, articles, infographics, and guides. 
We then promoted this content through various channels to increase its visibility and the chances of it being linked back to by other sites.
Guest Posting
Another significant component of our link-building strategy was guest posting. We identified reputable blogs and websites in the auto and car wash industry where Bliss Car Wash could contribute content. 
By creating unique, insightful content for these platforms, we were able to earn high-quality backlinks to Bliss Car Wash's website. 
These guest posts provided backlinks and helped position Bliss Car Wash as an industry authority.
Influencer Outreach
We reached out to influencers and bloggers in the auto care industry who could link back to our website. 
We shared our engaging content with them and sought their support in promoting Bliss Car Wash's services. 
This added another layer to our link-building strategy, contributing to the diversity of our link profile.
Broken Link Building
Lastly, we engaged in broken link building, a strategy that involves finding relevant websites with broken outbound links and suggesting they replace the broken link with a valid link to high-quality content on Bliss Car Wash's website. 
Not only does this provide us with another backlink, but it also helps the site owner by fixing a broken resource.
By focusing on these different aspects, Flying V Group was able to implement a robust link-building strategy for Bliss Car Wash. This approach aimed to enhance their website's domain authority, improve search engine rankings, and ultimately drive more organic traffic to their website.
Each step in our link-building strategy was carefully executed to ensure that every backlink acquired was of high quality and from a reputable source. 
We were aware that the quality of backlinks matters more than the quantity in search engines' eyes, so we strongly emphasized ensuring that the links we obtained were valuable and relevant.
The Results
Our strategic efforts bore fruit, and the transformation of Bliss Car Wash's online visibility was nothing short of remarkable. 
The results were clear to see. 
With a significantly boosted backlink profile, Bliss Car Wash's online authority increased, and its search engine rankings improved, helping them secure more visibility, engagement, and growth in the digital landscape.
After our intervention, Bliss Car Wash's total number of ranking keywords swelled to 179, with a staggering 178 of these appearing on the first page.
One of the most notable successes was the improvement we achieved for Bliss Car Wash's home and location pages. 
Initially, we worked on 45 keywords for these pages, and they were barely visible. 
After our on-page SEO optimizations, all of these pages started ranking on the first page for all 45 target keywords.
The holistic approach that Flying V Group took for Bliss Car Wash's SEO, combining keyword research, on-page SEO, technical SEO, local SEO, and link-building strategies, yielded remarkable results over the course of our engagement. 
The SEO project was a resounding success, demonstrating the transformative power of strategic, well-executed SEO. 
The result wasn't just an uptick in numbers and metrics but tangible growth and an improved bottom line for Bliss Car Wash.
SEO Case Study Concluding Thoughts
Our journey with Bliss Car Wash underscores the transformative power of a comprehensive, well-crafted SEO strategy. 
By investing in thorough keyword research, on-page, and technical SEO optimization, a focus on local SEO, and robust link-building, we amplified Bliss Car Wash's online visibility. 
The result was a substantial increase in organic traffic, more user engagement, and a rather robust digital presence.
At Flying V Group, we're firm believers in the power of SEO. It's a non-negotiable part of any business's digital marketing strategy. 
Regardless of your business's size or tenure, not appearing organically on SERPs means missing out on opportunities for quality traffic and potential customers. 
So why wait? Contact us today and see how we can help your business reach new heights in the digital landscape. Let's write an SEO case study about your business, just like we did for Bliss Car Wash.