Reading Time:
6
minutes
Do you want to improve your website's visibility and attract more customers, but don't have a lot of time to spare? Keyword research is a crucial component of SEO, but it doesn't have to take forever. In fact, with the right tool, you can do it in just 5 minutes.
That's where Ahrefs comes in.
Their Keywords Explorer tool provides keyword ideas, search volume, keyword difficulty scores, and ranking data for organic and paid searches.
By leveraging this tool effectively, you can quickly find the best keywords for your website and optimize your content and meta tags to rank higher in search results.
But why is this important? Effective keyword research can accelerate your traffic and boost your return on investment.
By understanding what your potential customers are searching for, you can create content that solves their problems and eventually converts them into customers. In this post, we'll show you how to make the most of Ahrefs' Keywords Explorer tool and do keyword research in just 5 minutes.
Get ready to take your website to the next level and start attracting more customers today.
Here at Flying V Group, we've tested many keyword research and SEO tools and settled on Ahrefs because;
 It is easier to use
 Works on several domains as long as you can provide proof of ownership
Ahrefs is more generous with the data and features for the pricing plans
Provides data from about ten sources and search engines
Whether creating a new website or doing a keyword overhaul for your old website, this post is for you. Let's get to it. We'll assume you already know keyword research, so we'll skip the definitions and explanations and head straight to the first step.
How to do Keyword Research with Ahrefs
We'll use an example for this post to explain the whole concept. Imagine you own a bakery and want to sell most of your cakes online. We will use Ahrefs to conduct keyword research for the cake shop.
Step 1: Set up Ahrefs Account
To use the Ahrefs Keywords Explorer tool, you must create an account on Ahrefs.com. Visit the website and click on the "Sign up" button in the top right corner. Once you have created an account, you can access the Keywords Explorer tool and other features offered by Ahrefs.
After you have created your account and logged in, you will be taken to the Ahrefs dashboard.
On the dashboard, you'll see an overview of your account and the data you access. Here's what you might see on your Ahrefs dashboard:
Overview: A summary of your account activity and the number of sites and keywords you track.
Keywords Explorer: A quick link to the Keywords Explorer tool allows you to research keywords and analyze their performance.
Site Explorer: A quick link to the Site Explorer tool, which allows you to analyze your website's backlinks, organic search traffic, and keyword rankings.
Reports: A list of saved reports and the ability to create new reports.
Alerts: A list of alerts you have set up to monitor changes in your website's rankings, backlinks, and other data.
Tools: A list of additional tools, such as the Batch Analysis tool, the Link Intersect tool, and the Keyword Difficulty tool.
You can navigate to the "Keywords Explorer" tool by clicking on the "Keywords Explorer" tab in the main menu. The Keywords Explorer tool is where you will conduct your keyword research.
Step 2: Identify Your Seed Keywords
A seed keyword is a broad word or phrase that describes the main topic you want to target in your niche. In other words, they're the words that'll form the basics of your keyword research. These seed keywords help you generate a list of related keywords and ideas that you can analyze and use to optimize your website and content.
The first step in identifying your seed keywords is choosing a topic or product relevant to your website. This can be your main product or service, a specific page or blog post on your website, or a related industry term.
A clear understanding of what you want to target will help you choose the right seed keywords to begin your research.
Once you have chosen your topic or product, you will enter the related keywords into the search bar within the Keywords Explorer tool. The seed keywords should be descriptive and specific to your topic or product.
For our cake shop, the seed keywords could be cake and cakes.
After entering your seed keywords, Ahrefs will generate a list of related keywords and information such as estimated search volume, keyword difficulty, and cost per click (CPC).
This list of related keywords will provide a starting point for your keyword research, allowing you to see what people are searching for concerning your topic or product.
In this step, you will use the Keywords Explorer tool to identify your seed keywords and analyze the related keywords that Ahrefs generates. With these search terms, you can gain a deeper understanding of the words and phrases people are using to search for products and services like yours.
For our cake shop, here are the results from Ahrefs;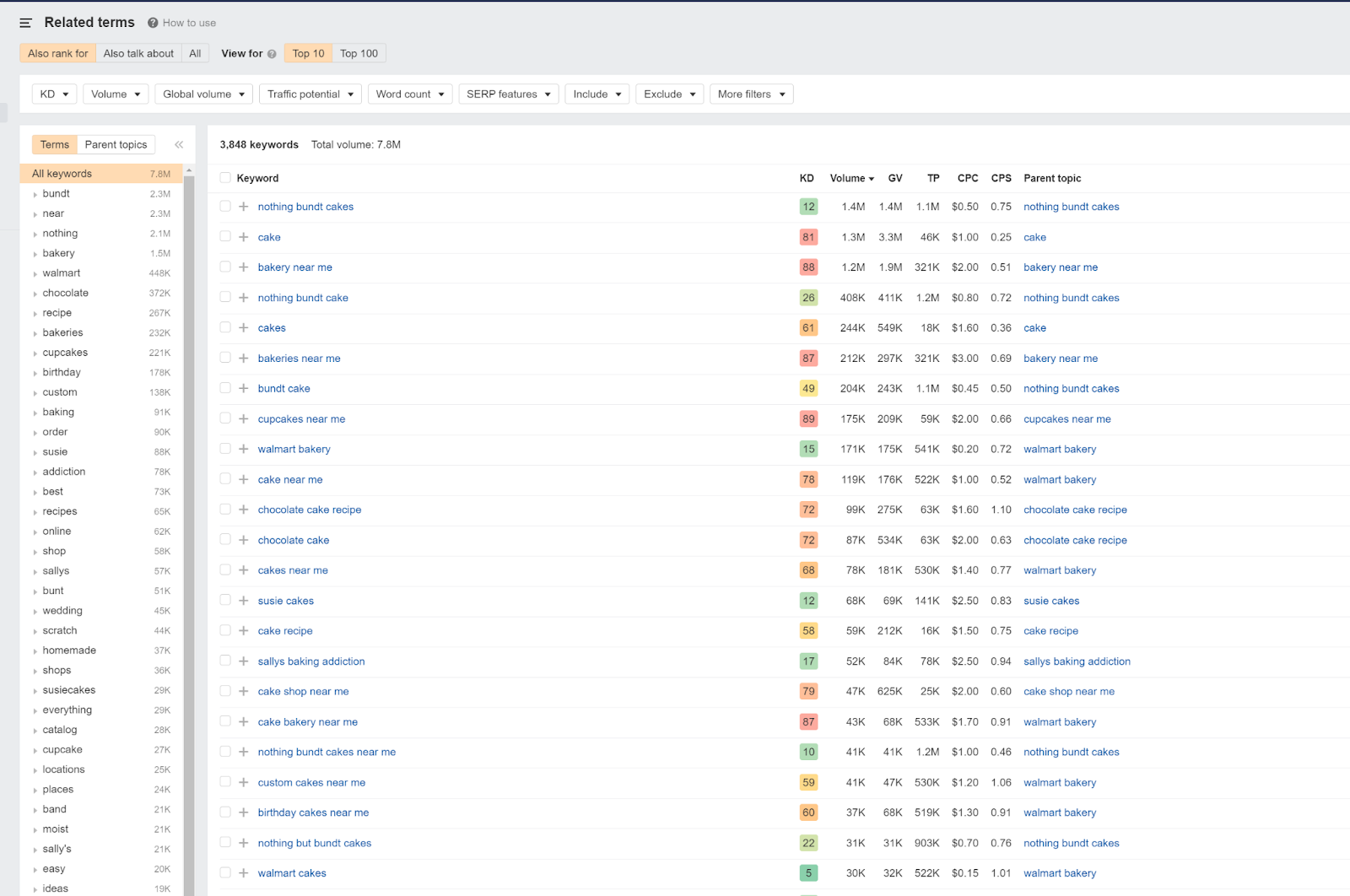 This image shows all kinds of keywords and their difficulty scores. You can use this information to refine your keyword list and find the best keywords to target.
From the list, we have over 3,800 keywords to choose from, most of which are not relevant. So you'll need to brainstorm relevant keywords around your seed.
Step 3: Sort Keywords by Traffic and Relevance
After analyzing the related keywords generated by Ahrefs, you will want to sort the list and select the terms that are most relevant to your business and by estimated organic traffic. This will allow you to see which keywords have the highest potential to drive your website traffic.
In addition to sorting the keyword list by estimated organic traffic, you can also use filters to refine the list to include only relevant keywords.
For example, you can use filters to exclude keywords with great difficulty or include only keywords with a specific search volume. This will help you focus on the keywords most likely to drive traffic and generate leads for your business.
In this step, you will sort the keyword list by estimated organic traffic and use filters to refine the list to include only relevant keywords. You can use the include and exclude features to narrow the search to only keywords most relevant to your business.
By focusing on keywords that have high traffic potential and are relevant to your business, you can ensure that your keyword research is efficient and effective.
The refined keyword list will be the basis for the next steps in your keyword research process.
Step 4: Analyze Competition for Target Keywords
It's time to examine and survey the keywords to see which ones you can rank for. The competition score measures how difficult it will be to rank for a particular keyword based on the current strength of the top-ranking pages.
The score is calculated using a variety of factors, including the number and quality of backlinks, the content's relevance, and the keyword's relevance to the website. Higher keyword difficulty scores mean that ranking for a keyword will be more challenging, while lower scores will be more accessible.
To analyze the top-ranking pages, you should look at the content, backlinks, and other factors contributing to each page's ranking. From this analysis, you can determine what content and optimization strategies are required to compete for the keyword.
Based on your research of the keyword difficulty and top-ranking pages, you can select keywords with high traffic potential (a lot of search volume) and low competition (fewer strong competitors).
These keywords are often easier to rank for and can help drive traffic to your website. By targeting these keywords, you can improve your chances of ranking well in search engines and attracting more visitors to your website.
Step 5: Finalize your keyword list and implement
After conducting your keyword research and analyzing the competition for your target keywords, you will have a list of keywords you can target. You should choose the most relevant and high-traffic keywords from this list to include in your website's content and meta tags.
Always remember to focus on relevance when doing keyword research, where relevance means that the keywords are related to the topic or product/service you offer. You should also prioritize high-traffic keywords.
Focusing on these high-traffic and relevant keywords will increase the chances of attracting more visitors to your website.
Once you have selected your keywords, you must implement them in your website's content and meta tags.
You should create all kinds of content around your keywords and practice all the on-page SEO best practices. This includes adding keywords to your website's pages, such as in the headlines, subheadings, body content, and meta descriptions.
No matter what happens, never 'stuff' your content with keywords. Else Google would penalize you with low rankings. Instead, use the keywords naturally throughout your content. This will help search engines better understand your website and improve your website's visibility in search results.
Finally, you need to monitor your keyword rankings over time to see how well your website performs on the SERPs.
Regular monitoring and adjusting your keyword strategy can help you achieve higher search engine rankings and drive more traffic to your website.
You can use tools such as Google Analytics or Google Search Console to track your keyword rankings. If your website is not ranking well for specific keywords, you may need to adjust your content or meta tags to improve your rankings.
Discover the Secrets of Effective Keyword Research with Ahrefs
Here you have it; the 5-minute keyword research process using Ahrefs is a quick and effective way to find profitable keywords for your website.
It involves using the Ahrefs keyword explorer tool to identify relevant keywords and their metrics, such as search volume, keyword difficulty, and estimated organic traffic potential.
You can use this information to optimize your website content and improve your search engine rankings.
It's important to remember that keyword research is a crucial step in the website optimization process and can significantly impact your online visibility and success. Please give this process a try and see the results for yourself.