Reading Time:
6
minutes
If you have decided to harness the true potential of PPC advertising in your finance firm, it is probably because you're eager to propel the business toward unparalleled success.
But as the digital landscape continually expands, the finance industry faces unique challenges and opportunities when crafting an effective b2b PPC strategy.
In this article, we embark on a journey to unravel the keys to success in PPC finance, arming you with the knowledge and expertise needed to make your business thrive.
Unique Challenges in PPC Finance
Finance firms deal with a unique set of issues that may significantly influence how successful their marketing is. 
Here, we'll examine the particular PPC finance marketing difficulties that financial firms have and explain how working with a PPC agency may assist your business in moving forward.
1. Compliance and Regulations
The financial sector is subject to strict compliance and regulatory frameworks, which also apply to advertising and marketing strategies. 
Adhering to these rules while successfully advertising goods or services is a tricky balancing act. 
However, a trustworthy PPC company familiar with the ins and outs of financial sector rules may navigate this challenging environment. 
They guarantee that your campaigns remain compliant while producing the best outcomes.
2. High Competition and Cost
The financial sector is renowned for its fierce rivalry, with many businesses utilizing identical keywords to compete for prospective clients' attention. 
Due to the intense competition, running a b2b PPC advertisement strategy may become a fairly costly venture. 
But then, the complex financial market is understood by a specialist PPC firm, and they can design targeted strategies that boost ad exposure, offering you a competitive advantage.
3. Building Trust
Building trust in PPC finance presents unique challenges due to the inherent uncertainty and rapidity of online advertising. 
As financial transactions are involved, users require assurance in data transparency, payment security, and fair billing practices.
A good PPC firm, however, is adept at creating convincing ad content and using ad extensions to inspire trust in prospective buyers. 
4. Complex Products and Services
The financial sector is renowned for offering a wide range of intricate products and services in its catalog, including anything from investment portfolios to mortgage alternatives. 
Condensing these value propositions into a concise ad language may be challenging as encapsulating solutions in a manner that interests and educates clients takes work. 
However, an experienced PPC firm understands interactions connected to PPC finance, and they can write enticing ads that will communicate the solutions provided.
5. Rapidly Changing Market
New products, services, and regulatory changes all contribute to the financial sector's ongoing development, and ensuring your PPC advertisement strategies are still relevant is essential. 
However, it might be quite a challenge for a finance firm to be able to keep an eye out for new trends and use real-time data to refine advertising.
On the other hand, a seasoned PPC company understands the changes that happen in the financial sector and would be agile enough to change campaigns swiftly.
6. Privacy Concerns
Privacy and security are becoming increasingly important to customers, and financial institutions are forced to use a lot of care when utilizing client data in their PPC ads. 
It's vital to adhere to standards, foster client confidence, and guarantee that campaigns provide significant results without jeopardizing privacy, which might be challenging. 
However, A trustworthy PPC company recognizes the value of data security and may support the implementation of privacy-focused practices in ppc finance.
10 Tips For Optimizing Your B2B PPC Strategy
Employing tried-and-true strategies that provide outstanding results is essential in ppc finance if you want to enhance your Pay-Per-Click campaigns' effect. 
According to a Wordstream study, the finance and insurance industry is one of the top sectors with high click-through rates for PPC ads, with a potential of CTR of around 3.17%.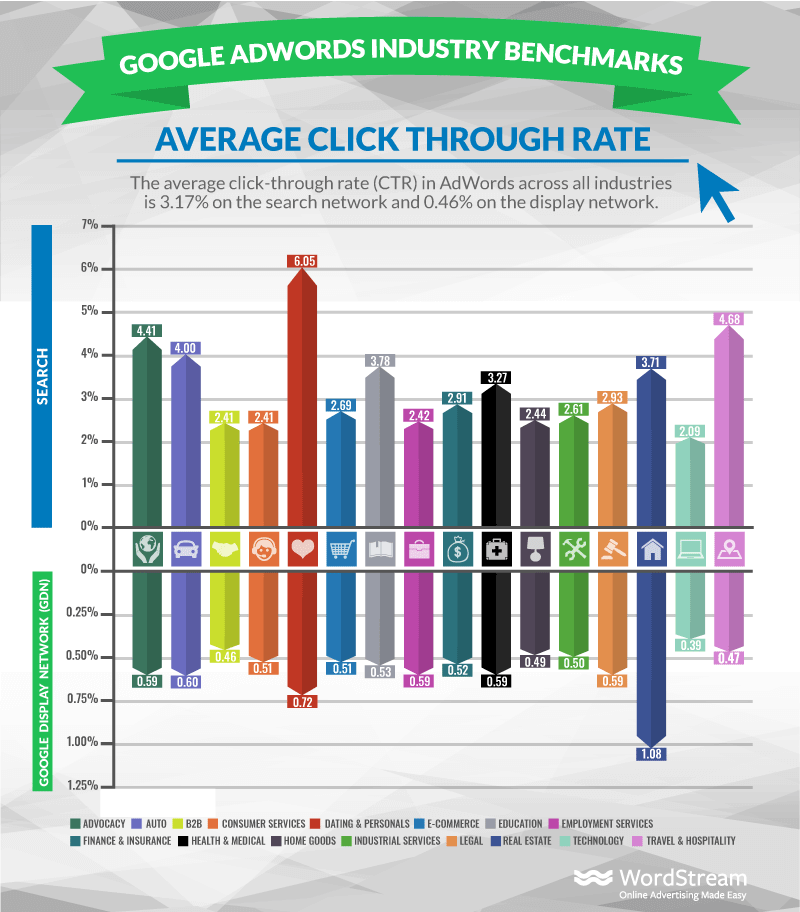 Source: Wordstream
Below we'll examine ten essential techniques for refining your b2b PPC strategy, giving you the resources you need to target your market successfully.
1. Target the Right Keywords
A successful PPC finance campaign is built on selecting the right keywords to target. You must eliminate underperforming phrases that don't produce the intended results. 
To identify the right keywords, you could research your top three rivals to determine the most effective keywords they are using.
By including localized keywords, you can concentrate on some geographic regions where your business does business, increasing the campaign's efficacy. 
Use statements like "wedding photographer in Denver" as they can draw in more qualified leads.
2. Write Compelling Ad Copy
Any compelling PPC campaign's beating heart and soul is its ad copy. It involves directly addressing your audience's problems, thus helping you draw them in. 
You need to ensure your headlines are concise and include your target keywords to increase relevancy and encourage clicks. 
Emphasize your organization's advantages and draw attention to its distinctive value proposition. 
It is crucial to note that a compelling call-to-action plays a massive role for prospective consumers to take action and initiate the purchase. 
Don't hesitate to check what successful rivals are doing, as you may get valuable insights into good ad text strategies.
3. Create Localized Landing Pages
If your business offers services in several different places, localized landing pages are essential to guarantee relevance for visitors. 
Depending on their location, creating a connection that resonates with them inspires confidence in your B2B offerings and, in turn, increases visitor engagement significantly.
Tailoring the testimonials, pictures, and content on each landing page to a particular area may also improve on the user experience and increase on conversion rates. 
 4. Use Ad Extensions
Ad extensions are a potent tool that provides excellent chances to improve your advertising's exposure and relevance. 
By including different types of extensions, such as site links, call extensions, and structured snippets, you can increase click-through rates throughout your site content. 
Use ad extensions strategically to draw attention to your business's differentiators, prominently display contact information, and emphasize distinctive aspects of your products. 
The effectiveness of your b2b ppc advertisement may be significantly increased by using ad extensions wisely.
5. Use Negative Keywords
Negative keywords are a significant component in ppc finance campaign optimization and ensuring the correct people see your advertising. 
These are particular phrases or words you purposefully choose not to show your adverts when they are searched. 
Ineffective or low-converting visitors won't see your advertising if you choose negative keywords, allowing you to concentrate your money on high-quality leads. 
By routinely monitoring search phrases and modifying your list of negative keywords, It is possible to optimize your ad targeting, attract higher-quality visitors, and increase conversions.
6. Focus on the Best-performing Channels 
B2B PPC practices may be employed on various platforms, including Google Ads, LinkedIn Ads, and Facebook Ads. 
For your company to make the most out of your money and ROI, finding the channels that provide the best conversion rates is critical. 
Before directing a larger amount of your spending to the channels that provide the greatest results, spend some time examining conversion rates and performance data. 
Your b2b PPC campaign will be more successful overall if you concentrate your efforts on top-performing channels, as they will help you produce high-quality leads.
7. Track Conversions in Google Analytics
Accurate conversion monitoring is crucial when determining how successful your b2b ppc finance advertising is. 
You can keep track of conversion events and link them to specific marketing campaigns by using server-side tagging.
Google Analytics 4's (GA4) features can help you get insightful knowledge about user behavior and assess the efficacy of your PPC ads. 
Using this sophisticated tracking capability, you could use PPC campaigns and distribution channels that lead to high-value conversions.
8. Optimize for Mobile
Mobile optimization has become essential for success in today's digital environment. It's vital to create PPC ads that work seamlessly on all screen sizes and are mobile-friendly. 
According to Search engine land, 60% of searches for financial topics in 2016 were made on mobile devices, underscoring the significance of mobile optimization for PPC finance ads.
Your advertising should be adaptable to mobile devices, utilize plain language, and have straightforward landing pages, as many b2b customers use mobile devices. 
By implementing a mobile-first approach, you can improve user engagement, raise click-through rates, and boost conversion rates.
9. Use a Retargeting Strategy
Retargeting is an effective strategy that lets you contact prospective customers who have previously shown interest in your goods or services. 
You can cultivate these warm leads' interests, increase brand familiarity, and eventually increase conversion rates by carefully putting tailored adverts in front of these individuals. 
To engage your audience and spur them to action, use audience segmentation, targeted ad content based on prior interactions, and alluring offers. 
Careful preparation and execution are necessary to create a successful retargeting strategy.
10. Test and Adjust Campaigns​​
The greatest b2b ppc finance advertising results depend on change and continuous development. 
You may make data-driven modifications that significantly affect the success of your PPC advertising by running tests and evaluating the results.
A/B testing is essential to this process as it enables you to compare various components to determine what connects with your audience the best. 
By testing and making wise modifications based on findings, the effectiveness of your campaigns may be significantly increased.
Get Higher ROI By Hiring Flying V Group For Your PPC Finance Strategy
Choosing the proper agency becomes vital when improving ppc finance advertising in the financial sector. 
This is why Flying V Group, the premier digital marketing company, should be your first choice if you search for a PPC agency in Orange County. 
We have a thorough understanding of the complicated workings of the business and the issues it presents, thanks to our significant experience and competence in finance-related advertising. 
To guarantee that your PPC finance campaigns achieve unmatched success, we are devoted to using cutting-edge technology to offer you the most excellent customer support.
If you are looking to maximize your ROI and take your PPC finance campaigns to the next level, contact Flying V Group today!