Reading Time:
7
minutes
Have you decided to amplify your b2b PPC strategy? It may be because you understand the power of an effective PPC strategy in distinguishing between success and obscurity.
In this changing digital world, for any B2B companies aiming to maximize their online presence, partnering with a b2b digital marketing agency is no longer a luxury but a necessity. 
With their expertise, resources, and industry insights, a marketing agency can be the secret weapon that propels your b2b PPC strategy efforts to new heights of success.
In this article, we will delve into their indispensable role in driving remarkable results for businesses like yours.
The Role of a Marketing Agency in B2B PPC Strategy
To advance your b2b PPC campaign, collaborating with a marketing firm may be a game-changer. 
According to Skale Statistics Journal, companies that use PPC advertising produce 50% more leads than those that just depend on organic traffic.
Thanks to their skills and in-depth understanding of digital marketing, your campaigns may be elevated and produce outstanding results. 
Let's examine the critical function of a b2b digital marketing agency in enhancing different elements of your b2b PPC strategy and helping you reach remarkable results.
Improved Keyword Research and Selection
Any effective PPC campaign starts with thorough keyword research and selecting the right one to use. 
A marketing firm goes above and beyond to comprehend your target market, carefully examine the landscape of your sector, and evaluate the competitors. 
Through a thorough investigation, they can find hidden possibilities, pinpoint specialized keywords, and optimize your keyword selection best for you. 
Creating intriguing and appealing advertising is vital to a successful b2b PPC strategy. 
A marketing firm is skilled at writing attention-grabbing ads, clearly expressing your unique selling propositions, and prompting consumers to click. 
They have a thorough grasp of the numerous ad forms and can customize each to your message's needs and the interests of your target audience. 
Ad text, headlines, and calls to action are all optimized to increase click-through rates (CTRs) and increase the possibility of conversions.
Compelling Landing Page Design
A marketing firm focuses on creating engaging landing pages to guarantee a superior user experience and optimize conversion rates. 
They design aesthetically attractive and easy-to-use sites that flawlessly match the language and offer of your PPC advertising. 
They provide a seamless user experience that leads visitors to your intended conversion objectives by including compelling design elements, strong calls-to-action, and fluid navigation.
Optimization of Bids and Budget Management
In b2b PPC strategies, budget management and bid optimization may sometimes be difficult. 
However, when you work with a b2b digital marketing agency, you can access their knowledge on using cutting-edge analytics. 
These capabilities allow them to carefully monitor and optimize your bids, guaranteeing maximum exposure while adhering to your spending restrictions.
A/B Testing to Identify What Works Best
Through A/B testing, b2b PPC agencies possess the know-how to conduct parallel trials with various ad variants, landing sites, or calls-to-action.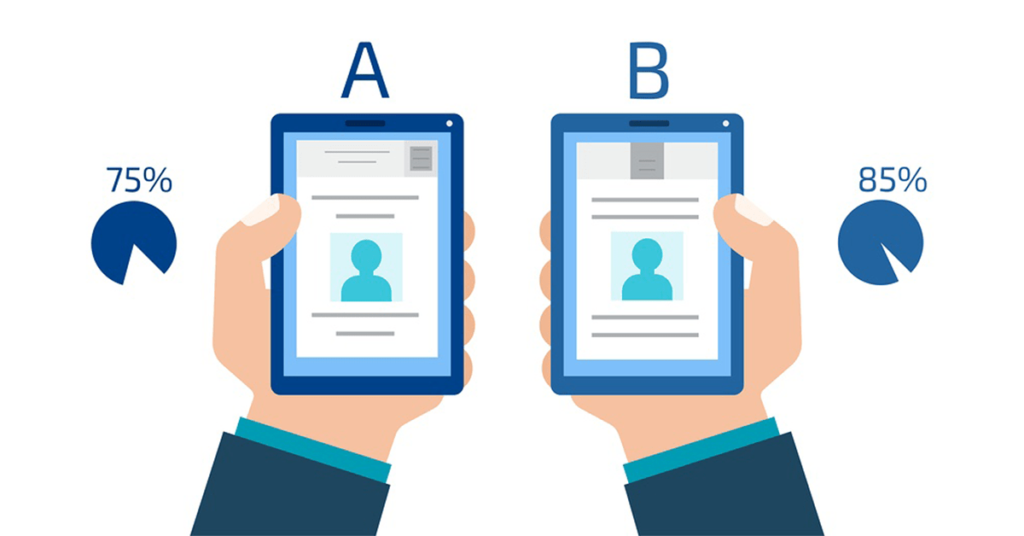 They can pinpoint the successful components by carefully analyzing important data like click-through rates and conversion rates. 
With the use of this data-driven methodology, they can improve and optimize your b2b ppc strategy, guaranteeing that every dollar you spend will result in the maximum ROI.
Detailed Campaign Tracking and Analytics Using Advanced Tools
Reputable b2b PPC agencies use cutting-edge analytics and monitoring systems to provide you with thorough information. 
They go far beyond the data's surface-level measurements to find interesting patterns and trends. 
With this priceless information at their disposal, they can make wise judgments and optimize your ads for greater efficacy.
Strategy Adjustment Based on Data Collected in Real-time
By collecting and analyzing real-time data, they can swiftly adapt and adjust your b2b PPC strategy on the fly. 
They maintain a careful eye on crucial indicators as they develop while closely monitoring the effectiveness of your advertising.
They act quickly to make modifications, such as reallocating money or improving targeting criteria, if specific ad groups or keywords don't perform as expected. 
How to Choose a B2B Digital Marketing Agency for Your PPC Strategy
Selecting the right marketing agency to bolster your b2b PPC strategy is a decision that can significantly impact your success.
Here, we'll explore essential tips to help you choose a b2b digital marketing agency that can take your PPC strategy to new heights.
1. Identify Your Goals
Before embarking on your search for a marketing agency, it's vital to understand your goals clearly. 
Determine what you want to achieve with your b2b PPC strategy – whether it's increasing brand awareness, generating qualified leads, or maximizing ROI. 
A well-defined set of objectives will enable you to find an agency that specializes in and has a proven track record of achieving similar goals.
2. Create a Seed List
To kickstart your search, create a seed list of potential marketing agencies that catch your attention. 
Seek recommendations from industry peers, conduct online research, and explore case studies of successful b2b PPC strategies. 
This list will be a starting point for your evaluation to determine which marketing agency will best fit you.
3. Assess Agency Expertise
Regarding b2b PPC strategy, a marketing agency's expertise is key. Evaluate each agency's experience and knowledge in B2B marketing. 
Look for agencies that have a solid understanding of your industry, target audience, and the unique challenges that B2B marketing entails. 
Consider factors such as the agency's client portfolio, industry accolades, and the expertise of their team members.
4. Evaluate Their Strategy
You need to look closer at an agency's strategy for PPC campaigns. Inquire about their approach to the various products that they provide.
Additionally, ask about their reporting practices and how they communicate campaign results and insights to clients. 
Transparency and clear communication are essential for a successful agency-client relationship.
5. Consider the Cost
Budget plays a significant role in any marketing endeavor, and it's essential to consider the cost when choosing a B2B digital marketing agency for your b2b PPC strategy. 
Evaluate different agencies' pricing models and packages and ensure they align with your budgetary constraints. 
However, while cost is essential, it should not be the determining factor. Find a balance between affordability and the agency's track record of delivering results.
6. Check Their Reporting and Communication Style
Transparent reporting and effective communication are vital for a successful partnership with a marketing agency. 
Inquire about their reporting frequency, the metrics they track, and the level of detail provided in their reports. Additionally, assess their communication style and responsiveness. 
Open communication channels ensure that you stay informed about the progress of your PPC campaigns and have a solid understanding of the strategies being implemented.
7. Request a Proposal
To gain deeper insights into an agency's approach and capabilities, request a comprehensive proposal tailored to your specific PPC needs. 
The proposal should outline their understanding of your business, the strategies they propose to employ, and the expected outcomes.
A well-crafted proposal demonstrates the agency's dedication and professionalism, making an informed decision easier.
8. Make Your Decision
Take into account all the factors; it's time to make your decision. Schedule a meeting or a call with the agency's representatives to address any lingering questions or concerns. 
Trust your instincts and choose an agency that fits your budget, demonstrates a deep understanding of your industry, and exhibits a proactive and collaborative approach.
Why You Should Hire Flying V Group For Your B2B PPC Strategy
When you want to maximize the success of your b2b PPC strategy, partnering with the right agency can make all the difference. 
Flying V Group, a renowned digital marketing agency based in Orange County, stands out as an exceptional choice for businesses seeking to elevate their PPC game. 
Let's explore compelling factors that make Flying V Group the ideal partner for your b2b PPC strategy.
1. Expertise and Experience
Flying V Group boasts a team of seasoned experts with a wealth of knowledge and experience. 
With a deep understanding of B2B marketing dynamics, we are well-versed in crafting effective PPC campaigns tailored to your specific industry and target audience. 
We have taken the time to build an extensive library of resources that encompass everything from keyword research to ad creative optimization. You'll have all the help you need to build and manage campaigns that drive results.
We even have a diamond-level ppc certification from PPC certification.com to back our expertise. It's a testament to our commitment to delivering quality client results.
2. Advanced Tools and Techniques
Flying V Group harnesses cutting-edge tools and techniques to optimize your b2b PPC campaigns. 
We utilize advanced analytics platforms, keyword research tools, and A/B testing methodologies to uncover valuable insights and drive data-driven decisions. 
These tools enable us to refine targeting parameters, identify high-performing keywords, and optimize your campaigns for maximum results.
3. Comprehensive Services
Flying V Group offers comprehensive services beyond PPC marketing, from search engine optimization to website design and development. 
This comprehensive suite of services allows us to integrate your PPC campaigns seamlessly with other marketing channels, creating a cohesive and impactful strategy.
Look at this review by Christian Richter, the CEO of Old Harbour Insurance Services, 
"In our first meeting, FVG delivered a comprehensive, yet easy to understand, analysis of our current situation and a plan of action for improvement. In comparing our website's performance now with the state it was in prior to FVG's involvement, I can say with confidence that utilizing Flying V's expertise was money very, very well spent."
4. Proven Track Record
Flying V Group has a solid track record of delivering exceptional results for their clients, and therefore you would be partnering with a trusted agency with a proven history. 
Our portfolio showcases successful b2b PPC strategies that have generated substantial ROI and helped businesses achieve their growth targets. 
Client testimonials and case studies show our agency's ability to understand unique business challenges, devise effective strategies, and drive tangible outcomes.
Look at this review by Daniel Morrison from Earthco Commercial Landscape: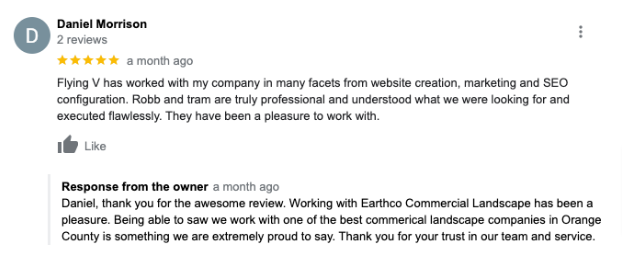 5. Customized Strategies
At Flying V Group, we understand that each business is unique, with distinct goals, target audiences, and industry landscapes. 
That's why the company takes a personalized approach to develop customized PPC strategies tailored to your needs. 
According to a poll conducted by Ascend2, 70% of marketers agreed that tailored content and ads greatly influence their PPC success and return on investment.
Our team of experts dives deep into understanding your business, industry trends, and competition to create campaigns that resonate with your audience.
6. Better Budget Management
Flying V Group excels at budget management, ensuring that every dollar is invested strategically to deliver the best possible outcomes. 
Our team conducts thorough research and analysis to identify the most cost-effective keywords, refine targeting parameters, and optimize ad placements. 
By employing data-driven techniques and constant monitoring, we maximize your budget's impact, ensuring you get the most value from your PPC investment. 
7. Detailed Reporting
Transparency and accountability are at the core of client partnerships. Thus, Flying V Group provides detailed reporting that goes beyond superficial metrics.
The reports include comprehensive data on key performance indicators, such as click-through rates, conversion rates, and cost per acquisition. 
The information is then presented easily understandable format, allowing you to track progress, assess the effectiveness of our strategies, and make informed decisions.
Final Thoughts On Finding The Right Agency For Your B2B PPC Strategy
Choosing the right agency for your b2b PPC strategy is a critical decision that can significantly impact the success of your campaigns. 
It requires careful evaluation of various factors, including expertise, transparency, communication, and budget management.
Regarding PPC management services, Flying V Group stands out as the ultimate agency in Orange County and beyond. 
With our deep understanding of the b2b landscape, Flying V Group is your go-to choice if you're seeking to achieve outstanding ROI and drive significant growth.
Contact us for b2b PPC strategies to help your business reach its goals!