Reading Time:
9
minutes
Are you worried that your Facebook or Google ads retargeting campaign may get you banned?
You are not alone.
Almost 60 percent of healthcare marketers mentioned scaling their marketing best practices as a significant challenge.
Healthcare is one of the industries that most heavily rely on digital marketing and advertising, mainly because the industry has such high barriers to entry and many regulations that must be adhered to.
While there are several ways to do this, retargeting stands out as an effective method of keeping your brand in front of your customers at every stage of their journey with you. Retargeting can be very effective in the healthcare industry, but only if you know how to do it right.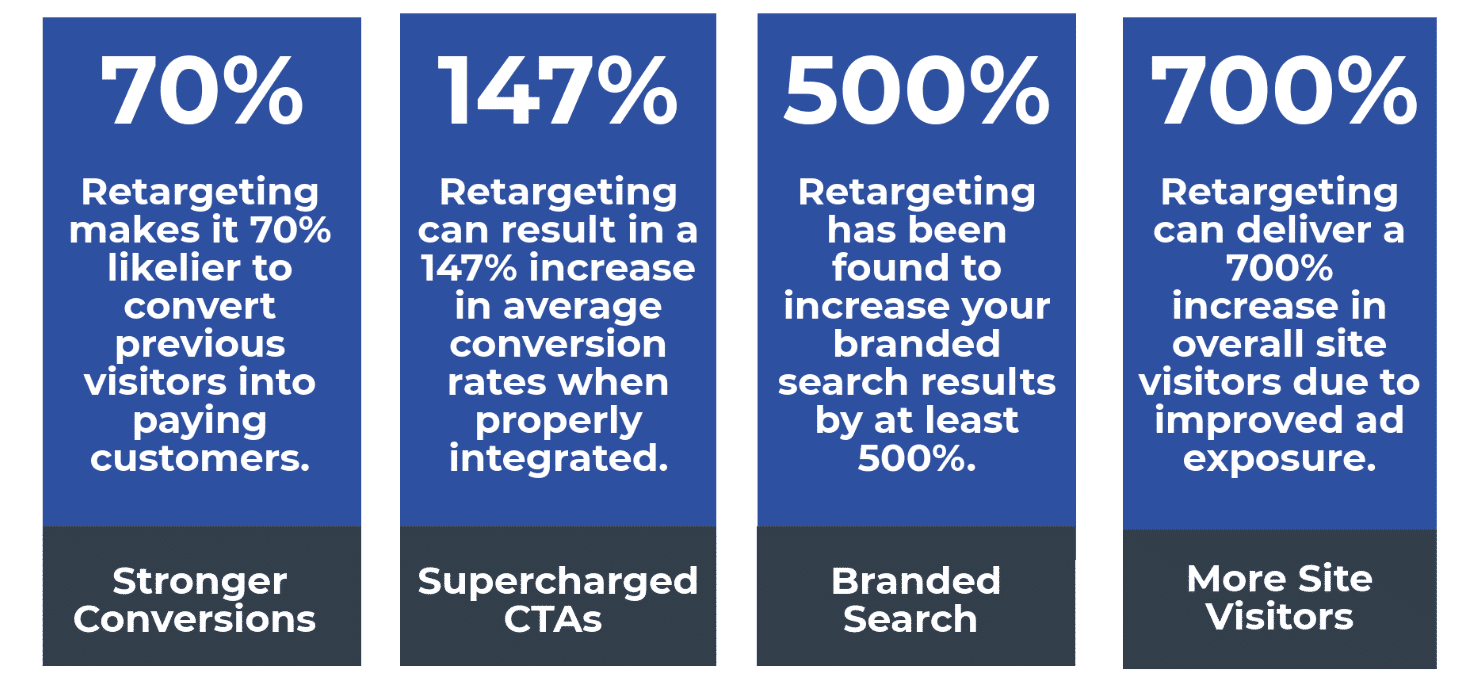 (Source: Ready Cloud)
This guide to healthcare retargeting best practices will help you jump on the bandwagon and start using this strategy to bring in new leads, engage with existing customers, and create strong brand recognition without getting penalized by Google and Facebook.
Here's what we have in store for you:
What is retargeting?

How does retargeting work?

How healthcare professionals can benefit from retargeting campaigns

Healthcare retargeting challenges

How to utilize healthcare retargeting on Facebook and Google without getting penalized

Retargeting alternatives on Facebook and Google
What is Retargeting?
Retargeting is one of the hottest marketing tactics, but it's still pretty new in healthcare.
In digital marketing, retargeting (also known as behavioral retargeting) is a form of online advertising that enables advertisers to reach people who have previously visited their website by serving ads specific to those individuals' tastes and preferences.
It works by uploading a list of emails or phone numbers of site visitors and setting an expiration date, after which you won't find them on your retargeting list.
When someone on your list visits another website, that site serves up an ad banner (or sometimes an image) to remind them about what you're offering. The aim is that these reminders will spur them into taking some kind of action, and they'll eventually sign up for your product or service.
There are several retargeting strategies available for healthcare service providers today. They include: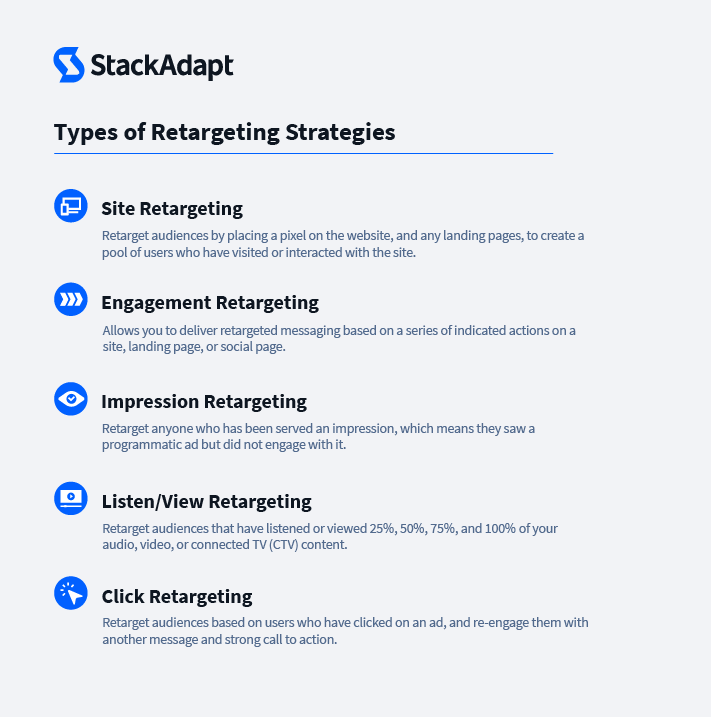 (Source: Business2Community)
Site retargeting

Engagement retargeting

Impression retargeting

Listen/view retargeting

Click retargeting
How Does Retargeting Work?
When you visit a site and don't make a purchase, your browser records that site. Later, when you go to another website and look at products, your browser checks its memory for other websites where you might have previously left your cookie.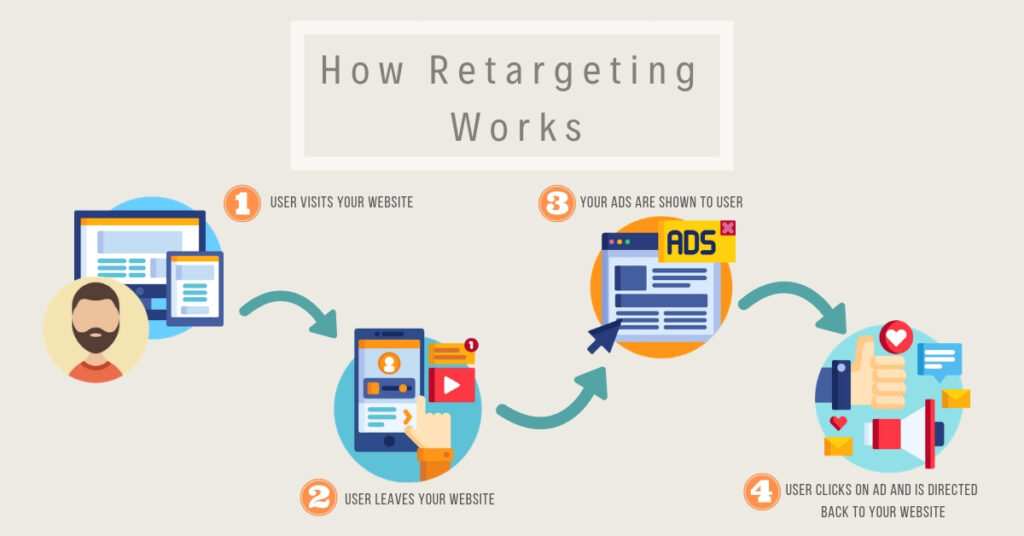 (Source: Destresse Marketing)
If it finds one, it will display an ad for those products on whatever page you're currently looking at. The hope is that by reminding users of products they were interested in before (but didn't buy), healthcare marketers can increase conversions and improve conversion rates from visitors who come back later but don't necessarily remember they already looked at something before.
How Healthcare Professionals Can Benefit from Retargeting Campaigns
Getting a visitor to your website is excellent, but what happens when they leave? Unfortunately, it's easy to lose out on conversions even after getting a user on your site, and that's why retargeting is so valuable.

(Source: Sema SEO)
Retargeting—showing targeted ads based on someone's online browsing habits—can effectively get people back into your funnel and increase sales.
Healthcare retargeting services have become essential in marketing as consumers turn towards digital mediums such as mobile applications, tablets, and laptops. In addition, recent studies have shown that patients are more likely to research their symptoms online or find information about healthcare solutions than go directly to see their doctor.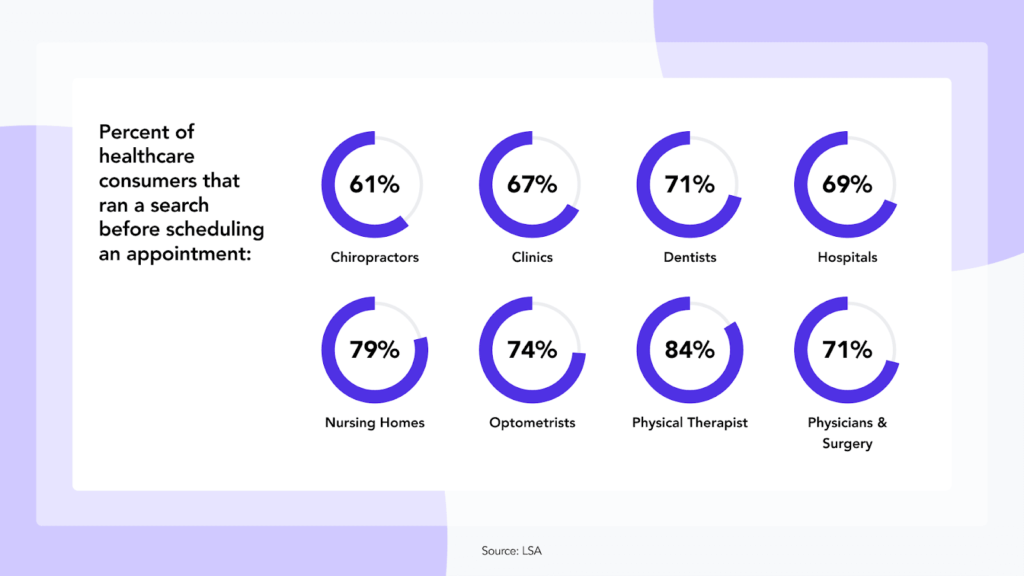 (Source: Invoca)
Healthcare Retargeting Challenges
The world of healthcare retargeting can be tricky to navigate, especially since you have to follow HIPAA, ASA, GMC, and BMA criteria.
Your adverts must not contain any content that implies previous knowledge regarding your health records.
Imagine you have some problematic symptoms, and you do some research online and discover you may be suffering from a men's health problem. You may then determine that you require a test and begin looking for a suitable clinic in your area.
In this situation, it will be embarrassing for your household laptop to be completely swamped with online ads about your disease. Therefore, any language in your ads should be general, referring exclusively to a specific brand, healthcare facility, or product.
Here is an overview of the challenges associated with retargeting on Facebook and Google.
Retargeting challenges on Facebook
Facebook is highly regulated, which makes it difficult for healthcare advertisers.
The social media giant uses cookies to determine "Custom Audiences." You can also target customers based on their email addresses. This strategy violates HIPPA regulations because you cannot target patients who have already used your services. Since most of your followers could be patients, this includes brand marketing on your Facebook page.
Advertisers are not permitted to post advertisements that describe any health conditions. So, for instance, you cannot say, "Come try out this new HIV treatment!" or  "Do you have HIV/AIDS?" or "Are you tired of using antiretroviral medicines?"
To ensure that you reach the right people, you can target audiences using their attributes. Because this type of marketing does not explicitly target your existing patient base, you can employ general factors like location, age, or interest to advertise your services. It ensures that it's still HIPPA compliant while remaining compelling.
To avoid having your Facebook advertising account suspended, resist the urge to use pronouns. Instead, use generic questions such as "Would you like to know more about HIV/AIDS?"
It's also worth considering other potentially contentious topics that Facebook may disapprove of. For example, the terms "COVID" and "pandemic" appear to be covered by Facebook's Controversial Content Policy. As a result, ads having these words are unlikely to be displayed.
The most challenging aspect of Facebook ads for healthcare is that you don't know when you'll be disabled. So, it's best to be cautious. Instead of using "retargeting" on Facebook for healthcare, it is usually best to use "targeting."
Retargeting challenges on Google
In February 2022, Google modified its personalized and healthcare advertising policies in response to the latest HIPAA rules and regulations.
As a result of this new Google ads healthcare policy, Google will no longer allow medical services marketers to utilize healthcare retargeting services for their business. Google Ads has not explicitly prohibited retargeting, but its restrictions show that it has effectively been eliminated.
For example, suppose a customer uses a healthcare website seeking cardiology information but leaves without conversion. In that case, any subsequent advertisements they see should highlight the cardiology department's key USPs instead of mentioning heart disease symptoms, even though they mainly visited a heart disease post.
If a target website mentions health conditions, Google ads healthcare accounts linked to them won't be able to use retargeting.
Suppose you continue to use healthcare Google ads retargeting for your medical practice. In that case, Google will disable your audience lists and may suspend your account permanently for violating Google Ads healthcare policy.
How to Utilize Healthcare Retargeting on Facebook and Google without Getting Penalized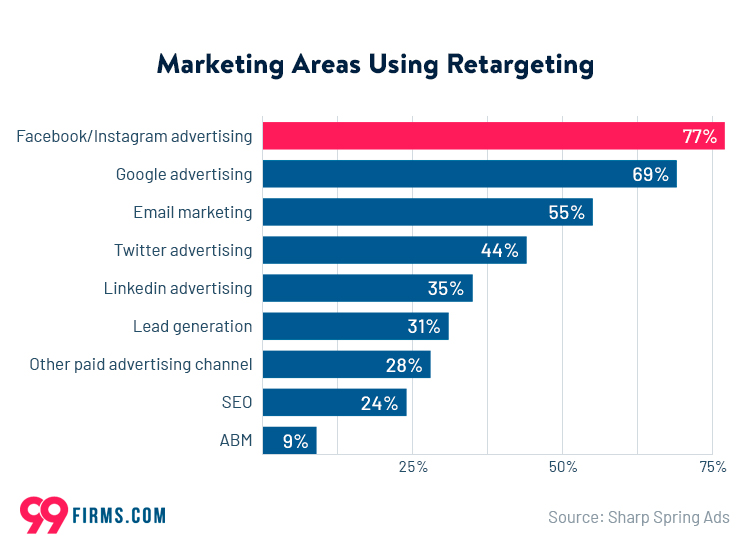 (Source: 99Firms)
Because Facebook and Google are oversensitive to healthcare retargeting best practices, you'll need to be creative with your copy. For example, any advertisements you run should highlight your company's expertise in a specific department without mentioning any health condition.
How to Retarget on Facebook
A clever way to use retargeting for your healthcare Facebook ads while avoiding regulatory issues is to divide your users into specific lists based on which web pages they previously visited (for instance, an HIV/AIDS symptoms page on your website).
Create a custom audience of "people who have visited specific web pages," then use the rules 'URL' and 'contains' to enter a specific portion of the landing page URL.
The ads you show these users must still be generic without treatment or language depicting the specific condition. Still, the landing pages' contents can refer to the particular situation or its treatment (such as an HIV self-test kit).
A video testimonial of one or more patients who have completed treatment and are comfortable sharing their success story could be another strategic way to use retargeting within the guidelines. However, you must obtain the patient's permission. But as long as they let you share their story, you should not violate any healthcare Facebook ads rules or regulations.
How to Retarget on Google
You can use different channels within Google for your retargeting campaign, especially if your ads cannot do without the restricted medical content Google ads forbid.
Google retargeting can target users who engage with videos you share on your website or YouTube channel. Incorporating clear call-to-actions into your video content will assist in directing users to the right place for conversion.
You can target advertisements to your customers by sharing a list of their email addresses with Google's Customer Match tool. It is especially effective in targeting specific customer segments.
You can then improve the efficiency of this customer match advertising campaign by incorporating email analytics to help target audiences with specific ads depending on how they interact with your emails.
Connecting your Google Analytics account to your healthcare Google ads accounts is critical to ensuring that your ad targeting is based solely on website activity insight and not guesswork.
The Google Display Network is a Google Ads component involving advertising-supported websites to display visual banner ads or text. You can advertise your products or services to users looking for information on any sites that show your ads by using these banner ads.
GDN enables you to market your company and boost impressions without users actively clicking on your ad. In addition, you can customize your ads to appear only on web pages that contain specific keywords associated with your ad to help you focus your ad campaign on your target audience.
Regardless of how effective this type of advertising is, the Google ads healthcare policy disapproves of any kind of display advertising channeled towards personal difficulties, such as health.
Retargeting Alternatives on Facebook and Google
Google and Facebook have made it easy to retarget patients on their platforms, but working within their guidelines is always very restricting. Fortunately, some healthcare retargeting best practices and alternatives are available on each platform to help you reach your target audience.
Google Ads Retargeting Alternatives
Are you looking for another way to advertise the restricted medical content Google ads prohibit?
There are different alternatives you can explore instead of retargeting on Google, such as:
Lead Form Extension
The lead form extension inserts a form into the ad to allow people to fill it out while still viewing it. It is helpful for lead generation, mainly if you use self-referral or contact forms on your site.
Call Extension
The call extension allows you to access and track conversions by including your company's phone number directly in your Google Ads. It will enable potential customers to call you by simply clicking on the ad. Call extensions should boost customer engagement while also increasing click-through rates.
Call-only Ad Campaign
A call-only advertising campaign substitutes a phone number for the hyperlinked URL, allowing customers to call your company directly. There's no need to worry about missing calls because you can schedule these ads to appear only when you're available to answer the phone and speak to potential leads.
We recommend using call-only ads in the following situations:
Conversions from major search campaigns are underperforming.

You want to start generating calls for your company at specific times.
Performance Max Ad Campaign
Performance max ad campaign has specific objectives. First, it is highly automated and works across multiple channels, such as YouTube, Maps, and Gmail, to target people likely to convert. It will use data like your conversion goals and Google's technology to automate your bidding,  attribution, audience, etc.
YouTube Remarketing Ads
You can use video advertising for remarketing, but they are subject to the same constraints as Display ads. They are better equipped for generic health enterprises than for medical conditions experts.
Dynamic Remarketing Ads
Dynamic ads are tailored images, videos, or text for your website visitors. You can provide them with customized content based on their interactions with your site.
To employ this type of advertising, you'd have to be determined, and they'd have to be super-generic, with compliance phrasing and removal of every personal condition.
Dynamic remarketing ads won't work for practices specializing in specific problems, such as mental health, breast cancer surgery, specialized health condition treatments, medications, disability, or medical equipment. But you can use them in more generic healthcare areas such as physiotherapy, chiropractic, health clubs,  massage, dental health, and fitness.
Facebook Ads Retargeting Alternatives
If you are still skeptical of getting penalized on Facebook, we have put together some of the best retargeting alternatives for healthcare Facebook ads that won't get you penalized:
AdRoll
The AdRoll platform offers several specific services. It is prevalent in the United States and is gaining popularity in Australia.
AdRoll has precise guidelines for what a healthcare marketer can advertise. Their regulations are stringent, and AdRoll retargeting is subject to the same limitations as Google and Facebook ads for healthcare.
Marketing of personal health concerns, pharmaceuticals, surgery, marijuana products,  or disease specialists is unacceptable on AdRoll.
Lead Ads
With lead ads, customers may fill out forms while using Facebook or Instagram, increasing the number of successful conversions because they don't have to leave the platform they're now using.
It's an excellent technique for building up information databases, such as email addresses. You may use that in future digital marketing efforts and offer them a discount or ebooks in exchange for their information.
And It's A Wrap!
As digital medical marketing grows in popularity, many are turning to Google and Facebook ads as their preferred source of traffic. There's a good reason for this—it's effortless to set up an ad, there are plenty of targeting options, and with healthcare retargeting best practices, it's easy to reach the same audience repeatedly on both platforms.
But, most times, you need a professional to walk you through healthcare retargeting without being penalized.
When you partner with Flying V Group, you get unlimited access to our team of experts and healthcare retargeting services that will help you get more patients than you thought possible. Contact us.