Reading Time:
35
minutes
Do you feel you are paying too much for healthcare marketing without seeing any positive results?
There are 70,000 healthcare searches every minute.
If your healthcare business or practice hasn't already made the shift to digital marketing, you may want to consider it soon.
(Source: Practice Builders)
With the Affordable Care Act (ACA) being implemented, healthcare marketing will reach an entirely new level in 2022, and you don't want to be left behind when this happens.
Keep reading for information on why healthcare PPC advertising will become increasingly important in the next few years and how you can make this transition smoothly.
We'll discuss:
An Introduction to Healthcare Marketing

The 6 Ps of Healthcare Marketing

What Are Key Healthcare Marketing Strategies?

What is Healthcare PPC?

Why is Healthcare PPC Important?

Healthcare Google Ads: How They Work

Healthcare Facebook Ads: How They Work

Display Ads vs. Paid Search

Healthcare PPC: Tips for Success

Setting PPC Campaign Goals for Healthcare Practices

Healthcare PPC Advertising: The 7 Biggest Mistakes You Could Be Making

10 PPC Tools Every Healthcare Marketer Needs in Their Arsenal
Without further ado, let's delve into healthcare PPC and how to make it the cornerstone of success in the medical field today and well into the future.
Introduction to Healthcare Marketing
With the passage of ACA, the healthcare industry has seen changes over the past eight years that will only continue to increase in the coming years.
Many organizations are worried about adapting to this rapidly changing environment. Still, luckily there are plenty of ways to stay on top of things and reach your target audience efficiently and effectively.
Healthcare marketing is all about communicating your PPC healthcare brand to patients and doctors via multiple channels. It includes digital tactics such as paid search, social media, email marketing, display advertising, etc.
Healthcare marketing also encompasses offline strategies such as telemarketing, print campaigns, etc. They both share one thing in common – they're meant to drive foot traffic into your office or bring awareness to your company. And when done well, it drives revenue.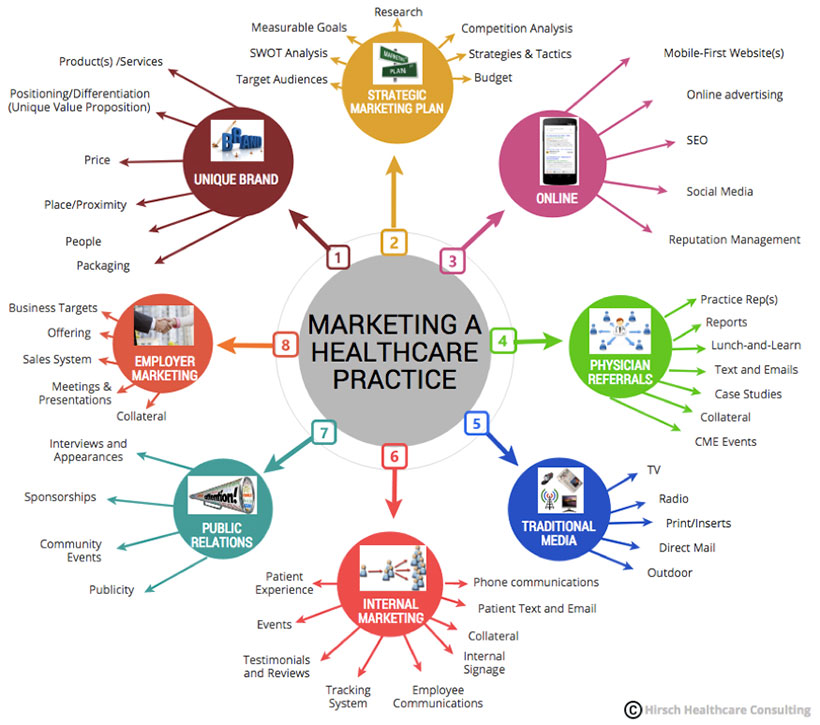 (Source: Hirsch Healthcare Consulting)
Although these channels may seem wildly different, they are powerful tools that you can optimize through a cohesive strategy fueled by best practices, data-driven insights, and careful measurement.
If you haven't been paying attention to healthcare politics over recent years, healthcare marketing might seem like a strange or even unnecessary term. It's not. In fact, with new healthcare laws rolling out nationwide, it's more important than ever to learn about how marketing works in this particular sector and why.
We can think of healthcare marketing as including all of the things you need to do when developing a personal brand (or product brand) for your practice or products.
Think about all of those things you already know are essential—you should have an easy-to-navigate website, an active social media presence, clear business cards that include your contact information, etc. These are just some examples of what makes up healthcare marketing.
So what exactly does marketing mean here? Think of it as anything that helps you get your name out there and increase awareness around who you are and what services/products you offer.
Some may say that healthcare marketing isn't necessary if you have good word-of-mouth from patients but remember that word-of-mouth doesn't always reach everyone. And if you don't market yourself well enough, then e won't even know where they can find you.
Why is Healthcare Marketing Important?
When it comes to digital healthcare marketing, numerous benefits can help shape your business in the best way possible. For example, creating a brand for your healthcare practice can help you attract patients, build loyalty with your existing patients, and drive sales by encouraging new customers to make appointments.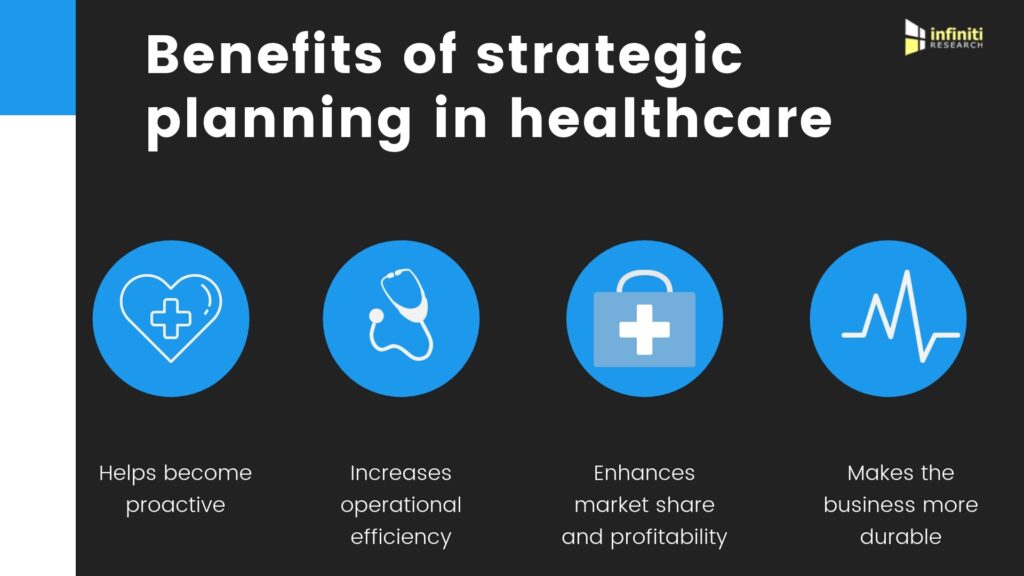 (Source: Web Creatify)
Having a specific, overarching message also helps position your business in front of potential partners, investors, media outlets, etc. A cohesive marketing campaign is one way to showcase all of these benefits. When you're ready to implement a healthcare marketing strategy that works for your business, it helps to have some vision of what you're aiming for.
If you aren't sure where to start or what to do, here are seven ways that you can use digital healthcare marketing to your advantage and learn how it works simultaneously.
1) Reach Your Target Audience
The days of generic, one-size-fits-all marketing are long gone. Now, it's essential to customize your message and your audience, a fact that applies more than ever in healthcare, where an individual's age and health status can affect their care decisions.
By taking advantage of digital marketing tools such as search engine optimization (SEO), website development, paid search advertising (SEM), and social media ads, you can customize marketing messages for particular groups of people with specific needs and concerns.
These tools give you access to leads actively searching for information about your PPC services for healthcare. If done correctly, healthcare marketing delivers far more responsive and effective results than those generated by traditional campaigns.
2) Simplify Your Outreach Process
If you're in healthcare, digital marketing is an absolute must. Finally, you can communicate with your target audience more personally, potentially increasing your patients and allowing you to serve them better.
In short, you can do so much more with digital healthcare marketing than you ever could have done before. These days, there are countless ways to reach out and connect with potential customers. So why not take advantage of them?
3) Boost Engagement and Adherence
If a patient is engaged with your healthcare marketing, you have a greater chance of getting them to take your medication correctly.
Adherence rates go up when patients are actively invested in their treatment. They're more likely to come back for follow-up appointments and generally feel better about following through on doctor's orders. Digital healthcare marketing can be a game-changer for people who struggle with compliance issues.
4) Saves Time and Money
There's no doubt that digital marketing has redefined how healthcare businesses communicate with patients. It's efficient, cost-effective, and allows you to advertise and share pertinent information with a broader audience.
With digital channels like social media, video marketing, and mobile apps, you can reach your target audience in a variety of different ways for only a fraction of what it would cost otherwise. You'll be able to save time by cutting down on time-consuming meetings or trips out into your community.
You can also use these platforms to measure ROI, so you have tangible results every step of the way. Plus, specific tactics can help build brand awareness efficiently. All along, saving time and money.
5) Improve Communication with Patients
E-mail is still one of the most powerful tools in your arsenal. It's easy, free, and universally accessible—and it allows you to send messages to your entire client base at once.
When used correctly, e-mail can help patients stay informed about all your PPC services for healthcare while encouraging them to book appointments or return phone calls.
6) Track Success, Minimize Risk
While traditional marketing like TV, radio, and print rely heavily on perception (what they look like), digital healthcare marketing capitalizes on performance (results).
With the ability to track clicks, identify web visitors and capture leads across multiple channels, you can optimize campaigns and measure their impact.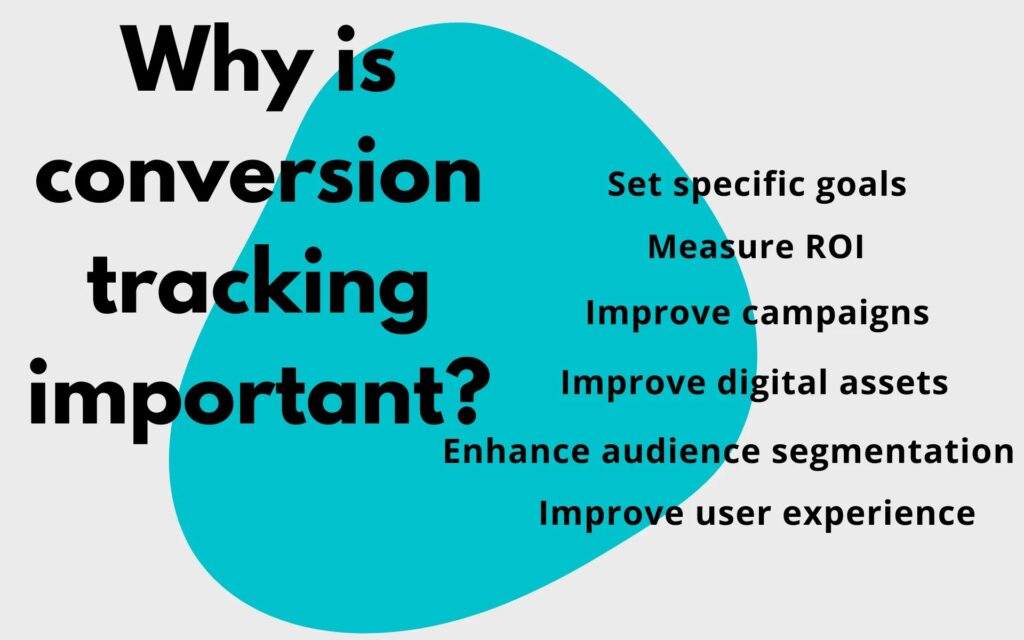 (Source: Rival Mind)
Whether it's a well-executed PPC campaign or an optimized landing page, there are no mysteries regarding what's working and what isn't. And as most industry experts will tell you, that kind of clarity is priceless.
7) Build Brand Awareness
According to a Milestone report, 83 percent of patients book a doctor's appointment through the hospital's website.
If you don't already have a website, your practice should get online; and if you do, you should make sure it's branded with your name and contact information.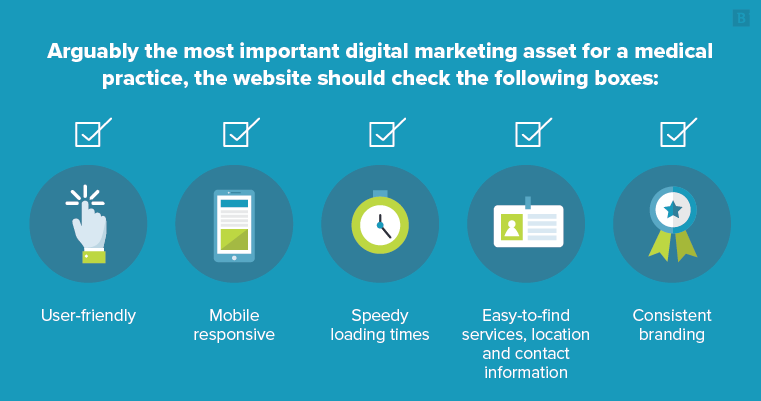 (Source: Brafton)
In addition to driving more business through referrals, being reachable digitally also makes it easier for people already familiar with your practice to stay connected and informed about new developments.
And because smartphones and tablets aren't going anywhere anytime soon, taking an active role in digital marketing is one of the ways healthcare providers can stand out from their competitors in 2022 and beyond.
8) Demonstrate Expertise and Establish Trust
The more content you can create and promote, whether, on your website or other online venues, the more likely people will trust you. Once they do, that leads to referrals, one of your most valuable marketing assets.
Get the word out about your business by blogging, producing videos for social media platforms, creating infographics based on compelling industry stats, and linking back to your site whenever possible.
The 6 Ps of Healthcare Marketing
Whether you're running a medical practice, hospital, or rehab center, growing your business isn't just about attracting more patients; it's also about keeping them coming back.
At first glance, it may seem like healthcare marketing and traditional marketing are the same thing. However, suppose you want to attract and retain more patients. In that case, you need to be aware of the nuances of healthcare marketing specifically and work with a healthcare marketing agency to apply these strategies in your business.
Here are the 6 Ps of healthcare marketing:
#1P: People
As a healthcare professional, you know how important it is to understand your target audience. It is especially true when it comes to marketing your healthcare business.
The first P, people, is all about who you are trying to reach with your message and how you can do that effectively. What commonalities do they share? Where are they online? Which podcasts or blogs do they read?
Put yourself in their shoes and ask yourself what type of information would be most valuable to them. Remember, the key is value. If someone in your target audience can't find some worth in what you're doing, then why should they invest time and energy into it?
#2P: Product
You can't market a product you don't have, so you must begin by building your product.
At a high level, you need to determine what value your product offers and how it is different from any competing products. Next, you must figure out what version of your product makes sense for your customers—do they want a physical device? A downloadable app? A service?
The more clarity you have on each of these aspects, the easier it will be to sell your product and grow your business.
#3P: Promotion
Promotion is perhaps one of your most important jobs when it comes to healthcare marketing.
(Source: Business2Community)
Consider yourself a cheerleader for your business, whether it's pitching a potential new patient on why they should choose you or throwing out ideas on new treatment options at staff meetings; never miss an opportunity to remind people that you exist and you're there when they need you.
Take advantage of online tools like social media and industry forums to get in front of as many people as possible. You can also get others involved by asking for referrals from current patients; recommendations carry weight with other people looking for PPC services for healthcare.
#4P: Price
The most expensive aspect of running a business is usually not rent, payroll or marketing; it's customer acquisition. To make it in healthcare, you need to reach new clients consistently and have a plan for converting them into paying customers.
If you don't have an effective price strategy, your business won't last long. However, understand your target demographic before setting prices for your products or services.
#5P: Place
Where is your target audience? Where do they hang out online? Look for forums, industry blogs, news sites, and other sources that attract your audience. Ideally, you want a place where your readers frequent; you can start building relationships with influencers and establish yourself as an expert in your field.
#6P: Positioning
Having a solid positioning statement is one of your most powerful marketing tools. While your product or service may be unique, it will likely serve a well-defined market or niche.
Positioning refers to how you market yourself compared to those competitors, both actual and potential.
For example, if you offer a specialized software application for vascular surgeons, your primary competitors are companies that provide software for vascular surgeons and hospitals that employ them; your secondary competitors might include device manufacturers such as stents or surgical robotics manufacturers.
In addition, if you specialize in marketing technology for primary care physicians, then device makers and specialists are not relevant competitors, but general practitioners may be an area where you need to establish some positioning.
What Are the Healthcare Marketing Strategies?
There are few businesses that you could consider as necessary as healthcare. With the average American spending well over $400k on healthcare in their lifetime, having the right healthcare marketing strategy can make all the difference to your bottom line and even your patients' health and safety.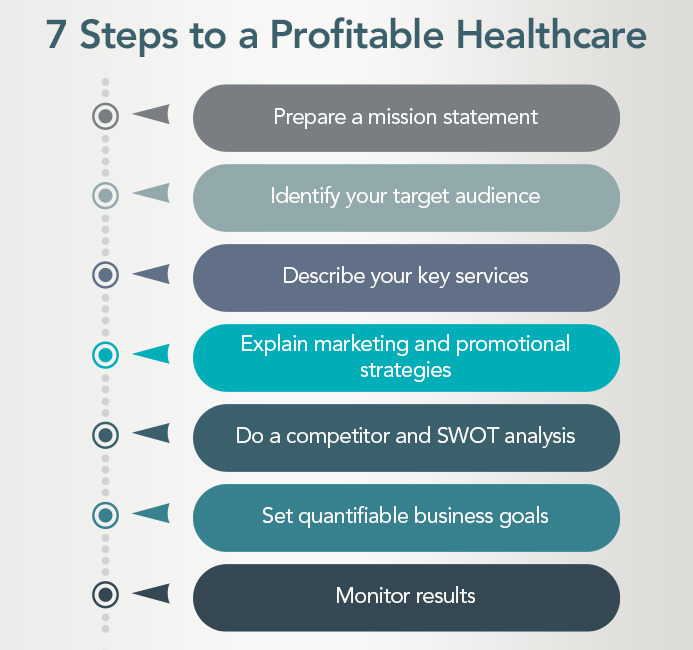 (Source: Practice Builders)
Here are seven healthcare marketing strategies that you just can't afford to ignore.
1) Diversify Your Marketing Mix
As healthcare marketers, it's our job to reach a highly targeted audience. But most people won't care about your product or service if they don't know you exist. That's why marketing is so important: It gets you noticed.
And while there are many different tactics you can use to spread awareness of your brand and garner attention, diversifying your approach with multiple methods will help maximize your reach across other channels and touchpoints.
It allows for more effective communication between brands and customers by increasing their chances of interacting through print ads, social media, mobile apps, email marketing campaigns, and newsletters.
2) Identify and Engage With Your Target Audience
Don't market at people; market to audiences. It means that you need to understand who is most likely to buy your product or service and reach out specifically with relevant information that they need.
If you understand an audience, you will have a much easier time creating and distributing valuable content that resonates with them, leading directly to more leads.
Before you begin marketing your practice, it's essential to take a step back and identify who your patients are. Identifying your ideal patient is critical, as it determines what kind of messaging you use and how you market yourself.
Determining a niche allows you to connect with your target audience deeply. But how do you figure out who that target audience is? The answers may surprise you:
Who is already coming into your office? 

Who has already inquired about treatment? 

What other sources of information are they using (such as social media)? 

What types of messages are they responding to?
Keep in mind that a deep understanding of one audience doesn't make you an expert on others—but it does put you in a better position than simply knowing what one audience wants.
3) Create a Good Website
Think with Google reports that 83% of patients visit a hospital's website to learn more about their facilities.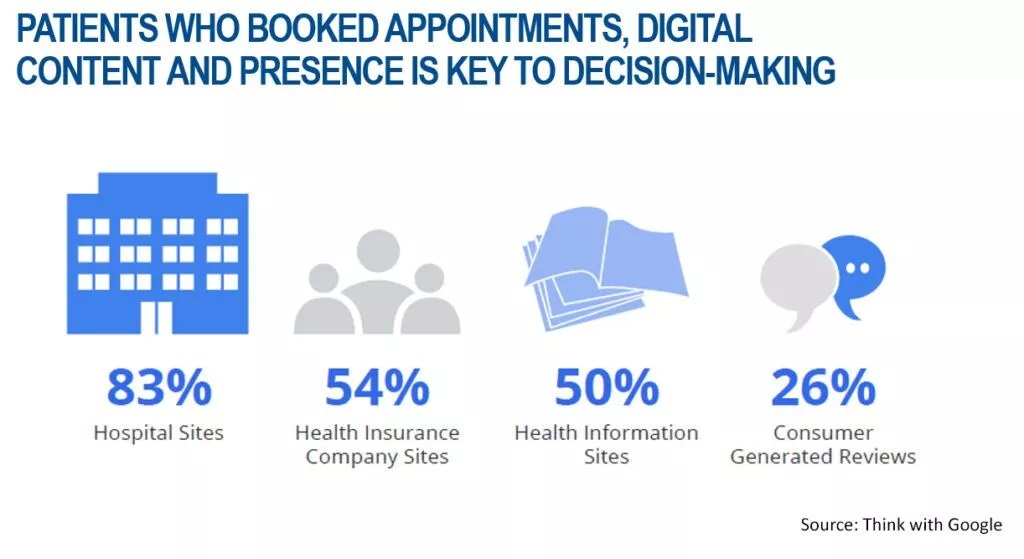 (Source: Milestone)
There are many details to consider when designing a healthcare website. First, make it easy for potential patients and families to find your contact information, hours of operation, scheduling options, location, and any other information they will need.
Once you have designed your website, use online search engine optimization (SEO) techniques so people can easily find you on popular search engines like Google and Bing. Consider developing mobile applications or using PPC healthcare ads for additional visibility in search results.
4) Develop a Compelling Storyline
Storylines are instrumental for marketing a medical practice because they allow you to relate your practice's mission and story through vivid imagery. In addition, vivid storylines appeal directly to patients who want to know why they should visit your office instead of another one.
Medical marketing experts report that stories are essential components in generating brand recognition and engagement; after all, human beings have been telling stories since our earliest days as a species.
A strong storyline also helps distinguish your practice from competitors' and makes it easier for people who aren't familiar with your brand to remember what you do.
5) Implement Paid Search Strategies That Appeal to Customers
If you're not using Google or Facebook ads for medical practices, you're missing out on a huge opportunity. It is one of many healthcare marketing strategies that can help bring in more revenue.
The cost per click may be high, but if your PPC medical ads are in front of consumers who are actively looking for what you offer, it could lead to quick leads and sales.
Don't let your competitors take advantage of these tactics while you sit back and watch.
6) Monitor, Analyze, and Continuously Optimize
In today's data-driven world, healthcare organizations must understand how they are perceived in their marketplace. Companies like Google, Facebook, and Amazon use analytics to monitor their marketing efforts and optimize real-time.
If a campaign isn't resonating with customers, algorithms automatically shift focus towards more effective tactics. For healthcare companies to remain competitive, they need information about both internal and external factors to adjust course as necessary.
Maintaining customer satisfaction is key to success; maintaining access to customer feedback is equally important. Track social media engagement; monitor website traffic; pay attention to public relations activities. Whatever you do, be sure you can act on it quickly.
7) Manage Patient Reviews and Testimonials
Getting positive reviews and testimonials for your healthcare practice or product can be a massive help for marketing. According to Trustpilot, almost 9 out of 10 customers do not purchase without first reading reviews.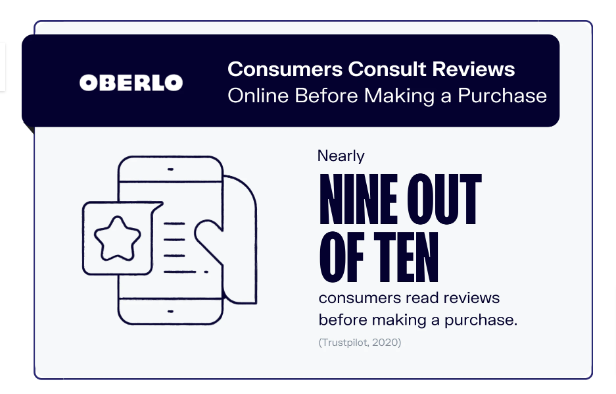 (Source: Oberlo)
If you want people to know how great your product is, give them a place where they can go online and say as much.
Doing this will draw customers into purchasing and help them feel more confident in making that purchase. The more glowing reviews you have, the better.
What is Healthcare PPC?
PPC, or pay-per-click advertising, is the most popular form of digital marketing today, boasting around $144.8 billion in global spending and expected to climb to $163 billion by the end of 2022. PPC advertising has been around since the dawn of search engines such as Google, Yahoo!, and Bing.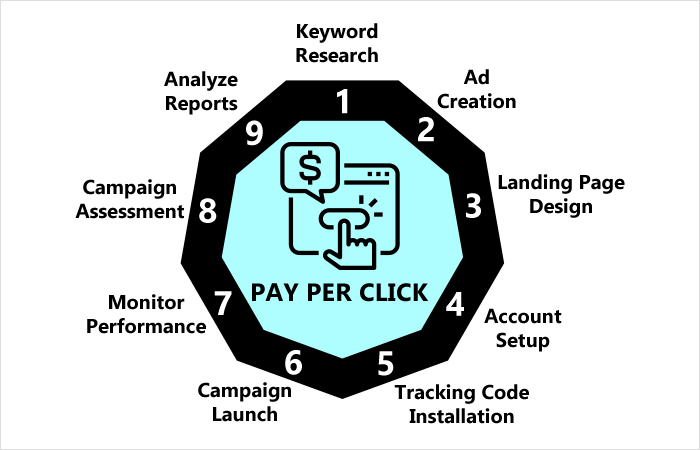 (Source: PPC.co)
Since then, many companies and individuals have used it as an effective way to bring in new customers to their business websites. However, some still find the idea confusing and do not know what to expect when starting with PPC healthcare marketing.
We hope to clear up any confusion you may have about healthcare PPC so that you can reap all of its benefits without any of the frustrations that are commonly associated with it.
PPC Meaning in Healthcare
In the healthcare industry, PPC has become essential to helping practitioners stand out from the competition and get their brand in front of more potential patients.
Pay-per-click (PPC) advertising is a marketing strategy that allows you to display ads to people searching for specific keywords on search engines. It's useful for those working in healthcare, as it helps doctors and medical professionals attract patients in need of their PPC services for healthcare.
As long as your business meets the qualifications, it can register for an account on Google or Facebook and create medical PPC ads designed to appeal to searchers with specific interests.
Many advantages are associated with using healthcare PPC campaigns, including more exposure in your market, cost-effective advertising, and increased traffic through paid advertisements. You know what works best for your business and find ways to improve these benefits.
Now that we have considered PPC meaning in healthcare let's see why it is crucial.
Why is Healthcare PPC Important?
While the main driving force behind pay-per-click (PPC) advertising is to generate more leads, you can also use it to boost website traffic and increase brand awareness.
Since many healthcare services are highly competitive, using medical PPC ads can be the key to finding success on Google and other platforms in today's marketplace.
Healthcare PPC is important because it allows advertisers to get their brand out to the people who need it the most at a cost that makes sense to their budget.
PPC healthcare can be used by businesses of all sizes and budgets to ensure that you reach your target audience. If you aren't getting your target audience, it doesn't matter what type of ad you run or how much traffic you receive.
If your ad isn't showing up in front of people interested in what you have to offer (and paying for services), then there's no way for them to become a customer.
So how does healthcare PPC ensure that your PPC ads for healthcare are showing up before those ready and willing to click? By using targeted keywords and demographics, paired with an experienced healthcare marketing agency.
This article will cover five crucial reasons healthcare PPC is vital to small businesses and individuals alike
1. Quality Leads
Your PPC ads for healthcare are only as good as your keywords. If your ad has matched with a highly relevant keyword, you're far more likely to get severe traffic about learning more about what you offer and converting into a lead or customer.
Choosing your healthcare keywords is as crucial as writing compelling ad copy and creating top-notch landing pages. After all, you could be getting significant traffic, but if they aren't ready to buy, they'll bounce right off your site without giving you a chance to convert them.
Quality leads and high conversion rates equal happier customers, which results in repeat business and potentially even better rankings and traffic down the road.

(Source: Ruler Analytics)
2. Increased Brand Awareness
Google and Facebook are free marketing tools that can help educate your potential patients on everything they need to know about you and your practice, especially when it comes to pricing.
New reports reveal that 77% of people start their patient journey on search engines. So ranking high in these directories increases brand awareness by making your business information available when people are looking for your services.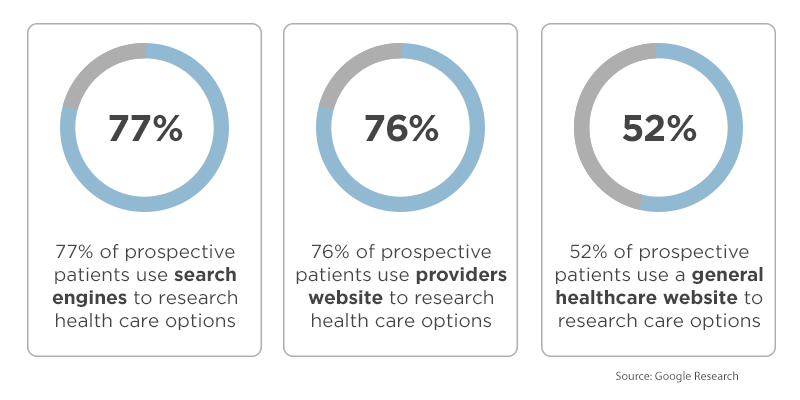 (Source: The Diamond Group)
Patients who have questions will also be able to get answers from your expert articles, which may save you from having to answer repeated questions on individual websites.
Because top rankings aren't determined solely by more paid ad clicks, having prominent placements on directory sites also suggests credibility without specific incentives or bidding.
3. Visibility in Google Searches
If you want patients to find your practice when they type in "Urgent Care near me" or "Gastroenterologist near me," you need to pay for ad space on Google. Visibility is a constant arms race for local rankings, but keeping up with new technologies and staying relevant will keep your practice at the top of potential patients' minds.
While it can be costly to maintain, it's ultimately worth every penny. Studies have shown that more than half of all Internet users look up medical services online before visiting a doctor. If they can't find your PPC medical ads on Google, you've already lost them as a patient. So make sure your business doesn't get left behind.
4. Super High ROI for PPC
Of all of your marketing channels, search engines and pay-per-click management will probably be one of your most profitable. PPC healthcare can be an extremely cost-effective way to reach out to potential customers looking for products or services like yours.
Suppose you're selling expensive services and products. However, it can still be a worthwhile investment if you advertise in areas where the cost per click (CPC) is low enough that even spending a few dollars might lead to a significant return on investment (ROI).
It's essential to make sure you're getting what you pay for by carefully choosing your keywords and analyzing how effectively they deliver real customers; however, if you do it right, your ROI from online advertising could be much higher than other types of advertising.
5. Competitive Edge over Others in Your Market
Your advertising budget will determine how your business can compete in your industry. If you have limited funds to advertise, you may need to find ways to be cost-effective to stay ahead of your competitors.
By doing keyword research and creating an appropriate campaign structure, you can ensure that every dollar spent will be as effective as possible.
Suppose you want a leg up on your competition. In that case, it's essential to spend some time researching how others are spending their marketing dollars and find ways for your healthcare practice or organization to save money and keep pace with new changes in Google's algorithm.
6. Reach New Patient Markets
By making it easier for potential patients to find your practice, PPC for healthcare opens a whole new universe of patients. And with a local digital marketing campaign, you can reach who you want by location and other demographics such as age, sex, and employment status.
That makes it easy to target groups that have historically been harder to attract—from millennials living on their own for the first time to seniors looking for adult daycare facilities.
7. Gain Trust
Trust is probably the most critical factor in PPC for healthcare. According to a study conducted by BrightLocal, 79% trust online reviews and refer to them when making purchasing decisions even more than personal recommendations.
It's not surprising that most patients are more likely to visit your healthcare facility if they see online reviews.
8. Deliver Vital Information
With more and more healthcare organizations embracing online advertising, it's essential to convey your organization's messaging. After all, you want to stand out from competitors trying to do precisely that.
Fortunately, there is a tried and true method for doing so—healthcare PPC ads. And by following some simple tips and tricks, you can ensure your campaign shines through.
Healthcare Google Ads: How They Work
Google Ads are a great way to market your medical practice online and attract patients from all over the country, but if you don't know how they work, it can be hard to make them work for you.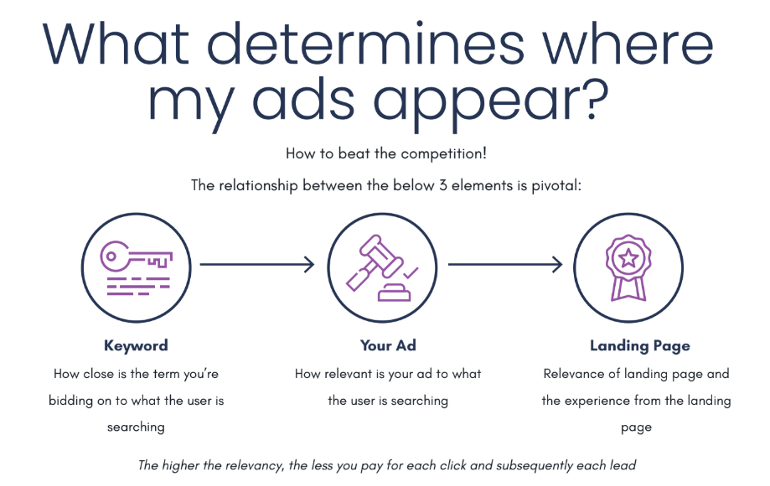 (Source: Amire)
If you want to start taking advantage of healthcare Google ads, here's how to get started and why they might be the right choice for your practice.
The term Google ad is generally used to describe any advertisement served on a website using Google's paid advertising service. It includes, but is not limited to, text ads, image ads, carousel ads, and video ads.
Unlike organic results that show up when users search for something (like your practice name), paid results are delivered based on particular criteria set by advertisers. The idea is that these medical PPC ads are more relevant than organic listings.
The result? Users get better information about their searches—and advertisers pay for it. Specifically, healthcare search queries with three or more keywords, such as hiring a doctor near me, produce healthcare-related PPC results.
What Kinds of Benefits Can You Expect
(Source: Faisal Digital)
Healthcare advertising has become an essential marketing tool for doctors in recent years, and that's especially true with Google Ads. However, many doctors wonder how they can put these tools to work for their practices. The key is knowing how healthcare Google ads work in terms of target audiences.
Your PPC medical ads should target patients who are already looking for a doctor like you, either because they have a specific condition or problem or because they're seeking out a particular specialty.
By targeting customers who are already searching for what you have to offer, your business will bring in more revenue than it would if it tried to attract new patients directly.
How To Maximize ROI for Healthcare Professionals
It's always a good idea to know what you're doing to generate quality leads. By learning how your competition uses their marketing budget, you can emulate their success or even exceed it.
Effective PPC medical ads campaigns are easy to track and measure, ensuring that your money is going where it should be. It isn't just good for marketing; it's a vital part of making sure that you have enough income coming in from patients so that your business stays open.
How Healthcare Google Ads Work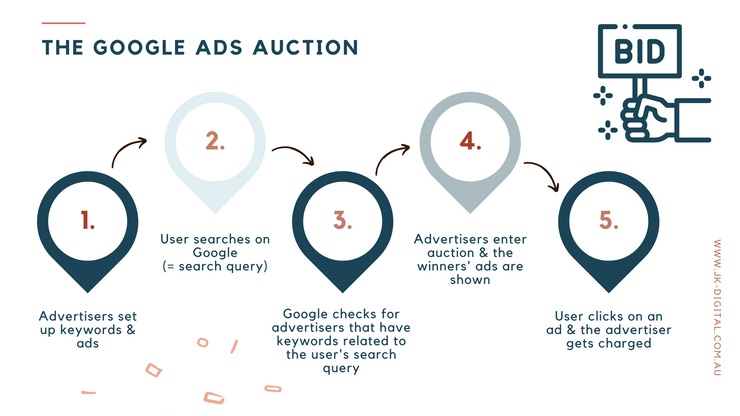 (Source: JK Digital)
Google Ads, known simply as AdWords to most people, is a paid advertising platform used by thousands of businesses. It's how many make their money on Google.
The entire point of Google Ads is to allow you to pay per click on your ads, meaning that they will only be displayed if someone is interested in what you have to offer. If no one clicks, you don't pay.
While there are several different ways to use Google Ads, one of its best features is Healthcare Google Ads (HGAs). These are specific ads targeted toward users searching for medical care or healthcare-related products or services.
Healthcare Google ads can be targeted towards any number of things, including keywords like medical insurance or chiropractor near me or even more specific ones like acupuncture near me. Of course, the more specific you get with your keywords, the better results you will see from your ad campaigns.
Healthcare Google Ads can also target users based on location and specific demographics such as age groups and gender. Doing this allows for some exact targeting which helps ensure that only qualified leads reach out to your practice—something every business owner wants.
Healthcare Facebook Ads: How They Work
Social media marketing isn't just about creating content for your audience to read and share; it's also about generating interest in your brand or company so that people pay attention to what you have to say, whether it's on social media or elsewhere.
That's where healthcare Facebook ads come in. With their help, you can more effectively reach your target audience and generate new leads that can lead to the growth of your business—but only if you use them correctly.

(Source: Freelancer Map)
Advertising on Facebook has become one of the most effective ways to grow your practice, build up your medical community, and make more money. A PwC Health Research revealed that almost 90% of American adults searched Facebook and other social media sites for health information.
Though it might seem like an intimidating task to get started with healthcare Facebook ads, you'll find that once you familiarize yourself with how they work, it's effortless to use them to grow your business and even more accessible than using other types of paid ads.
What are Healthcare Facebook Ads?
Healthcare ads on Facebook appear as sponsored posts from businesses in your network. When you create a healthcare ad, it is targeted at people who have liked that business or similar businesses in their network.
The best way to understand how healthcare ads on Facebook work will require you to think of it as word-of-mouth marketing: If you were using social media for word-of-mouth marketing, instead of asking people directly for referrals, you'd ask them to recommend you by liking your page.
It's that simple with Facebook ads for healthcare. The only difference is that you reach outside of your network instead of just within it like you would when having friends share or like your content.
What Kinds of Benefits Can You Expect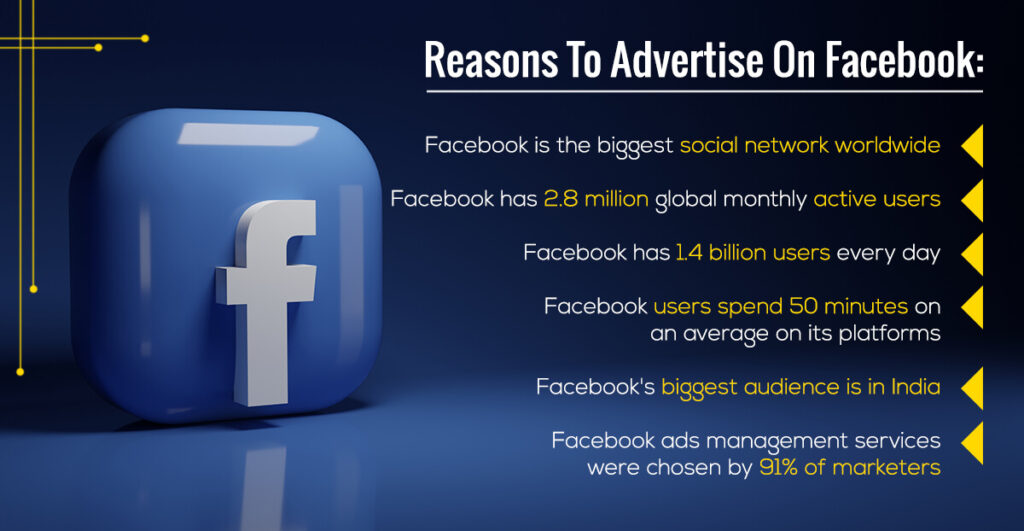 (Source: de Asra)
The main benefit of using these ads is their high conversion rate. In addition, the fact that they can be highly targeted, specifically to people who are searching for your services or interested in your type of business, helps ensure that when someone sees an ad for you on Facebook, it will resonate with them.
The ads also help boost traffic to your website or landing page, where users can find more information about you, schedule appointments, and purchase products.
Because healthcare costs vary widely from state to state depending on what service you need and how much it costs, there is a large audience available for advertisers trying to get ahold of consumers through these ads. So make sure you're not overlooking a great opportunity by advertising here, as people are always looking to lower their medical bills.
How To Maximize ROI for Healthcare Professionals
Despite being an incredibly competitive industry, healthcare still makes up a significant amount of advertising dollars spent on social media. By 2021, eMarketer predicts that healthcare will be one of just four industries accounting for more than 6.9% of US digital ad spending ($11.25).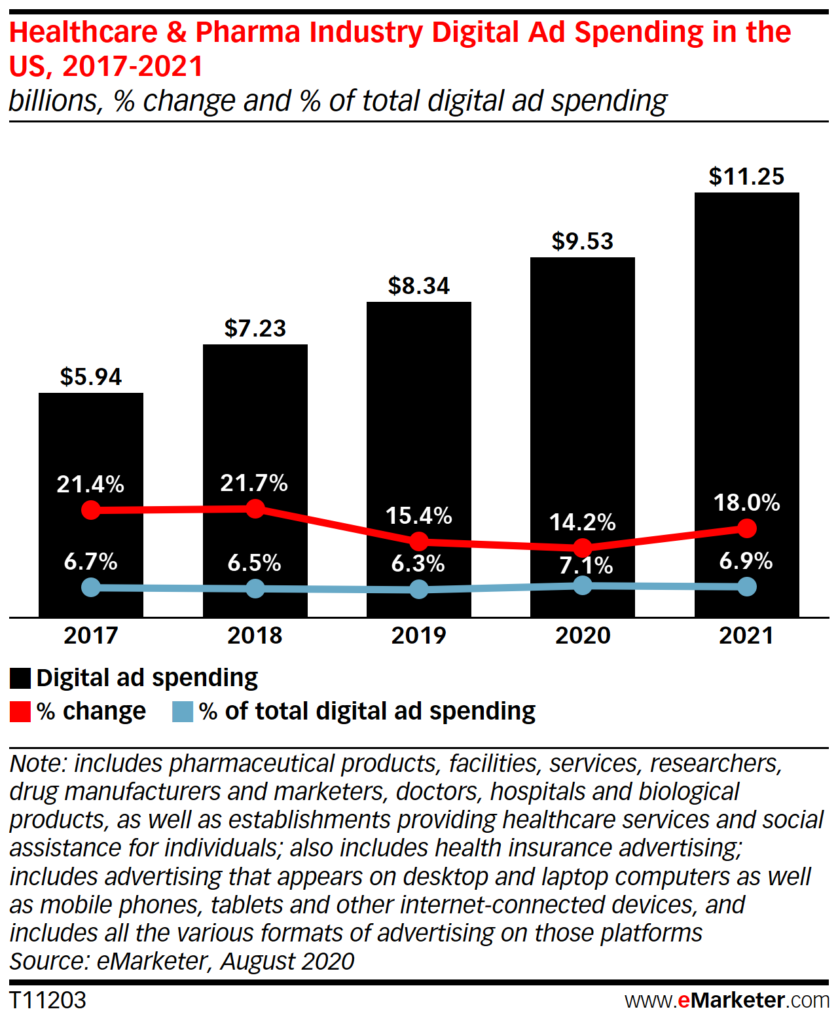 (Source: eMarketer)
With so much money on the line, it's not surprising that many advertisers are tempted to use healthcare Facebook Ads to reach potential patients directly. However, there are some key things you should keep in mind before diving in headfirst.
The first step is to determine your goals by asking yourself what kind of information you want to obtain from an ad campaign and if you wish to increase visits or conversions for a specific business location. Once you know your end goal, it's easier to develop strategies for reaching them.
How Healthcare Facebook Ads Work
In the past decade, Facebook ads for medical practices have risen in popularity and have become invaluable for many businesses, including the healthcare industry. If you're looking to reach customers, healthcare Facebook ads can help you drive traffic to your website and convert that traffic into new patients.

(Source: Red Track)
Facebook ads for healthcare are meant to be highly targeted, which means that they're shown only to people who are most likely to be interested in your products or services. As a result, it allows you to spend your advertising budget wisely, targeting people most likely to respond to your offer.
Health-related companies can promote their products on Facebook in various ways, including interest targeting, custom audiences, and lookalike audiences.
Interest targeting means that advertisers target users based on their interests, regardless of what they're looking at on Facebook (i.e., people who like Health & Fitness magazine but aren't necessarily reading it).
Custom audiences allow you to upload email addresses or phone numbers from your contact list to create a group of potential customers based on those who have already interacted with your brand.
Lookalike audiences use an algorithm to find new users similar to those who have already converted into customers, which can increase reach and improve results.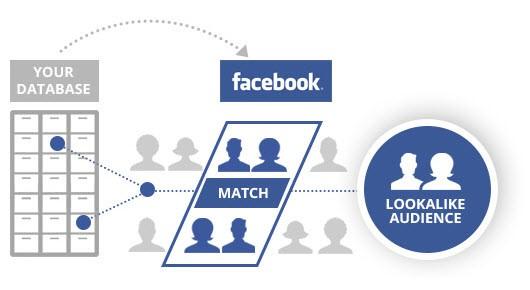 (Source: WordStream)
Display Ads vs. Paid Search
Advertising on the Internet can be overwhelming, with all the different options available and new ones popping up daily. But no matter what industry you're in, display ads and paid search are two main ways to reach potential customers on the Internet.
While display advertising and paid search are different, they are both effective strategies for healthcare marketing.
So, which is more effective for healthcare marketing: Display Ads or Paid Search?
Display Ads are Usually Text-Based
While healthcare paid search ads usually contain a lot of text, display ads are an excellent way to integrate more multimedia into your advertising campaign.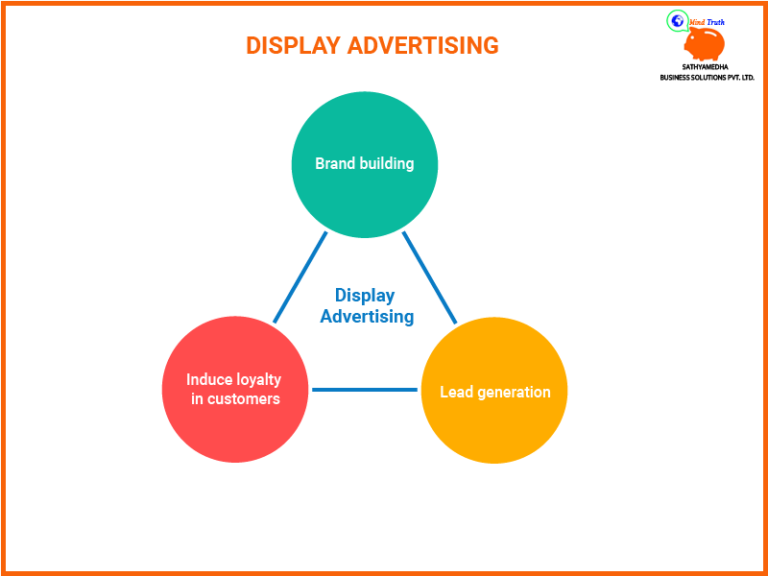 (Source: All Stars Digital)
For example, suppose you're marketing an app that can help people with diabetes monitor their blood sugar levels. In that case, you could include images and videos in your display ad—anything to make it more exciting and hopefully more effective.
It's important to remember that no matter what kind of ad medium you choose, you should always stay focused on creating something compelling and relevant to your target audience; otherwise, it may not be as effective.
Paid Search is More Granular
For medical paid search, your clients in healthcare are most likely local, and understanding where they are in their buying journey at any given time of day, on any given day of the week, can be invaluable to your marketing strategy.
You can target your healthcare paid search ads geographically, so if you notice a client looking up urgent care services on a Saturday night, you know that ad is highly relevant and should pay off big time.
However, with display ads, it's easy to end up in general markets. The audience isn't as targeted and specific, nor will there be much interactivity with your potential client base.
Display Ads Target Broader Audiences
If you want to reach a particular group of people, like new parents, display ads are a great way to do it. You can show ads to thousands of people in your target audience based on simple demographics like age and gender.
While you might not sell something directly via these ads, they're an excellent way to reach potential leads and build brand awareness. Because your audience is typically quite large, you can usually expect lower click-through rates with display advertising.
However, companies using display ads often see higher conversion rates (the percentage of users who buy something) because they attract users who are already interested in their product or service; they just need a little nudge from an ad.
It Takes Longer to See Results from Paid Searches
For a healthcare paid search to work, you need to get enough impressions (or impressions of your ad). It's a pay-to-play model that means you can't scale unless you have sufficient funds.
On top of that, search engines take a lot longer to respond than display ads. Search ads take about two weeks to produce results, while display ads are typically less than one week. So when it comes to marketing something like medical devices, where timing and information can be critical, medical paid search just isn't as effective as possible.
There Are No Guarantees in Paid Search
It's no secret that medical paid search isn't an exact science. Google and other networks are constantly tweaking their algorithms, leading to a lower ROI (return on investment) if you're not paying attention.
The upside of PPC is that you have little to worry about if your landing page and ad copy are optimized correctly. And as long as you keep up with Google updates, it can be one of your most profitable marketing channels—especially when combined with display ads.
Healthcare PPC: Tips for Success
PPC, also known as pay-per-click advertising, has become one of the most effective ways to promote healthcare products and services online. As search engines grow in popularity, PPC provides an inexpensive way to reach the masses. However, it's relatively cheap but not necessarily easy.
Here are six tips to ensure your PPC campaign meets its full potential.
Use the Right Keywords
To capture someone's attention with your ad, you need to ensure that it shows up when they are looking for information. To do that, you must ensure that your keywords are both relevant and optimized.
The most successful healthcare marketers will have researched every aspect of their market to develop a series of keywords and phrases that people would use if they were looking for information on their product or service.
Test Your Ads Regularly
When you're first creating your healthcare Google ads campaigns, it can be easy to put your faith in benchmarks and numbers. But it's not just what you pay that matters; it's also how effectively your ads perform. That's why it's essential to keep an eye on things like click-through rate (CTR) and keyword relevance score.
You should adjust your bid amount according to ad performance and sales conversion data. Overall, remember that there is no one-size-fits-all formula for advertising; experimentation and testing are crucial steps in finding what works best for your campaign. And you should never settle for less than stellar results.
Create Landing Pages
Landing pages are web pages designed to generate conversions (sales or leads) by capturing visitors' contact information and encouraging them to perform conversion actions.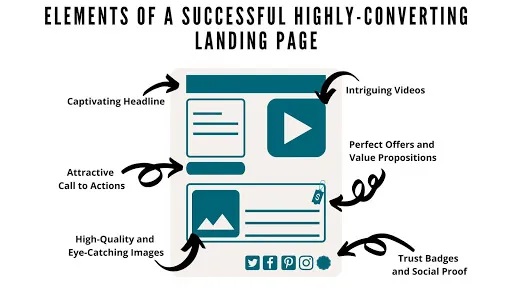 (Source: Whogohost)
A lead is considered an exciting prospect who will provide contact information, usually in exchange for something valuable like a white paper, product demo, etc.
Landing pages can be utilized at any conversion funnel stage – from acquisition to lead generation to post-conversion nurturing. They're also highly effective when combined with search engine marketing efforts, so consider using landing pages alongside your organic search efforts and your paid advertising campaigns.
Test Different Ad Images
If you want your ads to stand out from competitors, experiment with different types of images. For example, consider using attractive photos that appeal to your target audiences, such as celebrities or people in similar age groups.
Consider using doctors' and nurses' images in their workplaces depending on what you're selling.
Just be sure that whatever you use complies with Facebook's policies. Test different text: If your ads only have one picture and one ad headline, try changing up the text used in your image descriptions. You can also add additional bullet points about why customers should buy from you over competitors.
Check Keyword Bids
When you first launch your PPC in healthcare campaign, it's essential to check your keyword bids (just make sure not to look out for any still in pending status). This way, you can ensure that you aren't getting charged over-inflated rates when someone clicks on your ad.
Also, if it turns out that there are keywords with too many high bids, adjust them accordingly. If there are keywords without enough offers and low cost per click (CPC), consider adding additional bid adjustments or creating new ads. This way, you don't lose out on potentially profitable campaigns.
Check Clickthrough Rates
Getting people to click on your healthcare PPC ad is essential. However, it's not enough to get clicks if no one buys anything or signs up for your mailing list. So, in addition to standard reporting features, check what your clickthrough rates are. If they're low (under 1%), it could be time to reevaluate your PPC in healthcare strategy and shift gears accordingly.
Setting PPC Campaign Goals for Healthcare Practices
Do you want to set healthcare PPC campaign goals that deliver results?
Online PPC in healthcare campaigns is an excellent way to direct new patients to your practice, but only if you have clear and measurable campaign goals in place from the start.
To achieve the best possible results from your PPC efforts, you must set realistic and actionable goals that align with your business objectives and financial goals.
Step 1: Set Your Budget
By defining your budget, you can get a better idea of how much you will spend on PPC.
Concerning PPC in healthcare, there are no easy metrics for determining a reasonable budget, so it's best to start small and increase your budget as time goes on.
If you don't know where to start, ask yourself, "what is my monthly marketing budget?" It will likely be similar in size—if not larger—than what you spend on paid search.
What would a significant investment look like in terms of ROI? This information helps establish an upper limit for your campaign goal.
Step 2: What Are You Trying to Achieve?
Before you can set goals, you need to know your objectives. Ask yourself, "What is my goal with a pay-per-click campaign?"
If you want more visitors to your practice, your business goals must reflect that. Whatever your goal is, be specific.
Is it lead generation? Improved visibility? More appointment bookings or additional patient inquiries?
For example, if you want 10 new patients every month through free or paid clicks on Google, your pay-per-click objective would be to drive qualified traffic through search engine marketing to an opt-in page.
Although this may sound overly simplified, it's crucial for setting realistic goals and tracking results, so they're meaningful in real terms.
Step 3: Assess the Competition
What is your main competition doing?
Once you've determined your niche, it's time to look at your competitors. What are they doing well? Where are they falling short? If you haven't done so, figure out what keywords they are targeting in their campaigns.
Also, evaluate their landing pages and overall marketing strategy. It could be helpful to write up a comprehensive list of what they do well and where they could improve. Then, you can use it as a guide when building out your campaign or business website to set yourself apart from your competition.
Step 4: What Ad Groups Do You Need?
Before you set up your campaign, you need to decide what ad groups you want to make.
What specific types of patients do you want your practice to attract? For example, if it's new mothers with babies, create an ad group called Mothers and Children. If it's a senior care facility, create an ad group called Elderly Care Needed.
Doing this will make it easier for advertisers later when they're deciding on keywords and which campaigns are more likely to attract their ideal audience. Each ad group should have one or two main keywords and a few long-tail ones related to those main keywords.
Step 5: How Many Keywords Do You Need?
A good rule of thumb is to have one keyword per ad group. However, it can be hard to build enough relevancy around a single term for high conversion rates if you're going after an extensive topic.
For example, suppose your company specializes in 24-hour emergency care, and you plan on having several different ads with targeted keywords (24-hour emergency care services, 24-hour emergency children care, etc.). Two or three keywords per ad group might make sense to hit all of your audience's needs.
However, one keyword per ad group would be acceptable if you only offer essential emergency services during regular business hours.
Step 6: Add Negative Keywords
Your keyword list should include every important word or phrase you think a potential customer might type into a search engine. Then, if you can't imagine someone using it, enter it into your keyword tool.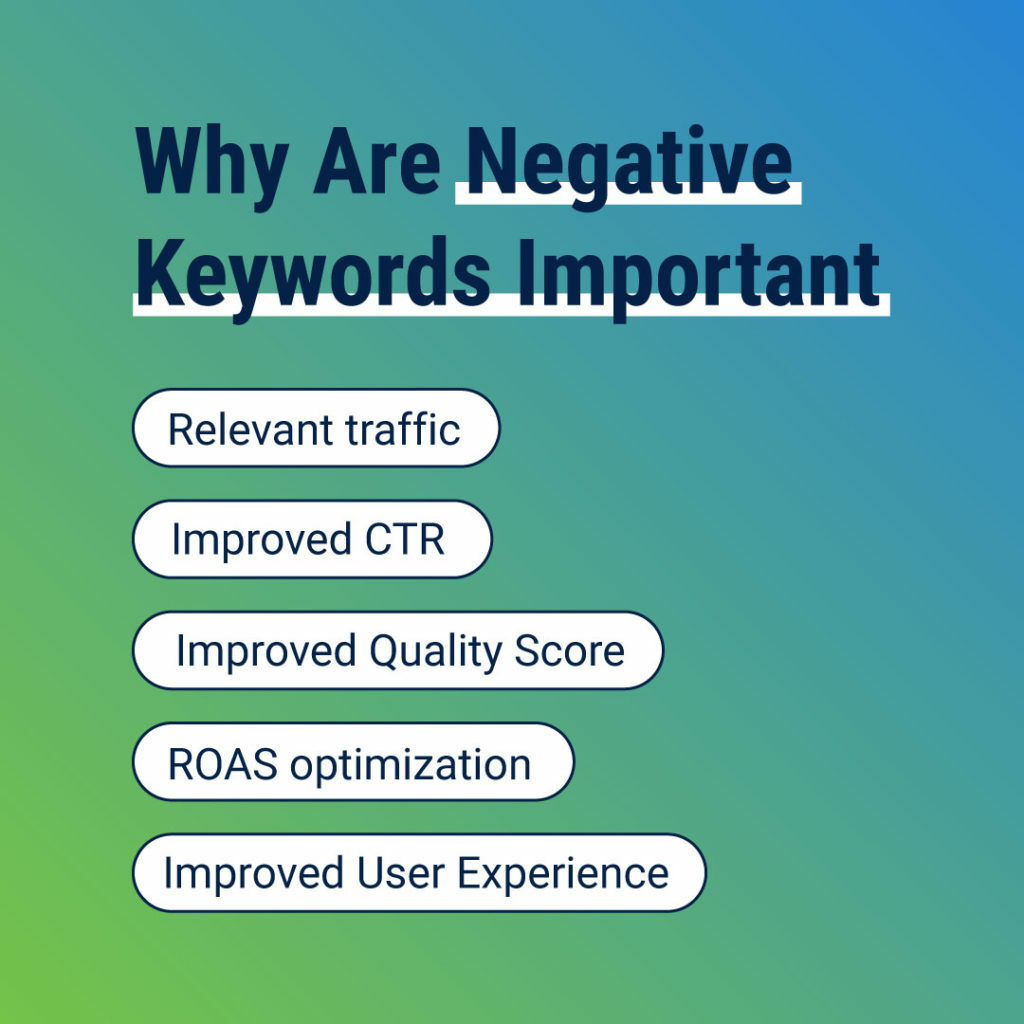 (Source: ClickGUARD)
Google will prompt you with words and phrases it thinks they are relevant but haven't been included in your list. And don't just look at what they suggest; also consider popular misspellings and variations of those words and phrases.
Always strive for a comprehensive, exhaustive list of negative keywords covering all bases.
Step 7: Track Progress
While your ad campaigns are live, it's essential to track and test their performance. Changes you make to your keyword list, ad copy, or ad targeting may impact performance, or they may not.
It's easy to spend time tweaking every element of a campaign without stopping to measure its success or failure. That's why you must develop a method for tracking results and making adjustments as necessary from an early stage in your PPC advertising efforts.
Advertisers can use third-party measurement tools like Google Analytics, Facebook Insights, and Twitter Ads to track conversion data on social media marketing campaigns.
Healthcare PPC Advertising: The 7 Biggest Mistakes You Could Be Making
With so many people going online for their healthcare information, healthcare PPC advertising has become essential to the success of any online marketing campaign.
But if you're not careful, you could be making any number of mistakes when it comes to the PPC ads that could be costing you sales and causing other kinds of damage. To help you avoid these missteps, we've put together this list of seven mistakes that healthcare marketers need to avoid at all costs.
If you want more control over how your ads look, advertising on Google for financial advisors gives flexibility in designing creative content for your campaigns.
Financial advisors can choose from multiple formats, including text only, image only, text + image, and even video options, to cater to each campaign specifically toward their target audience.
1) Not Conducting Proper Keyword Research
When selecting keywords for a paid search campaign, ensure they're relevant to your business, product, and services. One way to do so is by conducting keyword research.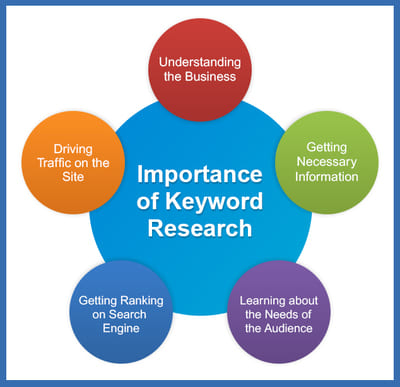 (Source: SEO Discovery)
Use a free tool like Google Keyword Planner to conduct keyword research and find popular search terms related to your business. Then optimize your ad copy for those terms accordingly.
2) Ignoring the Competition
All online businesses should have a healthy amount of competition. If yours doesn't, you might be in for some trouble.
Find out who your competitors are and what they're doing to succeed with their campaigns. Then, use that information to figure out how to make them better than your campaign. Google's keyword planner is an excellent place to start looking for your competition—but don't limit yourself there.
Your competition could be using any number of tactics or techniques that are working well and costing them nothing (or close to it). Figuring out those strategies will put you ahead of others in your niche who aren't using those same strategies.
3) Focusing on Conversions Rather Than Traffic
Most people assume that if they're getting enough traffic to their website and landing pages, it must be OK to stop optimizing. Traffic volume is indeed substantial, but paying too much attention to a surge in visits can distract you from focusing on what matters: conversions.
If your goal is to attract new patients, you need to pay close attention to how many of them are filling out forms and booking appointments.
And if you're trying to get more email subscribers, you need to pay attention to how many people click through from your search ads and what percentage of those visitors sign up for your list.
4) Not Testing Ads and Landing Pages
Before you create your first ad, it's essential to take a step back and think about how someone might search for your product or service. Then you will have an idea of what keywords you should use in your ad and how to tailor it to attract potential customers best.
When creating a landing page, be sure to keep up with Google's ever-changing algorithms by testing and adjusting them constantly so that you can improve upon its performance.
Failing to do either of these could mean losing thousands of dollars on every single Ads campaign if people aren't seeing or clicking on your ads, which would not only destroy any chance of a positive ROI and make running other campaigns cost-prohibitive.
5) Failing to Analyze Data (or Trusting Old Numbers)
If you're serious about your advertising, you need to pay attention to every metric and figure out what works.
Most advertisers make huge mistakes with their campaigns by taking a set-it-and-forget-it approach. That might work if you have an enormous budget, but if your money is tight (as it is for most advertisers), tracking data every week is a good idea and can give you significant advantages.
Many advertisers fix problems only when they get complaints from clients, but responding quickly to client feedback should be considered another piece of data to analyze along with search volume, click-through rates, conversion rates, and other metrics.
6) Spending Too Much Money on Improving Quality Scores
It's no secret that Google rewards quality, relevant and satisfying ads with better Quality Scores. So it's essential to make sure you're doing everything you can to keep your Quality Scores as high as possible. But Quality Score is also impacted by ad relevance, landing page experience, and other factors.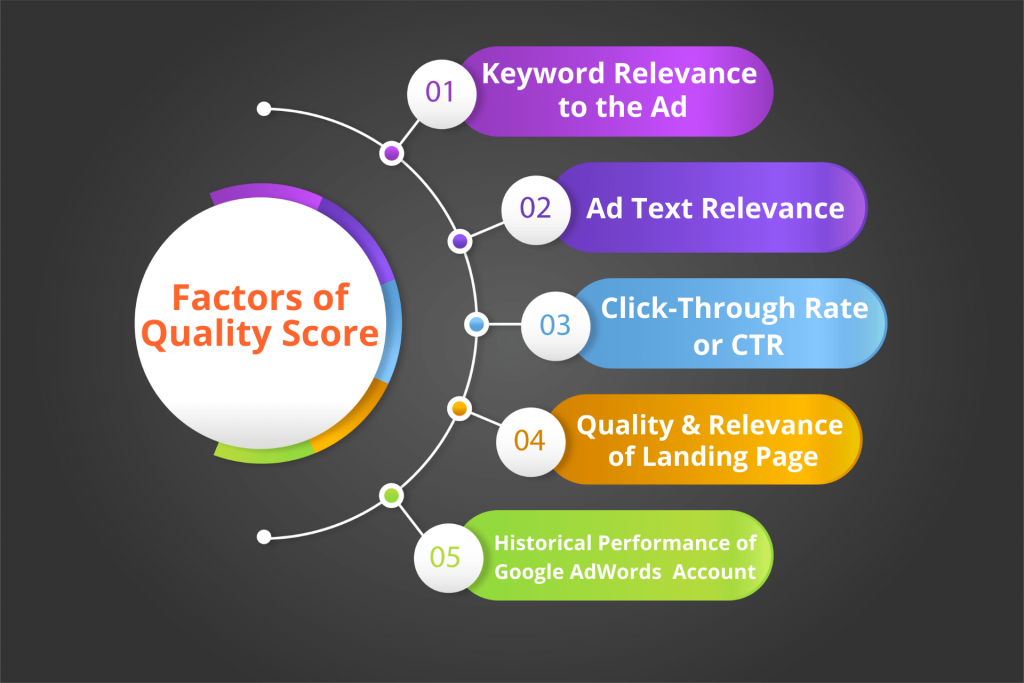 (Source: Sun Media Marketing)
It would be a shame to spend money on a website redesign, for example, only to realize your competitors' site is more appealing, or you haven't considered other aspects of relevancy that may have helped boost your score.
Before embarking on any significant marketing investment (or even tiny ones), always perform some quality score research first. Be sure you know where your Quality Score stands with others within your industry before making changes.
7) Underestimating the Importance of Mobile Searches
More and more, consumers are turning to their mobile devices to search for information. If you're only investing in either text ads or banner ads, you could be missing out on a significant source of customers.
To ensure that your ad is viewed by potential customers, write a copy that clearly explains why they should visit your website. Remember, less is more. Long-winded sales pitches usually don't work as well as simple PPC ads for healthcare with call-to-action phrases like Visit our site today! or Call now!
10 PPC Tools Every Healthcare Marketer Needs in Their Arsenal
To be successful in today's competitive healthcare marketing market, you need to find new and innovative ways to attract and retain patients. One of the easiest and most cost-effective ways is through healthcare PPC ads.
Advertising in the healthcare industry can be expensive, especially when targeting specific demographics and locations through pay-per-click (PPC) platforms like Google Ads or Facebook Ads for healthcare.
Fortunately, many marketing platforms can help healthcare marketers manage their campaigns efficiently, target desired demographics, and track results over time—saving time and money in the process.
When you're in the healthcare industry, it's essential to know how to manage your PPC for healthcare campaigns effectively. If you use the wrong tools or don't have the right software in place, you could end up spending more money than you need to while at the same time not achieving top results.
When it comes to healthcare and PPC marketing, several tools can come in handy if you know how to use them properly.
Of course, everyone has their list of favorite PPC tools.
However, if you have some experience with PPC management but are new to the world of healthcare marketing, we will show you 10 of the best PPC software solutions for healthcare marketers to choose from, and help make your job easier, decrease your costs, and increase your ROI for your healthcare marketing campaigns.
1) Google Analytics
If you're just getting started with your website, Google Analytics will be a vital tool to help you optimize your site.
With Google Analytics, you can easily track visitor behavior on your website. From here, you can create reports that show how often people visit certain pages of your site or which keywords they searched when they arrived at your website.
This information is helpful because it allows you to see where visitors are leaving your website and which content brings them back repeatedly. In addition, you'll know what's working (and what isn't) so that as soon as something new comes along in digital marketing, you'll have all of the information necessary to implement it properly on your website.
2) Optimizely
Optimizely is an excellent option if you have a small budget, need to hire inexpensive help, or don't have time to manage your team.
This tool allows users to create simple A/B tests without any coding quickly. The results are easy to interpret—great for companies that don't want to spend a lot of time optimizing their campaigns.
In addition, Optimizely offers tools that allow you to test your customers' journey through different areas of your website—for example, seeing where on your site visitors abandon your signup process and testing what versions of copy perform best at various stages of your marketing funnel.
3) Searchmetrics
With over one billion keywords across more than 160 countries, Searchmetrics offers a comprehensive view of your marketing efforts.
The software supports keyword research and tracking, conversion metrics, search engine optimization campaigns analysis, and backlink profiles. It even includes competitor analysis capabilities.
4) Google Search Console
With Google's recent algorithm updates, it's become more important than ever to track what keywords bring you traffic. You can do that in your GSC (Google Search Console).
Use these metrics to improve your keyword research or monitor search trends over time. As long as you have Google Analytics (GA) set up on your site, you should be able to pull traffic data directly from GSC into it.
Ensure that you have at least one conversion goal set up in GA. When users reach your website through organic searches with a set of keywords, their action will be logged and attributed back to that specific keyword.
5) SpyFu
A marketing automation platform that helps hospitals, in-house marketers, and SMBs get their content found by more customers.
SpyFu integrates with top platforms like Facebook, Twitter, Google Ads, LinkedIn Ads, Yelp Ads, etc. It also offers insights on how to improve your strategy based on its report of your online advertising performance.
The tool is fully integrated with Google Analytics, so you can measure results from search engine optimization programs accurately.
6) Ahrefs
Ahrefs is an excellent tool to track your organic and paid search progress. This platform has a friendly user interface and allows you to drill down into any keyword, landing page, or domain's performance.
Ahrefs also compiles your valuable social media data from Twitter, Facebook, Google+, LinkedIn, etc. You will be able to see what's working well for you on each social network and where you need more work. All in one place!
If you are looking for a complete PPC and SEO software solution, Ahrefs can help with that. The package includes backlink tracking software, rank tracking software, and URL monitoring tools. They also offer audit software so you know how healthy your website is based on best practices before it goes live online.
With WordStream, you can do everything from keyword research to automatic bidding to landing page creation. When it comes to a healthcare marketer, you'll get access to hundreds of healthcare-related keywords that you won't find with other tools.
The software also has conversion tracking features so that once someone lands on your landing page after clicking on an ad, you can see how they engaged with your site and what action (if any) they took on your website.
If a user clicks on one of your ads but doesn't go anywhere else on your site, then that's essential information for PPC and marketing efforts moving forward.
Quicksprout is one of the best—and cheapest—Pay-Per-Click management solutions around if you're in healthcare. The analytics are precise, and all told, it's an excellent solution to have at your disposal if you work in digital marketing or advertising.
If anything goes wrong with your account or ad spends gets out of hand, Quicksprout won't let you burn through too much money before they step in.
9) Optmyzr
Optmyzr is a software development company that provides search engine marketing solutions. These include Google, Facebook, YouTube, etc. Its mission is to help businesses successfully implement pay-per-click advertising campaigns by providing innovative software products that are easy to use yet powerful enough to deliver results.
The first product released was Optmyzr Ad Creator, which allows users to create their ads from scratch or templates in less than five minutes.
The second product released was Optmyzr Account Creator, which automatically creates accounts on significant ad networks such as Google AdWords and Bing Ads. Doing this frees up time for marketers to focus on other tasks instead of managing multiple accounts manually.
Another benefit of using Optmyzr's services is that it offers access to their network of certified experts who have been trained in SEO/PPC management and can assist with any questions or concerns you may have about your account.
10) Unbounce
Unbounce is a landing page builder that helps marketers set up, publish, and A/B test their landing pages with no IT help.
Unbounce's intuitive interface allows you to use templates or build your pages from scratch. You'll be surprised at how easy it is to create a professional-looking landing page. Once you've built your page, Unbounce makes it simple to integrate your analytics so you can see what's working (and what isn't).
The software also lets you schedule automatic campaigns to easily continue putting together tests without having to spend time on them yourself.
It saves tons of time because rather than having to come up with new ideas repeatedly, everything you need is already organized in one place.
So, Now You Have the Right Information, Run With It!
Healthcare PPC can be intimidating, especially if you're new to the industry and are still getting used to bidding on keywords and setting up landing pages.
Still, even if you've been in the game for years, there are always new ways to optimize your PPC campaigns and reach patients more effectively through digital marketing efforts.
Why not partner with a professional PPC marketing firm?
At Flying V Group, we are well equipped to manage your healthcare PPC campaigns on several platforms for optimal results. Contact us today!