Reading Time:
6
minutes
PPC Automation is essential for businesses looking to boost their ROI. By leveraging automation, you can save valuable time, minimize errors, and enhance the overall performance of your PPC campaigns.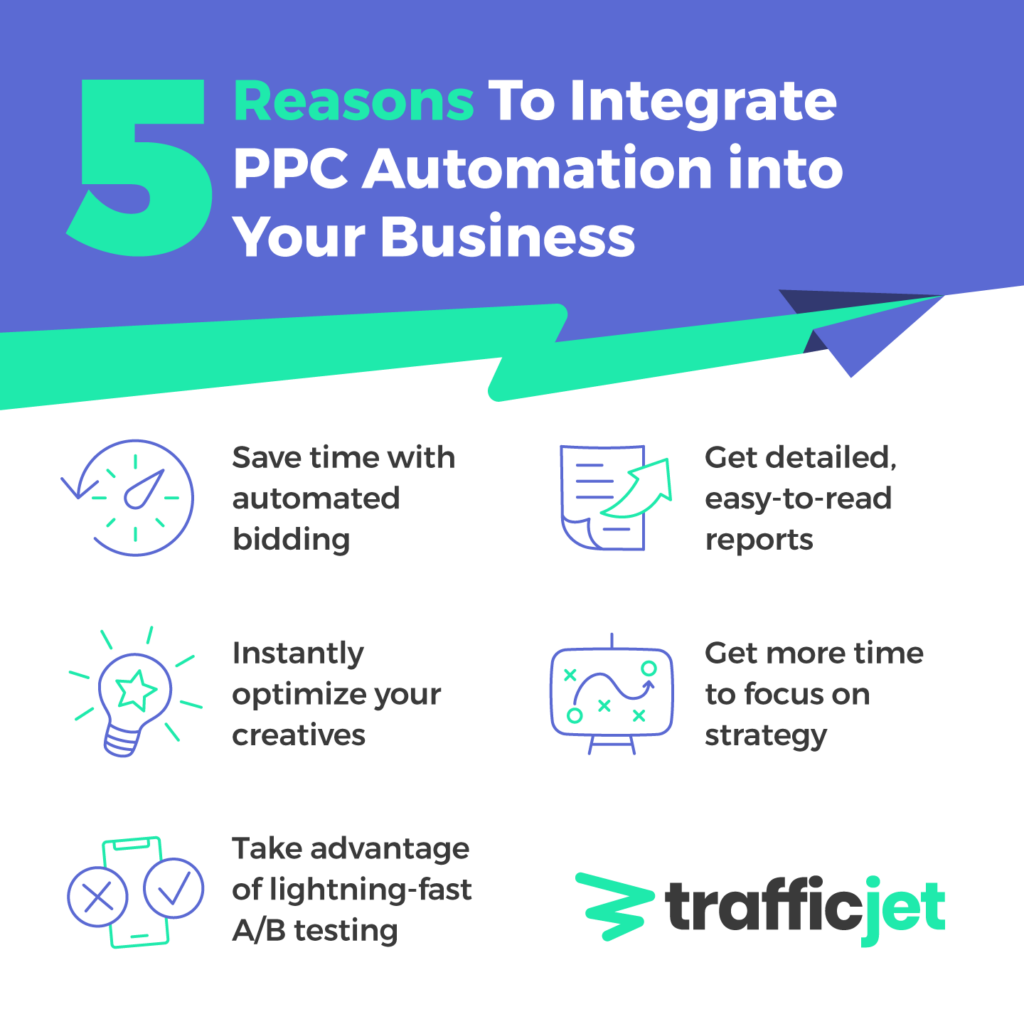 For example, automated bidding strategies can analyze vast data to adjust bids in real time. In the process, maximizing the chances of achieving desired results, such as clicks, conversions, or impressions.
Bliss Car Wash hired Flying V Group, a PPC marketing agency, to help them improve the performance of their campaigns. Flying V Group applied automation to Bliss Car Wash's PPC campaigns to help them save money and improve their ROI.
In this case study, we'll look at the results of the automation strategy employed by FVG. We'll also discuss how the strategy allowed Bliss Car Wash to earn more business while saving their resources.
Who is Bliss Car Wash? 
Bliss Car Wash is an express car wash based in California that uses eco-friendly methods to conserve water and responsibly clean cars. Additionally, they support efforts to provide clean and safe water to people around the globe. For example, for every new location they open in California, they donate $6000 plus to building a well in Niger.
Bliss uses the highest quality cleaning products and equipment to ensure the best cleaning experience for its customers. They strive to provide reliable services while being mindful of the environment.
Bliss is Blue Coral Beyond Green certified and uses exclusively biodegradable cleaning solutions. This is why it is a preferred choice for eco-friendly car washes. All their products are tested to ensure they don't harm water sources.
They call themselves Water Warriors because they recycle and use less water than traditional car washes. The car wash process at Bliss Car Wash includes a mechanical system that effectively eliminates dirt, oil, and grease from the water used. So, the used water is clean and can be safely released into the environment.
Some of their services include
Exterior Pressure Washing,

Interior Cleaning & Vacuuming

Carpet Shampooing

Wax & Shine

Wheel Cleaning,

Paint Protection,

Clearcoat Sealant,

Headlight Restoration.

Auto detailing
What Was the Problem Statement?
Bliss Car Wash approached us to design an automated PPC campaign to reduce customer acquisition costs while increasing ROI. They wanted to reach out to potential customers cost-effectively and drive more sales.
They were getting poor results with PPC marketing. Bliss Car Wash didn't have an agency doing the right job for them. They were losing out on potential customers due to a lack of a proper automated PPC strategy.
While Bliss Car Wash was already doing good business, it wanted to extend its reach to newer markets and acquire more customers. With an automated PPC campaign, they could target the right audience quickly and reach out to potential customers cost-effectively.
It was vital for them to measure their PPC campaigns' success accurately. This would help them better understand customer behavior and make informed decisions about their marketing strategies.
Finally, Bliss Car Wash wanted to ensure their campaigns were successful and cost-effective in the long run. They needed to create a scalable PPC strategy to maximize their return on investment (ROI).
What Was FVG's Approach?
Our team of PPC experts worked closely with Bliss Car Wash to understand their goals and objectives. We analyzed their existing campaigns and identified areas of improvement.
We then developed a tailored PPC automation strategy that targeted potential customers and kept acquisition costs low. These PPC automation strategies include:
Automated Bidding Strategies
Our PPC team presented automated bidding as a cost-effective, performance-driven way to manage campaigns. Automated bidding allowed Bliss Car Wash to set bids for each keyword and ad group that would adjust based on user behavior. This, in turn, helped them maximize their ROI and acquire quality customers.
Dashboards Accessible to the Client
We provided a dashboard that allowed Bliss Car Wash to track the performance of each of its campaigns. This enabled them to analyze the performance of their PPC campaigns in real time and make informed decisions quickly.
They could see in real-time the actions our PPC team was taking and the results of those actions. This gave them complete transparency and control over their campaigns and allowed them to make changes quickly.
Ad Scheduling
This automation strategy allows you to schedule your ads to run when they are likely to perform best. We helped Bliss Car Wash optimize its ad scheduling to ensure its campaigns were seen by the right people at the right time. So they could maximize their ad impressions and visibility.
Automated Ad Rotations
This feature automatically rotates your ads to show the best-performing ones more often. Our PPC team set up automated ad rotations for Bliss Car Wash, so their ads were more effective and returned higher ROI. For example, we created a rule to rotate their ads every two weeks, so the best-performing ads were always shown first.
What Was the Impact?
The Bliss Car Wash PPC automation project was a success. Our strategies helped them save time and money and also reduce errors that may have occurred during manual tasks. The automated ad scheduling, rule-based automation, script automation, and automated ad rotations enabled Bliss Car Wash to reach more customers, increase their click-through rate, and maximize their ROI.
From the moment we started the project in March of 2023 to June of 2023, we Increased conversion rates by 72%, lowered costs per conversion by 60%, and Cost per click by 30%. These results showed that our automation strategies positively impacted their PPC campaigns, and they could reach more customers with less effort.
 Source: Flying V Group PPC Dashboard
We brought in more clients for Bliss Car Wash and increased their overall sales. Our automation strategies allowed them to optimize their campaigns faster, improve their ad performance, and get more out of their PPC campaigns. They could now focus their energy on other important projects and further expand their business.
They loved our dashboard as they could monitor the performance of their campaigns quickly and easily. They could now track their progress with just a few clicks and make necessary changes without manually going through the different campaigns.
5 Actionable Lessons We've Learned About PPC Automation At Flying V Group
1. Volume is Key to Automated Strategy 
Automation thrives on data; the more data you have, the more effectively your automated PPC campaigns can perform. This means that volume – in terms of both ad spend and the number of conversions – is a crucial factor for successful automation.
2. Manual Oversight is Still Necessary
Despite the power of automation, human oversight is still necessary. Even the best-automated systems can make mistakes or miss nuances that a human marketer would catch. Regularly reviewing campaign performance is essential.
3. Automated Bidding Can Save Time
One of the key benefits of automation in PPC marketing is automated bidding. This can save significant time, as you no longer need to adjust bids for each keyword or ad group manually.
4. Optimize Your Creatives Instantly
PPC automation tools can help optimize your ad creatives by testing different variations and automatically prioritizing the ones that perform best. This allows for real-time optimization and can lead to improved campaign performance.
5. Sales and Marketing Alignment is Crucial
Successful automation relies on sales and marketing alignment. The purpose of automation isn't just to make marketing jobs more efficient – it should also support the business's overall goals. This means that the sales and marketing teams must work closely to ensure that automated campaigns drive the right leads and support the sales process.
Remember, automation is a tool to enhance your marketing efforts, not replace them. It's essential to continually monitor, test, and refine your automation strategies for the best results.
Conclusion
The Bliss Car Wash PPC marketing automation case study shows the power of automation in PPC marketing. Automation is critical to optimizing campaigns, increasing conversions, and improving ROI.
The strategies we implemented for Bliss Car Wash enabled them to save time, reduce errors, and focus on other vital projects. They could also quickly monitor their progress and make changes as needed. The results they saw from this project speak for themselves.
With automation, PPC marketing can be more efficient and effective, and businesses can get the most out of their campaigns. Automation helps to reduce manual work, optimize campaigns faster, and reach more customers with less effort. Bliss Car Wash can now maximize its advertising efforts to get the most out of its PPC campaigns. We're happy to continue being part of their success.
Flying V Group strives to optimize our clients' campaigns and bring maximum effectiveness. We are dedicated to helping businesses reach their goals and make the most out of their investments.
Apart from PPC automation, we offer other PPC marketing services such as local PPC, keyword research, competitor analysis, ad copywriting, and more. Our team of PPC marketing experts is here to help you get the most out of your advertising campaigns.
We will work closely with you to understand your business objectives and develop the right strategies for you. Contact us today to learn more about how we can help you grow your business and maximize your ROI.