Reading Time:
9
minutes
Are you looking for the best way to boost your exposure and sales for your manufacturing business?
Facebook has 1.960 billion visitors daily, with daily active users growing by 31 million (+1.6%) between January 2022 and April 2022.
The digital age has been kind to small and medium-sized businesses, giving them unprecedented access to customers worldwide through social media marketing for manufacturing companies.
One of the most effective ways for manufacturers to reach out to those potential customers is through Facebook ads.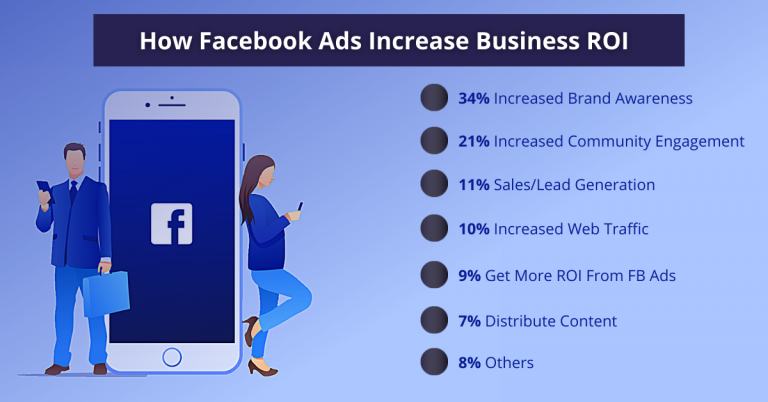 (Source: Discreet Vision)
Facebook ads are becoming an important part of any manufacturing marketing strategy, but it can be difficult to know what to expect from them.
This article will teach you how to take advantage of Facebook ads, including how they work and how they can boost your business's exposure and sales.
Here's what we'll cover:
Facebook Ads for manufacturers: What to expect

8 Reasons to use Facebook Ads for manufacturing companies

Facebook Ads for manufacturers: 9 Best tips for success

How to choose the right agency for your Facebook Ads
Read on to learn more.
Facebook Ads For Manufacturers: What To Expect
Most of us use social media marketing for manufacturing companies every day. Still, many of us don't realize how much we can benefit from utilizing it as a tool for our business. One great example is Facebook Ads.
For manufacturers and sellers who want to connect with potential customers and sell more products, Facebook ads are a fantastic way to do so.
What is a Facebook Ad?
A Facebook Ad is a paid promotion on Facebook, including but not limited to a sponsored story, sponsored search results, or an ad on a user's newsfeed. These can be targeted based on location and demographics, making them an ideal marketing tool for manufacturers looking to market directly to consumers.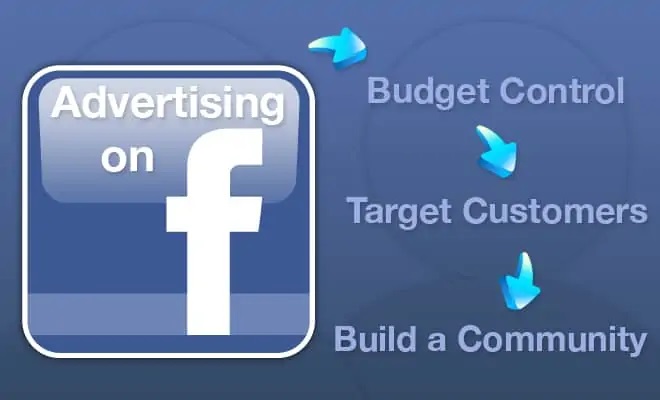 (Source: DSIM)
The most compelling aspect of using Facebook manufacturing ads is that they allow you to market and sell right in front of your customers when they are most likely interested in your product while browsing Facebook on their smartphone.
7 Reasons To Use Facebook Ads For Manufacturing Companies
Facebook ads are an incredible resource that can help your manufacturing company grow, whether you're in the design phase or ready to sell your products on a wide scale.
Here are seven reasons Facebook ads can be incredibly useful to manufacturing companies like yours.
1) Increase Web traffic
It's hard to imagine any business that wouldn't benefit from more web traffic. But for manufacturers, a steady stream of visitors is even more important, especially considering how much time, energy, and money go into every new product.
The best way to get store owners interested in your product is by advertising on the most popular social media platform–Facebook.
2) Cultivate Social Trust
When you feel your customers and potential customers trust you, they're more likely to buy from you. And nothing fosters trust like a real human interaction.
Use social media marketing for manufacturing companies to reach out and connect with others; take time daily to respond and interact with people who have liked or shared your content.
Trust is earned one human interaction at a time, so social media is a great way to kick-start those interactions with prospective buyers. It's okay if it doesn't all happen in one day; little by little, people will start to see you as someone they can turn to when making buying decisions.
Over time, that trust will develop into sales.
3) Reach Current and Potential Customers
Imagine your business has an ad on a bus that drives past 10,000 of your target customers daily. That's basically what social media ads do—put you in front of people who are actively looking for you and want to hear what you have to say.
Customers who see your ads are 14 times more likely to buy from you than customers who don't. With all those eyeballs, it's easier to get noticed, and building a customer base around manufacturing software and hardware innovations is easier.
4) Target High-Value Prospects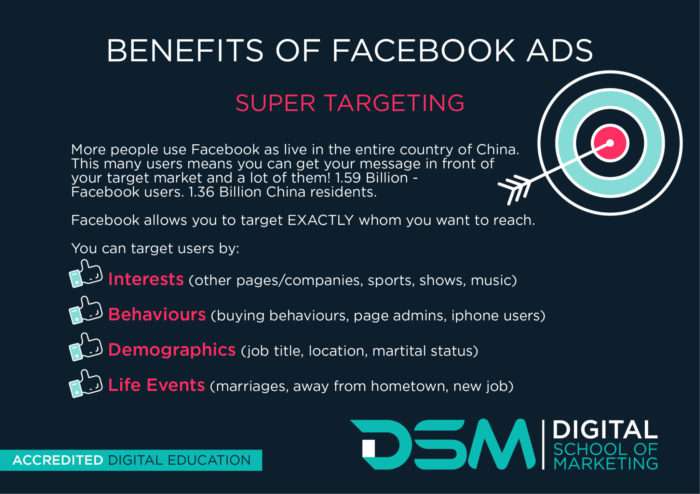 (Source: DSM)
Target customers are more likely to buy your product or service based on where they live, how old they are, what gender they are, and their interests. Therefore, it is perfect for B2B companies that need to sell directly to a business rather than through a sales rep or for lead generation purposes.
Targeting high-value prospects that fit your ideal customer profile can reduce advertising costs by targeting fewer people with a specific message.
Your click-through rate (CTR) also increases because you're showing B2B manufacturing marketing ads to people who have already expressed interest in similar products or services through their online behavior and what they like on social media.
5) Get Leads from Ads
Running ads on Facebook is a great way to reach new leads quickly.
If your company sells products or services, advertising to your ideal customer base is one of the best ways to get new leads efficiently and cost-effectively.
Just remember: Using Facebook manufacturing ads as part of your lead generation strategy means constantly testing, refining, and trying out new ad creative and targeting options to get value from every single click you pay for.
So don't give up after just one or two tries; use every bit of data you gather to make sure your campaigns are working for you.
6) Analyze Performance in Real-Time
You can manage B2B manufacturing marketing ads in one central location. The interface is intuitive and makes it easy to create and manage campaigns. In addition, all your account information is securely stored, so you don't have to enter it every time you make an ad.
You can also see metrics for each ad immediately when you finish making it–how many people viewed, clicked, or landed on your website from your ads—so you know whether you need to tweak things or if they're working as planned.
7) Easy Ad Management Dashboard
It's great to look at an ad and see how it performed.
Facebook makes it easy to create ad campaigns that fit your budget and business needs. It also provides a dashboard where you can quickly make edits, add new components, or pause ads if necessary.
Facebook Ads For Manufacturers: 9 Best Tips For Success
An effective Facebook ad campaign can drive traffic to your site, convert browsers into customers, and generate leads that result in new sales or product purchases.
But running an effective campaign isn't always easy, and using the wrong manufacturing marketing strategy or tactics can be expensive and hurt your brand's reputation if you're not careful.
Here are nine best practices to help you avoid common mistakes associated with social media marketing for manufacturing companies and create an effective Facebook ad campaign that brings new customers to your door.
Define Your Audience
First and foremost, you need to define your target audience. In many cases, you are already engaging with them on social media.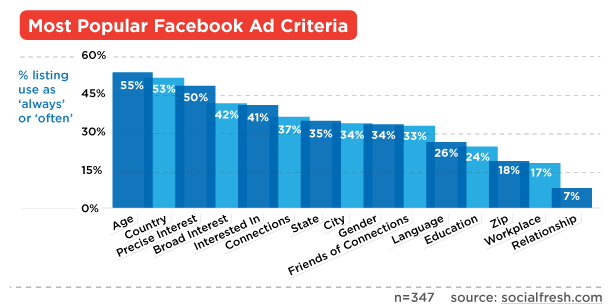 (Source: Parqa Marketing)
Are they primarily men or women? 

What age group do they fall into? 

Where do they live? 

Do they have any special interests or hobbies that align with your product offering? 
Defining your target audience is perhaps one of the most important steps in creating effective Facebook ads for manufacturers.
Segment Your Audience
When creating Facebook manufacturing ads for your products, it's important to ensure you are targeting your intended audience. You can segment your target audience based on their location and demographics.
Selecting a geographic area that is too broad, such as the United States, may not bring results, while a more refined approach, such as Orange County, CA, or Minneapolis-St. Paul, MN will reach a much more appropriate user base.
Create Interest Targeting
Facebook's Interest Targeting allows you to reach people based on their hobbies, activities, and purchase preferences. Then, it uses what it knows about them (their interests) to select ads for them to see.
For example, if a person likes hiking, Facebook will show that person an ad for outdoor gear or food products, even if they hadn't recently been looking at those things on Facebook.
Create Conversion Goals:
Select conversion goals for your campaign by choosing from among the following:
Website Visits

Leads

App Installs

Video Views

Page Likes, etc. 
You can change these goals later as needed with no penalty.
When creating conversion goals, use easy-to-achieve targets with realistic expectations.
Build A Conversion Funnel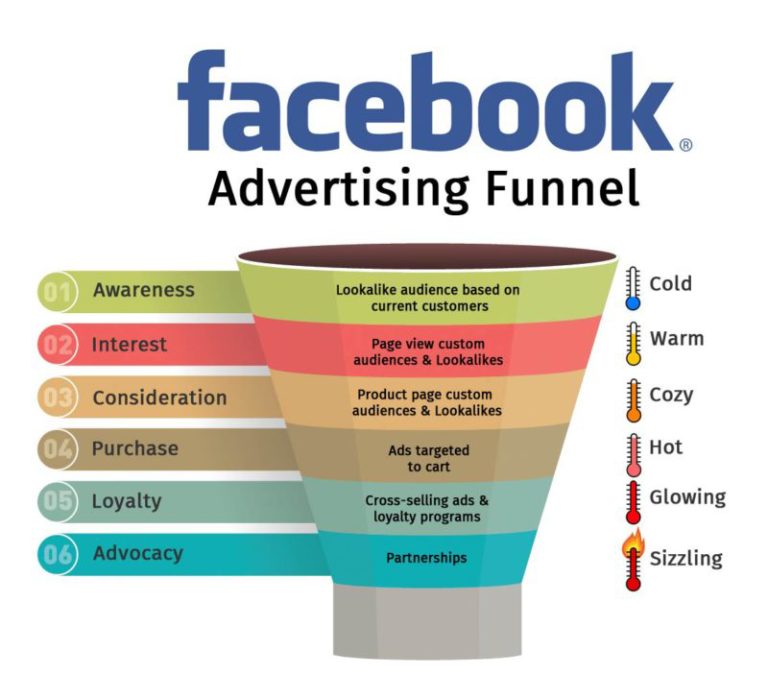 (Source: David Smania)
Regarding Facebook ads, you need to focus on converting your traffic because the more conversions, the more profit. It means driving more people to your site and getting them to take specific actions when they get there.
With that in mind, we recommend creating Facebook ads for everyone (since most people on Facebook are visitors anyway) and then building a conversion funnel for each ad based on what kind of action you want visitors to take.
Create Your Ad Set
Facebook allows you to create multiple ad sets within a single campaign.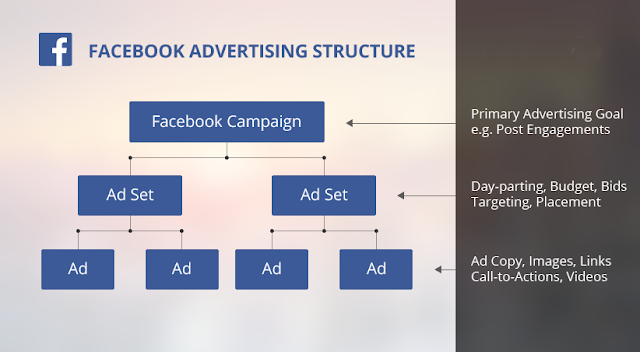 (Source: Digital Engine Land)
If you run different types of ads, for example, Promoted Posts and direct-response advertisements optimized for conversions, you'll be able to keep them organized within separate ad sets.
Write Engaging Ad Copy That Converts
Facebook ads allow you to take advantage of highly-targeted customers, so your ad copy must grab their attention.
Remember that people only have a few seconds to read your ad and determine whether they're interested enough to click.
Optimize your ads by keeping them short and interesting; use eye-catching headlines and compelling images that connect with viewers right away. Test different approaches until you find something that generates high conversion rates, then stick with it.
Add Images and Video
Whether working on a simple text-based ad or a detailed video, images and video are critical for grabbing your audience's attention.
Facebook recommends using a picture that's 750 x 300 pixels for text ads and 1200 x 628 pixels for photo ads.
Video can be uploaded as a link from YouTube, Vimeo, or elsewhere. Of course, the shorter your videos are, the more likely people will watch them, so consider creating highly produced 30-second spots.
Measure, Learn, Repeat!
As you create your ad campaigns, try using tools like Facebook Audience Insights to monitor their effectiveness over time. That way, you can tailor your strategies and learn which types of ads work best for your company. Then, keep improving until you see positive results.
How To Choose The Right Agency For Your Facebook Ads
If you want to advertise your products on Facebook, you must partner with the right manufacturing marketing agency to get high-quality results at the lowest possible cost.
Unfortunately, without the proper guidance and support from an experienced Facebook ad marketing agency, you may place low-performing ads that don't give you the ROI you want.
Here are 5 tips for choosing the right Facebook ads marketing agency for manufacturers to ensure that your B2B manufacturing marketing ads reach your target audience and get results.
1) Know What You Need Help With
If you're new to Facebook ads or have a small business and need help with your first campaign, it's probably not a good idea to go straight to a manufacturing marketing agency and drop $10k on an ad. Instead, you need to learn how things work first.
So before trying to find an agency, know what you want them to do for you. For example, do you need help building custom audiences, optimizing campaigns, or designing compelling images?
2) Only Choose An Agency With Experience
An agency with experience will help you meet your goals and not waste time or money on strategies that won't work.
Choose a company with a proven track record of success so you don't lose out on money and resources from your marketing budget.
3) Ensure They Have the Right Team
Many agencies have teams that only do account management when you need a manufacturing digital marketing agency with a team that can also do PPC.
Often, agencies take on more clients than they can handle, so when you're talking to a Facebook ad marketing agency, ask them how many people are on their team and what their experience is.
4) Have Them Explain Their Process
To ensure you're getting in-depth with what matters most to you, ask them about their main offerings and how they would apply them to your campaign.
What kind of experience do they have in those areas? How big is their team? Do they work with other manufacturers?
5) Know What You Can afford
Before shopping for a new manufacturing digital marketing agency, make sure you're willing to pay for their services. Facebook ads are extremely effective, especially if you have enough budget and run your ads correctly.
Pricing varies depending on how many users you want to reach and how often you wish to contact them. Smaller companies should expect to pay between $1 and $2 per click, while larger companies can expect to spend more per click.
Choosing the Right Agency is Essential to the Success of Your Campaign
As you can see, there are various factors to consider when choosing a professional PPC advertising provider for your business. There's no shortage of professionals who will work with you and produce excellent results, but it's up to you as an individual to ensure that they are properly vetted and chosen.
In the end, hiring a skilled manufacturing digital marketing agency is not just about finding someone to do the job – it's about finding someone you trust with your social media marketing for manufacturing companies.
Flying V Group is the best of its kind in terms of offering top-notch PPC services to manufacturing companies like yours. Contact us today!