Reading Time:
10
minutes
Do you sell products through Google Ads? Are you looking to expand your Google Ads campaign to include your company's website?
Google is the top search engine in the world, with a market share of 91.42%.
Google Ads can be very powerful in driving traffic and often leads to your website, but only if you're using the platform correctly.
It has become the top online advertising platform, with an insane average conversion rate of 3.75% and CPA of $48.96 and $75.51 per sale for search and display ads, respectively.
So if you're selling products or services online, there's no better way to get quick results than Google Ads. And if you're in manufacturing, Google Ads marketing for manufacturing companies is one of the best ways to generate leads and sales quickly.
In this article, I'll discuss some things you need to know when running manufacturing ads on the search network. Don't worry; it's not complicated. Here's an outline to help you navigate this article:
Google Ads for Manufacturers: An Introduction

Top 7 Benefits of Google Ads for Manufacturers

How Google Ads for Manufacturers Work (The Process)

How to Boost Sales With Google Ads

Ramp Up Sales with Google Ads!
Let's get moving!
Google Ads for Manufacturers: An Introduction
If you have a service or product marketed to consumers, it's worth considering paid advertising in your marketing mix.
Although there are several options for online advertising, Google ads offer some of the most precise targeting available anywhere. And because they appear on highly credible search engine results pages (SERPs), they're also very cost-effective.
Google Ads, formerly known as Google Adwords, is a pay-per-click (PPC) advertising platform offered by Google, which allows advertisers to place manufacturing ads on Google search results and websites across its network. Its advanced marketing strategy for a manufacturing company can be used by small and large businesses, nonprofits, and government agencies.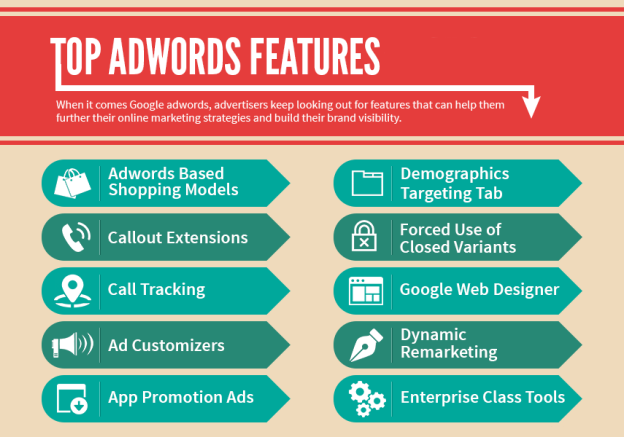 (Source: SEO Heights)
To use Ads, create an account with Google and choose keywords related to your business. Then they set daily budgets for each campaign, determine how much they want to spend per click, select where their manufacturing ads will appear, and write text ads that link back to their website.
Once campaigns are running, Google tracks how many times users click on those links—and charges advertisers only when users do so.
Google ads are a fast and effective way to get your products in front of people looking to buy them.
While several platforms can help you find potential customers, none can deliver them, like Google Ads marketing for manufacturing companies.
Top 7 Benefits of Google Ads for Manufacturers
In today's digital age, Google Ads are one of the most effective means of advertising for many businesses, including manufacturers.
If you're looking to start or expand your business, Google Ads marketing for manufacturing companies can be an excellent source of leads and sales. This advertising platform allows you to target potential customers based on their geographical location, previous search history, and other factors.
If you're looking to boost your business with advertising, then Google Ads can be an excellent option to get your name out there.
We've put together this list of the top seven benefits of Google Ads to see how they work and whether they would be right for your business goals.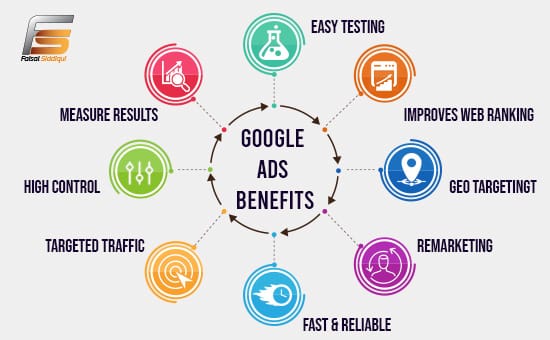 (Source: Faisal Digital)
1) Establish Brand Awareness
Although your product is what ultimately sells, you first need to build awareness about your brand to make a sale.
Online manufacturing ads can help establish brand awareness and drive traffic back to their websites. This direct access to potential customers allows them to dive deeper into company information and products, increasing their desire to purchase what they see being advertised.
An online ad can boost website conversion rates by more than 25 percent. That's why it's so important for manufacturers to understand which online marketing channels work best for their business and then make sure they use them as effectively as possible.
2) Boost Customer Loyalty
According to GE Capital Retail Bank, 81% (8 out of 10) of Americans do online research before purchasing.
By using online ads to promote your product or service, you can make it easier for customers to find out about your company and products and drive more traffic to your website.
This avenue allows you to build trust with potential customers by providing helpful information and communicating brand messages effectively.
If they enjoy their experience, they may also be inclined to share it with others via social media or word-of-mouth marketing, which could lead them to become loyal consumers.
In other words, increasing traffic to your site is just one benefit; increasing customer loyalty is another big perk.
3) Increase Sales
After all, nothing spells success quite like more sales. However, it can be tough for a manufacturer to stand out from competitors when everyone offers similar products.
However, your options are wide open regarding using Google Ads to get potential customers interested in your offer.
One way to promote your products is by using manufacturing ads that target consumers looking for specific kinds of products. And according to statistics from the U.S. Census Bureau of the Department of Commerce, in the first quarter of 2022, the total retail sales reached $1,621,333. They will continue growing as long as consumers make their purchasing decisions online or on mobile devices.
4) Showcase Products to the Right Audience
One of the biggest benefits of manufacturing ads is that it allows you to place your ads in front of people actively looking for your product or service.
A recent report found that 89% of customers begin their purchasing process with a search on Google.
If you have products or services in a niche market, like manufacturing, you know how difficult it can be to reach new customers and get them engaged.
Through Google Ads marketing for manufacturing companies, manufacturers can now set up their accounts, so they're reaching those people interested in what they have to offer immediately. This feature alone makes PPC advertising well worth exploring as an opportunity to expand your business and make more sales than ever before.
5) Demonstrate Your Company's Expertise in the Industry
Poor targeting is one of the most common reasons businesses fail at PPC advertising.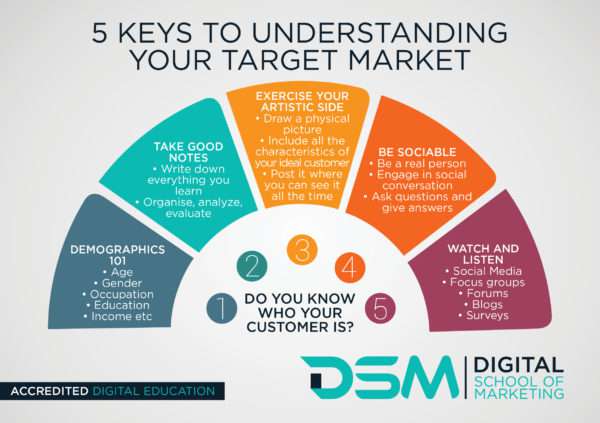 (Source: DSM)
So, know your target market and reach out to them. Connect and demonstrate your company's expertise in the industry to show them that you're here to help whenever they need it.
Showcase relevant info on your brand and products, making sure to keep things interesting by adding appropriate images, text, and descriptions. And above all else, make sure your ads are accurately targeted.
6) Generate Leads
While you can't directly control where your ads show up, you have control over what kind of user clicks on your ad. If your goal is to generate leads, Google Ads allows you to tweak and refine your targeting settings to make sure that only qualified prospects are seeing your message.
The better you target, the more leads you'll see. It is a simple marketing strategy for a manufacturing company.
7) Expand Market Reach at Scale
Developing a customer acquisition strategy is one of your most valuable assets as a manufacturer. However, because sales are largely driven by relationships, developing and growing a customer base takes time.
But thanks to Google Ads manufacturing marketing strategy, you can reach new customers faster than ever. It's easier to hone in on specific groups within your ideal customer profile, and there are countless benefits to knowing who you want to target.
How Google Ads for Manufacturers Work (The Process)
If you're in the manufacturing industry, you've likely heard about Google Ads and their ability to help you generate leads and sales for your business.
However, suppose you haven't already ventured into this advertising platform or don't fully understand how it works. In that case, it can be hard to grasp what exactly Google Ads can do for your business, especially if you don't have much experience with digital manufacturing marketing strategy.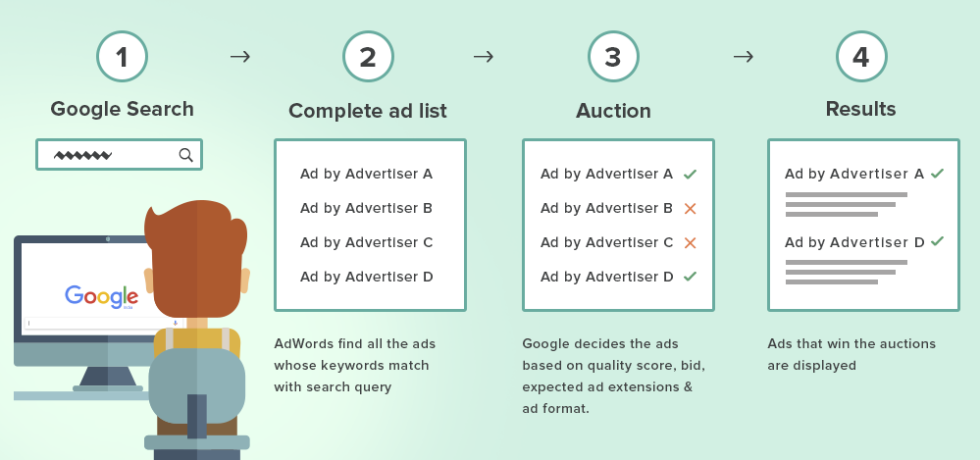 (Source: Digital Vidya)
There are two primary components to Google Ads: creating campaigns and writing ads.
Campaign creation involves choosing your budget, selecting locations for your ad to show up (geotargeting), determining how much you're willing to pay per click (CPC), and creating one or more ad groups within that campaign.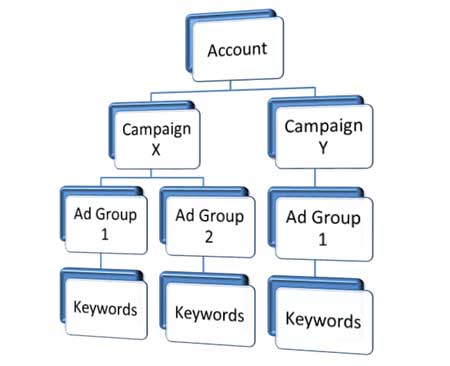 (Source: Tips and Tricks HQ)
An ad group consists of one or more ads; these define what appears in search results pages when someone searches using specific keywords associated with your business.
For example, if you run a furniture store in California, you might create an ad group called California Furniture that contains all your furniture-related ads. You could also create another ad group called California Furniture + 5 Miles that includes any customers who live within five miles of your store.
This way, if someone searching online happens to live nearby but not right in California proper, they still see your advertisement.
After setting up your ad groups, you'll need to create separate ads. These typically consist of a headline, some body copy, and a URL link to your website.
Then, when people search for terms relevant to your business and land on Google Search Results Pages (SERPs), they'll likely see at least one of your ads among other organic listings like news stories or videos.
Users may click on your ad if it looks appealing, leading them to visit your site and hopefully make a purchase.
How to Boost Sales With Google Ads
If you're a manufacturer, you may be able to boost your sales using Google Ads marketing for manufacturing companies, so long as you have the right approach.
While Google Ads are often used to promote websites, you can also use them to promote business services and products. In fact, with the right approach, you can use Google Ads to help generate interest in your manufacturing company and ultimately boost sales.
So, whether you're looking to attract new customers or find new and better sources of supply, there are several different methods you can use with Google Ads to help you sell more of your products and services.
Check out these nine ways that this type of digital marketing for manufacturers can help you boost sales as a manufacturer below:
1) Get to Know Your Customers Through Google Analytics
If you're new to marketing for manufacturing companies, you may be wondering how to find new customers. There are hundreds of different ways, but one easy way is through your website analytics.
Google Analytics lets you segment data in any way imaginable, which can help you target who you need to reach.
Getting familiar with your customers and their wants can be priceless information for a manufacturing business.
2) Set Up Remarketing Campaigns Based on Users' Behavior
If you use online ads to sell products, you're likely familiar with remarketing. It's a way to put ads in front of people who have already visited your site. When they return to that site or open another one, they see ads related to what they were looking at before.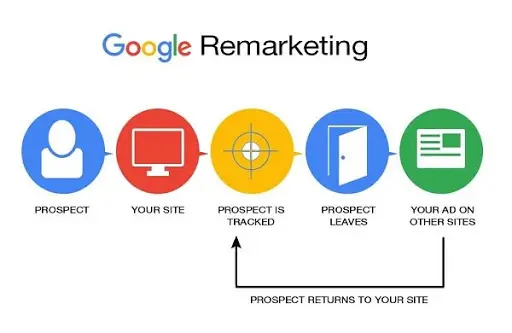 (Source: Blue Winston)
Imagine running remarketing campaigns based on user behavior instead of website visits.
For example, instead of targeting people who've recently been on your site or someone else's, you can target users who behave in certain ways when they visit websites where you're also advertising, not just where they go after seeing yours.
3) Start Bidding on Related Keywords
Start bidding on related keywords so you can reach your target customers. If you manufacture electronics, for example, bid on associated keywords like televisions, headphones, and laptops.
Your ad is more likely to appear in search results that match your keywords, where users are looking to find products they want to buy.
With improved keyword targeting comes higher click-through rates (CTRs), which means more potential customers will click on your ad.
4) Tailor Landing Pages and Offers According to User Searches
A simple but critical lesson. If your product is a high-end item, it doesn't make sense to advertise it using online ads if people are using search terms like inexpensive gifts. Similarly, you wouldn't want to target an expensive item using keywords like discounted apparel.
This type of digital marketing for manufacturers is geared toward tailoring advertising according to individual searches. That means you can craft landing pages and offers for individuals based on their query history.
5) Target Users Who Are Ready to Buy Right Now
You can reach users who are ready to buy right now through ads. These users searched for your product and clicked on your ad because they're prepared to make a purchase or want more information before making their final decision.
Because these people are ready to buy now, you have an opportunity to convert them into buyers. Even better, once they've converted into buyers once, you may be able to retarget them later with messages about related products or services.
Best of all, it doesn't cost much for manufacturers to run ads for their products.
6) Get Feedback on Your Ads With Call-only Campaigns
With call-only campaigns, you don't pay for clicks to your website; you only pay when someone calls your business. This method lets you set up your ads in minutes and test ad copy and other elements without spending money on clicks that might not be relevant to your product or service.
To do so, create your ads with call-only targeting, then enter different phone numbers that might be tied to customer interest (for example, 1-800 for questions about product installation or 541-200-3000 for sales leads).
7) Improve Product Knowledge Through Clicks and Searches
Even though you may be an expert on your product, consumers have never heard of it before. Let them know what makes your product unique, and provide all of them with additional information and resources to help you improve their experience.
After all, when they're satisfied customers, they'll likely become repeat purchasers.
Follow up with emails if a consumer clicks through to your website but leaves without completing a purchase right away. These emails should target the consumer so they can return to complete their transaction later.
The key is understanding what your consumers want to keep them coming back repeatedly.
8) Measure Performance Effectively with Analytics Tools
Google Ads offers many ways to analyze performance, but these tools aren't always enough to give you a clear picture. If you want more in-depth insight into how your ads perform, try analytics tools such as Google Analytics or Kissmetrics.
By pulling data from multiple sources, these tools offer a complete understanding than what you get in Google Ads marketing for manufacturing companies alone.
They can also help when you need to justify your budget or answer other questions about your account, and they make it easy to share insights with management and coworkers.
Best of all? Most are free and easy to use without hiring a manufacturing marketing agency.
9) Target Customers More Effectively Through Remarketing Lists for Search Ads (RLSA) & Customer Match
You may already be taking advantage of these two incredible features, but if you aren't, you should take note.
Remarketing lists for search ads (RLSA) & customer match allow you to advertise directly to your most recent customers, even after they've left your site.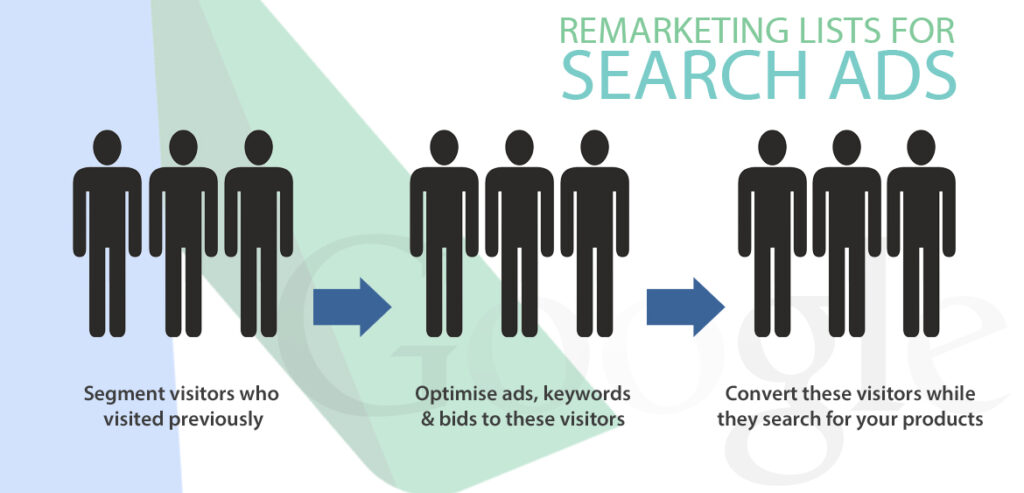 (Source: Internet Marketing Team)
Using a combination of RLSA and customer match, advertisers can serve highly relevant ads to specific audiences and control what content is delivered through remarketing campaigns.
Ramp Up Sales with Google Ads!
Google Ads are everywhere, and they're not going anywhere. So if you want to reach your target market with laser focus and get as many people as possible in front of your product, you may want to consider Google Ads as a cost-effective way.
Before diving into Google ads marketing for manufacturing companies, it's important to understand what type of campaign is right for you. We hope we've given you some ideas about determining where or if Google Ads is worth your time or money.
Are you looking to generate leads by using Pay-Per-Click advertising? You might be surprised just how easy it is to use a professional manufacturing marketing agency like Flying V Group.
Give us a call today and find out why we're one of Orange County's leading providers in PPC marketing in California.