Reading Time:
8
minutes
How can businesses leverage Twitter ad formats to reach more customers and accelerate their growth?
Since it evolved in 2006, Twitter has developed greatly and is currently a viable tool for the growth of businesses worldwide.
It is undoubtedly a result of over 450 million active users, an atmosphere that promotes interaction with a larger community of people than other social media platforms, and the use of Twitter Ads among 237.8 million monetizable daily active users.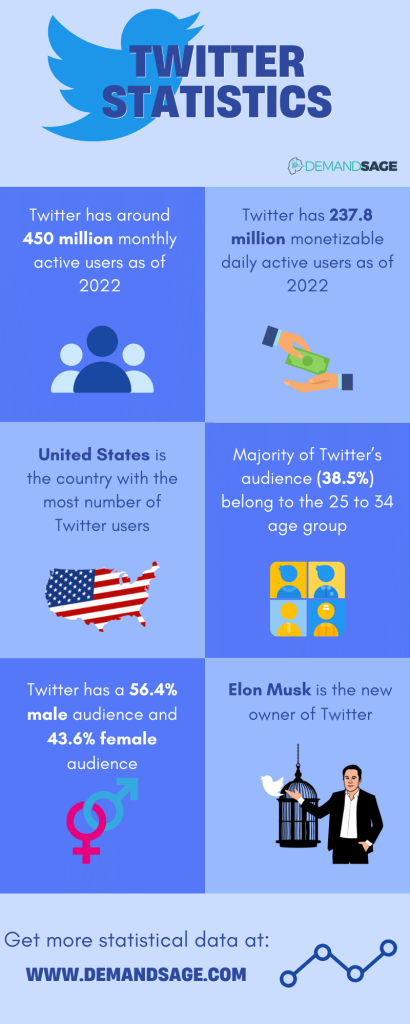 (Source: Demand Sage)
If you're looking to promote your brand, increase your clientele or grow your business in our ever-evolving world, it is pertinent to explore the use of Twitter Ads.
This holistic guide addresses frequently asked questions regarding the several Twitter ad formats by touching the areas outlined below:
What are Twitter Ads?
Types of Twitter Ads.
Benefits of Twitter Ads for B2B companies.
How to set up a Winning Twitter Ads campaign.
Tips for running a successful Twitter Ads campaign.
Let's begin!
What are Twitter Ads?
Twitter Ads is a form of advertising that allows users to promote their products and services to millions of Twitter subscribers and users of other partnering social media platforms.
It is a digital marketing method that uses texts, images, or Twitter supported video formats to give information, sell ideas, or promote one's brand to its target audience.
Twitter campaigns enhance brand and business awareness and promotion among a target audience. They provide the leverage and a unique opportunity for businesses and brand owners or promoters to use various ads to design campaign objectives that align with their businesses goals and objectives.
But why should businesses utilize Twitter ads?
The list of the enormous benefits of Twitter Ads is inexhaustible. However, when in doubt, here are some reasons you should utilize Twitter ads for your business:
Twitter has a massive network of users.
Twitter Ads are cost-effective and cheap.
It helps you create Twitter campaigns to target people who have used particular keywords.
You can easily get followers by reaching people who follow influencers in your niche.
You can easily identify business goals, state them clearly, and achieve them.
It is easy to measure the progress of Twitter Ads using analytics.
Twitter's mobile version promotes great viewing and easy accessibility to the platform as more people use their mobile phones rather than their computers.
Types of Twitter Advertising
There are various Twitter ad formats to promote brands and meet a target audience in the pursuit of business growth and expansion. The choice of Twitter ad formats depends largely on the kind of service or business and the user's preference.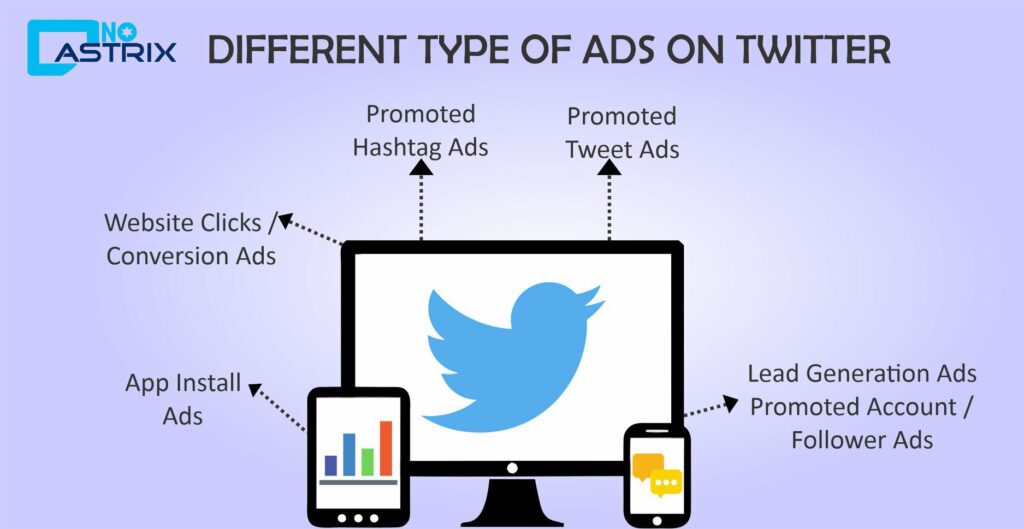 (Source: Noastrix on Facebook)
Generally, Twitter Ads are displayed in these forms:
1. Promoted Tweets/Ads
These are ordinary tweets paid for by advertisers who want their posts to reach a wider group of users or who desire to engage their existing followers.
Promoted Twitter Ads include –
Text Ads: You can showcase your brand or product with a (simple) text.
Image Ads: You can include a single photo in your tweet.
Video Ads: You can highlight your products and services via short video formats for Twitter. But what video formats does Twitter support?
It should have an aspect ratio of 1:1, a maximum file size of 512MB, a maximum length of 140 seconds, and a minimum of 0.5 seconds. The best video formats for Twitter should be MOV and MP4.
Moment Ads: You can have a collection of tweets that allows you to post a longer story about your brand or products.
Carousel Ads: It allows you to share about six images or videos to advertise multiple products.
Twitter Live Ads: This advert form allows you to broadcast live in Twitter supported video formats and reach a wider audience. It also provides you the unique opportunity to talk directly with clients and potential clients about your brand.
2. Promoted Accounts (Twitter Follower Ads)
These Twitter accounts belong to brands and have been paid for by advertisers to get more exposure to followers. These Twitter ad formats appear in timelines, who to follow, and search results on Twitter.
Promoted accounts are noticed by most followers, with over 84% noticing them and 68% taking immediate action by following brands using such accounts.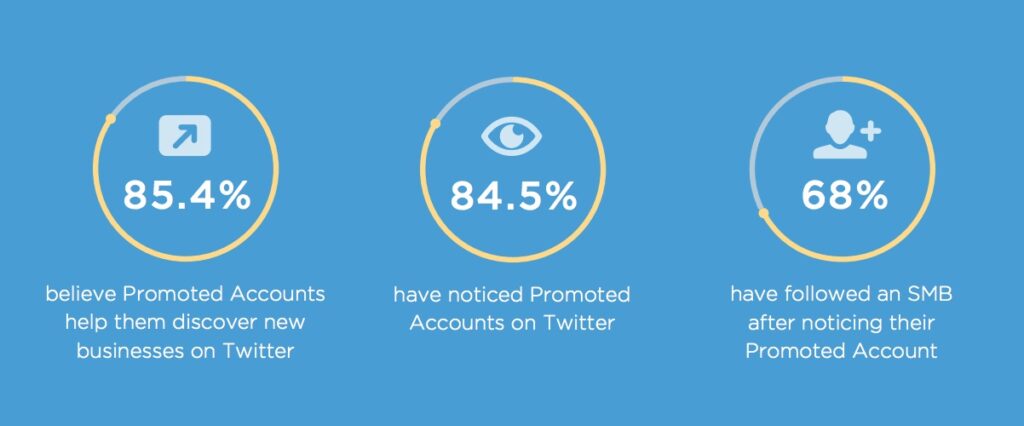 (Source: Venture Harbour)
3. Promoted Trends
Twitter promoted trends are hashtags paid for by advertisers to promote a brand or specific topics, and it usually appears at the top of Twitter's trending topics lists for 24 hours.
These Twitter promoted trends help brands stand out but are for those willing to pay for them as it comes with a high price tag.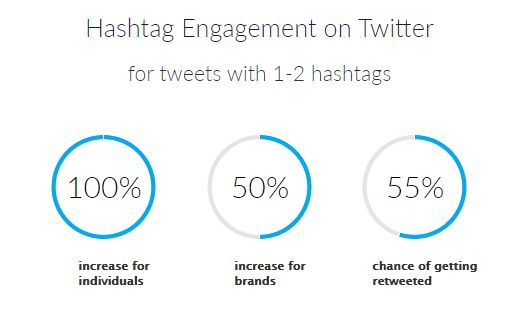 (Source: SocialPilot)
Examples of Twitter Promoted Trends include –
Trend Takeover (Trending Topics): This highlights your brand and popular trending topics.
Timeline Takeover: It's an ad that appears at the top of a user's timeline as the first ad when the users open their Twitter account for the first time in the day.
8 Benefits of Twitter Ads for B2B Companies
The emergence of the ever-exciting and dynamic world of Twitter has, without a doubt, brought a new dimension to the ever-changing world of social media in general and its users in particular.
Established businesses, new businesses, big brands, emerging brands, celebrities, local and international business people, and B2B Marketers by providing them the opportunity to create and share ideas while directly engaging and conversing with their target audience anywhere in the world.
A high number of B2B Marketers use Twitter to facilitate business growth. Studies show that 75% of B2B companies use Twitter for marketing.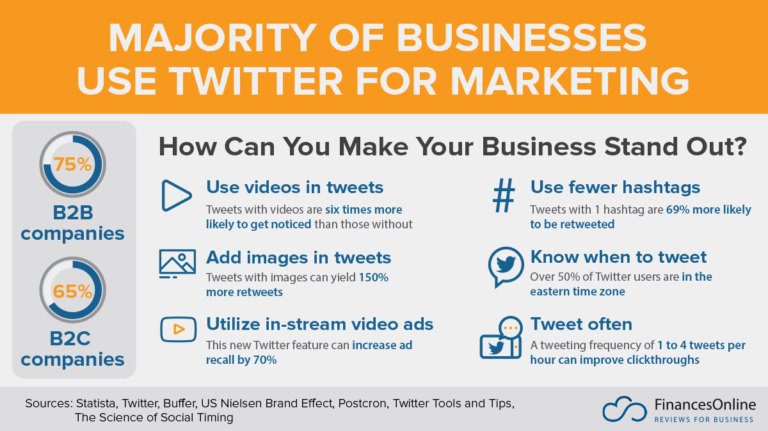 (Source: Finances Online)
But what makes Twitter Ads a viable tool for B2B marketers? We provide you with answers here;
1. They Boost Engagement with Brand Influencers.
Twitter Ads create room for B2B Marketers to meet with and engage brand influencers. It is made possible through filtering and sorting through millions of users via Twitter Search and other third-party tools such as LinkedIn Advanced Search.
2. They Increase Brand Visibility.
It provides B2B Marketers the opportunity to get noticed by prospective clients.
The unique opportunity provided by Twitter Ads to its B2B marketers to participate in conversations gives them a chance to get noticed and engage prospective clients at on-one or group levels to make positive and lasting impressions on them.
3. They Enhance Customer Engagement.
It allows people (B2B marketers) to engage customers directly and prospective customers and provide first-hand answers to their questions.
Twitter has proven to be a platform for asking and providing answers. It is where people involved in diverse businesses meet with their clients and prospective ones in the quest to deliver good customer service, be it on products or services.
4. They Help to Foster an Understanding of Customers' Demands.
It provides B2B marketers the opportunity to understand their audience and demands. The constant interaction between B2B marketers and their customers helps them to understand their customers and trends on Twitter which will, in turn, help them improve service delivery.
Using the tool Twitter Analytics, for instance, helps marketers know the preferred content of their customers and the day and time they are most available, which then inform when to post.
5. They Help to Build Brand Awareness.
Twitter Ads help users create awareness about their products and services by consistently offering information to users across the globe.
They help B2B marketers attract new customers through sharing good content on the one hand and help customers develop a stronger connection and loyalty to the company on the other.
6. They Broaden the Promotion of Goods and Services.
Twitter ads B2B Marketers promote goods and services on a broader scale without directly meeting their customers.
These ads help users spread information about their goods and services to promote their brands across the globe without the hassle of making journeys. It can be done through audio, visual, or even Twitter supported video formats.
7. They Help to Showcase Expertise.
These ads also provide marketers the rare opportunity to show their expertise through the instrumentality of videos without physically meeting them. It helps them sell their ideas, products, or services and tell clients why they are better than their competitors.
8. They Increase Traffic.
Another major benefit of Twitter ads is that they help users pull traffic to their websites through referrals and constant sharing of posts which boosts visibility.
How to Set Up a Winning Twitter Ads Campaign
Twitter is a platform you can use to achieve brand awareness and sales, but because tweets are limited in length, your tweets could easily disappear within a few minutes of posting.
Hence, creating Twitter campaigns will help promote the goals of your business more than ordinary tweets.
When setting up a Twitter Ads campaign, one key thing to consider is to have set objectives and goals, such as –
Increasing followers.
Building an audience for your account.
Expanding brand awareness.
Generating demand and driving sales.
Meanwhile, setting up a good Tweeter Ads campaign can look vague to newbies on the platform, but the truth is, it is not rocket science. These seven steps will help you navigate your way easily.
Create a Twitter Ads Account by going to ads.twitter.com and signing up for an account.
Select the country in whose currency you would like to be billed and the time zone you want your campaign results to show up.
Choose your campaign objective by what you desire to achieve with your Twitter Ads, the cost of the ads, and your budget.
Enter campaign details, including campaign name, budget, schedule, and payment details.
Set your ad group by setting the period you want the ad to run and setting your budget.
Define your target audience by providing specifics such as location, age, gender, device, interests, and language to target your ads appropriately.
Create your ads or use existing tweets as an ad and select where Ads should appear.
Launch your campaign. It should be done after reviewing all the options in the previous steps and if satisfied, click "Launch campaign" and voilà!
Tips for Running a Successful Twitter Ads Campaign
Everything and anything worthwhile has its secrets which make it work. Thus, running a successful Twitter Ads campaign doesn't stop at setting up a Twitter Ads campaign.
While setting up your Twitter Ads campaign is a good head start, it does not guarantee automatic success on the platform.
You can take the following steps to have a smoother, more successful, and more rewarding sail on the platform;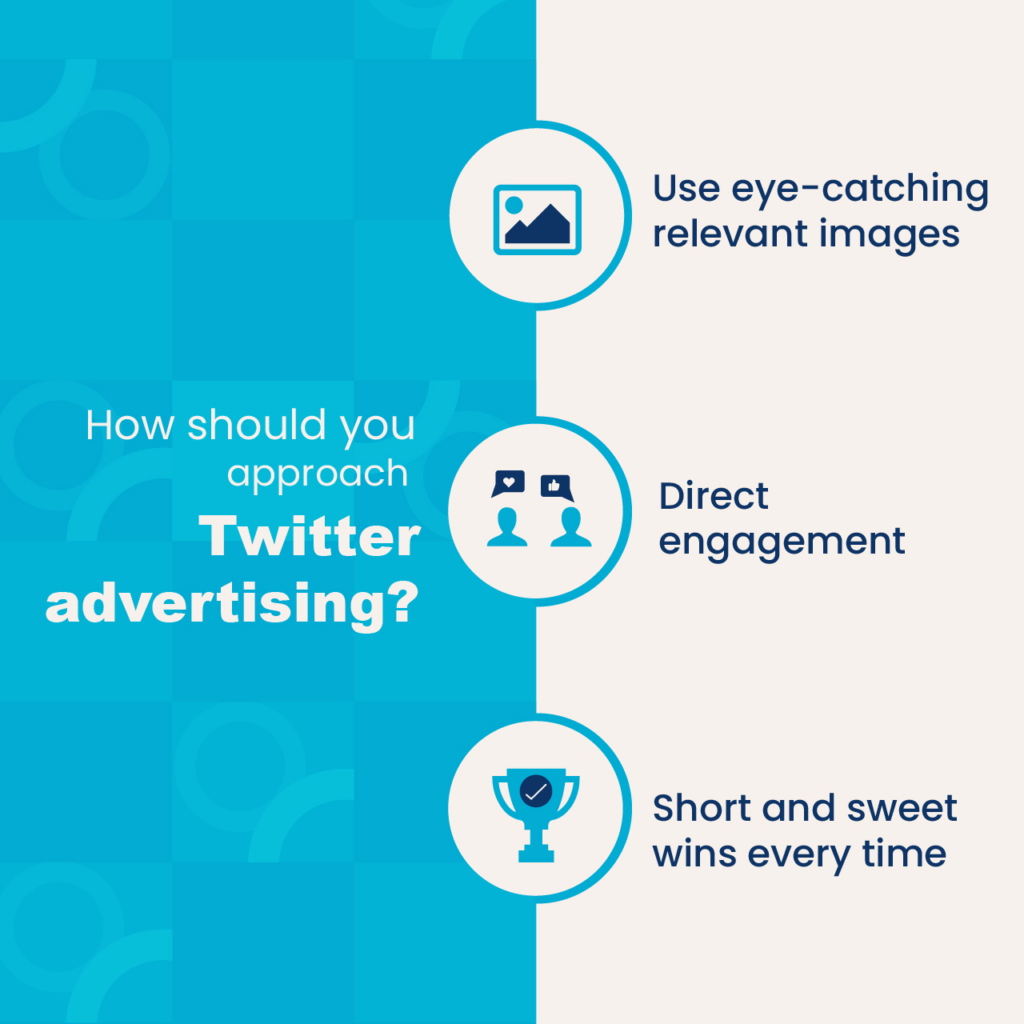 (Source: Picmaker)
1. Clearly define your brand.
State what you do so users can instantly tell what you do when they scroll through tweets without wasting much time.
2. Use attractive images and short videos.
Use attractive (eye-catching) images and short videos because pictures capture users' attention and form impressions that may linger for a long time faster than words.
3. Avoid lengthy write-ups.
Text ads should be concise and engaging. Your text ad post size should not exceed 280 characters. Keep it short and engaging.
4. Use symbols and hashtags wisely.
Carefully use symbols and figures to reduce the length of the text and draw attention to your Ads. Use hashtags sparingly in Ads, as users may find them distracting.
5. Incorporate calls-to-action (CTAs).
Your text and video formats for Twitter ads should always end in a way that encourages users to take certain actions regarding your post. We've already answered the question, "what video formats does Twitter support?" so you can move on to incorporate CTAs in your Twitter ads.
For example, ask viewers to follow your account. You need to give them the impression that interests them in what you do or offer.
6. Engage with your audience.
Be readily available to respond to questions and provide timely and clear guides on posts about your brand or services.
7. Stay up-to-date on Twitter trends.
Always keep track of your account to be up to date on happenings and trends to get ideas on what works and what step(s) to take or avoid in your campaign. Remember, Twitter is an ever-changing world!
Take Advantage of the Massive Opportunity Twitter Ads Offer!
In the digital world we live in today, Twitter is an invaluable platform for businesses to advertise their products and services through the instrumentality of Twitter Ads.
What's more?  This offer comes with ease in choosing the easiest, most affordable, and most convenient options from the various types of Ads.
However, one of the most daunting challenges for digital marketers is deciding which Twitter ad formats to focus on first and how to juggle time between different formats.
That's where we come in!
Flying V Group offers customized social media services catering directly to your needs. Our expert team tackles the tough tasks on your behalf, so you don't have to worry about which Twitter ad formats might work best for your business growth. Contact us today!