Reading Time:
5
minutes
How the idea of turning their potential into a full-fledged digital marketing agency – Flying V Group, worked in favor of twin American marketing enthusiasts is history now. Get a glimpse of their success journey by Robb Fahrion – the Co-Founder and Partner of Flying V Group Digital Marketing
Company. 
As an American digital marketing firm, Flying V Group was established in 2016, taking a comprehensive approach to promoting their clients' businesses to the best of their digital abilities. It understands what its clients need and delivers the most amazing services to ensure the imminent success of a brand or
company.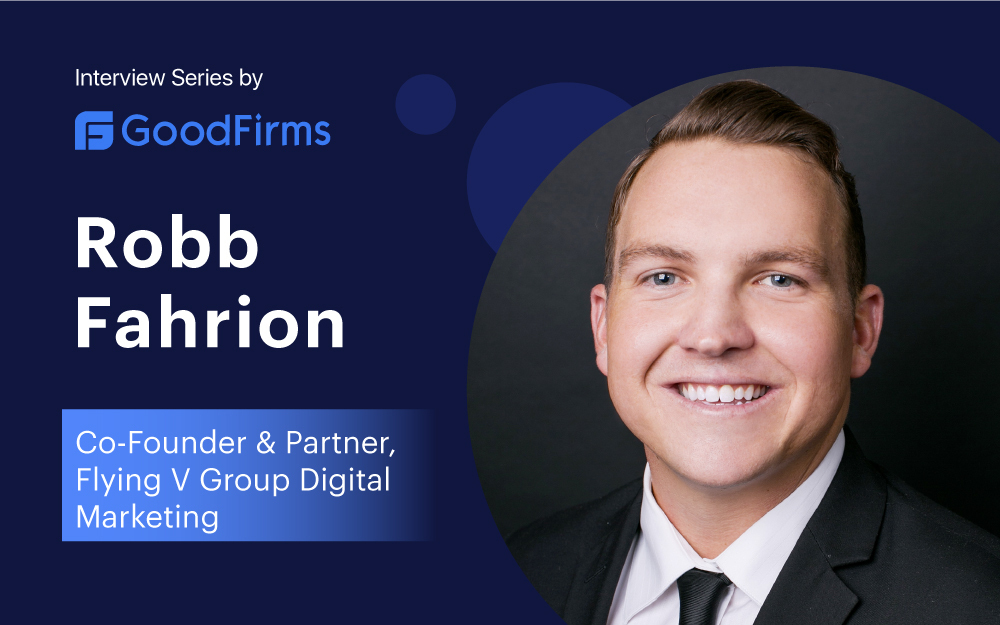 Flying V Group comes with a growth-centric approach to understanding, developing, and executing exceptional digital marketing strategies for its clients. The company's main goal is to build a strong digital presence for their clients that drives their business growth through prominent online channels.
In an interview with GoodFirms, Robb Fahrion, Co-Founder & Partner of Flying V Group Digital Marketing discussed how the company got established and what his role is.
Robb shared that he and his brother were in the corporate jobs and were quite unsatisfied with their then roles. Therefore, they decided to co-establish Flying V Group Digital Marketing company in 2016. The company was not a perfectly planned venture, but a need to help other businesses encouraged the twin brothers to create their own specialized venture. From assisting a mentor in marketing his side project to running a full-fledged digital marketing agency, Flying V Group has seen a lot of ups and downs and now has reached the stage of providing marketing support to the professional service firms.
He affirmed that the company is focused on revenue generation business for its clients, with headquarters in Orange County, CA, and other offices in Phoenix, AZ. His role within the organization is to monitor all aspects of the processes and functions in the company to ensure smooth functionality, absolute customer satisfaction, and maintenance of excellent performance standards. He strategically plans the client projects along with assuring proper marketing and advertising solutions based on clients' needs. And today, they support businesses from financial, medical, real estate, insurance, and law sectors being their additional marketing and advertising department.
While asked about the business model of the company, Robb clarified that the entire team of the company except their writers and video production team, work in-house including design and development professionals, SEO marketers, link building, paid media, social media marketers and more. The company connects with subject matter experts to acquire specialized content pieces and share hands with extremely talented video production agencies for video creation.
Robb confirmed that Flying V Group is fully focused on revenue and lead generation. Quality service and excellent performance makes it different from other companies. Dedicated team members put their 100% efforts to obtain absolute customer satisfaction that helps in generating true ROI for the company. As he said that the company generally works with the professional services firms from different industries, it also takes on new clients from diverse verticals if there comes a high-growth opportunity with the clients. "Over 90% of our clients work with us for over 12 months, which speaks to our success in retention and performance", he adds.
Among the most requested services, Flying V Group offers monthly digital marketing and advertising services, including link building, search engine optimization, paid search ads, paid social ads, social media marketing, blog writing, content marketing, graphic design, etc.
Robb claims that the company proudly owns 99% of the customer satisfaction rate based on their client reviews and ratings. The average customer engagement period in the company is 18 months and more than 90% of the customers in the company are engaged for more than 12 months. He introduced that Robert Delbuono, the Senior Director of Client Success plays a major role to cater the clients' needs and requirements. His contribution is incredible to ensure their clients are satisfied and have everything that they need. He said, Robert communicates directly with the clients and makes sure that the team performs up to set standards.
Robb proudly affirms that Flying V Group follows an amazing support system through various departments in the company. The majority of support processes pass through the Director of Client Success through to our Senior Specialists and then to our Specialists based on the support query. The company is growing as a promising digital marketing company in California in the GoodFirms ranking list and a client review displayed below is proof of how Flying V Group treats its clients and is appreciated and recognized for its efforts.

Flying V Group uses a retainer payment model most often, as Robb said. However, they are open for all opportunities that offer pay-per-performance. The company asks for at least six to twelve months commitment from their clients and the average monthly price charged per project is over $5K. The minimum price range charged by the company is $5K and maximum range is $50K/month.
Robb concludes the interview on a positive note sharing about the growth of the company in near future. He claims, "Flying V Group will be one of the premier providers of digital marketing and advertising services in the entire United States."
The detailed interview can be glanced at Flying V Group's company profile page at GoodFirms.
About GoodFirms
Washington, D.C.-based GoodFirms is a maverick B2B research and reviews firm that aligns its efforts in finding web development and web design service agencies delivering unparalleled services to its clients. GoodFirms' extensive research process ranks the companies, boosts their online reputation, and helps service seekers pick the right technology partner that meets their business needs.
About the Author
Prepared by Anna Stark, a Content Writer at GoodFirms, who bridges the gap between service seekers and service providers. Anna's dominant role lingers to form every company's achievement and critical attributes into words. She strongly believes in the charm of words and equips new approaches that work, always with concepts.
SHARE THIS POST
Thank you so much for reading Flying V Group Digital Marketing Company Comprehensively Promotes Your Digital Business Online: GoodFirms . We really appreciate it! If you have any questions about our article, or can suggest any other topics you think we should explore, feel free to let us know.
Be sure to sign-up for our newsletter to receive monthly emails on all of the latest trends and happenings in the digital marketing space. You will also receive our FREE E-Book with the Amazing Marketing Tools for Powerful Business Growth. Sign-up below!
Also, if you received some value out of this article, please share with your friends or colleagues, or leave a comment/question below. We really appreciate you reading our blog and every share/comment means the world to us and allows us to continue producing valuable tools to help you grow your business!