Reading Time:
10
minutes
Do you want a real chance to reach your customer base?
The number of monthly active users on Facebook grew to almost 3 billion in the first quarter of 2022.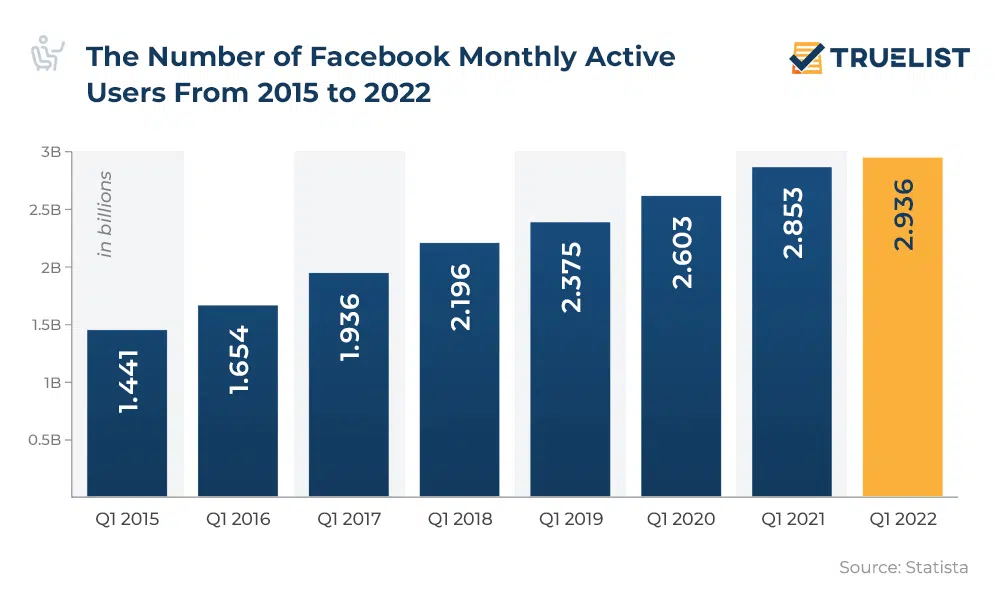 (Source: TrueList)
Chances are that if you've got a business and you're even remotely plugged in, you've heard something about Facebook marketing. Maybe an acquaintance told you to try it out, or perhaps you read an article that inspired your interest.
Knowing what a Facebook marketing agency does can help determine if it will be right for your business.
What exactly are they, and what do they do? Who should use them? How much do they cost?
This article will answer these questions, and more so you have all you need to know about the best Facebook ad agencies at your fingertips.
We'll be exploring the following headings:
What is a Facebook Marketing Agency, and what do they do?
How to choose the right Facebook Marketing Agency for your business
The 9 benefits of using a Facebook Marketing Agency
8 Things to look for when choosing a Facebook Marketing Agency
How to work with a Facebook Marketing Agency
The cost of using a Facebook Marketing Agency in the US
Read on to learn more!
What Is a Facebook Marketing Agency and What Do They Do?
If you haven't heard of Facebook marketing agencies, you're not alone!
With social media advertising becoming one of the most powerful tools in any business's marketing arsenal, these firms are poised to play an increasingly significant role in businesses, large and small.
The best way to define a Facebook Marketing Agency is that they are a company that has been trained in marketing, specifically on the social media site Facebook. It is a specialized business that focuses on using the social media platform to generate leads and, ultimately, sales.
They provide this service by creating ads for businesses, monitoring the performance of the ads, analyzing data, and interpreting the results to give their clients a marketing strategy. They also advise on how to use marketing channels like Facebook and Instagram.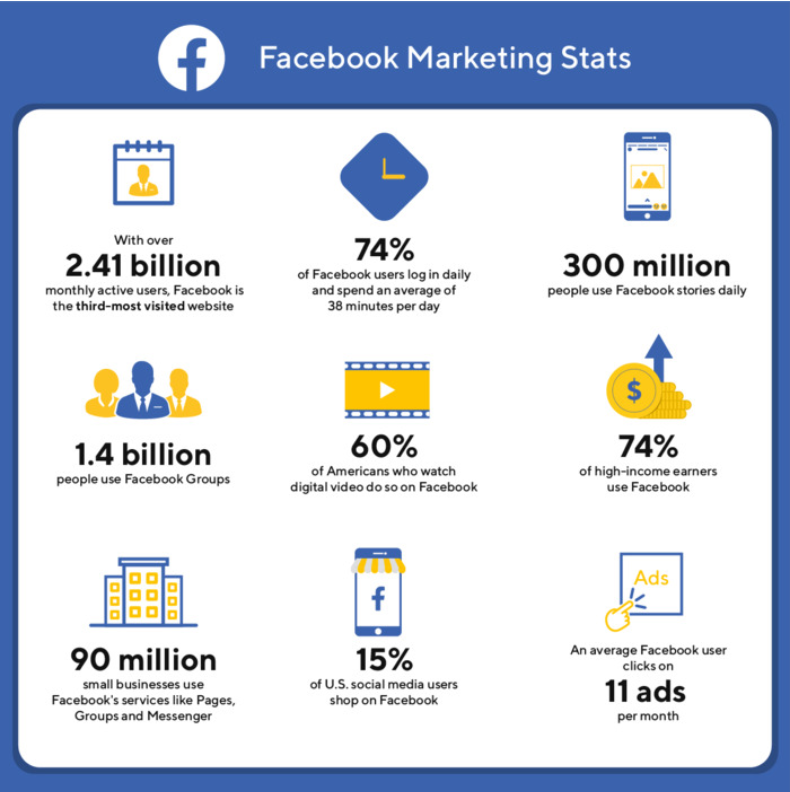 (Source: Up Reports)
As well as being excellent at promoting brands, the best Facebook ad agencies also have skills in crisis management with real-time tools that you can use in such circumstances. They will help you plan, create, distribute, and measure your social media campaigns.
What do they do?
You can expect to receive a wide variety of services, including social media advertising, marketing strategy consulting, content creation, and more. So whether you're looking to grow your audience or take your brand in a new direction, the best Facebook ad agencies have the resources you need.
How to Choose the Right Facebook Marketing Agency for Your Business
With the best Facebook advertising agency, you can reach customers and drive sales that might otherwise have gone to your competitors.
But how do you choose the best Facebook marketing agency? Follow these steps to get started.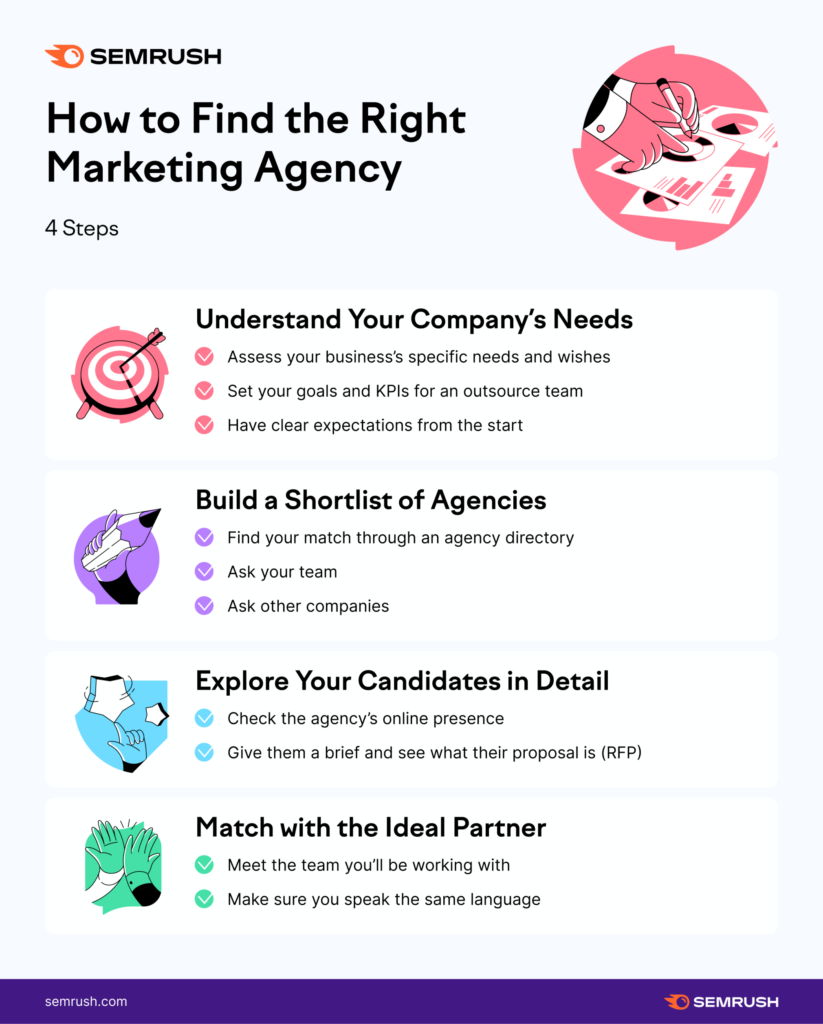 (Source: Semrush)
Step 1: Do Some Preliminary Research.
Doing some preliminary research before you start contacting agencies is important. First, get a sense of what they do, how they work, and who they work with. It will help you understand if their style is a good fit for your business.
Step 2: Set up Conversations with Potential Agencies.
If you're looking to hire a Facebook marketing agency for small businesses, you must set up conversations with potential agencies. By doing this, you will get a feel for the company and see if it is aligned with your values and goals.
Step 3: Have a Face-to-face Meeting.
If you must determine what type of agency is best for your business, it is important to have a face-to-face meeting.
Face-to-face meetings are important because they allow you and the agency to understand each other's needs and desires better. They also allow you to see how the company functions daily.
Once these face-to-face meetings occur, it will be easier for both parties to decide whether or not the two will work well together in branding and strategy design.
Step 4: Select a Few Agencies for In-depth Analysis
Selecting a few agencies for in-depth analysis is important because it will help narrow your list to those most qualified to work with your company.
You want to ensure that each agency has the experience necessary to provide you with a cohesive and comprehensive marketing plan. In addition, these agencies should be able to offer you competitive rates and a range of services that fit within your budget.
Step 5: Make a Decision.
It can be difficult to decide on the best Facebook marketing agency for your business, but it is important. You don't want to spend time and money with an agency that isn't a good fit.
Step 6: Implement.
Implementing a Facebook advertising agency's marketing plan is an important part of any campaign.
It is important to implement their ideas so that you can benefit from what they have learned from working with other clients and find new opportunities in your own business that you would never have thought of.
Step 7: Monitor Results and Engage where Needed.
You need to be proactive when it comes to your marketing campaign. Monitoring results and engaging where needed is an important step in a Facebook marketing strategy because you want to ensure that your message reaches the right people and that they respond well to it.
(Source: Lyfe)
The 7 Benefits of Using a Facebook Marketing Agency
As someone who uses social media frequently, you've undoubtedly noticed the recent surge in business pages on sites like Facebook and Twitter.
Many businesses hire a Facebook advertising agency to do the work for them. Here are seven of the top benefits of using such an agency.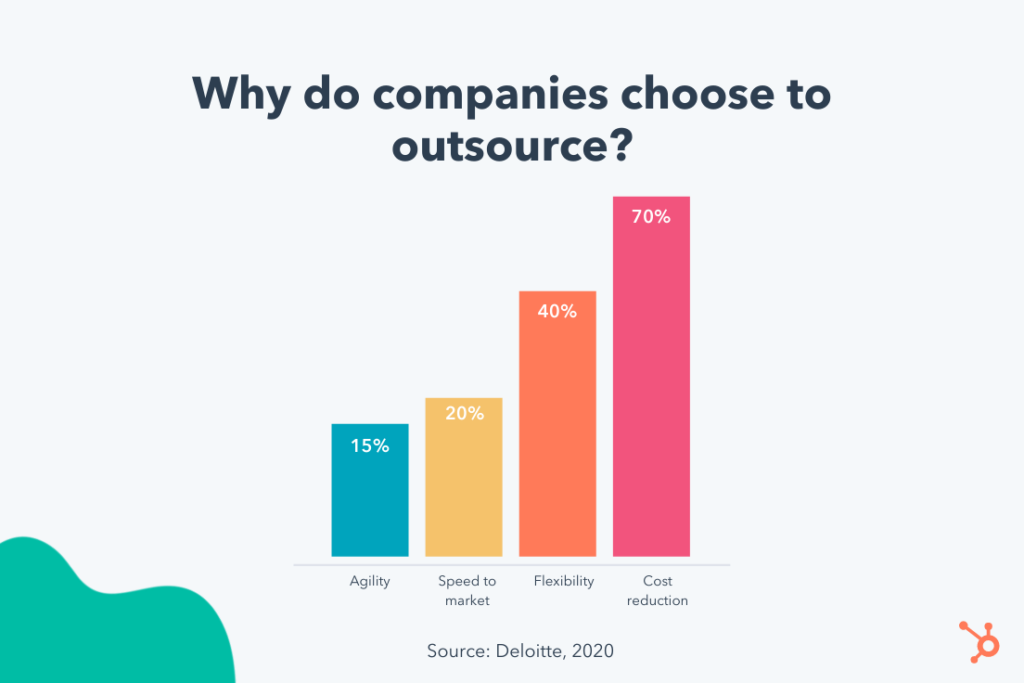 (Source: HubSpot)
Save Time:
One of the reasons hiring a Facebook marketing agency is such a good idea is that they can do all the work for you, so you don't have to. As a result, it saves time and makes it possible for you to focus on other things.
Save money:
Hiring a Facebook marketing agency will help you to save money in many ways.
First, the best Facebook advertising agency will take care of all the marketing and advertising on social media sites like Facebook, Twitter, and YouTube. So it saves you hours of work every day while still reaching your target audience.
Second, they can provide a reliable ROI (return on investment) that helps track how much money is being made.
Get Help from Expert Marketers:
Hiring a Facebook marketing agency will help you to get help from expert marketers and get the most out of your Facebook ads campaign.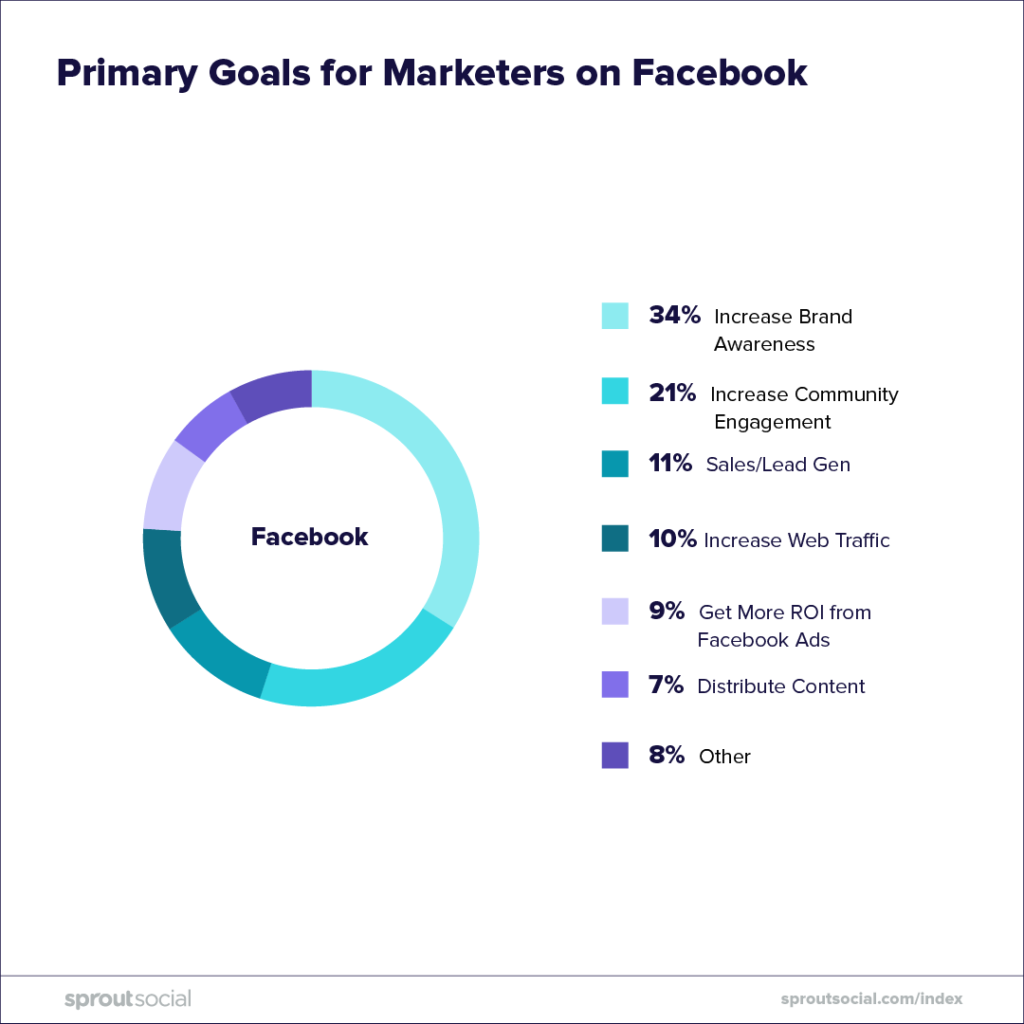 (Source: Sprout Social)
Hiring a Facebook advertising agency for small businesses will allow you to work with a team that knows what it takes to run a successful Facebook marketing campaign and do it efficiently, saving you time and money.
Plus, the best Facebook ad agencies have the resources to take care of all aspects of the campaign, from creative design to tracking results, so you don't have to worry about anything.
More Reach:
With over 2.934 billion monthly active users and a +1.2% growth in global audience reach between April and July 2022, you shouldn't ignore the Facebook platform in your marketing strategy.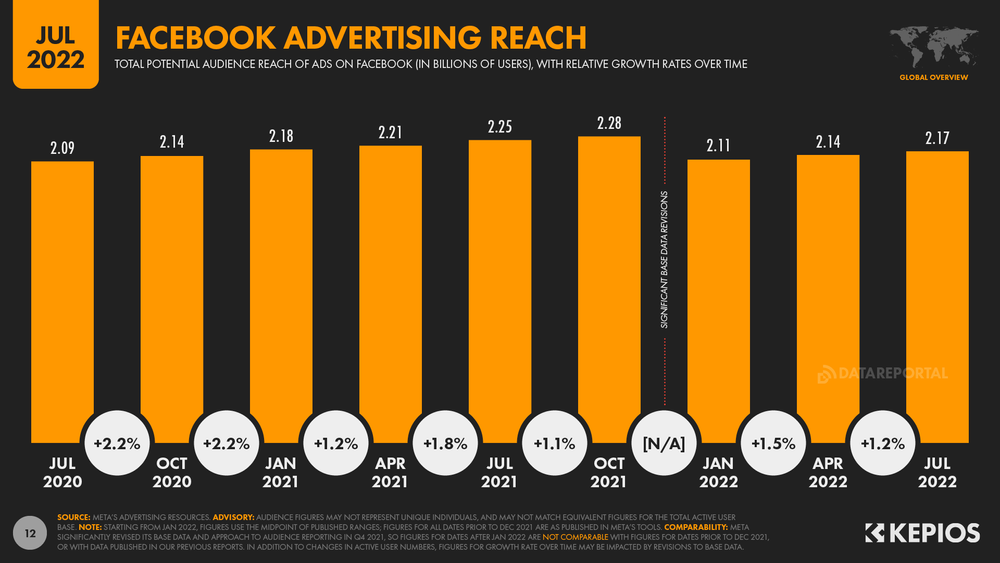 (Source: Data Reportal)
With so many people worldwide using this social media site, you must utilize it to its fullest potential to get your brand in front of as many people as possible.
A Facebook marketing agency for small businesses can help you do just that by generating more reach for your business.
Better Engagement:
Marketing on Facebook has been one of small businesses' most effective marketing methods.
With so many people using this platform, getting the word out about your business and what you have to offer is important. Hiring a Facebook advertising agency for small businesses will put you in contact with experts who know how to ensure your posts get seen by the right people at the right time.
The result is better engagement and more customers.
Professional Results:
You don't need to be an expert marketer to make your business successful. You just need the right tools.
A Facebook marketing agency will provide you with the expertise, insight, and experience needed to get your company trending on Facebook, Instagram, and even WhatsApp.
Meet your Digital Marketing Needs:
A Facebook marketing agency for small businesses will help you attract and convert your target audience. They're a one-stop shop for all your digital marketing needs: social media management, web design, SEO, and email marketing. They'll take care of everything, so you don't have to.
8 Things to Look for When Choosing a Facebook Marketing Agency
Choosing an agency to work with can be nerve-wracking, even more so when that agency is responsible for promoting your company on one of the largest social networking sites in the world – Facebook.
Whether you're just starting or have been in business for years, choosing the right agency can make all the difference in your business's growth and overall success.
Many agencies try to take advantage of small business owners and use shoddy advertising practices to increase profits at the expense of their client's success.
Here are eight things to consider when choosing your next Facebook marketing agency.
1) Dedication:
Dedication is one of the most important factors when choosing an agency. If they're not dedicated, they won't be able to give you the best service and results.
Also, their staff should be committed. They should have a strong work ethic, with staff working long hours and willing to go above and beyond what's required.
2) Expertise:
Expertise is an important factor to consider if you're looking for a Facebook marketing agency for small businesses. Your marketing agency should know the ins and outs of Facebook's algorithm and how to work with it to your advantage.
In addition, you'll want to ensure that they are well-versed in the various types of advertising on Facebook, such as Dynamic Ads and Video Ads.
3) Education, Training, and Resources:
Education, training, and resources should be one of your top considerations when looking at potential agencies. You want an agency that will be able to provide you with the best possible service, which will require them to have the proper education and training.
Plus, you want an agency with access to powerful software and analytics tools that can help you track your progress and performance over time.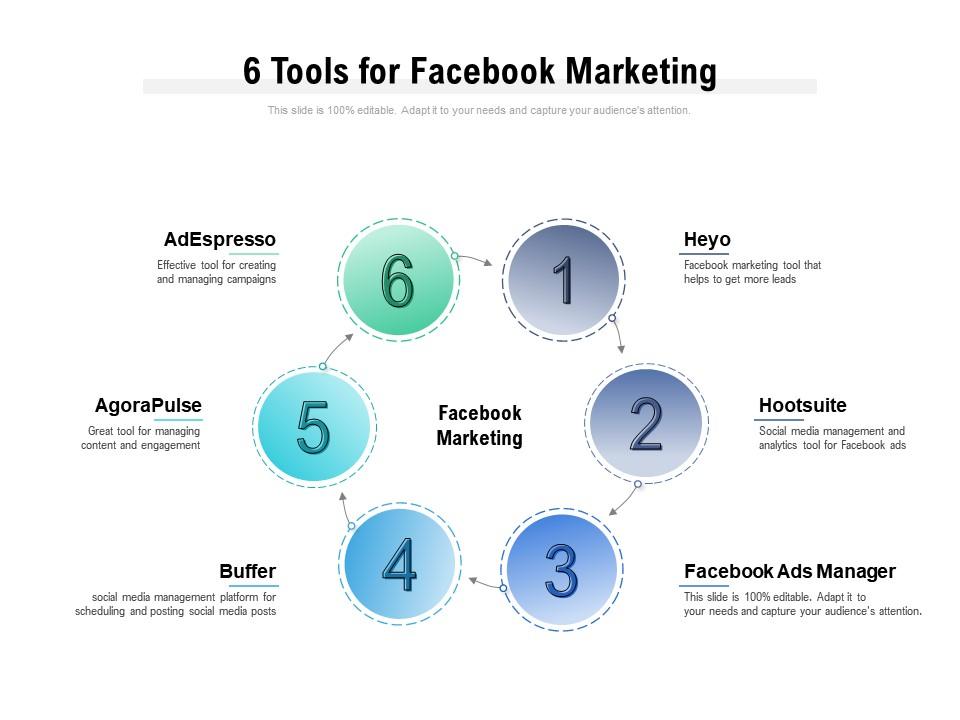 (Source: Slide Team)
4) Reviews:
You should always consider reviews when picking an agency. If you don't, you'll likely be disappointed with the results. There are many reasons why we recommend this.
Reviews are one of the best ways to gauge the quality of a business and its customer service. They provide valuable feedback and help you decide if that company is right for you.
5) Costs:
Always consider the costs of working with an agency before you hire them. Depending on the size and scope of your project, it may be more cost-effective to work with a freelancer or do some legwork yourself.
6) Support:
When looking for a Facebook marketing agency, you need to consider support. The best way to choose an agency is by considering how often they will be available for consultation.
Support is extremely important because it affects whether you can get your questions answered promptly. If the company doesn't offer 24/7 support, you may have to wait days or weeks before someone contacts you with answers.
7) Value for Money:
You should consider value for money when choosing your marketing agency. Sometimes you may be tempted to choose the cheapest option, but this can cost you more in the long run because of subpar work.
Value for money is important because it helps you get the best bang for your buck. It's about getting what you pay for and not paying for unnecessary features you don't need.
8) Portfolio:
Check their portfolio! The best way to know if a company is the right one for you is by looking at the work they've done in the past.
Do they have experience doing what you want them to do?
Have they worked with other companies that are similar to yours?
What projects have they worked on before?
Have they been successful in previous campaigns, or are there any reviews from satisfied clients?
A good marketing agency should have examples of past work on display. If they've had project successes or feedback from past clients, this would suggest they'll be able to dedicate themselves to your campaign.
How to Work with a Facebook Marketing Agency
After choosing a Facebook Marketing Agency, the best way to work with them is to provide them with as much detail as possible about your business, including the following information:
What you want to achieve through social media marketing;
How much money do you have available to spend on Facebook advertising?
What time of day are your customers most active online? (This information will help determine what content should be posted.)
Who your competition is and how their Facebook page compares to yours.
The more knowledge the agency has about your business, the better it can tailor its services to meet your needs. Without this vital information, the agency may end up wasting your budget by buying ads that aren't relevant to your business or posting content at the wrong times.
Providing these details upfront helps prevent these issues from occurring so that you can get maximum ROI from your Facebook marketing campaign.
The Cost of Using a Facebook Marketing Agency in the US
Now, let's delve into Facebook advertising agency pricing.
Facebook advertising agency pricing will vary depending on the services they offer. However, typical rates are $136.69 per hour on average.
In addition to these fees, some agencies charge ad spend commissions.
Here's a Facebook Marketing Agency That's Right for You!
It is common for social media agencies to advertise themselves as experts when they're not. We've seen some agencies overpromise and underdeliver. You will be hard-pressed to find agencies that don't try to make customers feel unsafe or exploit their anxieties to coerce them into paying more.
That's why we provide you with a FREE consultation before starting a campaign with us. We give each client enough of our attention so that we may personalize a strategy for their needs and budget.
If you're looking for a Facebook marketing agency with integrity, experience, expertise, and transparent pricing, look no further than Flying V Group. Contact us today!