Reading Time:
11
minutes
How do you decide on a marketing agency for Instagram?
According to the 2022 Social Media Industry Benchmark Report, the average engagement rate across all industries on Instagram is 0.67%, which is higher than that of Facebook or Twitter.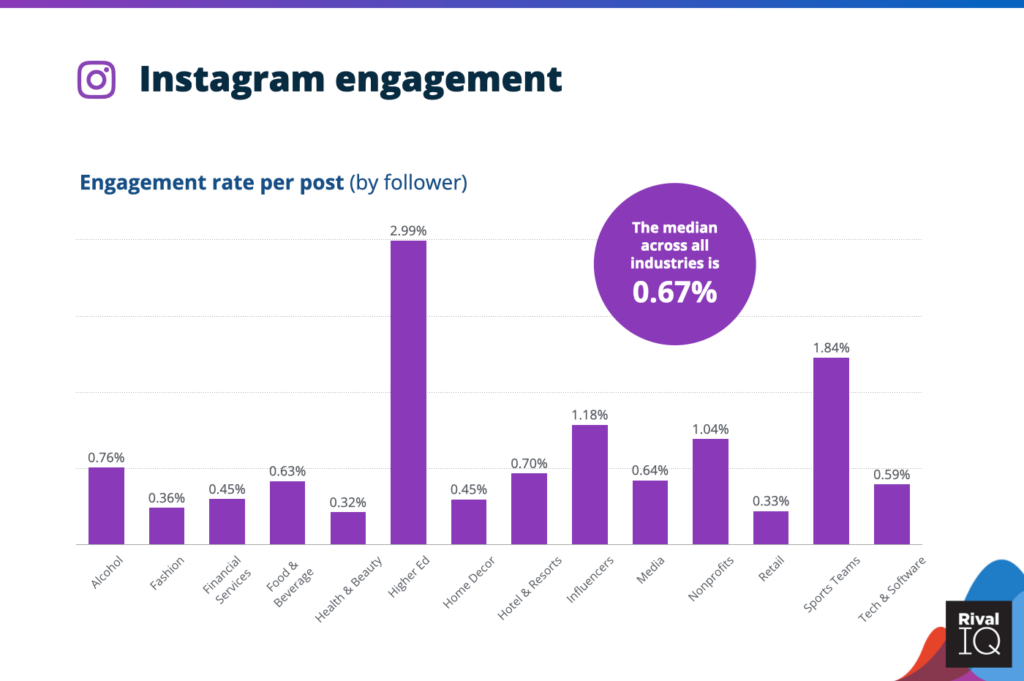 (Source: RivalIQ)
Instagram marketing agencies are on the rise, and with good reason, the photo-sharing social media platform has given marketers the ability to reach millions of people in a way that was never possible before.
If you're thinking of hiring an Instagram marketing agency to boost your social media presence, it can be useful to learn what services they can offer.
This guide covers the basics of what a marketing agency for Instagram does and what it can do to improve your business strategy on this popular platform.
We'll look into the following:
What Is an Instagram Marketing Agency and What Do They Do?
How to Find the Right Instagram Marketing Agency for Your Business
The 6 Benefits of Using an Instagram Marketing Agency
10 Things to Look for When Choosing an Instagram Marketing Agency
How Much Does It Cost to Hire a US Instagram Marketing Agency?
9 Tips for Working With an Instagram Marketing Agency
Let's dive in!
What Is an Instagram Marketing Agency and What Do They Do? 
Recent statistics reveal that 81% of Instagram users research products/services and 83% discover new products/services. Hence, Instagram is a potent tool for boosting sales and promoting your brand.

(Source: Facebook)
A marketing agency for Instagram is a company that helps businesses use their Instagram account for marketing purposes. They offer services such as social media management, content strategy and design, customer engagement, and more.
The idea behind this is that when you buy an ad from Instagram, it's for one of two reasons: either you want to reach your existing followers or potential customers who might have never heard of you before, or you want your ads to show up in the feeds of people who already follow your brand.
What do they do?
Instagram marketing agencies can help you get more customers on Instagram. They are experts at Instagram advertising, a type of sponsored post that adheres to the guidelines for organic posts.
They know what works and doesn't, so you don't have to worry about wasting time and money on your campaign. Plus, they offer other features like analytics, which will help you determine how well your campaign is going.
How to Find the Right Instagram Marketing Agency for Your Business
With more than 200 million business accounts on Instagram in 2022, marketing your business on Instagram can be one of your best decisions, but don't take it lightly.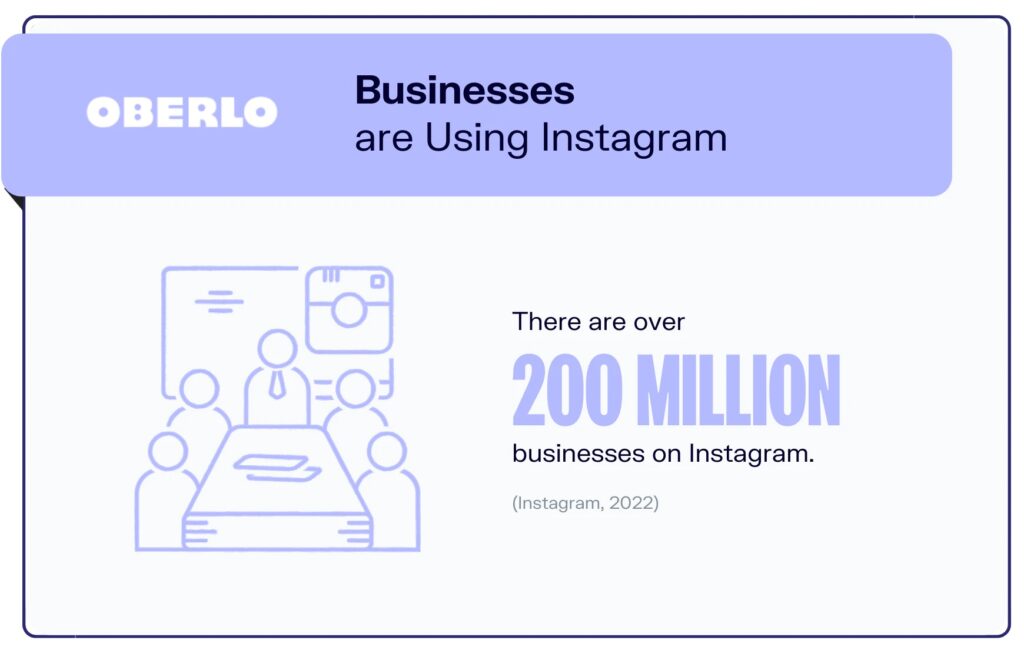 (Source: Oberlo)
Instagram B2B marketing can become quite an investment, so you must research to find the right marketing agency before making any decisions.
The right marketing agency for Instagram can help you get the most out of the platform, but it's not always easy to find one that works with your niche or budget.
Luckily, these eight tips will make finding an Instagram marketing agency that meets your needs much easier!
1) Do your Research
Researching and finding the right marketing agency for Instagram to help you reach your goals is important.
They will offer various services, so ensure they have what you need before committing to anything. If they don't have a specialty or their services are too expensive, move on to the next one on your list.
2) Get Referrals
When looking for an Instagram marketing agency, you may not know where to start. Reach out to your network and see if any of them can recommend an agency they've previously worked with.
If they know someone reputable, you won't have to worry about wasting time on someone who isn't a good fit.
3) Determine your Budget
Before interviewing potential Instagram marketing agencies, you need to determine your budget. Be sure you know how much money you can spend and from which funds it will come.
If you're not sure what a fair price is, try doing some research on similar companies. To avoid overpaying, be clear about your budget during interviews with prospective agencies.
4) Consider Experience Levels
Though a few up-and-coming social media agencies deliver excellent results, most of these businesses have been around for quite some time.
When looking at Instagram marketing agencies in your area, consider their experience level. If they've been in business for over 10 years, they probably know what to do (so long as they stay current with trends).
5) Interview Multiple Agencies
When you're ready to bring on an agency for your b2b marketing on Instagram, it's important that you not rush into making a decision. Don't decide based on price or who responded first; instead, take your time interviewing multiple agencies to find out which fits best with your brand.
Whether you are a small business owner or a large corporation, finding an agency to help with your b2b marketing on Instagram is important. One way you can do this is by meeting with them.
If possible, set aside 30 minutes at the end of your meeting to ask any additional questions or allow them to ask you anything they feel like they need clarification on. Here's a list of questions to ask potential agencies:
What services do you offer?
How long have you been offering these services?
What kind of results can I expect from your company?
How much experience do you have working with brands like mine?
Do we share a similar design, marketing, and social media strategy values?
What is your process for getting results for clients?
Can I see examples of previous work that has resulted in success stories (including quantitative data)?
Are there any concerns or reservations I should be aware of before hiring you?
6) Be Sure to Look at their Samples
The marketing world moves fast. Make sure that any marketing agency for Instagram you choose is up-to-date on current trends so that your Instagram B2B marketing campaign will be successful. It also helps if they have examples of past campaigns in action so that you can see their style firsthand.
7) Consider Customer Service
Customer service goes a long way in ensuring great interactions with your customers and boosting their perception of your brand.
Even if you have an outstanding product, if your customer service is anything less than stellar, chances are they won't stay customers for long.
Investing in high-quality customer service may be costly at first, but retaining your best customers and getting more sales down the road is worth it.
8) Start with a Trial Run
Before a full-scale B2B marketing on Instagram, talk with at least a few agencies to determine what works and doesn't.
A trial run is inexpensive to see which style works best for your brand. This way, you can experiment before deciding which Instagram marketing agency is best for your business.
The 6 Benefits of Using an Instagram Marketing Agency
While Instagram B2B marketing can be incredibly effective on its own, hiring an agency can help you tap into the features of this social media platform that you might not know about, especially when your business is just starting.
(Source: Neal Schaffer)
If you're still on the fence about using an agency or trying it on your own, here are the top 6 benefits of using an Instagram marketing agency to help promote your business through photos and videos.
1) An Agency Knows How Instagram Works.
A marketing agency for Instagram understands how all social media platforms work and how they can benefit your brand. The platform is so open-ended that you could post something as simple as a photo and watch it get lost in a sea of content.
That's why it helps to have someone experienced in managing Instagram accounts.
An agency will keep track of best practices, monitor trends, and ensure you stay on top of industry news. They also know which hashtags are worth using (and when) and how often you should be posting new photos or videos.
All these little things add up over time, but only if you have someone keeping tabs on them for you.
2) An Agency can Create Interesting Content for your Account.
There's a good chance that if you don't have time to create interesting posts, you probably don't have time to learn how. That's why it makes sense to team up with a B2B Instagram marketing agency. They can help keep things consistent and fresh so that your account doesn't fall flat on its face.
3) An Agency can Get you More Followers.
If you want to gain more followers, choosing to work with a marketing agency for Instagram is often your best bet.
That is because agencies are adept at creating campaigns that can quickly generate large amounts of traffic and conversions, not just for one account but multiple clients' accounts.
Working with an agency can help you grow your social media presence in ways you might never have achieved alone.
4) An Agency will Know how to Promote a Business on Instagram.
When you hire a professional B2B Instagram marketing agency, they will likely be able to promote your business on Instagram better than you can and have a better idea of what strategies work best.
And because their livelihoods depend on your business succeeding, there's a certain amount of motivation on their end that isn't there if you try doing it yourself. Remember, some agencies will guarantee that they get results or your money back.
5) An Agency will be Familiar with the Platform's Rules.
We all know that you must play by a platform's rules to succeed. In Instagram's case, that means staying within each post's recommended character limit and ensuring your posts are public.
These rules can be difficult for beginners who aren't familiar with social media marketing to follow. However, an agency will have a handle on them from day one.
6) An Agency does all the Work, leaving you Free to Focus on your Business.
You've got a company to run. So why not let another company handle your Instagram B2B marketing?
Working with an agency allows you to rest easy knowing that someone else is on top of your social media presence, increasing your follower count and driving traffic to your website. In addition, it frees up time to do what matters: run your business.
10 Things to Look for When Choosing an Instagram Marketing Agency
With an audience reach of over 1.44 billion users, Instagram is the right place to get your business noticed online.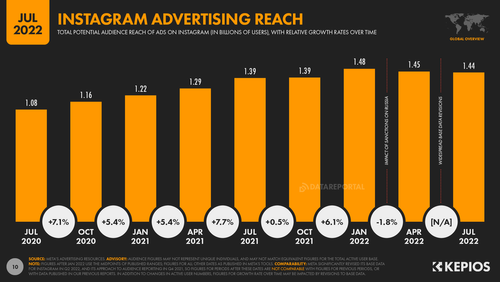 (Source: Data Reportal)
However, finding the right marketing agency for Instagram to help your company make the most of this platform can seem daunting.
Still, by following this list of 10 things to look for when choosing an Instagram marketing agency, you can make sure that you hire an agency that will be the best partner possible in helping you reach your business goals through Instagram.
1) Company Experience
A marketing agency for Instagram has the responsibility to help promote a brand's image. The client, who might be new in the industry, expects marketing experts to develop a solid strategy that brings results.
The company needs to have extensive experience working on similar projects.
A B2B Instagram marketing agency can help you boost your brand awareness online using various social media platforms, including Instagram. Ensure that the company you choose can do so by examining its portfolio and reviewing its previous clients' reviews.
2) Has the Company Worked with Companies Similar in Size?
If you're a small business, you don't want to work with a marketing agency for Instagram that only works with large companies. Ensure they have experience working with businesses like yours.
In addition, make sure they understand your industry and goals. For example, are you looking for more clients or leads? Do you want more engagement with existing customers? If it's leads and clients, make sure they've worked on campaigns similar in size and scope to yours.
3) Do They have Examples from Previous Projects?
That is a great way to evaluate potential partners before beginning your project. Check out their portfolio and even reach out to some of their past clients.
Not only do you want examples of work they've done, but you also want references on how well they communicated with their clientele throughout each project stage. If they aren't willing or able to provide references, it should raise a red flag.
4) Can They Provide any Case Studies?
You should always request case studies from any potential Instagram influencer marketing agency. But first, you must see proof that their strategies and tactics produce results. If they can't provide you with a few examples, then it's a huge red flag.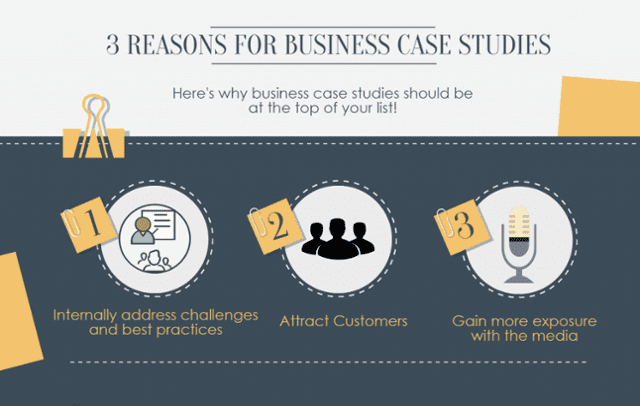 (Source: Pan Communications)
You also want to make sure that you review these case studies and analyze how well-suited their strategies are for your specific business. Does it feel like they were custom-built just for your company?
5) What are their Rates?
If you're not paying attention, it's easy to be caught off-guard with agency fees. Start by looking at their website or contacting them via email or phone. It should be clear how much they charge and what services are included.
If you're looking for a very specific service, like editing your photos before posting on Instagram, make sure that service is part of your contract, or budget more money per month if it isn't.
6) Do They Offer any Discounts?
Since you're getting advice from a professional (and these people are experts in this field), you shouldn't be afraid to ask if there are any discounts. Most agencies will offer something—they want your business, after all! So it doesn't hurt to ask.
7) Do They have a Good Reputation?
Before you even meet with any prospective B2B Instagram marketing agency, check their reputation online. Read reviews and testimonials from past and current clients.
If they have been in business for a while, someone has likely posted something about their services or work. That can tell you a lot about their work ethic and what you can expect from them.
8) Does the Agency Provide other Services, such as Website Design, SEO, or Content Writing?
An Instagram influencer marketing agency can provide various services, and it's important to understand how each service relates to one another.
For example, what is better: An SEO company that also provides web design services or one that specializes in both marketing strategies?
The answer depends on your business goals. For example, if you are interested in organic traffic, you would want an SEO company with experience in content writing.
On the other hand, if you want to increase brand awareness through PPC advertising campaigns, then you would want a digital agency that has experience with Google Ads or Facebook ads.
9) Transparency
Good marketing agencies are transparent about their processes from beginning to end. Make sure that any agency you hire lets you in on their plan so that you know what to expect along your digital journey together.
10) What is the Turnaround Time after Ordering Social Media Marketing Services with this Company?
It's important to find out how responsive your potential marketing agency for Instagram is.
How long does it take to see results?
The faster they can turn around posts and other material, the more you get bang for your buck.
How Much Does It Cost to Hire a US Instagram Marketing Agency?
The cost of hiring a US Instagram marketing agency to promote your account varies depending on the level of service and number of posts. Prices can range from $500 to $2,000 per month or $50 to $100 per hour.
You can also opt to pay per post at rates that start at $5.
9 Tips for Working With an Instagram Marketing Agency
Follow these 9 tips to have a healthy working relationship with the Instagram marketing agency you choose:
Communicate with your Instagram marketing agency promptly.
Be realistic about what you want from the Instagram marketing agency, and be clear about what you're willing to pay.
Find an Instagram influencer marketing agency that is a good fit for your business needs and goals.
Test the results of any campaigns before agreeing to continue working together (to see if there are any bumps or roadblocks).
Set expectations upfront so that there are no surprises later.
Stay involved in your social media campaign by providing feedback, ideas, content, etc., so that you know how your campaign is progressing and how effective it is being marketed.
Pay attention to the contract! Ensure there are not too many vague statements that leave room for interpretation.
Provide feedback regularly, whether positive or negative; this will show you care about their service and how they feel about yours.
Do not forget to thank your Instagram marketing agency for its hard work and dedication. They deserve as much recognition as you do.
Make a Decision!
With so many marketing agencies for Instagram to choose from, how do you know which one will work for you?
The right marketing agency for Instagram can help you with everything from getting more followers to creating an influencer campaign to revamping your brand identity.
At Flying V Group, we focus on helping clients find success in building their brand identity through well-thought-out strategies, including digital marketing, influencer marketing, and content marketing. Contact us!