Reading Time:
5
minutes
If you're looking for a way to dominate your market, then local SEO is the answer.
Local SEO is a strategy that helps businesses optimize their website to rank higher in local search results on Google. Essentially, local SEO focuses on improving visibility for businesses that serve a specific geographic area.
Local websites are becoming more and more important as people use them to search for products and services in their city or town.
In fact, Google makes up about 70% of all mobile searches, which means your potential customers are searching on their phones for local businesses.
By optimizing for local search, businesses can reach their target audience more effectively and drive more traffic to their website.
You may try various strategies to increase your chances of ranking in local searches. However, you can make your life easier by hiring a digital marketing agency to help you with it.
The Best Digital Marketing Agency in Los Angeles
Flying V Group is a full-service digital marketing agency based in Irvine, California.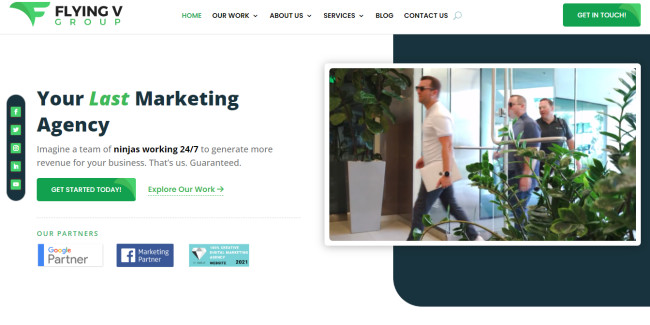 The agency was founded in 2016 and offers various services, including web design and development, social media marketing, paid advertising, content marketing, and search engine optimization (SEO).
The agency prides itself on its ability to deliver customized, data-driven solutions that help businesses achieve their marketing goals.
Specialization in Local SEO
One of Flying V Group's core areas of expertise is Local SEO. This includes optimizing a business's website, Google My Business listing, and other local directories.
By improving a business's search rankings, Local SEO can increase traffic, leads, and sales.
At Flying V Group, the team of experts specializes in developing custom Local SEO strategies that are tailored to each client's unique needs and goals.
They conduct in-depth research and analysis to identify the most effective keywords and tactics for each client's specific market and audience.
This approach has enabled Flying V Group to help many businesses achieve top rankings in local search results and dominate their local markets.
Various Local SEO Services
Here are the various local SEO services that Flying V Group provides;
Web design
Web design is an essential element of Local SEO as it impacts user experience, website navigation, and content organization, all of which play a significant role in local search rankings.
One crucial aspect of web design for local SEO is mobile-friendly design.
With most local searches conducted on mobile devices, it is crucial to have a website design that provides a smooth user experience across all devices.
A web design agency should also focus on optimizing website loading speed by reducing file sizes, compressing images, and minimizing HTTP requests.
Flying V Group focuses on these aspects of web design for their client's websites for local SEO, providing an exceptional user experience and improved visibility in local search rankings.
Keyword Research and Optimization
One of the key components of a successful Local SEO strategy is keyword research and optimization.
We'll conduct in-depth keyword research to identify the keywords and phrases that your target audience is using to find businesses like yours.
Then, we'll optimize your website and online presence to target those keywords and improve your search rankings.
SEO Audit and Strategy
At Flying V Group, we believe that a successful Local SEO strategy begins with a comprehensive audit of your website and online presence.
We'll analyze your website's technical SEO, content, and backlink profile to identify areas for improvement.
Based on the data and findings, we'll develop a customized Local SEO strategy that's tailored to your business and goals.
Google My Business Optimization
Your Google My Business listing is crucial to your online presence for Local SEO.
It is a free tool provided by Google that allows businesses to manage and optimize their online presence across Google, including search and maps.
With Google My Business, you can create a profile that appears in Google Search and Maps, making it easier for potential customers to find important information about the business, such as hours of operation, contact information, and reviews.
FVG will optimize your Google My Business listing to ensure it's fully filled out and optimized for local search.
This includes adding relevant categories, descriptions, and photos, as well as regularly posting updates and responding to reviews.
If you want to dominate your Local Content Creation market with local SEO, then it makes sense that your site's content should be focused on things that people in your area are interested in.
If you focus on providing information that is relevant to people who live in another part of the country, it will attract customers looking for information about things.
Creating high-quality, localized content is an effective way to improve your Local SEO rankings.
The content team at FVG is good at what they do, if not the best. They have expertise and strategies to ensure your content is:
relevant

optimized for keywords that'll drive traffic, and

engaging to drive sales
This could include blog posts, social media posts, ads, infographics, videos, etc.
Link Building
Local link building is the process of acquiring high-quality backlinks from authoritative websites in a specific local area.
These links help boost a business's website authority, visibility, and ranking in local search results.
Flying V Group uses a variety of strategies to help businesses get local backlinks.
They start by researching to identify authoritative local websites and directories that are relevant to the client's industry.
They then develop customized outreach campaigns to establish relationships with these websites and acquire backlinks.
This involves creating high-quality content that provides value to the target websites' audiences and pitching it to the website owners or editors.
Flying V Group also helps businesses leverage their existing relationships and partnerships to acquire backlinks from relevant local websites. They work with clients to identify opportunities for collaborations, sponsorships, and partnerships that can lead to backlinks.
Online Directories
Listing your business in local directories can be a powerful tool to improve local SEO and increase online visibility for your business.
When a business is listed in directories, it sends signals to search engines that your business is legitimate and trustworthy.
These directories are a reference for search engines to verify your business's location, contact information, and other important details.
This can help search engines better understand your business and rank it in local search results.
Moreover, listing in directories can increase the number of backlinks pointing to your website, which is another critical factor for local SEO.
When other websites link to your business website, it signals to search engines that your website has authoritative content.
This can improve your website's credibility and trustworthiness and, ultimately, improve your search engine ranking.
That's precisely what we'll do for you when you hire Flying V Group for your local SEO needs.
Local SEO is a Great Way to Dominate Your Market.
If you want to dominate your market, then local SEO is the best way to do it.
Local SEO can help you build your brand, gain new customers and increase sales. It's a great strategy that can help you stand out from the competition, but it takes time and effort.
Many businesses fail at this because they do not know how to use local search engine optimization techniques properly, or they simply don't have enough time or resources to get results from their campaigns.
As an experienced digital marketing agency specializing in helping small businesses succeed online, we have found these strategies to generate consistent traffic for all our clients.
We can do that for you too. 
Visit our website and schedule a free consultation now, and our experts will contact you immediately.