Reading Time:
10
minutes
SaaS marketing is a relatively new marketing strategy for Software-as-a-Service (SaaS) brands. A SaaS brand is one that promotes a platform and not a type of software, allowing its product to be used as a service with a subscription base.
SaaS is a niche that's quite crowded, as evident by the graph below: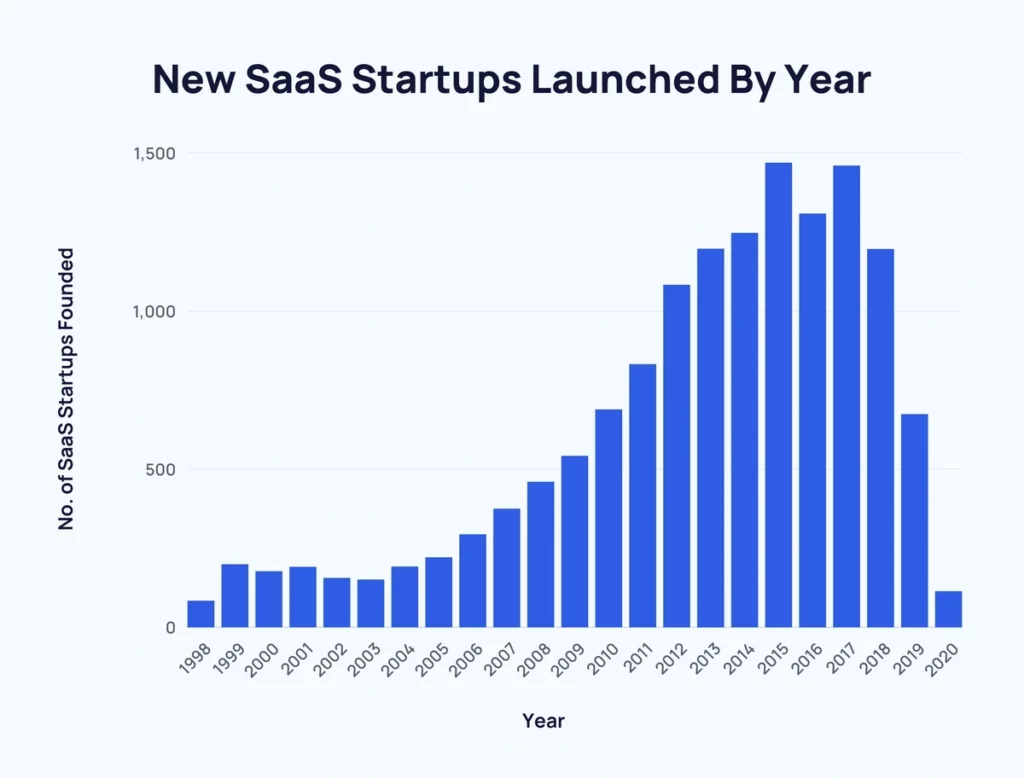 (Source)
Often, SaaS marketers can be at a loss when promoting their products and generating leads. This is mainly due to the very nature of the SaaS business. The product is not something tangible that can be delivered to a prospect's door, making tactics like conversion content, product demos, and free trials necessary.
But are SaaS marketing tactics any different from what eCommerce platforms or drop shippers use in 2023? What exactly are the tactics you'll need to make it in the niche? Let's find out.
SaaS Marketing in 2023: What Does It Mean?
SaaS marketing is the sum of different techniques marketers use to generate more leads and retain the pre-existing ones. This is, of course, an umbrella rule and can be case-specific for all the different niches.
SaaS marketing needs to encompass all of the stages of a customer's journey, from lead generation to retention and bringing back referrals.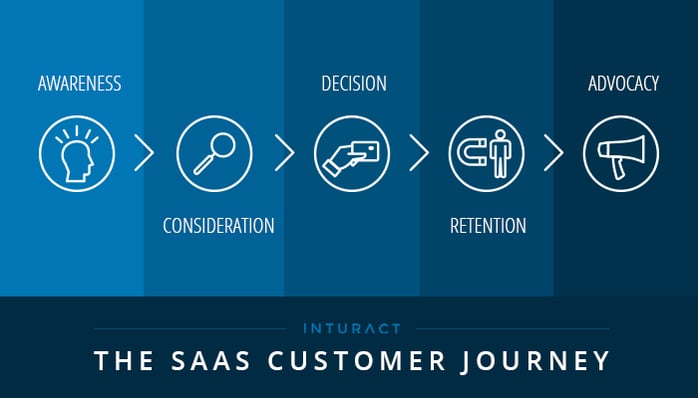 (Source)
Your SaaS marketing strategy needs to start with a marketing plan that can cover all of the pain points:
Start with reaching the right audience for your goal
Generate leads with a landing page or a subscription form
Use successful onboarding processes
Include explanatory marketing materials that boost your authority
Lead users down the sales funnel without pressuring them
Understanding your audience every step of the way and proposing materials that are just right is crucial if you want to enhance your SaaS brand's bottom line.
The key here is to understand that your product is not something that users can experience from the point of purchase, as it's not an object. Instead, users need to sample your service before making a final decision.
This places customer retention front and center regarding a SaaS marketer's goals.
The SaaS Marketing Plan
Creating a marketing plan is not an easy process, but it's a very rewarding one. It can help you identify your ideal audience and understand your consumers before proceeding with lead generation and nurturing customers.
Your first step would be to define your target audience. Analyze your demographics and use your data in a way that will help you pinpoint the potential issues they could solve with your product.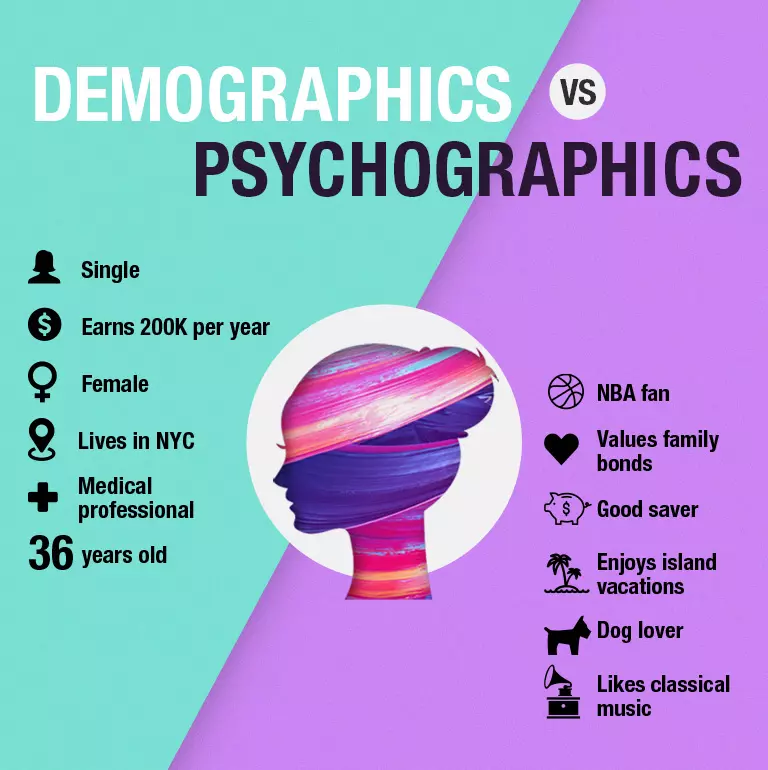 (Source)
Use demographics and psychographics to understand the marketing message that would work for every segment of your audience. The core of your message may be the same, but the pain points might be different. A CEO of a startup will need a cost-effective solution with a short learning curve, but a busy parent who is a solopreneur could need more than that.
After that, see what your competition is doing through thorough market research. What are the pain points your potential competitors are solving? How are they targeting their market? What lead-gen tools are they using to bring in new customers? These are all things that you should consider when you're crafting your plan.
Next, you'll need to understand what you're offering. This might sound controversial – after all, you're a marketer for a specific SaaS brand. But you need to think like a user in that case. Users buy experiences, and what you're promoting is a solution to a problem, not a single product.
Ensure your marketing message is clear and concise and highlights your unique value proposition (UVP). Also, think about how you can word your UVP differently for the different segments of your audience.
Now, it's time to create your unique message. Use branded colors, complement your content with memorable visuals, and maintain a consistent brand tone. Adjust that tone of voice according to the platform you're using. Each platform attracts different users, so ensure to use a catchy subject line that gets more clicks, a generic sponsored ad on Facebook that attracts most of your user base, and an explainer YouTube video that's there for all the users who have questions after a free trial.
After that, it's time to set your goals and pinpoint the KPIs you're going to track. Define the short-term and long-term goals and align your marketing objectives with what your SaaS company is trying to achieve as a whole.
For example, if you need to create the perfect onboarding email sequence, focus on creating clear and easy-to-understand content with resources that matter. In that example, your KPIs should be your open rates, CTR, bounce rate, and conversion rate.
Your goals should be SMART: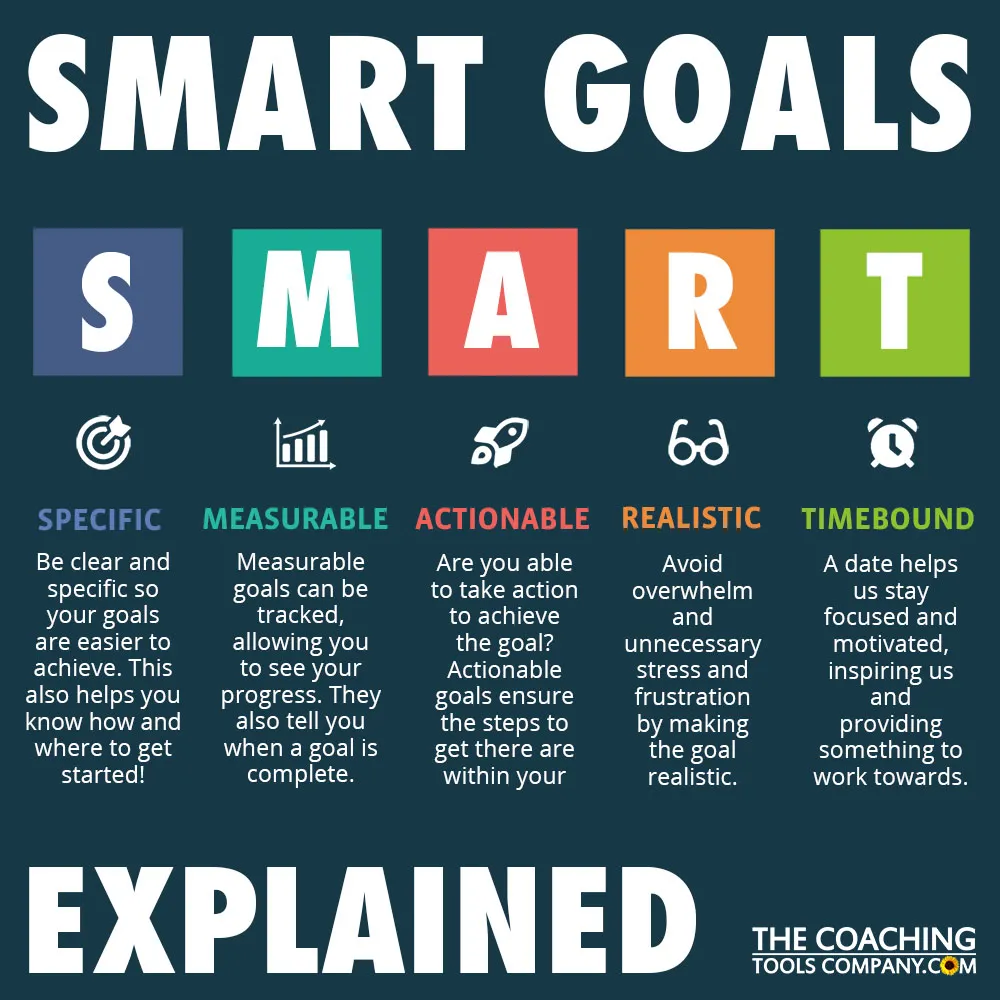 (Source)
This technique will help you reach the end goal faster and speed up the process by eliminating unnecessary jargon along the way.
Now, it's time for you to test, measure, and optimize. Track your data and analytics every step of the way. Your insights will show you what to change, what your audience loves, and what you need to do to kickstart your SaaS growth through marketing.
But let's see what different types of SaaS marketing strategies you'll need for 2023 and beyond.
The Value of SEO in SaaS Marketing
Not too long ago, not all brands used Search Engine Optimization and relied on paid Google Ads to gain and retain the first position in SERPs. But as users trained themselves to ignore ads, marketers started understanding the value of organic search results – and SaaS marketers were no exception.
The first page of Google is the goal, with the first result being the top goal. This allows your SaaS brand to gain visibility and takes advantage of the impulsive nature of users. And in the busy digital world of 2023, no prospect wants to spend too much time and effort to find their perfect SaaS match.
SEO can bring more traffic to your website, generate new leads, and boost your tone of voice as an authority in your niche.
To generate and maintain growth through SEO, start with the perfect keyword research. Users come up with specific keywords to discover what they need. Like so:
Understand and identify the main keywords your prospects use for your niche and use them when creating your marketing materials. Content that includes keywords organically will look and feel like the solution to the prospect's pain points, and it will resonate with your audience.
Of course, you can't put all of your efforts into just one keyword. If, for example, your main keyword is "email marketing", you can utilize secondary keywords like "affordable email marketing services", or "email marketing for X businesses".
After that, start optimizing your website with the keywords you've discovered. Pepper your keywords into your page titles, meta descriptions, and throughout your page.
Create quality, authoritative content through your product pages and your blog, and don't shy away from using an infographic or a whitepaper as a content upgrade for your blog posts. This can generate more warm leads. Use your UVP as a solution to your prospect's pain points.
Super Pro Tip: Creating a user-friendly website that is mobile responsive and easy to navigate can boost your SEO efforts. Users need quick answers, and search engines favor pages that can provide them.
The Importance of SaaS Content
For better or worse, the core of marketing in 2023 is content. Using content for customer acquisition and retention is a tried-and-true method that enhances customer engagement and creates an emotional bond between your SaaS brand and the customer.
When it comes to SaaS content, there are various types of formats you can go for. Blog posts are the most popular, with webinars and case studies following suit:

(Source)
Blog posts are more likely to get you noticed and will work beautifully for your SEO efforts. On the other hand, webinars will educate users further, and case studies will convince users of the validity of your claims.
Useful content that doesn't feel rushed can establish a bond between yourself and your ideal customer, as it doesn't only boost brand awareness. It can create a teacher-student bond and give you thought leader status in your SaaS niche.
Create several evergreen posts, and make sure to repurpose them whenever needed. A lengthy blog post can be the basis of explainer videos, a case study can be a fantastic infographic, and a "How-To" article can lead users down the sales funnel by redirecting them to try out one of your features for free.
Content marketing also includes gated content. Gated content is the type of content hidden behind a "wall", either as a content upgrade or reserved for those who have signed up for your webinars or your newsletter.
A webinar presentation could be your gift to your attendees, or a case study can be the freebie you'll give subscribers. This tactic will help you attract and retain more leads and boost word-of-mouth. After all, most of us have promoted a SaaS platform by pointing out some freebies to our peers.
Email Marketing for SaaS Companies
Email marketing is one of the oldest tricks in the book and is here for 2023 and beyond. It's a tactic that's not influenced by an algorithm, it's versatile, and it's cost-effective: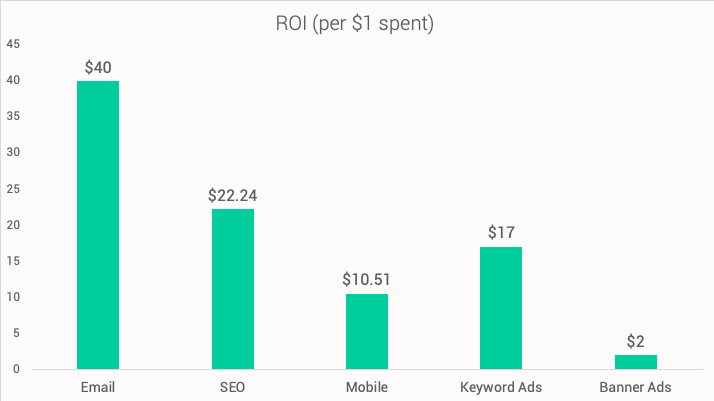 (Source)
Of course, to reach the numbers above, you need to understand how to do email marketing for SaaS correctly and pick out an email automation software that will help you create targeted email campaigns that generate clicks.
Of course, to generate clicks, you'll need a valuable and useful email list. Ensure you're targeting the right segments of your SaaS audience and entice them to sign up with a lead magnet: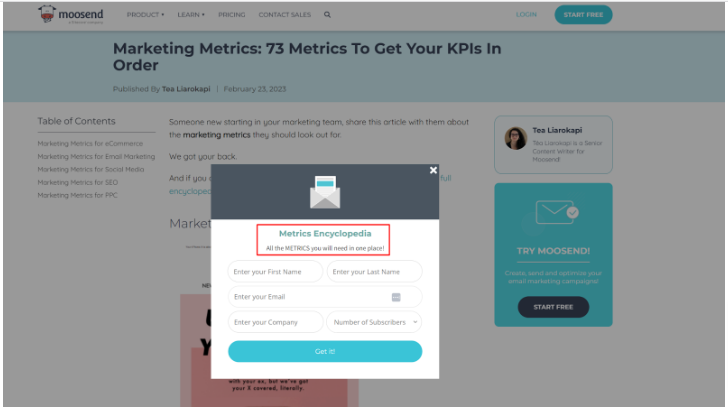 (Source)
Gated content works wonderfully for that goal. Lead magnets like eBooks or infographics can attract interested customers who will interact with your email content down the line.
Your first email campaign – and all those that will follow – needs to be valuable and address your users' pain points. Create emails that onboard users, like this one:
Provide a starting point by showing them how to use your product. Send an email to remind them of their progress if they're just starting out. Create triggered email campaigns for users who belong to a specific segment and have performed an action on your platform or website.
Send product announcements, coupons, and special offers to pre-existing users to have them sample your new features.
Email marketing campaigns will keep subscribers engaged and ready to convert when the time is right.
Free Trials and Freemium Plans in SaaS Marketing
Since SaaS platforms offer a subscription-based model, free trials and freemium options are a very common way to get prospects to sample your product.
The reason behind it is that it creates zero commitments. And buying a product that's not tangible can be a huge commitment down the line.
Of course, giving out tools for free can be a blessing and a curse, seeing as it can end up harming your bottom line and not aligning with your goals. This is why most SaaS marketers opt for the solution of a free trial.
Creating a digital marketing strategy for your SaaS company that promotes Lifetime Deals (LTD) is also quite common. In that case, the user can pay a fixed price for life for a specific set of tools and capabilities. The catch here is that they'll need to understand that the platform will not solve all of their problems at that price tag.
When creating a marketing campaign for your SaaS free trials, freemium plans, or LTDs, it's important to showcase what you're giving out wherever possible. Create a landing page and have users land there through your social media posts. Promote it through your email marketing campaigns. Create blog posts that will promote your deal.
Simply setting the deal and forgetting about it won't have users competing against each other to access your SaaS platform. You'll need to entice them first.
Freebies are a fantastic way to get yourself new leads. Let them familiarize themselves with your product and understand what it can do for their business rather than pointing it out through all of your marketing campaigns.
Just be clear on the terms and conditions of your offer to avoid misunderstandings. Clarify the specifics through each promotional action. Your special promotion could be valid for the first X users, for a limited amount of time, or offer limited use of tools. Prospects need to know that before making informed decisions. Especially if you're planning on using the following SaaS marketing tactic.
SaaS Customer Testimonials
Customer testimonials are foolproof way to market your SaaS tool correctly, and here's why: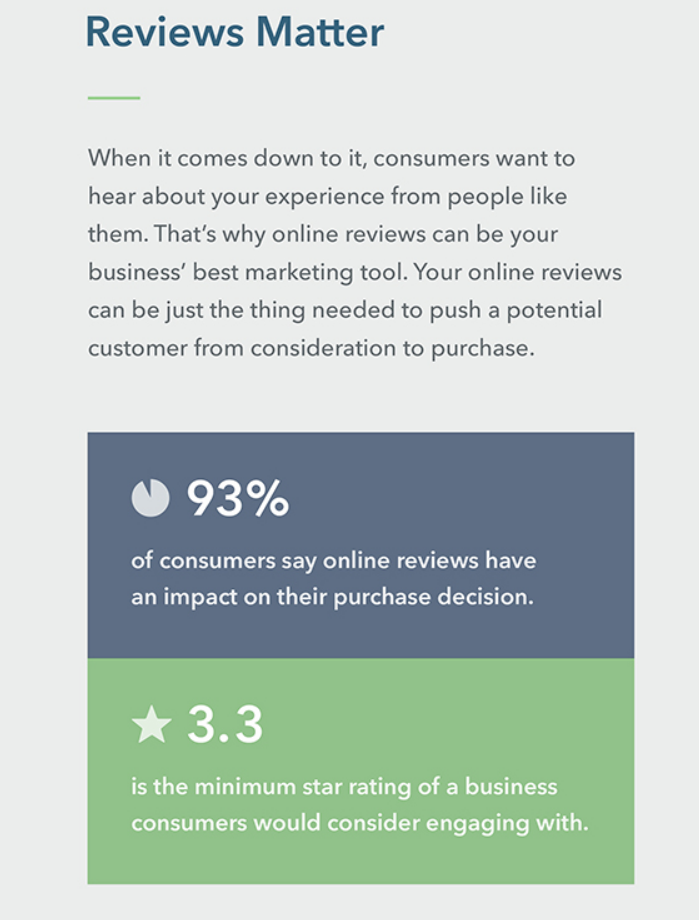 (Source)
The percentage is almost shocking, and you can understand how bad reviews can break your SaaS marketing business when attracting new buyers and retaining existing ones.
A great way to leverage customer testimonials is to use video marketing. Ask happy users to create a video, gather as many as possible, and edit the video to highlight the customer's journey.
Make sure to pinpoint your UVP to each video and help viewers understand the experiences happy users have with your brand. Video testimonials are authentic and enticing, as they make the solution tangible: A real person talks about their real experience with your brand in real-time. Or almost.
These videos can be featured on your YouTube channel, homepage, or a dedicated product page. They can also be part of your email marketing campaign.
Of course, customer testimonials also come in written form. You can get your high-value customers to write a statement about you that you can feature on one of the pages of your website, a landing page, or your email campaigns.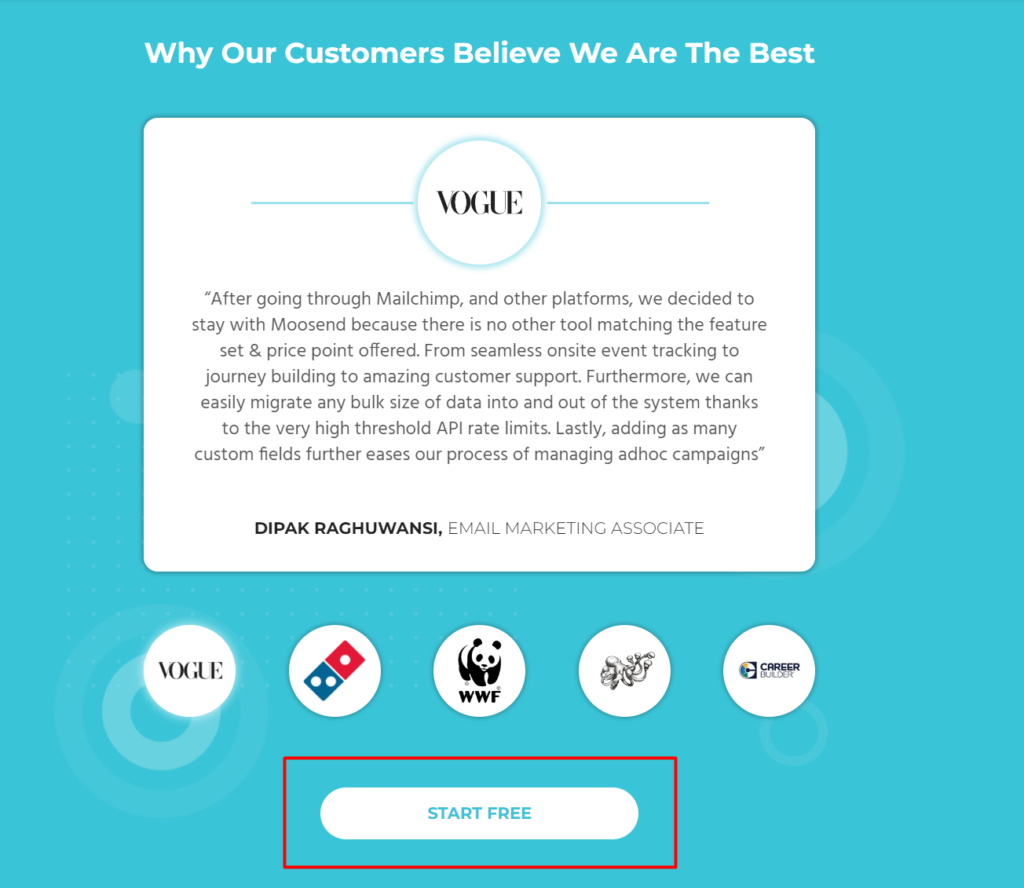 Customer testimonials provide social proof and can be actionable and valuable enough for your user to follow through with the CTA you provide.
After all, potential customers come to you for their success. And who can guarantee their success better than another customer's success story with the same pain point?
Last but not least, unbiased customer testimonials are the ones that most users look for on review sites. Being one of the top brands on a review website can only work in your favor and increase your SaaS brand's visibility, provided you use this correctly in your SaaS marketing campaigns.
Create marketing materials to showcase how happy users have given you an unbiased positive review and share them on your social media campaigns or email newsletters. This will help prospects discover what users say about you. At the same time, this will serve as a token of appreciation for the pre-existing users who know and love your brand.
The Takeaway
SaaS marketing is a challenging feat in 2023, but it's a rewarding one. It may be complex and require marketers to explore new territories, but using techniques like SEO, content, and email marketing will help you attract interested leads while retaining the old ones.
Of course, SaaS marketing is not a one-size-fits-all type of marketing. This is why you'll need to craft your personas carefully, study your leads, and understand your existing user base and the problems you're solving.
Retention is, after all, more cost-effective than acquisition. And by establishing your brand as an innovative thought-leader, you can have both.
Author Bio:
Téa Liarokapi is a Senior Content Writer for Moosend, an email marketing and marketing automation platform, and an obsessive writer in general. In her free time, she tries to find new ways to stuff more books in her bookcase and content ideas – and cats – to play with.