Reading Time:
9
minutes
Today's business landscape has become all the more challenging and competitive. That's the reason the majority of companies turn to SaaS tools to streamline different processes within their workflow. Unlike traditional software, SaaS solutions are easy to install and maintain. All you need to do is subscribe to the product and let the provider do the heavy lifting.
From SEO to managing your social media, this kind of software allows you to handle every necessary task, freeing up time to turn your focus on driving growth. Care to learn how? This guide will detail all the benefits of trusting such a tool and list the best SaaS tools of the plethora of solutions in the market.

(Source)
What Is a SaaS Tool?
SaaS (Software as a Service) tools are cloud-based solutions hosted on remote servers and can be accessed online without the users installing anything on a computer. The only prerequisite for using them is a subscription and internet access. A SaaS tool offers you flexibility and the ability to streamline several business functions, such as sending out email newsletters or managing projects, with advanced features and regular updates. Is that all? Actually, that's just the tip of the iceberg when it comes to the value SaaS tools bring your business. Let's see all there's to know about.
Why Should You Invest in SaaS Solutions?
SaaS products are popular among companies of all sizes. And with good reason, since they offer endless opportunities and various advantages. Here are some of the most important ones:
They Save You Money and Time
Traditional software is pricey and time-consuming to set up and maintain. SaaS products, on the other hand, are used on a subscription basis. With them, you avoid committing to an in-house solution, thus reducing costs. What's more, the SaaS provider handles the tasks without you having to do manual work, whether talking about security or essential updates.
They're Easily Implemented and Accessed
SaaS tools are easy to implement since they are pre-configured by the host provider. Therefore, they're easy to use even if you're no tech expert. Not to mention most of them offer excellent support service so that you don't leave anything to chance. And no matter where your team works from and what devices they use, they get instant access to the tools they need.
They are Packed with Integrations
Robust SaaS solutions typically come with many integrations with third-party tools, enabling you to take customer engagement to the next level. Integrating your SaaS product with popular applications allows you to keep everything under one roof while protecting your users' data from human error.
They are Scalable
Changing or updating software is far from convenient. With SaaS tools, you don't need to worry about this. They are scalable to your business size and needs, meaning you can benefit from different capabilities as your business grows. As mentioned, they are subscription-based, making it simple to upgrade to a better plan whenever needed.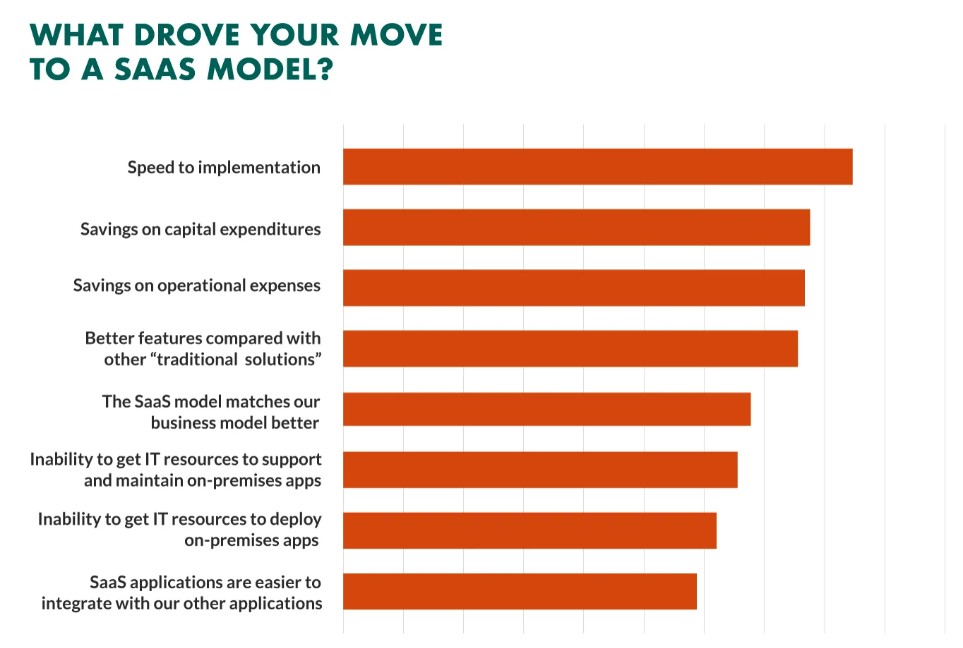 (Source)
Best SaaS Tools to Use in 2023
We bet the benefits listed above have already convinced you about the value of using a SaaS tool. But here's the challenging task: how can you choose the one that best serves your business? All you have to do is keep reading to make the best decision possible.
SaaS Tools for Project Management
Project management SaaS solutions allow organizations to plan, execute, and monitor projects. Especially if you have a large corporation and many teams to oversee, effective project management should be at the top of your list. To do so, you can use the following SaaS project management tools:
Trello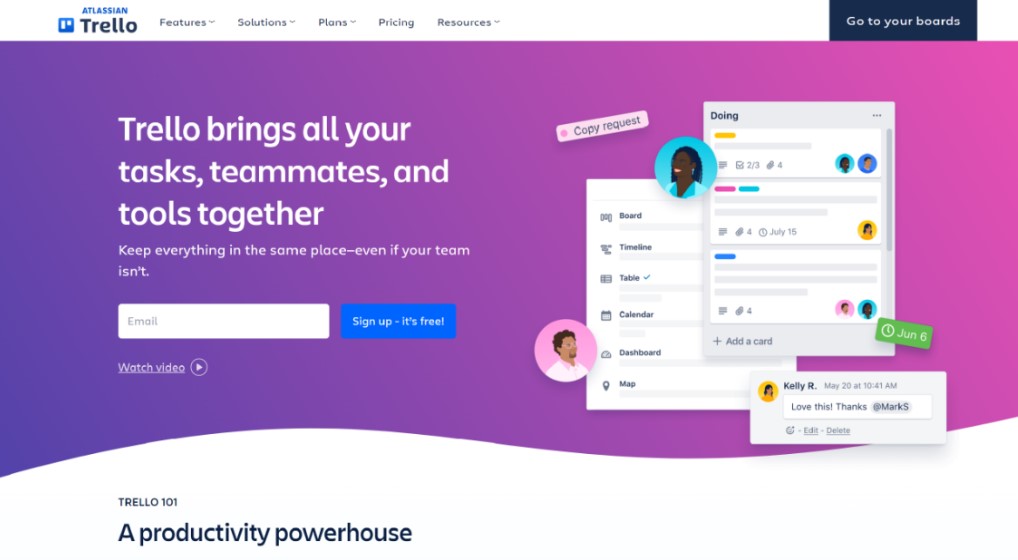 (Source)
Trello is one of the top names in the SaaS project management market. Utilizing boards and lists, it's famous for its intuitive interface and easily movable cards. This online project management software helps teams manage multiple projects through handy features. You can use its customizable boards to assign tasks to team members, add labels, attachments, and comments, set due dates, and make any type of update, to name just a few.
Best features:
An extensive library of customizable templates for any business and project type
A mobile-friendly user interface and a mobile application compatible with every device
The tool's built-in automation lets you automate every task on your boards and sends email notifications for every update on your cards
Integrates with famous tools like Slack or Jira
Pricing: Trello offers a free plan with limited boards but unlimited cards. Its Standard plan starts at $5/month, giving you access to unlimited boards, custom fields, and up to 1,000 Workplace command runs. That makes it a good choice for small-sized companies or teams.
Asana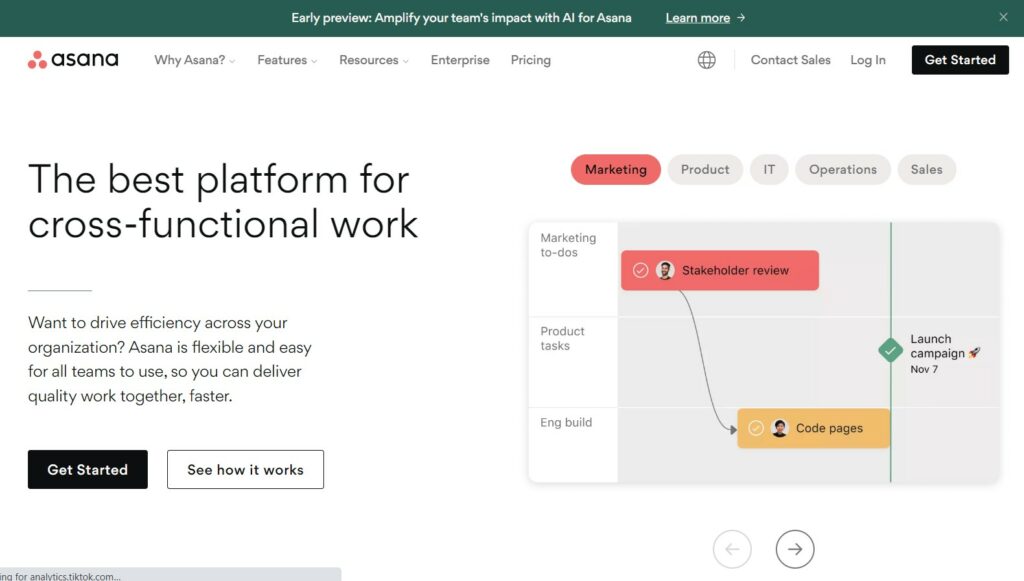 (Source)
Asana is an intuitive project management solution that helps team members manage their workflow and increase productivity. It has an easy-to-use interface and straightforward setup. On top of that, it includes advanced options like time and progress tracking, reporting dashboard, and automation workflows. Users appreciate the platform's flexibility, as well as the customization options it provides. We should note, though, that it doesn't offer a desktop app.
Best features:
The tool's workload monitoring functionality lets users know how much work has been assigned to team members across projects, helping them distribute tasks accordingly
Advanced account permissions enable project managers to determine which members should have access to specific tasks
Asana features ready-made templates for product development and marketing
Ability to create custom task fields and use collaboration options like adding comments or attachments
Pricing: Asana's capabilities are available with a free plan, offering unlimited tasks, messages, and projects. But to access more advanced capabilities, such as its Timeline, Workflow Builder, or detailed reporting, you must choose the Premium plan at $11/month.
SaaS Tools for Email Marketing
Email marketing is still one of the most profitable and effective ways to target, educate, and engage your audience. SaaS Email marketing tools enable you to create, automate, and send email campaigns. Not only that, but you can manage email lists, monitor each email's performance, and more. Here are the best options to consider:
Moosend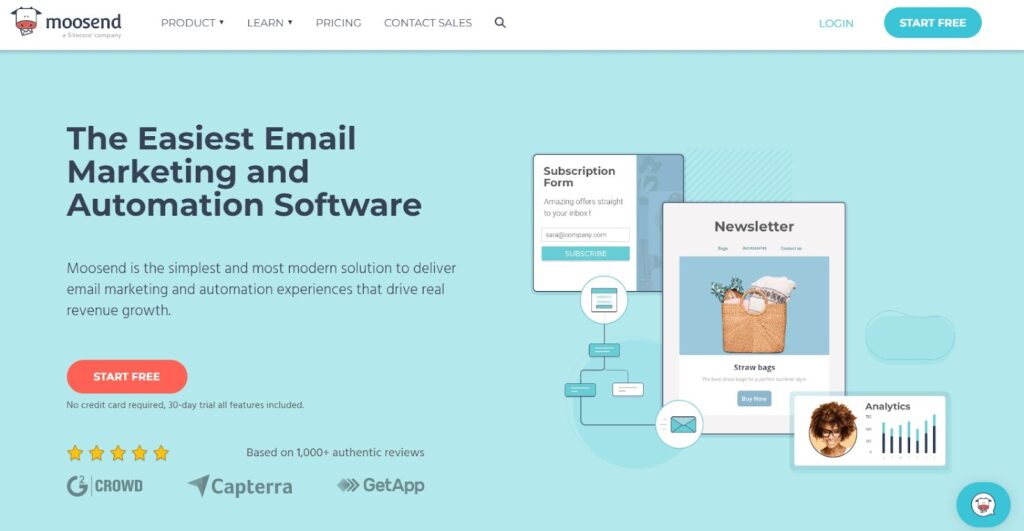 Moosend is an email marketing automation platform well-known for its easiness of use. Its flexible drag-and-drop builder allows you to create emails from scratch, even if you're an entry-level marketer or lack the technical expertise. Or you could edit any of the numerous designer-made, responsive, and customizable templates according to your specific needs and overall branding. Moosend comes with sophisticated automation with ready-made sequences for every occasion and business type.
Best features:
Advanced list management capabilities that allow you to build effective and healthy mailing lists
Its segmentation and personalization features let you segment recipients based on their demographics, behavioral data, etc., and target them with tailored email content
With Moosend's lead generation tools, you can set up personalized landing pages and compelling subscription forms using pre-built templates
The platform comes with A/B testing options and detailed reporting for you to monitor every critical email marketing KPI and optimize your emails accordingly
Pricing: The Pro plan starts at $7/month, offering unlimited emails and access to the platform's automation recipes, landing pages, and forms. Its flexible pricing plan makes it a great choice for all businesses. Also, you can test the tool through its 30-day free trial that includes most of its features.
Constant Contact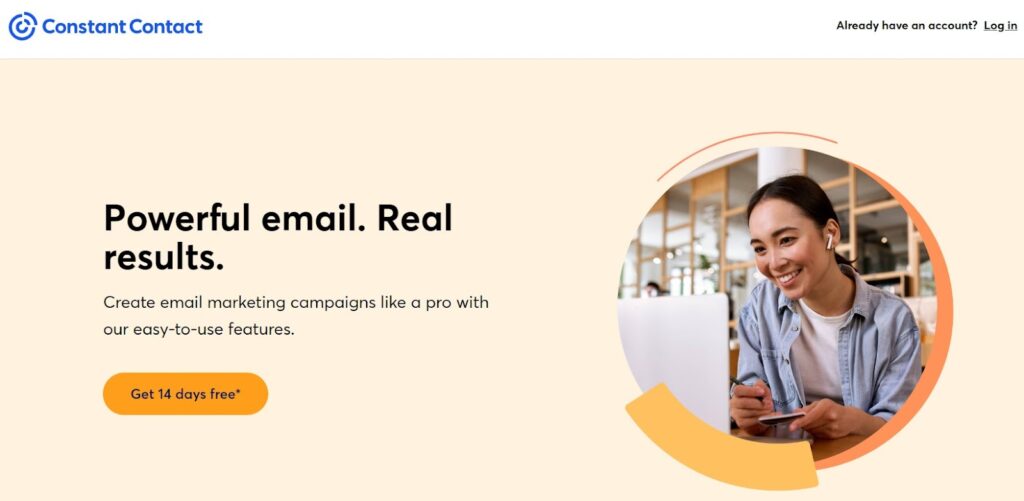 (Source)
Constant Contact has been a key player in the email marketing game for a long time. The platform combines creating email campaigns with building a website or setting up an online store, which makes it a good option for companies that want to make the most of their SaaS solution. However, the design of its ready-made email templates is somewhat dated, lacking features like a mobile preview.
Best features:
An easy-to-grasp free email template builder with drag-and-drop functionality for users to create the email campaign that fits their needs
Customizable Instagram and Facebook ads that facilitate the process of multi-channel marketing, reaching prospects on multiple platforms
A unique online donation feature that makes it ideal for nonprofit organizations
Pricing: Pricing starts at $12/month with the Lite plan that gives you access to basic email marketing options, as well as event management and some of its social media capabilities. The cost goes significantly up if you require advanced features like automation options. But you have the chance to check things out by using the service's 60-day free trial.
SaaS Tools for Social Media Management
In today's time, having a social media presence is a must, no matter the business type. Seeing that most businesses have multiple social media accounts, they need a SaaS solution that helps them manage everything in one place. So, if you want to grow your business to the next level, consider using one of the below-mentioned tools:
Buffer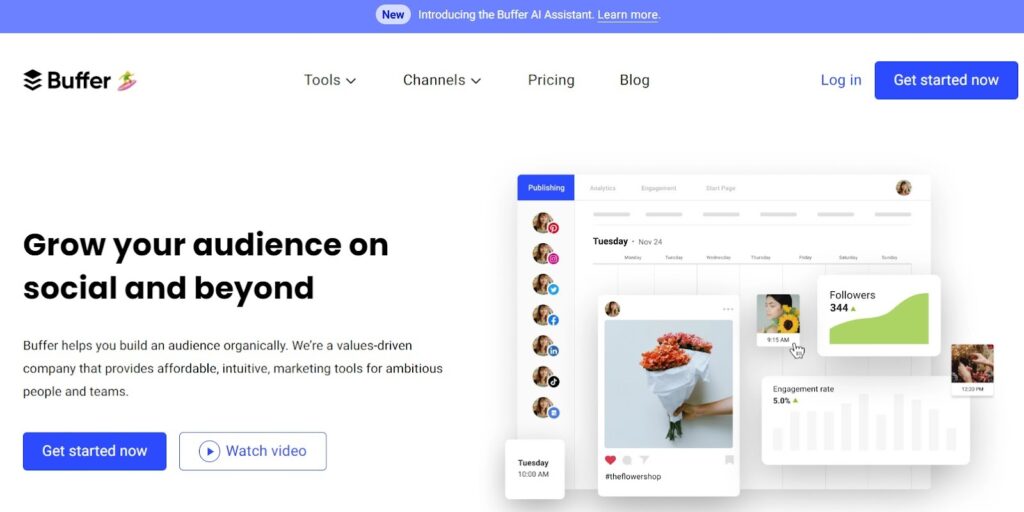 (Source)
Buffer is a reputable social media management platform that has been in the game for a while. This tool makes scheduling and managing social media posts a breeze through a user-friendly interface and powerful options like a photo editor, detailed reporting, or team management capabilities.
Best features:
A unique Hashtag Planner functionality that helps you organize all hashtags used
The platform provides you with a calendar view that includes every scheduled social media post
You can leverage its in-depth analytics to monitor the performance of your social media content and use this insight to optimize future efforts
Its AI assistant helps you write engaging social media content and repurpose existing content multiple times across different platforms
Pricing: Buffer's free version offers access to its landing page builder and AI assistant and the ability to add up to three channels. To use its analytics and engagement tools, you must pick the Essentials plan at $6/month. We should mention that the price increases if you wish to take advantage of more features.
Hootsuite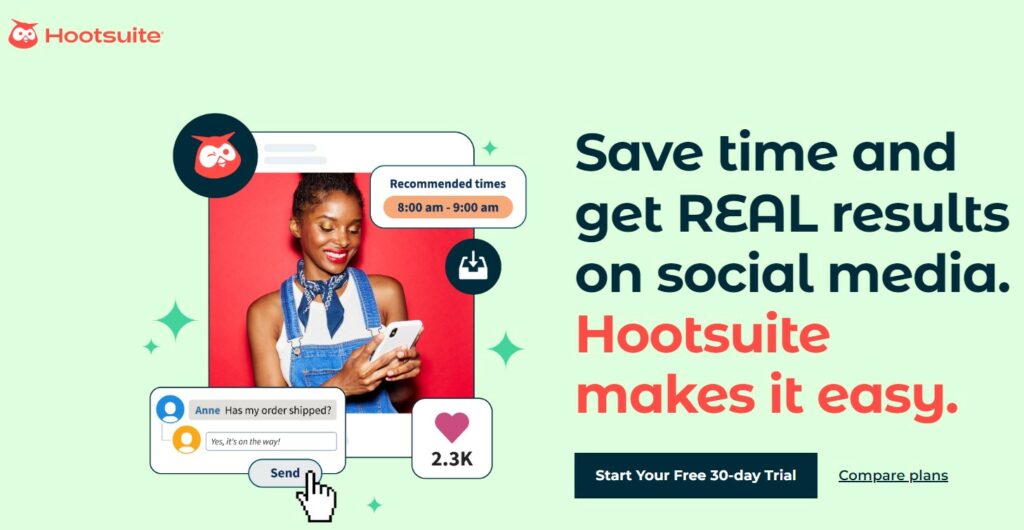 (Source)
Users have come to think of Hootsuite as a top-tier SaaS solution to drive social media traffic. And that's because it provides them with multiple functionalities, from automatically scheduling social media posts to managing and monitoring organic and paid social media content. If we have to pick our least favorite part, it would be the interface which is a bit complex compared to competitive tools.
Best features:
You get to keep track of key performance metrics in a unified dashboard
The platform facilitates collaboration through its team management options and the ability for team members to send private messages
Powerful integrations with reputable tools, such as Hubspot, Canva, and Shopify
Pricing: We will have to say Hootsuite is considered a pricey option. Its Professional plan comes at $99/month and lets you have one user, up to ten social media accounts, and unlimited posts. You can test this or the Team plan ($249/month) through a 30-day free trial. In case you skip the trial version, you get a 20% discount for both plans.
SaaS Tools for Internal Communication
SaaS internal communication tools enable brands to streamline communication and enhance team members' collaboration. You can use this software to access and share important information, discuss tasks and projects, or even do some good old-fashioned team bonding. It's everything you need to have all teams and members on the same page.
Slack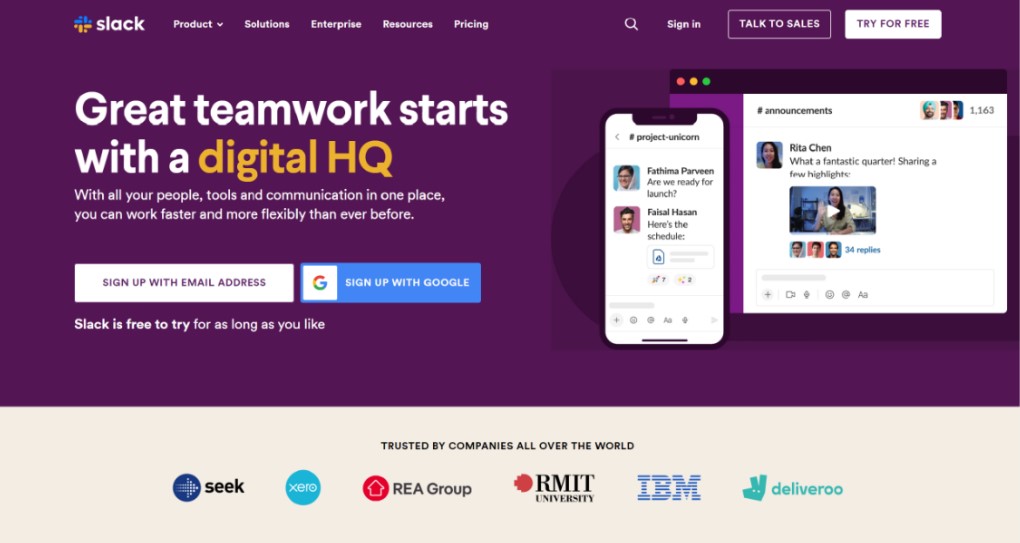 (Source)
Slack is a cloud-based SaaS solution that has taken internal collaboration to the next level. Thanks to features like instant messaging, searchable history, voice and video calls, and more, it facilitates real-time internal communication. Its enhanced chatroom allows you to communicate through dedicated channels, private groups, and direct messages, thus reducing the time-consuming process of sending emails.
Best features:
Its voice and video call feature enables you to switch from messaging to calling and vice versa quickly and easily
More than 2,000 integrations with third-party tools, such as Google Calendar, Trello, Dropbox, and more
A built-in Slackbot that facilitates exploring the product and resolving potential queries
The ability to manage live chat through Slack itself with its dedicated live chat integration
Pricing: While Slack has a free plan, it has many limitations, like having access to only ten integrations. Its Pro plan starts at $5.75/person monthly with unlimited integrations and the option to use its Slack connect channels for external collaboration. Note that the tool charges per active user, which could be a drawback for small businesses with limited resources.
Calendly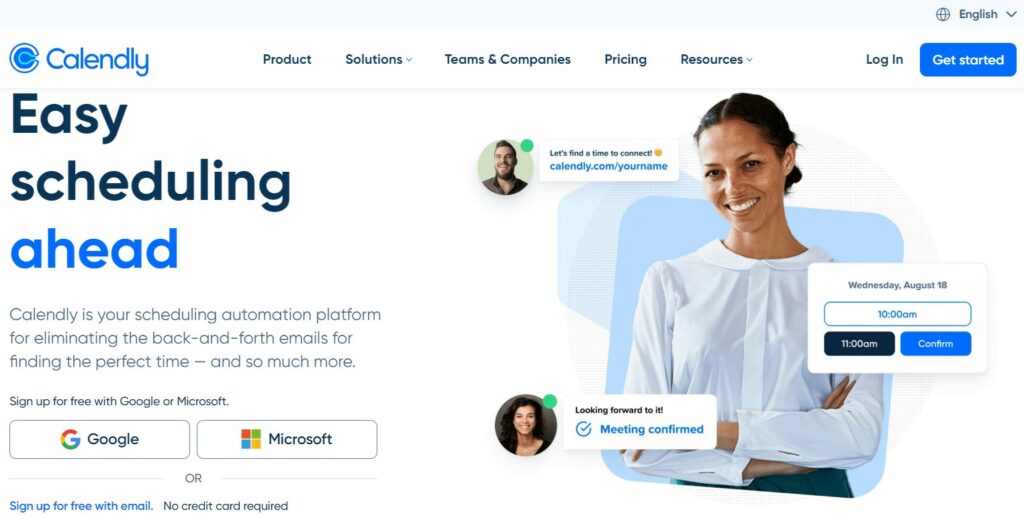 (Source)
Calendly is a team scheduling software that streamlines everything to organizing and scheduling meetings, saving valuable time from sending one email after another. The tool includes powerful options such as creating personalized invitation links and managing different types of events based on your business needs.
Best features:
Once the attendees set their availability and the appointment or meeting date and time, these are automatically added to their calendar
A generous free plan and unlimited meetings across all pricing plans
Calendly's reports allow you to view each user's activity and event analytics
Pricing: Calendly offers a Free Forever plan with basic features like connecting one calendar, a few integrations, and access to the help center and email support. Its paid plans start at $8/month. To unlock the tool's full potential, you should probably opt for the Professional plan at $12/month, offering customization and analytics options.
Final Words
Regardless of your company's niche, SaaS tools are an integral part of your digital marketing strategy. From internal communications to email marketing, they empower you to schedule, manage, and keep track of every crucial aspect of your business. The challenge is selecting the most suitable tools based on your business size, needs, and objectives.
Our guide has given you an overview of the best tools in each category. Remember, though, that you need to properly analyze your goals, consider your resources, and explore each tool's features to pick the ones that will lead you to business success.
Author
Maria Fintanidou works as a copywriter for email marketing automation software Moosend, having created the Help Articles (FAQs) and overseen the platform's translations in Greek and Spanish. She loves exploring new cultures and ways of thinking through traveling, reading, and language learning.