Reading Time:
9
minutes
Are you struggling to get your SEO headlines to drive the desired website traffic? Are you tired of seeing your competitors beating you in search rankings?
If so, this article is for you! Here we'll discuss how to craft compelling SEO headlines that can help amplify your organic reach, increase click rates and boost engagement on your pages.
We'll also provide essential hacks to help you craft powerful headlines that can lead to up to 5x more traffic!
Whether you're an experienced content writer or a newcomer to the field, these tips can assist you in writing headlines that draw in your audience and direct visitors to your website or blog.
Understanding SEO Headlines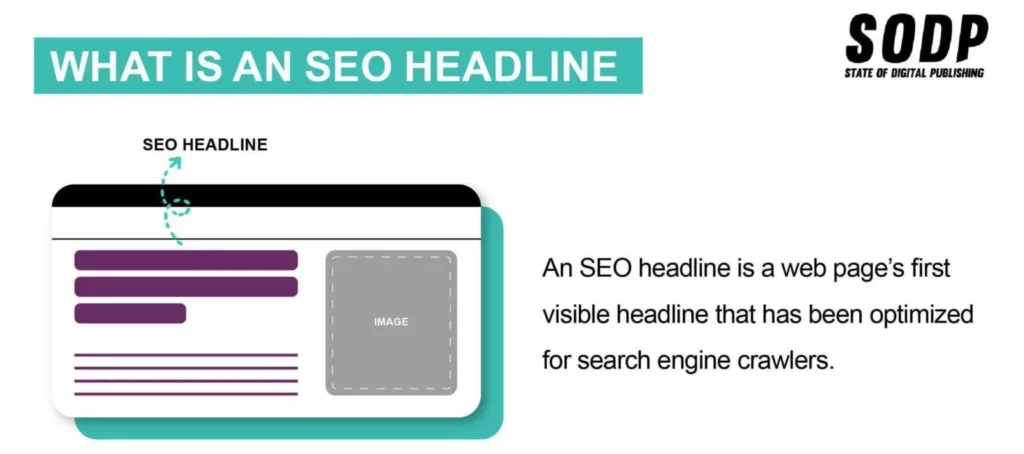 SEO headlines are headlines that are created specifically for search engine optimization purposes.
They're written to include targeted keywords and phrases likely to be searched by users looking for content related to those terms.
In contrast to ordinary headlines, SEO headlines are created with people and search engines in mind.
In addition to using keyword terms, they are often intriguing and attention-grabbing. This way, they can persuade visitors to click through to the content on the search engine results page (SERP).
SEO headlines frequently contain modifiers like numbers or adjectives that help them stand out in search engine outcomes and boost clickthrough rates.
SEO headlines are usually shorter than ordinary ones to make them easier for readers to understand and appear higher in search results. Also, they won't get cut off or lose meaning when displayed in search engine results.
Creating SEO-optimized headlines ensures that your website appears in the top results of major search engines such as Google, Bing, and Yahoo. This will help drive more people to your site and boost page engagement.
6 Headline Hacks for Crafting SEO Headlines (With Examples)
You need to craft compelling SEO headlines that can help you garner more organic search traffic to your pages.
Use these six headline hacks to create SEO-friendly headlines that will appeal to both search engines and your readers:
Hack #1:Create Headlines With Between 55-70 Characters
The length of your SEO headline's length is very crucial. If a headline is long, it may be cut off in search results or be too overpowering for readers.
A headline that is too short, on the other hand, cannot convey enough information. When writing headlines, keep the character count between 55 and 70, including spaces.
Doing this will make the title clear and concise while giving readers enough information to make them want to read the rest of the material.
Lok at this example: "5 Tips for Writing Compelling SEO Headlines." Its character count is acceptable, and readers can easily know what it contains.
You can use the Google SERP Stimulator app to help you determine how much of your headline will appear in the organic search results. With this tool, you can view simulated search engine results pages to identify what your headline will look like when it appears on the SERP.
Using this tool, you can ensure that your SEO headlines are concise and clear enough for readers to understand even after being cut off in search results. This way, you can ensure maximum visibility for your clients'
Hack #2: Use Numbers and Data
Another successful SEO headline-writing trick is utilizing numbers and data. Research has shown that headlines with numbers typically perform better than those without.
This is because they provide a clear and precise promise about what readers may anticipate from the content.
For instance, an Orange County digital marketing firm may create a title like "5 Proven Social Media Strategies to Boost Engagement and Drive Sales."
This headline guarantees a particular number of tactics and indicates that they have been tried and true by using the number 5, which makes it more enticing to potential readers.
Another example may be when a digital advertising near me comes up with the headline "The Top 10 SEO Trends You Need to Know in 2023."
This title promises ten trends to the reader and indicates that they are current and relevant using the year 2023.
This increases the likelihood that someone looking for SEO trends will click through to the content.
Including figures and facts in your SEO headlines may increase the chance of clicks and interaction since your content will be more specialized and enticing to your target audience.
Hack #3: Ask a Question

Using queries that connect with your audience is another helpful tip for writing SEO headlines and, as a result, leads to conversion content.
Marketing questions draw the reader in, compelling them to read the article or blog post to discover the solution.
It's crucial to ensure the question in a question-based headline is pertinent and closely tied to the article's content.
Here is an illustration of a headline with a question adopted by marketing firms near me: "Is Your Website Losing Potential Customers? This Is How to Fix It.
The query in this headline grabs the reader's attention immediately by pointing out a potential issue they could be having with their own website.
Following a problem-solving statement, the title entices the reader to click through and read the article to find out more.
Hack #4: Address a Pain Point or Problem
One of the best strategies to create SEO headlines is to speak to an issue or pain point challenges your intended audience is going through.
Resonating with your client's problems lets you grab their interest immediately and persuade them to click through to your content.
For instance, you can create a title like "Struggling to Generate Leads? Here's How Our Marketing Services Can Help."
The likelihood that someone looking for lead generation tactics would click through to the material increases because this headline recognizes a common pain issue for organizations and provides a solution.
By addressing a pain point or problem in your SEO title, you may make conversion content that is enticing to your target audience and increase the probability that they will click and interact.
Hack #5: Use Power Words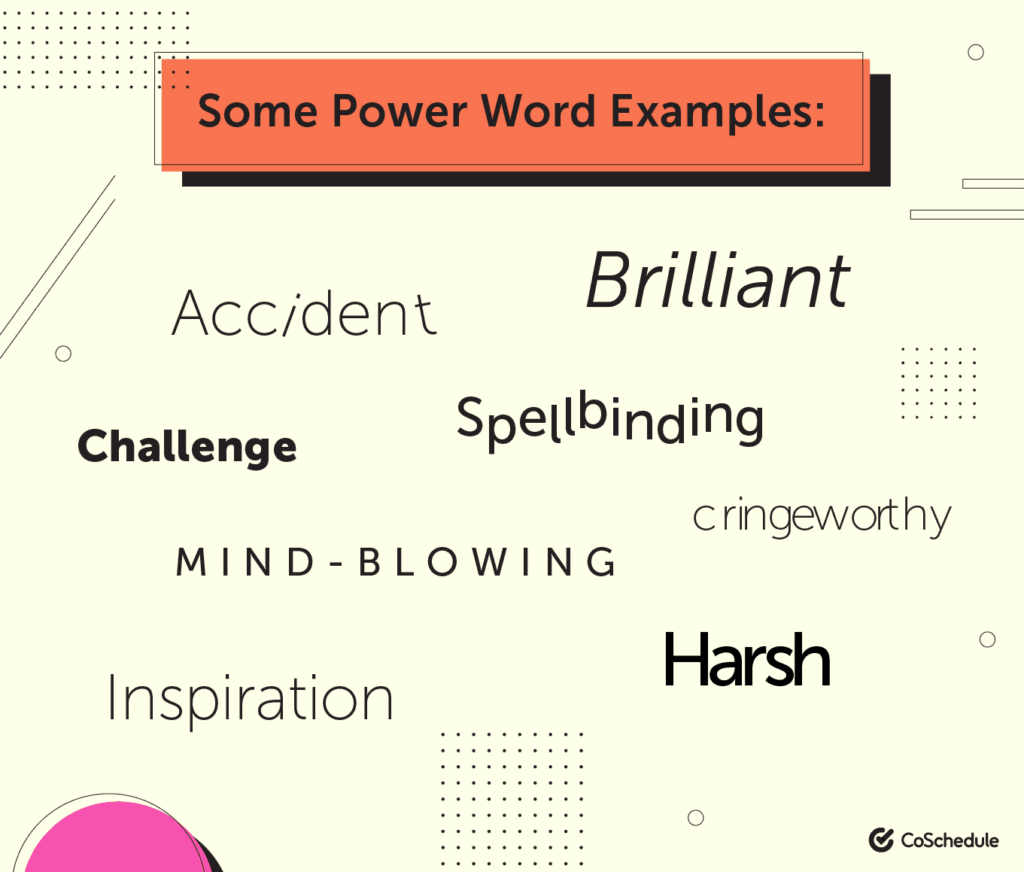 Power words are phrases that arouse intense feelings in the reader and give them a sense of haste or excitement.
These words work well in headlines, given that they capture the reader's attention and compel them to click on the article or blog post.
Power phrases that are frequently used include "proven," "secret," "limited," "exclusive," and "guaranteed."
An example of a headline employing power words: "Unlock the Secret to Growing Website Traffic with Time-Tested Techniques."
In this headline, the key phrases "secret" and "proven" quickly grab the reader's attention and arouse curiosity about the article's subject.
Additionally, emphasizing the possible advantages of reading the material, the phrase "growing" conveys a feeling of urgency.
Hack #6: Keep It Concise and Clear
Considering Orange County is a crowded market, you need concise and unambiguous headlines to get your customers' material recognized.
Stop confusing readers by avoiding jargon and unnecessarily complicated wording. Choose a language that reflects the page's content instead of something obvious.
Consider using an active voice and verbs that take action to make the title more intriguing and your clients' content stand out while getting more hits.
Look at this example: "Use Social Media Advertising to Increase Traffic to Your Orange County Business."
In this case, the title is concise and unambiguous, succinctly communicating the article's primary point using straightforward language and an action verb.
Tips for Writing Effective SEO Headlines
Use Relevant Keywords and Include them at the beginning of the Headline
Effective SEO headlines must consist of keywords since they aid search engines in deciphering the content's subject matter and matching it to particular search queries.
For the most significant possible effect, make sure your headline's keywords are related to the article's content and that they start the sentence.
Placing the primary keyword(s) at the beginning of the title helps draw readers in and makes it apparent what the content is about.
However, avoid overusing or incorporating irrelevant keywords. They may damage the content's credibility and negatively influence search rankings.
An excellent example of using keywords is: "Orange County Real Estate Market Update: Trends and Analysis for 2023.
The title in this example clearly states what the content is about and is optimized for search engines by including the essential phrase "Orange County Real Estate Market" at the beginning.
To be more particular and engaging, the headline typically incorporates additional relevant details, such as the year and the article's subject.
As a result, these keywords placed at the beginning of your headlines are essential for increasing the visibility of your content in search results and getting targeted viewers.
Use Emotional Triggers to Evoke Curiosity or Excitement
As an Orange County firm, it's critical to remember that compelling SEO headlines should not only correctly summarize the page's content but also arouse readers' interest.
Using emotional triggers in your headlines is one method to do this. You can apply them to appeal to the reader's emotions and create interest in the material.
Emotional triggers often help your organization produce headlines that appeal to readers and may be expressed as excitement, gloom, terror, or urgency.
An excellent example of using emotional triggers in a headline is: "Unlock the Secret to Unlimited Website Traffic in Orange County."
In this example, the title takes advantage of the emotional response of curiosity to entice readers to click through to the content and discover more.
Analyze your Competitors' Headlines to Get Inspiration
By looking at your rivals' headlines, you may learn what works and what doesn't in your sector. This can help you develop headlines that are more likely to attract your target audience.
You can start by investigating the top-performing material on your rivals' websites, blogs, and social media platforms.
Paying attention to the phrases used, wordplay, tone, and arrangement is an excellent place to start when examining the headlines your competitors might be using.
With this information, you may come up with similar headlines or take a different and better tack if you notice faults in their headlines.
Studying your rivals' headlines may be a terrific method to get ideas for your own SEO headlines while preserving your distinctive brand voice and strategy.
Avoid Clickbait or Misleading Headlines
While clickbait titles may initially increase clickthrough rates, they can damage a brand's reputation and reduce reader trust in the long run.
Ensure the title appropriately summarizes the information on the page to avoid clickbait or misleading headlines.
Be careful not to use sensational language or make claims that the content in your article can't support.
Instead, concentrate on writing appealing and engaging headlines that are clear and informative.
An example of a good headline you can use is: "10 Ways to Improve Your Orange County SEO Strategy in 2023"
This headline is a true reflection of the information on the page, which offers suggestions for enhancing Orange County SEO.
It refrains from using sensationalist language or making exaggerated claims in favor of offering readers helpful advice they can utilize to enhance their SEO approach.
By avoiding clickbait and deceptive headlines, your firm may gain readers' confidence and position its clients as trustworthy information providers in their fields.
Ultimately, this may result in more users visiting and participating on their website or blog.
Use Headline Analyzers to Evaluate Your Headlines'Quality
It might be challenging to develop a successful SEO headline because of the variety of variables that can affect it, such as length, clarity, and relevancy to the content.
However, with a headline analyzer tool, it will be easy for you to assess the caliber of your headlines and get to know their effectiveness.
These tools evaluate the headline and assign a grade based on word choice, length, and emotional effect.
Once you enter your headline into the analyzer, the program will give it a grade and improvement recommendations.
Using a headline analyzer tool, you may assess your headlines' efficacy and make any necessary changes to raise their caliber.
A good example of a headline analyzing tool is the CoSchedule Headline analyzer which evaluates your title and presents the overall SEO score and its headline performance score.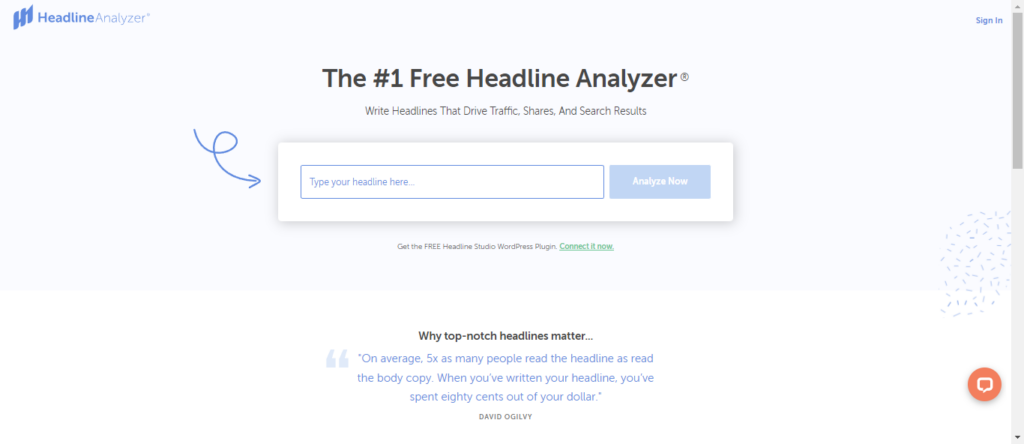 This tool will help you ensure your headlines are tailored for maximum impact and interaction.
Final Thoughts On Crafting Persuasive SEO Headlines
SEO headlines are a crucial component of any successful content marketing strategy.
By understanding the nuances and strategies behind creating effective SEO headlines, you can craft titles that draw in your target audience and increase engagement with your content.
Using competitive research techniques, avoiding clickbait or misleading headlines, and leveraging headline analyzing tools can help a company in Orange County create compelling and informative SEO headlines that can generate more client leads.
The Flying V Group is your go-to digital marketing agency in Orange County that specializes in SEO strategies and effective SEO headlines.
Contact us today to learn more about how we can help you increase leads for your business with powerful SEO titles!