Reading Time:
6
minutes
In 2010, the online retailer, Overstock.com, underwent a website redesign that ended up costing them $5 million in lost revenue. The company decided to change the color scheme and layout of their website, hoping to improve the user experience and increase sales. However, the redesign ended up doing the opposite.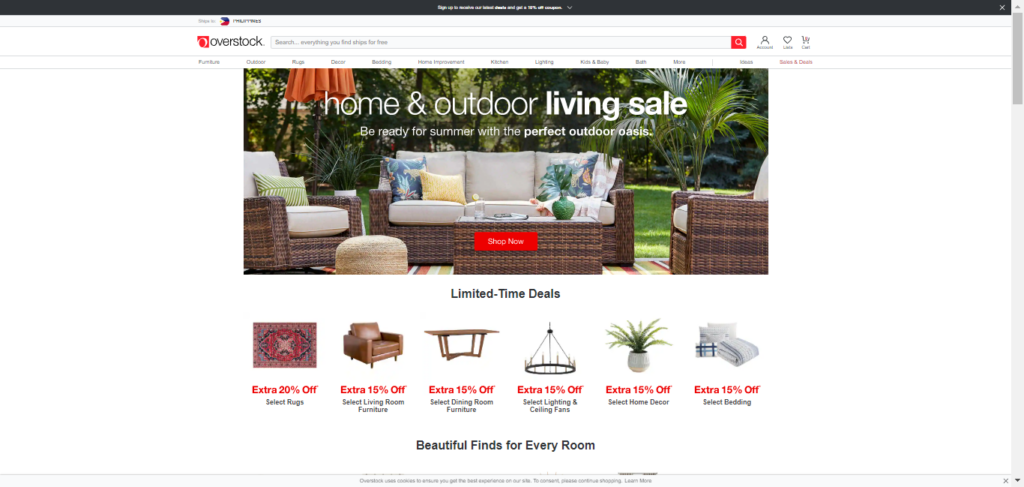 Customers were confused by the new design, and the website was difficult to navigate. The checkout process was also longer and more complicated, leading to a significant drop in sales. Overstock.com quickly realized their mistake and reverted to their original website design.
In today's digital age, having a compelling website is crucial for any business looking to generate leads and succeed online.
However, designing and developing a website that captures the attention of potential customers can be daunting, especially for those lacking the technical expertise and knowledge. What's equally daunting is finding an agency that can design that compelling website to boost your revenue.
A well-designed website can
increase customer trust and
the credibility of your business
It can also provide
a better user experience, leading to
increased customer engagement.
In response to the failed redesign, Overstock.com invested in a team of UX designers and developers to improve their website's functionality and user experience. The company also implemented A/B testing to experiment with different designs and layouts, ensuring that any changes made would positively impact revenue.
Here in Los Angeles, Flying V Group is one of the leading digital marketing agencies. They also have a lot of expertise when it comes to designing all kinds of websites.
Why Choose FVG for Your Website Design Needs?
When it comes to website design, it's important to choose a digital agency that has the experience, expertise, and commitment to deliver a high-quality product that meets your business needs. FVG is one such agency that can provide you with a compelling website that can boost your lead generation.
Customized Solutions
Flying V Group offers customized web development solutions that are tailored to meet your business needs. They take the time to understand your business objectives, target audience, and unique requirements to create a website that aligns with your goals.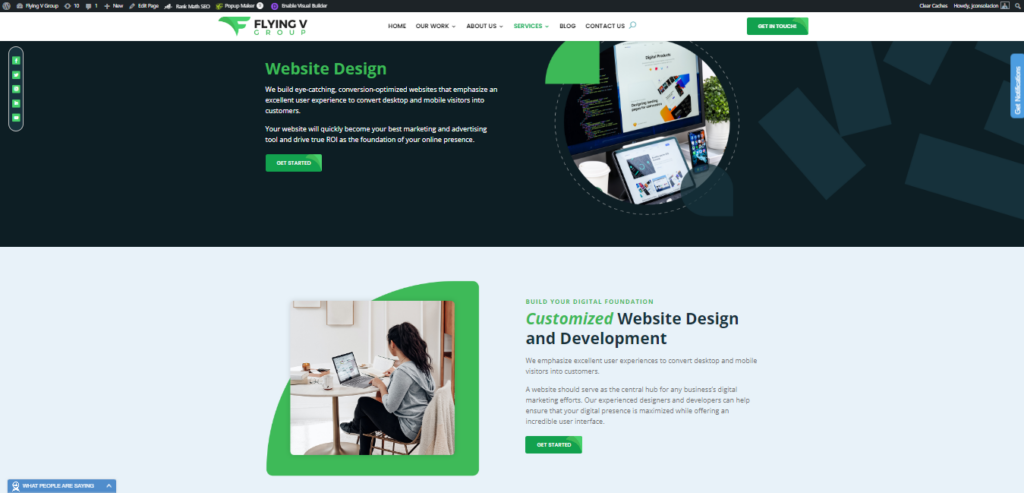 Expertise and Experience
Another strong quality of FVG is its team of experts. They have a team of experienced web developers who have the expertise to create a website that is not only visually appealing but also user-friendly, optimized for search engines, and mobile-friendly. Not only that, but they stay up-to-date with the latest web development trends and technologies to ensure that your website is cutting-edge and competitive.
Commitment to Customer Satisfaction and Success
FVG is committed to delivering high-quality website design solutions that exceed customer expectations. They work closely with their clients to ensure that their website design meets their specific requirements and provides a positive user experience. When you hire FVG, you also get ongoing support and maintenance services to ensure that your website stays up-to-date with the latest technology and trends.
Fast Turnaround Times
FVG has a reputation for being one of the fastest website design companies in the industry. They've created a streamlined process that allows them to deliver high-quality websites quickly, which means you won't have to wait months before seeing the results of your investment. FVG also offers fast turnaround times on all of their other services, including web development and SEO services.
They understand that time is of the essence when it comes to web development. That is why they work efficiently to ensure that your website is developed and launched as quickly as possible without compromising on quality.
Ongoing Support and Maintenance
One of the things that sets FVG apart from other web design companies is their commitment to ongoing support and maintenance. So you can rest assured that your website is always being maintained by an expert. They understand that a website is not just a one-time project, but it's something that needs to be updated and optimized over time.
Flying V Group provides ongoing support and maintenance services to ensure that your website stays up-to-date. They offer regular updates, backups, and security checks to ensure that your website is running smoothly and securely.
Affordable Pricing
The icing on the cake is the affordable pricing. In today's competitive market, it can be hard to find a web design agency that offers high-quality services at an affordable price point. But Flying V Group has found a way to do both: they offer quality services at competitive prices. They don't charge by the hour or by the project. Neither do they have a flat fee one size fits all rate for every solution. Instead, they work with you according to and within your budget.
They provide transparent pricing with no hidden fees, so you know exactly what you're paying for.
Choosing Flying V Group for your web development needs can provide you with a customized, cutting-edge website that meets your unique business needs.
With their expertise, fast turnaround times, ongoing support and maintenance, and affordable pricing, you can be confident that your website will be a valuable tool for lead generation and customer engagement. Here's how they go about developing a website.
FVG's Website Design Process
FVG's website design process is a comprehensive and collaborative approach that ensures that your website meets your business goals and provides a positive user experience. From discovery to launch, FVG prioritizes customer satisfaction and success.
Discovery
This is the first step in the process. FVG starts the website design process by getting to know your business and understanding your website goals. They collaborate with you to gather information about your target audience, brand values, and desired website features.
Planning
The planning stage outlines the website's structure, design, and functionality. They use wireframes and prototypes to give you a visual representation of how your website will look and function.
Design
Here's where the actual work begins. FVG's team of designers creates a custom design that aligns with your brand and meets your website goals. They prioritize user experience design to ensure your website is visually appealing and easy to navigate.
Development
The development phase is the technical aspect. FVG's web developers build the website using the latest technology and coding best practices. They ensure that the website is mobile-friendly, optimized for search engines, and has fast loading speeds. With all the boxes checked, they proceed to the next step;
Testing
FVG tests the website to ensure that it meets their quality standards and your business needs. They test for functionality, compatibility, and performance to ensure that your website is ready for launch.
Launch
FVG launches your website and provides ongoing support to ensure that it stays up-to-date and secure.
FVG collaborates closely with their clients throughout the website design process to ensure that the final product meets their unique business needs.
They prioritize user experience design and conversion optimization to ensure that your website not only looks good but also drives results.
But don't take our word for it. Here's what some clients have said;
Client Testimonials
Client testimonials are an essential way for potential clients to gain insight into the quality of FVG's website design services. Here are some examples of testimonials from past clients:
I was impressed by their 'do whatever it takes' attitude. The project surpassed my expectations – it was timely, high quality, and at a great price – I would definitely recommend." ~Ajay Bawa
"Flying V Group goes above and beyond the call of duty and really do mean it when they say that they view their relationships with their clients as a partnership, win-win relationship.I have nothing but positive things to say and they receive my highest recommendation. Don't overthink it. Use Flying V Group." ~Tyler Smith
"Keen Vision utilizes Flying V to deliver business advisory in web marketing strategies as well as leading the design and development of our web marketing content. We especially like that we can sit down with the Flying V team, talk strategies and designs and have strong content launched in a very short period of time. I strongly encourage you to connect with the team at Flying V – they are an incredibly valuable partner to us at Keen Vision." ~Mark Davidson
These testimonials highlight the positive experiences of past clients working with FVG. They praise FVG's collaborative and responsive approach to website design, as well as the quality of their work. Furthermore, the testimonials illustrate how FVG's website design services have helped these businesses grow by improving their online presence and lead-generation efforts.
Hire the Best Website Designers in Los Angeles
Hiring FVG for your website design needs offers numerous benefits, including high-quality design and development, collaboration with clients to understand their needs and goals, a focus on user experience design and conversion optimization, and a commitment to customer satisfaction and success.
FVG's website design process, which involves discovery, strategy, design, development, testing, and launch, ensures that clients receive a website that not only looks great but also drives business results.
If you're looking to boost lead generation for your business, FVG is the right choice for your web development needs.
Their experience and expertise in website design and development, combined with their commitment to customer satisfaction, make them the perfect partner for your business.
Don't hesitate to contact FVG to learn more about their services and how they can help you achieve your business goals through a compelling website.