Reading Time:
10
minutes
Are you tired of creating content that goes unnoticed? Do you constantly wonder, "What kind of content should I create?" Look no further.
Effective content development is essential to the success of any online business in the modern day. But with so many content formats, it can be challenging to know where to begin.
This article will take you through the numerous content formats you may employ to draw in readers and keep them interested.
We'll also look at how to create various types of content and how to use these content formats to produce quality leads.
By producing high-quality content, you can position yourself as an expert in your field, improve the search engine rankings of your website, and eventually increase traffic and sales to your company.
Types Of Content Formats You Can Create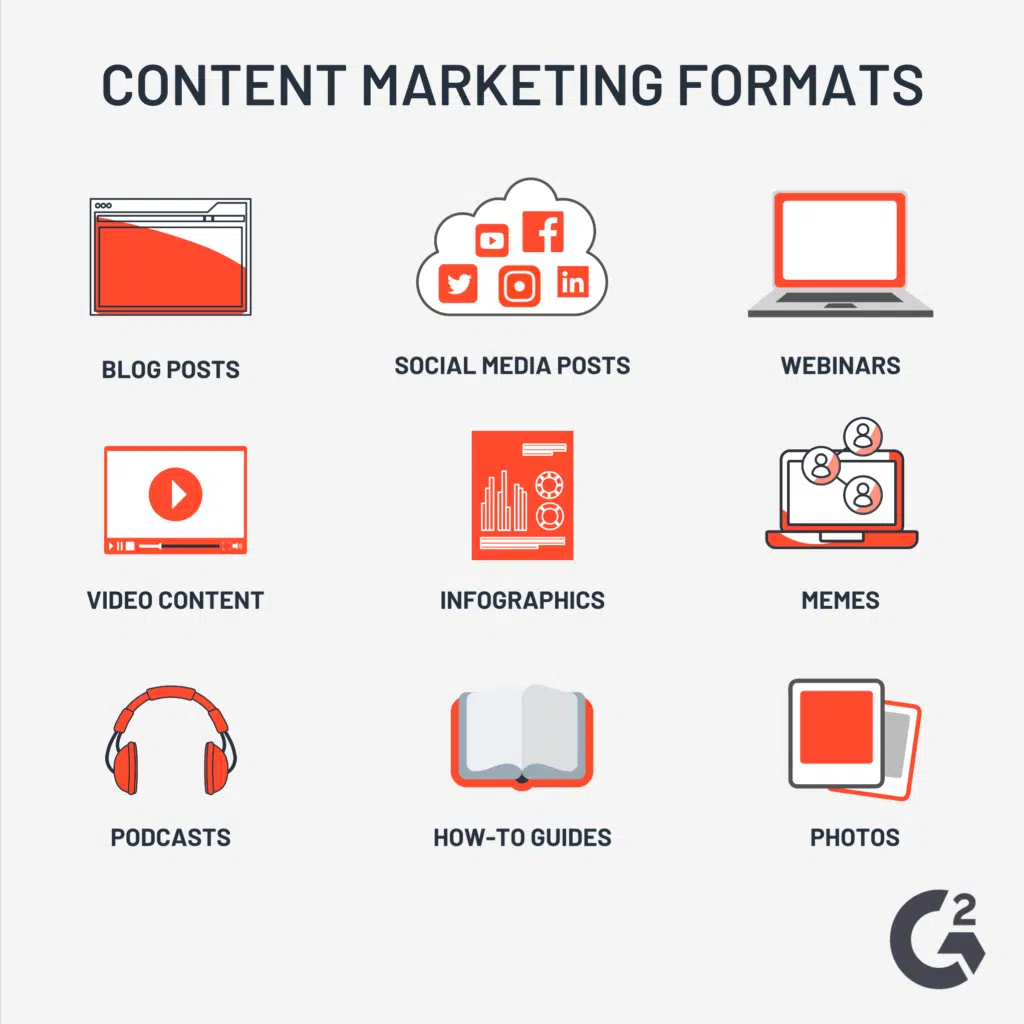 You can use different content formats to engage your audience and increase website traffic.
Every format has a unique advantage and can be customized to meet the needs of your particular audience and objectives.
Below is a list of the various types of content formats you can adopt:
1. Text-Based Content (Blog Posts, Ebooks, Whitepapers)
Any written material, including blog articles, reviews, publications, whitepapers, and other types of writing, is considered text-based content.
These content forms are simple to generate and may be used to engage readers, establish your subject-matter prominence, and increase website traffic.
For instance, blog articles are well-liked text-based content that can be utilized to engage your audience regularly.
Ebooks and whitepapers are longer-form content types that offer in-depth knowledge on a specific subject while generating leads for your business.
Producing high-quality, educational, and exciting writing is crucial. This way, your readers will return for more and tell their friends about it.
When they are finally ready to buy, they'll be more likely to choose your brand since you've educated them throughout the buying cycle.
Ensure your text is simple to read and comprehend, use attention-grabbing headlines, and break up your material with visuals or infographics.
2. Visual Content (Videos, Images, Infographics)
Visual content is a type of content that primarily conveys ideas through pictures, videos, and infographics.
Visual material grabs the audience's attention and explains complicated ideas quickly.
Videos which are a fantastic method to involve your audience and increase brand recognition.
They let you use a combination of music and graphics to communicate a message, which makes it simpler for viewers to comprehend and recall the information.
You can use videos in many ways, including product demos, instructions, and interviews.
Images, on the other hand, are excellent at grabbing viewers' attention and evoking strong feelings.
You can use them in blog posts, social media postings, and other types of information to add a visual appeal.
Infographics are a great way to represent data-driven content and make it easily understandable. They distill information into bite-size pieces that may be quickly consumed and shared with others.
For example, you can use an infographic to show the results of a survey or explain how to use a product. You could also summarize a pillar post using infographics.
Using photos, videos, and infographics, you may develop a dynamic and compelling content strategy that connects with your audience.
3. Audio Content (Podcasts, Radio Programs)
Audio content is a content format that enables you to connect with your audience through sound. It may be found in different forms, including podcasts, radio, and audiobooks.
Podcasts, a popular type of audio material, enable you to create and share recurring episodes on a variety of subjects.
About 28% of Americans 12 years and older listen to podcasts at least once a month.
As on-demand audio has grown in popularity, podcasts have become the preferred method for consumers to absorb material while on the move or carrying out other tasks.
Podcasts help you establish your brand, demonstrate your subject-matter expertise, and interact more personally with your listeners.
Radio programs are another sort of audio content that may be delivered online or over the airwaves.
They often reach a larger audience but may be customized to specific audiences, as they typically include music, news, and interviews.
Audiobooks also provide an engaging audio experience. They are an excellent way for people to learn about a topic in-depth without reading a book. Many books on Kindle or other digital platforms now have audiobook versions.
While producing audio materials, ensuring your audio quality is crystal clear and straightforward to listen to is crucial.
Additionally, you ought to produce engaging and instructive content with an easy-to-follow structure and format.
Audio content has the potential to be a powerful brand-building and audience-engagement tool when used correctly.
4. Interactive Content (Webinars, Live Streaming Events)
In contrast to passively consuming content, interactive content actively engages the audience by encouraging them to participate in the content.
This format promotes community and strengthens connections with the audience by enabling two-way dialogue between the audience and the content producer.
According to this resource, 76% of marketers say that webinars help them reach more leads, and 75% say it extends brand reach.


Live streaming events and webinars are excellent examples of interactive material.
Webinars are online seminars that enable the presenter to communicate in real time with the audience. They frequently allow participants to ask questions and participate in polls or surveys.
On the other hand, live streaming events come in various formats, from product premieres and Q&A forums to a look behind the scenes at a company or influencer's life.
Interactive content is efficient because it gives the audience a more comprehensive experience, which may increase engagement and conversion rates.
It's also a great chance to show off your knowledge of a particular subject, establish a more personal connection with your audience, and get insightful responses from them.
To provide a smooth experience for the audience while generating interactive content, it's crucial to prepare and practice carefully.
Promoting the event widely in advance and providing detailed instructions for participation to increase interest and attendance might also be beneficial.
Tips For Creating Different Types Of Content
With so many different content formats available, it's essential to understand which forms will work best for your audience and goals.
This is where tips for creating different types of content come in. You can use specific recommendations and techniques to make your content more effective and impactful.
Text-Based Content
1. Use the right keyword to optimize for search engine optimization
You need to Investigate the most popular and relevant keywords associated with your topic before you begin writing.
Carefully include these keywords throughout your content to boost your search engine rankings and drive more natural visitors to your website.
2. Develop a content calendar and stick to it
When it comes to generating suitable content, consistency is essential. Create a content calendar to organize your material so you always know what to post and when not to.
Doing so ensures you're continuously giving your audience value while staying organized and saving time.
3. Use headings and subheadings to guide readers through the content
When trying to highlight the critical elements of your article, consider using different headers and subheadings to divide your information into parts.
This not only makes your text more readable and visually beautiful, but it also aids in directing readers through it.
Visual Content
1. Invest in high-quality equipment for videos and images
If you want to raise the general caliber of your visual material, think about buying a high-quality camera or spending money on lighting equipment.
Purchasing high-quality equipment can significantly impact the final video or photo you produce, making your content more appealing to your audience.
2. Be consistent with colors, fonts, and other design elements
Consistency is essential when developing a visual brand identity that your audience can identify you by.
Use the same colors, typefaces, and other design components in your visual material to build a solid and identifiable brand.
3. Optimize visuals for different sizes and platforms
It's crucial to consider the platforms where you'll publish your content and optimize your visual content for those platforms.
To provide the greatest possible visual experience, prepare your photos and videos appropriately for use on various social networking sites, web pages, and other channels.
Audio Content
1. Use high-quality audio recording and editing software
The tools you choose to record and modify your audio will significantly impact how well it sounds.
To ensure your audio material sounds polished and professional, spend money on decent microphones and top-notch recording and editing tools.
2. Choose a compelling topic for your podcast or radio program
To keep your audience interested in your audio material, it must be entertaining and pertinent to them.
You should conduct research on your audience to determine the subjects in which they have the greatest fascination and then include those in your material.
3. Promote your audio content on different platforms
Promoting your audio material across platforms is crucial once you've generated it to reach a larger audience.
Consider collaborating with other podcast creators or radio shows in your field to cross-promote each other's material.
Share your podcast or radio show on the company's social media platforms, or even embed it on your website, where your audience might interact with them.
Interactive Content
1. Research the latest trends in online events and webinars
Before producing your own interactive material, it's crucial to do your homework and keep up with the most recent developments in online conferences and webinars.
You may use this to find fresh prospects and content ideas and study successful cases from your sector.
2. Prepare engaging presentations for live-streaming events
When you're live-streaming an event, it's vital to create exciting presentations that are both aesthetically appealing and simple to follow.
For example, you may use graphs, charts, and other visual aids to support your arguments and hold the audience's interest.
3. Invest in tools and equipment to ensure a smooth experience for viewers
Your tools and equipment quality will also impact how well your interactive material turns out.
Invest in high-quality cameras, microphones, and other tools to provide viewers with a seamless, expert experience.
How To Generate Quality Leads Using These Content Formats
The success of every organization depends on its ability to generate high-quality leads in the cutthroat digital market of today.
It's not enough to generate content. You also need to develop material suited to your target audience and intended to encourage conversions.
Content marketing is an excellent method for drawing in and retaining potential consumers. Below, we'll explore how you can generate quality leads using different types of content formats
Text-Based Content
1. Leverage email marketing to send content to a targeted list of subscribers
A valuable tool for generating leads is email marketing. Creating a list of targeted subscribers and providing quality information will make building trust with potential consumers easy.
Use tailored messaging to boost engagement and conversions and divide your list according to buyer profiles and interests.
2. Optimize blog posts for search engine optimization (SEO) with keywords and backlinks
Blog post optimization is essential to increase your website's search engine rankings, generate traffic, and, in turn, lead to conversion content.
Include relevant search terms and backlinks to additional suitable material on your website to ensure that it is SEO-optimized.
3. Repurpose content into different formats to increase reach and engagement
Consider converting text-based information into various forms, such as infographics, films, and social media postings, to increase its exposure and engagement.
Different audiences can be attracted, and engagement levels across various channels can rise.
Visual Content
1. Use social media channels to share visuals with a broad audience
Social media sites like Facebook, Instagram, and Twitter are great places to share visual material with a big audience.
You may produce infographics, pictures, and short movies highlighting your products or services. You can also convey market information or give your followers recommendations.
Use relevant hashtags and tagging influencers to increase the exposure of your content and draw in new leads.
2. Create videos with compelling storylines and captivating visuals
Due to its ability to communicate complicated ideas in a way that is more appealing and remembered, video is a very successful tool for generating excellent leads.
Create films that offer value to your target audience, display your goods or services, or tell a fascinating tale that interests your audience.
You can use top-notch graphics, sound effects, and musical accompaniment to attract viewers and elicit strong feelings.
3. Embed visuals into blog posts to increase readership
Including visuals in your blog posts, like infographics and videos, can boost readership and engagement.
Long passages of text may be broken up by images, which also contribute to the information and increase the shareability of your material.
You may also produce stand-alone visual material and advertise them through email marketing campaigns or social media to attract new customers.
Audio Content
1. Leverage podcast directories for increased exposure
Users frequently use podcast directories like iTunes and Spotify to find and listen to podcasts.
Adding your podcast to these directories may broaden your audience and attract listeners intrigued by your subject matter.
Include relevant keywords in your titles, descriptions, and subtitles to make your podcast easier to find.
2. Promote audio content on social media platforms
An excellent approach to spreading the word about your audio material and drawing in new listeners is through social media channels.
Build a community around your podcast by promoting new episodes on social media and interacting with your fans.
Consider making videos highlighting significant events from your podcast to share on social media and entice listeners to watch the entire episode.
3. Monitor feedback to refine content and increase engagement
Pay attention to listener comments and use them to improve your content and raise engagement.
Encourage listeners to provide feedback and ratings on your podcast so that you may use their suggestions to make the episodes better and more engaging.
Consider doing Q&A sessions or inviting guests to speak on your podcast to keep things exciting and fresh for your listeners.
Interactive Content
1. Leverage influencer marketing to promote webinars and live-streaming events
A practical approach for growing your audience and generating leads for your interactive content is to collaborate with influential people in your field.
You may tap into influencers' current audiences and reach a more extensive network of prospective consumers by working with them to publicize your webinars or live-streaming events.
2. Use lead magnets to capture information from viewers
A lead magnet is a valuable piece of material, such as an ebook or whitepaper, given in exchange for a viewer's personal information,
You can use lead magnets to gather the contact information of readers interested in your content but may not be prepared to purchase just yet.
3. Send follow-up emails with additional content or offers that may be of interest to viewers
Sending follow-up emails with relevant offers or extra material after someone has read your interactive content may be an excellent way to keep them interested in your business.
This might be in the form of invites to forthcoming events or links to more information on the subject of the interactive material they saw.
Conclusion
Producing high-quality content is crucial to dominating traffic and attracting qualified leads that impact revenue. You can use the many available content formats and the best production techniques to attract your target audience and boost conversions.
At the Flying V Group Agency, we specialize in assisting Orange County executives and decision-makers build content formats customized to their unique target and intended to produce high-quality leads.
Using data and analytics, we monitor and optimize the effect of your content as we work with you to create a personalized content marketing plan. Contact us today to learn how we can help you create content formats that bring in qualified leads and impact revenue.