Reading Time:
9
minutes
R/LinkedInLunatics is a subreddit dedicated to highlighting the outrageous, absurd, and downright cringe-worthy behaviors users can experience on LinkedIn. 
While it may be entertaining to scroll through posts of people misusing the platform or making gaffes in conversations with potential employers or business partners, there are real consequences to this kind of unprofessional conduct on LinkedIn. 
You must understand the importance of avoiding common missteps and maximizing value from each interaction to dominate your presence and bring leads to your inbox. Following the top LinkedIn ads optimization tips will also be effective. 
This article provides a tried and tested approach to dominate your LinkedIn presence and bring more leads to your inbox.
We'll cover the major pitfalls to watch out for and provide guidance on optimizing your LinkedIn presence to generate leads. By following these guidelines, you can be sure you won't end up as a case study in r/LinkedInLunatics!
1. Optimize Your LinkedIn Profile
Your LinkedIn profile is the foundation of your professional presence on the platform. Create a thoughtful, professional profile to ensure that other users will take you seriously. Make sure to include a profile picture, a thoughtful summary of your background and goals, a list of relevant work experience and skills, and endorsements from others.
Tips for Optimizing Each Aspect of Your Profile
Use these tips to maximize the effectiveness of each aspect of your profile:
1. Profile picture
Your profile picture should be professional and clearly show your face. Ensure the lighting in the picture is good and you're wearing a shirt with a collar and tie for men or a blouse/suit jacket for women.
Having a face on your profile also helps build trust and create an emotional connection with other users.
Look at this example,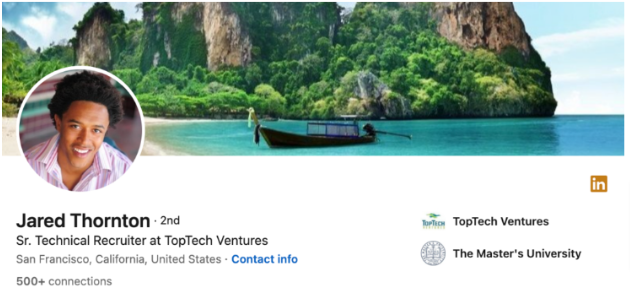 2. Headline
The headline on your profile should accurately reflect your current or desired position. Avoid generic headlines such as "Digital Marketer" and include something unique to grab people's attention. 
For example, if you're a content writer, you might use a headline like "Social Media Storyteller" or "Content Creator for Emerging Brands."
Another strategy is to include a summary of your current job and/or the position you'd like to move into. For example: "Social Media & Content Strategist at XYZ Company" or "Digital Marketer Looking for Growth Opportunities."
3. Summary
Your summary is the first thing people will read on your profile, so you want to ensure it stands out. It should be concise and reflect a compelling story about why you're in the position you're in and what your goals are.
Mention any awards or accomplishments that make you stand out and highlight why you would be an asset to the team.
For example, if you're an experienced digital marketer, include a sentence about how you've helped previous employers increase their online visibility and engagement. The more specific you can be, the better!
Look at this example: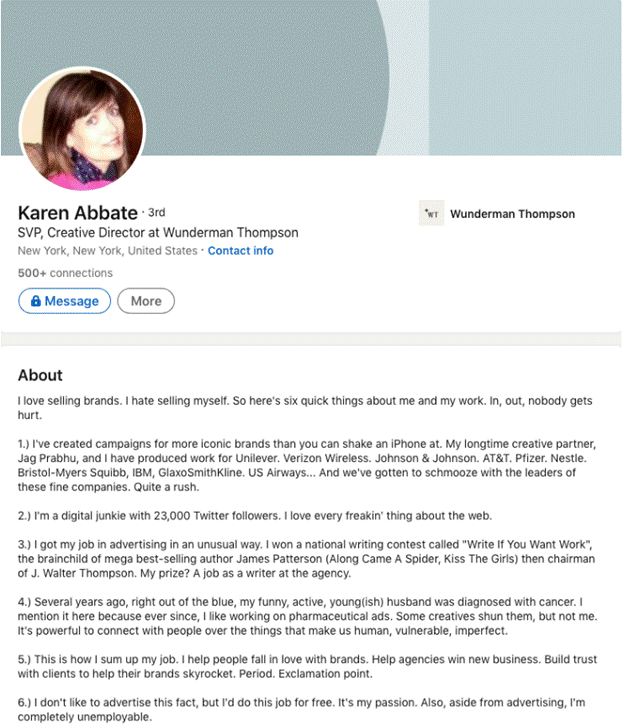 4. Experience
Your work experience section should include information about your current and past positions. Include the company name, title, and date range for the position. Also, briefly describe your role and any key accomplishments or successes.
See this example of LinkedIn Experience by Ryan Law, CMO of Animalz: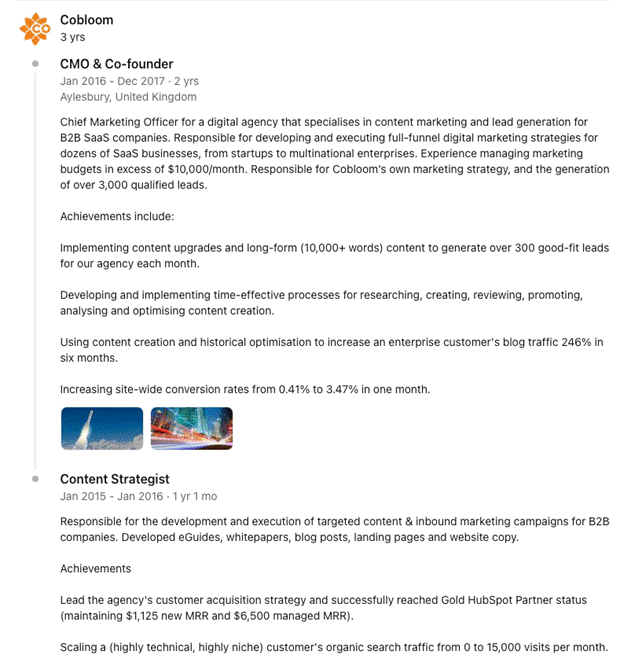 Some recruiters and hiring managers may also be interested in your specific skills or tools while working on a project. If appropriate, include a few of these to demonstrate your capabilities further.

5. Education
Include any relevant degrees and certifications. If you have recently completed an educational program, include the name of your program and its focus. For example, in software engineering, you may include something like "Completed full-stack software engineering certification from XYZ University."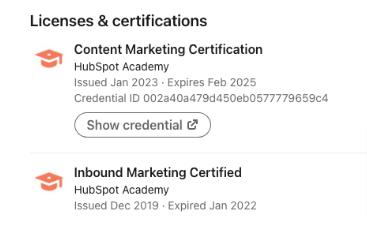 2. Build Your Network Strategically
Building relationships and expanding your network is one of the most critical aspects of your professional development. A strong network helps you stay up-to-date with industry trends and gives you access to resources to advance your career. 
To optimize the growth of your network, you should build connections strategically. Here are some tips for doing so:
1. Identify Your Goals
Start by defining the goals for your network. Are you looking to find a mentor? Make connections in a specific industry or company? Connect with people who can help you get a job? Knowing what kind of people you want to reach out to will help you focus your efforts and make the most of your networking opportunities.
2. Quality Over Quantity Approach
When it comes to building relationships, quality matters more than quantity. Getting to know people in your network and creating meaningful connections will be more beneficial than simply having many contacts.
3. Connect Online
Use online networking tools such as LinkedIn and Twitter to reach potential contacts. Many professionals are active on these platforms, and you can use them to connect with people in your industry and start building relationships.
4. Personalizing Connection Requests
When reaching out to people in your network, personalize your connection requests. Ensure you clearly understand why you are connecting and what value you can bring to the relationship. Taking the time to craft thoughtful messages will also give you a better chance of getting a response.
5. Engaging with Connections' Content
Once you have made a connection, it's crucial to maintain the relationship by engaging with their content. Find and share articles or other materials that interest the person. This will help you build a stronger relationship and give them a better sense of who you are.
Comment on their posts, share their content, and take the time to give an honest and thoughtful response if they reach out with a question. This will help strengthen your relationship and show that you are genuinely invested in the connection.
3. Share Valuable Content
Sharing relevant, high-quality content on LinkedIn is integral to networking and growing your professional network. You can position yourself as a thought leader in your industry by providing valuable and insightful information. In turn, helping you dominate your LinkedIn presence. 
Potential contacts will be impressed by the content you produce and the knowledge you have to share. Sharing helpful content will also help you gain visibility in your connections' feeds, making it easier for them to remember who you are and why you are worth connecting with.
Types of Content to Share
Blog posts

Industry news

Case studies

Webinars
Tips for Creating Engaging Content that Attracts Leads
Here are some tips to help you create content that will engage and attract potential contacts:
Keep it concise

– When creating content, keep it to the point and do not include unnecessary information.

Provide valuable insight

– Your content should provide some tangible value to your readers. Your content should be informative and helpful.

Be creative

– Think of creative ways to present your information to captivate your audience. Utilizing visuals, such as videos or infographics, is a great way to do this.

Share frequently

– Regularly sharing content is essential for staying on your mind with your connections. Post content at least once a week, if not more often.

Ask for feedback – Engagement is key in content creation on LinkedIn. After sharing your content, ask your connections what they think and encourage them to provide feedback. This will help you understand what content resonates best with your audience.
4. Avoid Spammy Sales Tactics
Avoiding spammy sales tactics when creating content on LinkedIn is essential, as this can hurt your reputation and lead generation.
Examples of spammy tactics include generic messages sent to large groups of people, repetition or excessive use of hashtags, and "click-baiting" headlines. 
Ever received a message like this one? 
These tactics can be flagged as spam on LinkedIn and will not help you attract leads. Instead, focus on engaging content that provides readers with valuable insight and advice. This will help you build relationships, gain trust, and be seen as an authority in your industry.
Here are alternative approaches to generating leads through genuine engagement and relationship building:
1. Start Conversations
Use your content to start conversations between yourself and your connections. Engaging with others can help you build relationships and create meaningful connections.
2. Offer Advice 
Provide helpful advice and tips to your audience to help them in their businesses or lives. This will show that you are an expert in your field and can be a great resource for them.
3. Participate in Groups
Join relevant groups on LinkedIn and participate in the conversations there. This is a great way to build relationships with other professionals in your industry.
4. Leverage Influencers
Connect with influencers in your field and use their insights to create content. This can help you broaden your reach and bring in more leads.
You can generate leads and build relationships through genuine engagement by leveraging these techniques. When done correctly, this can be a powerful strategy to help you succeed on LinkedIn.
5. Engage With Your Audience
You can develop genuine relationships by interacting with your connections and their content. It also shows that you are actively engaged in your industry and allows you to build trust with potential leads. This increases the chance they will come to you when they need your services and increase your overall brand presence.
Tips for Meaningful Engagement
Here are some tips to help you engage meaningfully with your connections:1
1. Responding to comments
Comments made by your connections are an opportunity to start a conversation and build relationships. Responding to comments with meaningful responses shows you care about their thoughts and opinions.
2. Asking questions
Asking questions is an effective way to start conversations and gain valuable insights. Focus on thoughtful, open-ended questions that will generate interesting and meaningful conversations.
3. Sharing others' content
Sharing the content of others is one way to show your appreciation for their work and demonstrate that you are engaged with what they have to say. This will help in establishing relationships and credibility.
4. Providing value through your insights
Provide helpful and meaningful insights to help your connections better understand the topics you are discussing. This can help build relationships and increase your visibility and credibility. 
For example, if you're a content manager, you could share industry trends or data to help your connections better understand what's happening in the industry.
5. Being authentic and genuine
There is no substitute for genuine, authentic engagement. Take the time to build relationships with your connections and show that you care about their opinions and ideas. Your engagement efforts will fall flat when someone feels you're being fake or disingenuous.
6. Utilize LinkedIn Features Effectively
LinkedIn features several tools to help with lead generation, such as the ability to create targeted ads and sponsored content. LinkedIn also has a powerful search engine to help you find and connect with potential customers. 
LinkedIn Groups is also an excellent way to network with peers and industry experts and find new leads. With these features, you can easily stay connected to your target audience, build relationships with key contacts, and generate more leads for your business.
Tips for Using these Features Effectively
The LinkedIn Publisher feature allows users to create and share long-form content. This is a great way to establish a thought leadership position, build relationships with your connections, and increase visibility for your business.
LinkedIn Groups are a great way to find and connect with potential customers. Here, you can join conversations about your industry or business and share relevant content and insights. You can also create your group to attract new members to share ideas and experiences.
Sponsored content is a great way to reach the right audiences with your message. This feature allows you to target ads and content to specific users based on their interests and engagement with your content. Additionally, LinkedIn provides valuable analytics to measure the performance of your sponsored campaigns.
LinkedIn Sales Navigator is a powerful tool for sales professionals to find and nurture leads. It helps you create targeted lists of potential customers, connect with them in real-time, and monitor engagement. With Sales Navigator, you can quickly identify individuals and organizations that best fit your product or services.
By taking advantage of these features, you can maximize the effectiveness of your LinkedIn strategies and drive more leads for your business.
Hire A LinkedIn Media Marketing Agency To Help You Dominate your LinkedIn Presence
The Flying V Group is the perfect choice for businesses looking to make their mark on LinkedIn. Our team of experienced professionals can help you develop a comprehensive strategy to boost your presence and get the most out of LinkedIn. 
We can help you create unique content, engage with potential customers, craft sponsored campaigns, and use Sales Navigator to reach targeted audiences. So you don't end up on the r/LinkedInLunatics subreddit. 
With our knowledge and expertise in optimizing LinkedIn strategies, you can drive more leads and increase ROI. Contact us today – we'll help you make LinkedIn work for your business!