Reading Time:
5
minutes
In the ever-evolving landscape of modern marketing, businesses are grappling to establish their online presence and stay competitive. 
However, effective digital marketing demands not just knowledge and resources but also a keen awareness of the ever-changing trends and techniques.
Here comes the dynamic realm of B2B marketing agencies, which can make a game-changing difference in your business.
In this captivating piece, we will embark on a journey to explore how partnering with a B2B marketing agency can prove more advantageous than hiring an in-house marketing associate.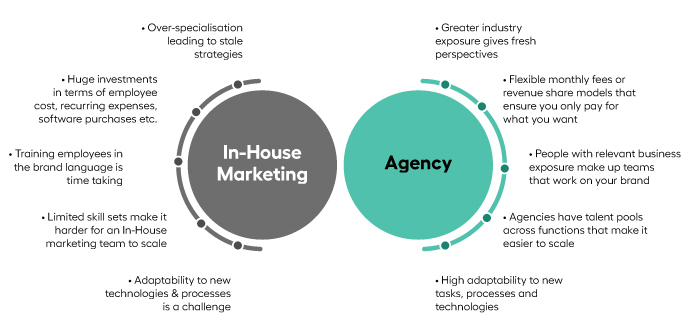 Let's delve into the realm of experience and dedication and unveil how these agencies can efficiently address your critical digital marketing pain points, paving the path to your company's online success. 
Buckle up, and let's get started!
Access to a Diverse Pool of Expertise
When you collaborate with a marketing agency, you aren't just limited to a single in-house marketing team. 
Instead, you gain access to an entire galaxy of specialists, each shining bright in their own unique knowledge.
Picture this: From the power of pay-per-click (PPC) advertising to the captivating magic of social media management and the sprinkle of search engine optimization (SEO) to the compelling storytelling of content marketing, these agencies have curated a stellar team of experts mastering these disciplines.
They combine their diverse expertise to form a force that can shape a holistic and captivating approach to your marketing initiatives. 
Every challenge is met with various viewpoints and skills, ensuring no stone is left unturned.
Moreover, these agencies believe in constant growth and evolution. They invest time and resources in ongoing professional development, attending workshops, industry conferences, and training sessions, ever-vigilant in their pursuit of the newest trends and best practices. 
Hence, you always have access to cutting-edge strategies tailored to your business's goals.
On the other hand, relying solely on an in-house team might limit your access to talent and demand hefty investments to train and develop their skills.
As it is, the dynamic digital marketing landscape requires staying on the bleeding edge of platforms, algorithms, and approaches.
When you partner with a B2B marketing agency, you tap into a wide range of experts, unlocking the proper knowledge to create comprehensive plans perfectly aligned with your business's objectives.
Embracing Cost-Effectiveness for Digital Victory
Managing your digital marketing budget efficiently becomes challenging when resources are limited and precious. 
Thankfully, B2B marketing agencies offer the right amount of cost-effective solutions.
Unlike hiring full-time employees with fixed expenses, working with a marketing agency empowers you to select and pay for precisely the services you need. 
It's like customizing your toolkit to handle your unique digital marketing pain points.
What's more, the agency brings its own package, fully equipped with all the necessary resources for the team's activities – office space, tools, software licenses, you name it. 
There's no need to worry about the overhead costs related to infrastructure and staffing.
Within this arrangement, the marketing agency operates with seasoned professionals with the tools and expertise to execute stellar digital marketing strategies. 
Your budget is used with the correct precision, directing it solely where it can make the most effective impact.
Eliminate the burden of conventional recruitment and embrace the flexibility of finding cost-effective means to achieve your marketing goals. 
Collaborate with a B2B marketing agency to enable you to manage your resources effectively and maximize your online visibility.
Journeying Through the Digital Marketing Realm
Digital marketing is full of twists and turns. That's why you need a dash of flexibility to navigate this confusing realm. 
Here's where the B2B marketing agency comes in, equipped to adapt to your ever-changing business needs.
Picture a world where, during times of high demand such as peak seasons or launching new campaigns, the need for resources and expertise spikes significantly. Fortunately, the marketing agency is equipped to handle these surges in order to meet your growing requirements.
But wait, there's more! 
The flexibility provided by the agency goes beyond mere resource allocation. Their main expertise allows them to quickly pivot strategies and tactics to avoid hiccups in your marketing campaign.
This ensures your marketing campaigns remain effective, relevant, and harmoniously aligned with your business goals, regardless of the winds of change. 
Moreover, partnering with an agency protects you from the risks associated with relying solely on an in-house team.
Think of it as allying with an entity that evolves and scales with your business's journey. 
The marketing agency empowers you to explore new territories and seize opportunities without hiring or downsizing your in-house team.
The Archives of Industry Insights and Best Practices
B2B marketing agencies invest considerable time and resources to keep informed of the latest trends and advancements in digital marketing.
They engage in activities like attending industry conferences, participating in webinars, conducting research, and indulging in continuous learning. 
Their quest for knowledge knows no bounds, unveiling the secrets of algorithms and campaigns.
And that's not all. The charm of B2B marketing agencies lies in their multi-client exposure. 
They work with clients from various industries, exposing them to diverse challenges, target audiences, and market dynamics.
When you collaborate with an agency, you can access industry insights and experiences. 
This reservoir of knowledge elevates your digital marketing game, allowing you to draw inspiration from different realms of various campaigns and strategies.
When it comes to marketing, in-house teams may often find themselves bogged down with daily operations, leaving little room for creative exploration and strategic growth. 
That's where partnering with an agency can truly make a difference. 
By working with a team of experts who are committed to ongoing research and insights, you can tap into a wealth of knowledge and experience that can help elevate your business to the next level. 
It's a smart, effective way to stay ahead of the curve and achieve your marketing goals with confidence and ease.
Objective Third-Party Perspective
A B2B marketing agency is not emotionally invested in your business to the same extent as your in-house team. 
They can evaluate your marketing strategies and campaigns with fresh eyes, without preconceived notions or biases.
Furthermore, an agency's experience working with various clients across different industries gives them a broader understanding of what works and what doesn't in the digital marketing landscape. 
When evaluating your strategies, they bring this accumulated knowledge, providing a perspective not influenced by internal factors specific to your business.
Partnering with a B2B marketing agency provides the advantage of an objective third-party perspective. 
Their impartial analysis and insights can help refine your marketing strategies, identify areas for improvement, and uncover untapped opportunities.
The Advantage of Partnering With a B2B Marketing Agency
When it comes to making marketing decisions for your business, you may face a tough choice between hiring in-house marketing associates or working with a B2B marketing agency. 
While in-house associates may be readily available, partnering with a marketing agency can bring a wealth of specialized expertise, experience, and dedication that can significantly impact your digital marketing efforts.
Hiring a B2B marketing agency gives you access to a wide range of skills, efficient budget utilization, industry knowledge, flexibility, and an outside perspective that can help you make objective decisions.
By working together with a marketing agency, you can give your online presence a boost and take your business to new heights of success. 
So, embrace the power of collaboration and partner with a B2B marketing agency to maximize your online presence.