Reading Time:
7
minutes
If you're interested in growing your stock broking company and expanding your reach to new audiences, then you'll need to have a digital presence. Nearly every company, no matter its size, has a digital presence nowadays. That's because taking your business online allows you to reach new audiences and provide a better, more convenient experience for current customers. 
But, in order to successfully engage with people online, your business has to be visible — and that's where an SEO strategy comes into play. SEO, or search engine optimization, is the process of improving your website's visibility in search engine results, thereby increasing traffic to your site and drawing in more potential customers. 
So how do you come up with an effective SEO strategy for your stock broking company? You can start by implementing some of the following SEO methods.
Make Your Website Mobile-Friendly
Today, nearly everyone has a smartphone in their pocket. Now more than ever, people are browsing the web using mobile devices. So, when designing your website, it's an absolute must to accommodate mobile users. 
At some point or another, we've all visited a website that's not mobile-friendly — the page takes forever to load, sentences are cut off and scattered, navigation is difficult or impossible. If this is the case for your own website, then it's time to make a change. 
In case you're wondering what a mobile-friendly website entails, look no further than the Domino's Pizza mobile website, which is intuitive, easy to navigate, and includes a prominent call to action:
People will immediately navigate away from a website that's not mobile-friendly and find one of your competitors, whose website is optimized for mobile users. Add to that the fact that Google's search engine algorithm takes into account whether a site is mobile-friendly, and gives those sites a boost in the search rankings. Taking all of this into account, it's a necessity to make your site mobile-friendly if you hope to keep up with the competition.
Integrating content marketing into your company's SEO strategy can be a great way to increase engagement and connect with your target audience. For many companies, the first step in any content marketing strategy is creating and maintaining a blog on the company website. 
When blogging, it's important to write high-quality content that provides something of value for your readers. By creating informative posts that are relevant to your industry and target audience, you can help your brand establish authority and build a loyal following. For example, check out this blog post by ShareAble for Hires, a company that offers online background checks:
A post that outlines the cost of a background check is something that's relevant and interesting to their target audience. In the case of a stock broking company, you might post a tutorial on how to get started in investing, or do a weekly write-up where you discuss the five hottest stocks on the market. This kind of content will attract people who are interested in investing and, if they decide they want to work with a stock broker, they'll already be familiar with your brand based on your blog content. Plus, since they're already on your website, they'll be just a single click away from your services!
Another advantage of creating high-quality content is that other websites and blogs may link back to your posts. As more and more websites link back to your content, you may see your search rankings improve. Keep in mind that the more authoritative and reputable the site is that links back to you, the better.
Cultivate a Social Media Presence
Creating social media profiles for your company and posting regularly is a cornerstone of any successful SEO strategy. If used properly, social media can be a powerful and effective tool for engaging with an audience and attracting new customers. 
Social media channels are one of the most affordable marketing tools currently available. You can easily promote your content to a worldwide audience and drive more traffic to your website. It's a great place to build your brand, interact with your customers, and boost engagement with your target audience. 
If you're wondering how you should go about building a social media presence, you have a number of options. For one example, take a look at the fast food chain Wendy's, which has taken a fun, playful approach on their Twitter account in order to engage with younger audiences:
While getting high-quality backlinks can have a big impact on your search rankings, outbound links play a similarly important role in your SEO strategy. Linking to relevant, authoritative pages on your own website can help you appear more credible to visitors — and appearing credible is especially crucial in the world of finance. 
After all, is anyone going to allow a suspicious-seeming company to manage their money? Of course not. When it comes to stock brokers, people want to be assured that they're dealing with experts who really know what they're talking about. And one of the easiest ways to demonstrate expertise to visitors on your site is to link to other high-authority sites. 
Linking to sites full of spam, on the other hand, will only damage your credibility and make visitors associate you with those sites. Thus, you should try to link to sites, blogs, and articles that are as credible and well-regarded as you aspire to be.
Your company's SEO strategy will always be somewhat of a work-in-progress. Google changes its search algorithm from time to time, and you'll have to adjust to these changes to stay relevant. It's also imperative that your marketing team review analytics on a regular basis so that they can evaluate how well the current SEO strategy is working. 
It may be a trial and error process in some respects, with your team making changes and responding to the data that those changes produce. However, in the end, even putting the most basic SEO methods into place often has a positive effect on your search rankings, and this serves to strengthen your company's online presence.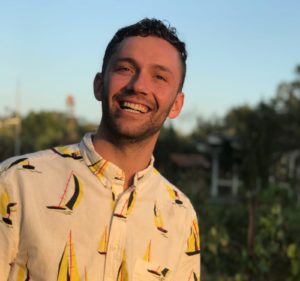 Matt Casadona has a Bachelor of Science in Business Administration, with a concentration in Marketing and a minor in Psychology. He is currently a contributing editor for 365 Business Tips. Matt is passionate about marketing and business strategy and enjoys the San Diego life, traveling and music.
---
Thank you so much for reading SEO for Stock Broking Companies. We really appreciate it! If you have any questions about our article, or can suggest any other topics you think we should explore, feel free to let us know.
Be sure to sign-up for our newsletter to receive monthly emails on all of the latest trends and happenings in the digital marketing space. You will also receive our FREE E-Book with the Amazing Marketing Tools for Powerful Business Growth. Sign-up below!
Also, if you received some value out of this article, please share with your friends or colleagues, or leave a comment/question below. We really appreciate you reading our blog and every share/comment means the world to us and allows us to continue producing valuable tools to help you grow your business!
Robb Fahrion is a Co-Founder and Partner of Flying V Group. He is passionate about helping businesses grow using the power of the internet. Robb graduated from Chapman University in Orange, CA and currently resides in Costa Mesa, CA. Robb enjoys writing about digital marketing, helping his clients turn their dreams into reality, and he is a HUGE Mike Trout fan.
---