Reading Time:
4
minutes
Interested in being on the show? Click here to apply!
Today on The Sage Executive Podcast, join our host Robb Fahrion and his guest, Nicole Martin, as they talk about personalized leadership and her definition of presence. She's the Chief Empowerment Officer of HRBoost, which helps companies build HR from scratch. Nicole calls herself the Chief Empowerment Officer because instead of just executing tasks like a typical CEO, she's able to empower the lives of the people she leads. The company is their intellectual playground, and her job is to give them that opportunity to enjoy. She doesn't view herself as the only leader and even sees a shared leadership in her business.
Learn the value of presence. It's not only in being physically present! Listen to the podcast now on The Sage Executive Podcast!
The Gift of Leadership
One of the best things about being a leader is that you get to choose what you think, decide what you'll say, and do what you're going to do. It's something that no one can ever take away from you. It empowers you to build the path to success for yourself.
To compete with the giants in the field, Nicole led the business to a road less traveled. Their client acquisition has primarily been through word-of-mouth or referrals. The benefit to this is that the new people they meet have already been exposed to their previous clients' positive experiences who referred their services. The conversation is already warm because they've already been looking for a company like theirs. It's a privilege where people know about you personally and not only your service.
The Importance of Presence Rather Than Just Being Present
In whatever field you're working, you always have to show up. More than just being physically present, you have to bring your heart and soul wherever you are. If you're in a meeting, bring your entire identity to the table. If there's a problem that needs to be fixed, be in the moment to solve them. We tend to be in autopilot state when we're on our daily grind, but we have to work on your presence. Know where you dropped the ball and pick up from there. Try to keep yourself from drifting off!
To maintain your presence, you have to keep yourself focused. Remember your reasons for doing things. Don't let distractions drag you down. Take the time to bring yourself to a place where you are present, calm, and receptive to the right kinds of energy. If your goal is to be able to help people, recalibrate yourself to bring your actions into alignment.
About Nicole Martin:
Nicole Martin is Chief Empowerment Officer and Founder of HRBoost, LLC a Shared Services Consulting firm based in the north suburbs of Chicago. In recognition of her professional excellence as well as her community involvement, Nicole has been honored by multiple organizations and most recently as a 2016 Enterprising Women of the Year Champion by Enterprising Women Magazine. A sought-after expert, her knowledge and advice have been featured in newspapers and magazines throughout the country. Recent publications in which she has been seen include Forbes.com, the Daily Herald Business Ledger, and Fast Company. In addition, Nicole is the host online of HR in the Fast Lane and contributing writer for the Chicago Business Journal. Nicole has authored, International Literary Award and Amazon Best Seller, The Talent Emergency, the accompanying Talent Emergency Guidebook, The Human Side of Profitability, The Power of Joy & Purpose, and No Fear Negotiation for Women.
Nicole serves on a number of Boards dedicated to Best & Brightest® Companies to Work For, Social Service in the community and Women in Business.
In addition, Nicole is the host of the internet TV show HR in the Fast Lane.
Outline of the Episode:
[00:05] What does Nicole Martin do as a Chief Empowerment Officer?
[02:30] Recognizing where you stand as a leader. You get to choose what to think, say, and do.
[03:15] Creating a warm environment for clients. People doing business for people.
[06:27] The importance of presence and bringing your heart to the table. Don't be on auto-pilot!
[08:00] Coming from a place of peace and keeping distractions away.
[10:10] Starting with active diversity and bringing people together.
[12:41] Sharing the joy to family and the team. Gratitude is important!
Resources:
Connect with The Sage Executive Podcast!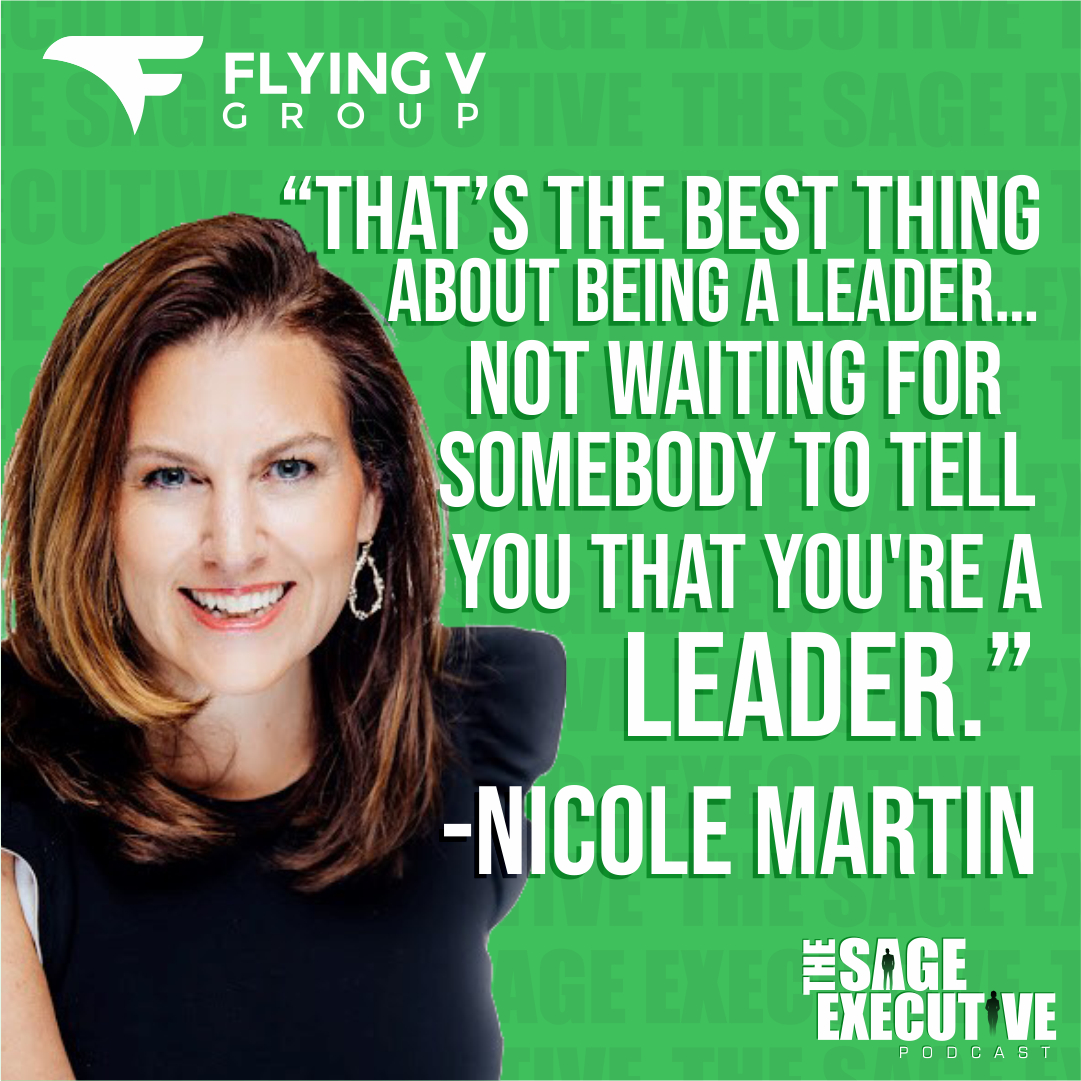 Thank you so much for reading. We really appreciate it!
Be sure to sign-up for our newsletter to receive monthly emails on all of the latest trends and happenings in the digital marketing space. You will also receive our FREE E-Book with the Amazing Marketing Tools for Powerful Business Growth. Sign-up below!
Also, if you received some value out of this article, please share with your friends or colleagues, or leave a comment/question below. We really appreciate you reading our blog and every share/comment means the world to us and allows us to continue producing valuable tools to help you grow your business!