Reading Time:
8
minutes
Every business is fighting for sales, and all means are good in that fight. You need to intrigue and engage customers to make them purchase. And interactive content is one of the most efficient strategies here. According to DemandGen, interactive content gains two times more engagement than static content. But what precisely is interactive content, and how do you use it properly to ensure better sales? Find out more from this article.
What Is Interactive Content
Interactive content is defined as digital content that encourages viewers' participation. It makes users carry out quick tasks, helping them investigate possibilities, understand their requirements better, and make better purchasing decisions.
Interactive content has become the new standard. Digital content consumers increasingly demand that everything online is interesting, timely, and available on all devices. You'll eventually need to make the audience participate no matter what method you use to connect with them. Some examples: a contact form should be brief and entertaining, and landing pages should cause positive emotions.
What Are the Benefits of Interactive Content
If you still don't get why you need to insert interactive content into your company's resources, here are some reasons.
Engages Audience
Ordinary content can give consumers an impression of the brand as plain and boring. In the sea of other stuff, it may easily get lost. Interactive content helps your brand to stand out since it instantly grabs people's attention and has the biggest chance of going viral.
According to the Content Marketing Institute, 73% of marketers think combining traditional content marketing tactics with interactive ones enhances retention. Additionally, it gives customers individualized responses, piquing their interest and encouraging involvement.
Gathers Data
Marketers may get extensive audience data from interactive content. People use quizzes and assessments to score themselves, rate their preferences, and calculate their financial capacity. This valuable information can be used to understand prospects better, increase sales, and solve customers' urgent problems more efficiently.
Improves Website Traffic
Most people associate quizzes and polls with social media. And that's not incorrect. However, did you realize that social networking may also be a great tool to drive visitors to the website? The positive brand experience encourages customers to share it with their social media community. Additionally, you can add a link to the website from the interactive content result page. This is particularly effective for eCommerce companies.
How to Use Interactive Content
Interactive content comes in various forms and formats, so marketers can genuinely unleash their imagination in creating it. Let's have a look at the most common examples.
Quizzes
Quizzes are indeed very popular. They serve as excellent lead magnets, nurturing the leads to conversion by giving them genuine value and keeping them interested. Many companies use quizzes to direct their clients to their best products or services. A conversational writing style, enticing images, and an intuitive flow of questions make a winning combination.
You can draw ideas from anywhere: your sector, problems the product solves, or the distinctive brand identity you've built. Quizzes help fill the top of the funnel and can be customized for any business.For instance, skincare brand True Botanicals suggests taking a quiz with all kinds of questions about your skin and lifestyle and then offers products that will suit you.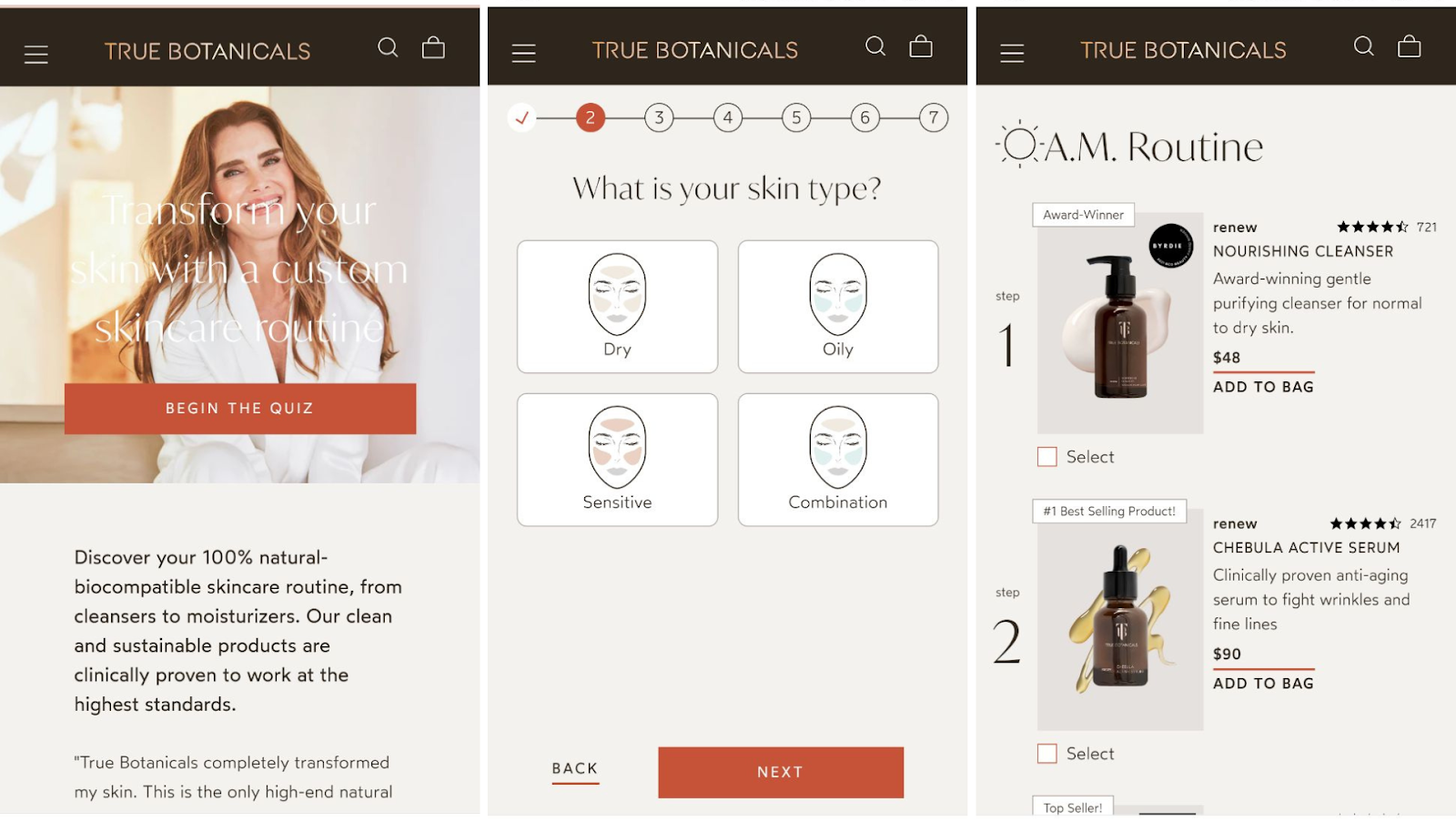 Screenshots taken on the official True Botanicals website
Calculators
Everyone is curious about the amount of money they could save. A calculator makes it simple and quick to find out how much individuals can save or earn without having to do research and read tons of complicated information. This clever tool can work wonders during the consideration and decision-making steps of the buyer's journey. It will help potential customers remember your brand name and improve conversion chances.
Just as with quizzes, calculators place the users at the center. Users input their data and receive insightful information in return. Calculators can serve as a crucial client touchpoint by providing specific information about your products and significantly increasing the conversion rate. Here are a few varieties of interactive calculators:
ROI calculator;
Price calculator;
Interest rate calculator;
Discount calculator;
Savings calculator;
Investment calculator.
One of the examples is the Employee Fiduciary calculator. The company provides small-business owners with low-cost 401(k) plans. Since most of those interested in the service are eager to know how much it will cost them to open a 401(k) plan, Employee Fiduciary developed a quick and simple pricing calculator that allows customers to quickly and easily determine their yearly charge.

Screenshot taken on the official Employee Fiduciary website
Polls and Surveys
These are among the simplest techniques for gathering user data and opinions. Marketers widely utilize one-question polls to increase interaction on social media.
Surveys and polls can significantly increase sales over time. They don't focus on direct sales but on getting to know your target market better to enhance the product or service. Additionally, they help clients see how much the brand cares about them and enables you to pinpoint and address customer pains.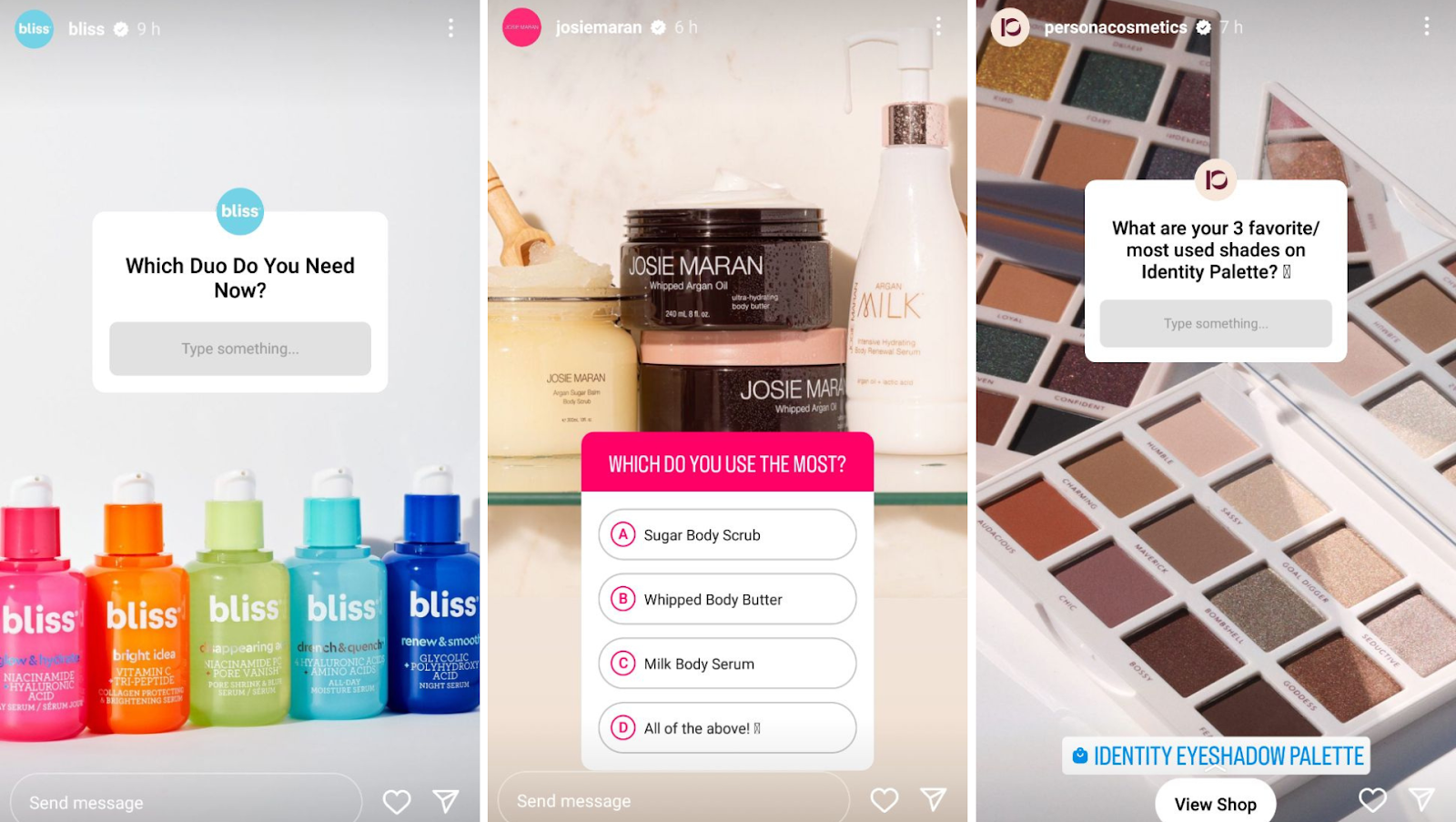 Screenshots taken on the official Bliss, Jossie Maran, Persona Cosmetics Instagram accounts
Giveaways and Contests
Contests are a quick and efficient way to get your audience's attention, maintain their interest, and even boost sales. The standard requirements are the following:
Subscription
Repost
Comment
When people make reposts, their social media circle sees it, and some of them get interested. As a result, both the number of followers and the extent of your brand recognition grow exponentially.
You can also adjust the contest's terms to the particular objectives. For instance, ask the participants to answer a specific question you're interested in. For instance, "what are you using our product for" "what else would you like to see among our services" or "how long have you been using our product."
Contests have another significant benefit if lead generation is the primary goal: you may get emotional data. People develop a favorable opinion of the brand when they provide their contact information in exchange for a chance to win a prize. It's a great approach to create excellent leads and begin a dialogue with them.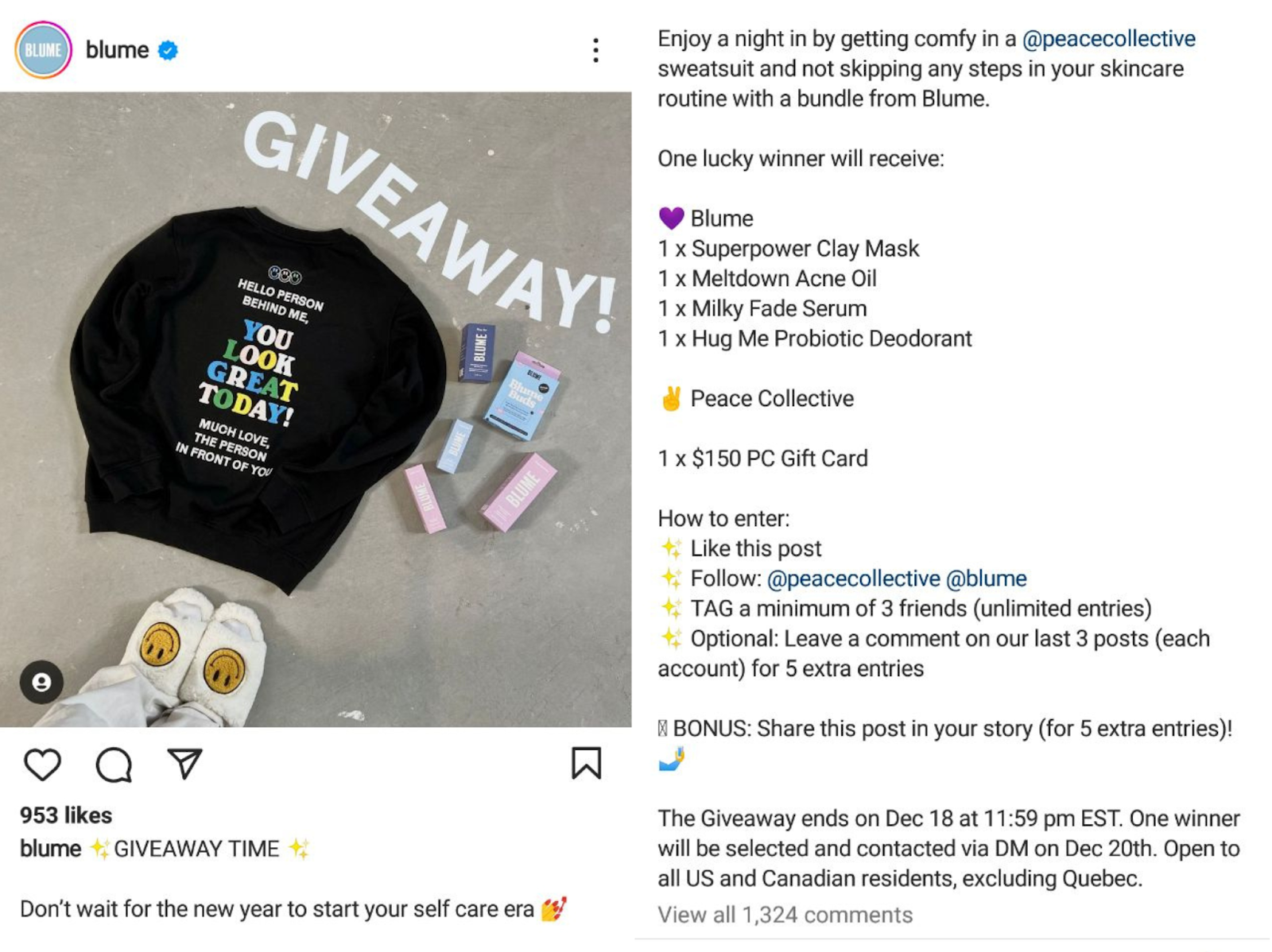 Screenshots taken on the official Blume Instagram account
Chatbots
Chatbots have developed to grasp your customer preferences with the help of artificial intelligence. When the bot offers clients the goods they like, it boosts orders and strengthens bonds. With chatbots, you may be accessible to consumers around the clock. Additionally, quick issue resolution aids in long-term customer acquisition and retention.
A chatbot can help with a lot of things, including:
Increasing user satisfaction;
Guiding users through your online store;
Providing information to customers so they can make purchases;
Cross-selling and upselling your items;
Real-time assistance for customers.
For example, the H&M chatbot provides style tips, saves, shares, searches for outfits, and redirects to H&M for purchase.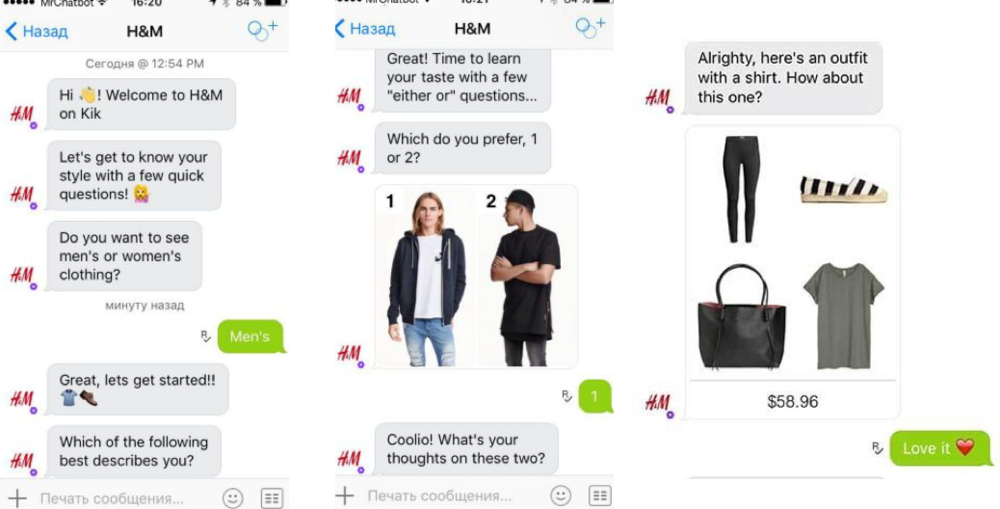 Image credit: Chatbotguide
Infographics
Infographics often just have a small amount of text and various visual components. They are powerful, simple to understand, and incredibly shareable. For instance, infographics can be used to simply and effectively explain complex ideas. But what distinguishes an interactive infographic? They usually imply scrolling, hovering, and clicking features. It may include polls, quizzes, and even videos.
You can instantly make an infographic more immersive and exciting by adding these components, which transform it from static to multidimensional. As a result, you get more engaged customers and increase eCommerce traffic, clicks, and sales.
Let's have a look at this Marriott hotel in Scottsdale infographic. This interactive flow chart infographic has an appealing design and provides a list of Scottsdale activities according to your answers.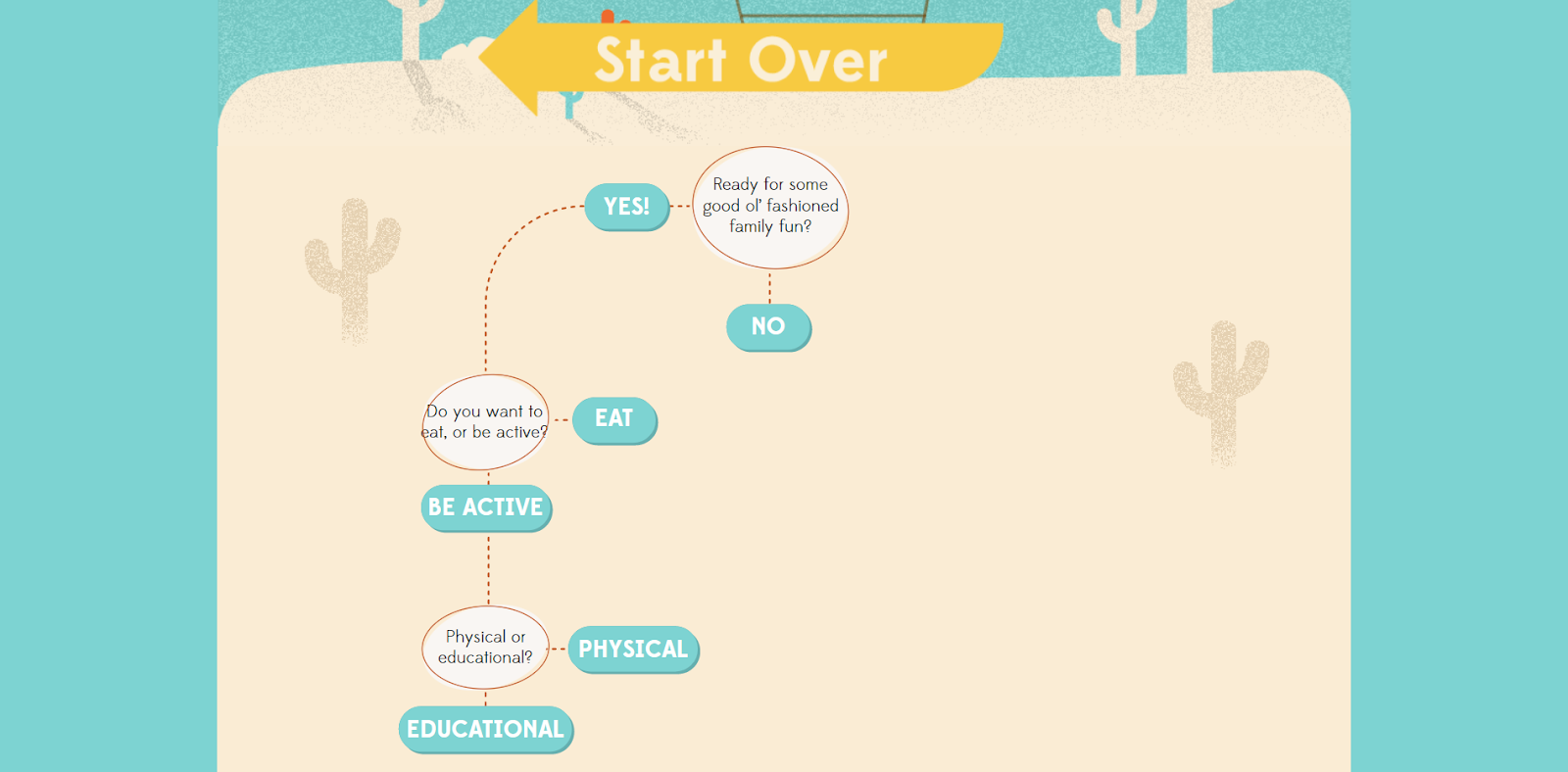 Screenshot taken on the official Lemonly website
Product Pages
When purchasing an item online, you cannot touch it or try it on. The customers should be persuaded by the descriptions and illustrations.
Typically, product descriptions are made up of a few sentences that list the qualities and advantages of the product. You may do the online shopping more like an in-store one by fostering engagement. When people can interact with the descriptions and visuals and not only read them, they gain a better knowledge of the product.
Powerful interactive product pages can be made in a variety of ways. They can include 3D models and 360-degree rotatable photos to customization options and product finder tools. These pages not only inform customers but also assist in the purchasing process.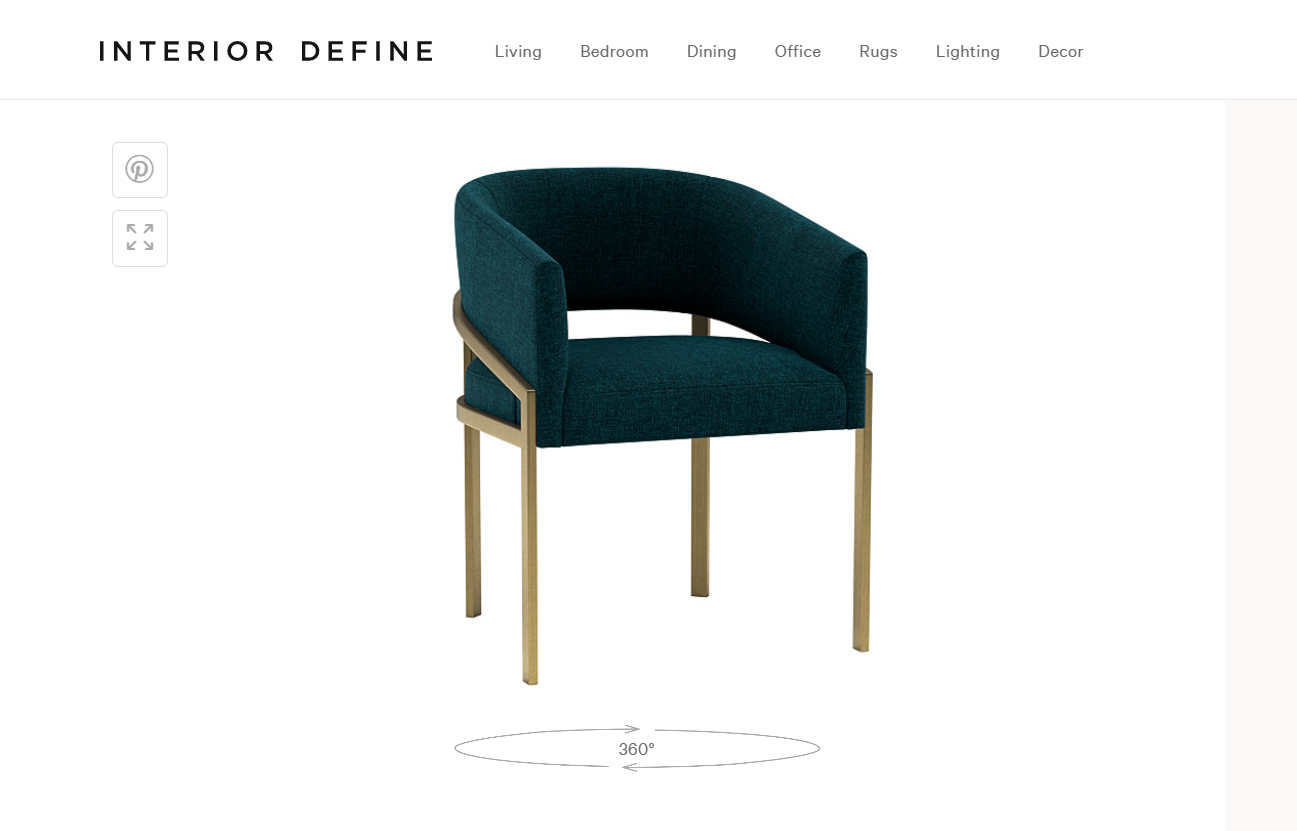 Screenshot taken on the official Interior Define website
Interactive Emails
Emails for online stores are all similar. They advertise goods, highlight special offers, or provide cart abandonment notifications. In order to stand out in a busy inbox and boost engagement, try sending interactive emails. Such emails may be used to surprise subscribers and encourage them to interact with your brand, not to mention increased traffic to your landing page.
Create eye-catching email templates and include interactive components like:
Rollovers to see products from different perspectives;
Hover effect to show product descriptions;
Quizzes, polls, and surveys;
Interactive videos.
Many interactive components may increase the email size and make it difficult to load, so be careful not to add too many.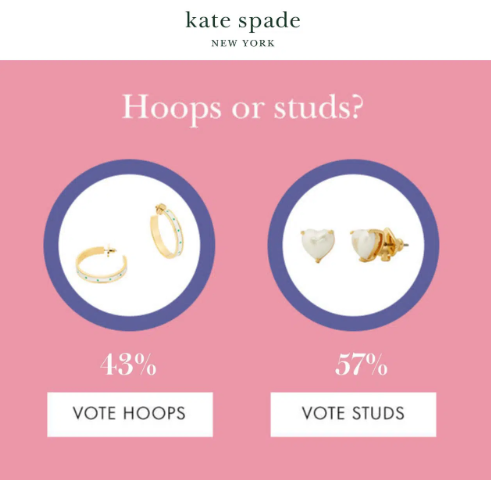 Image credit: Litmus
Videos
Interactive videos let viewers choose the path, unlike conventional videos that follow a single story path. Interactive videos are, therefore, more exciting and enjoyable than conventional ones.
Ecommerce businesses may create interactive movies that give viewers a tailored experience. Designing these videos will help you engage and persuade the audience to purchase. There are various interactive video formats that you can produce:
Shoppable videos: allow viewers to click on products to learn more about them and to shop.
Changing narrative videos: multiple narratives can be created and then unraveled based on the viewer's selections.
360-degree videos: present a multifaceted viewpoint.
Quiz videos: has a quiz integrated into the video.
Inputs videos: allow users to enter data while the video is playing.
In a Nike video, for instance, you can choose an outfit by clicking on the items you like. At the end of the video, there's a 'shop now' button, redirecting you to the product page.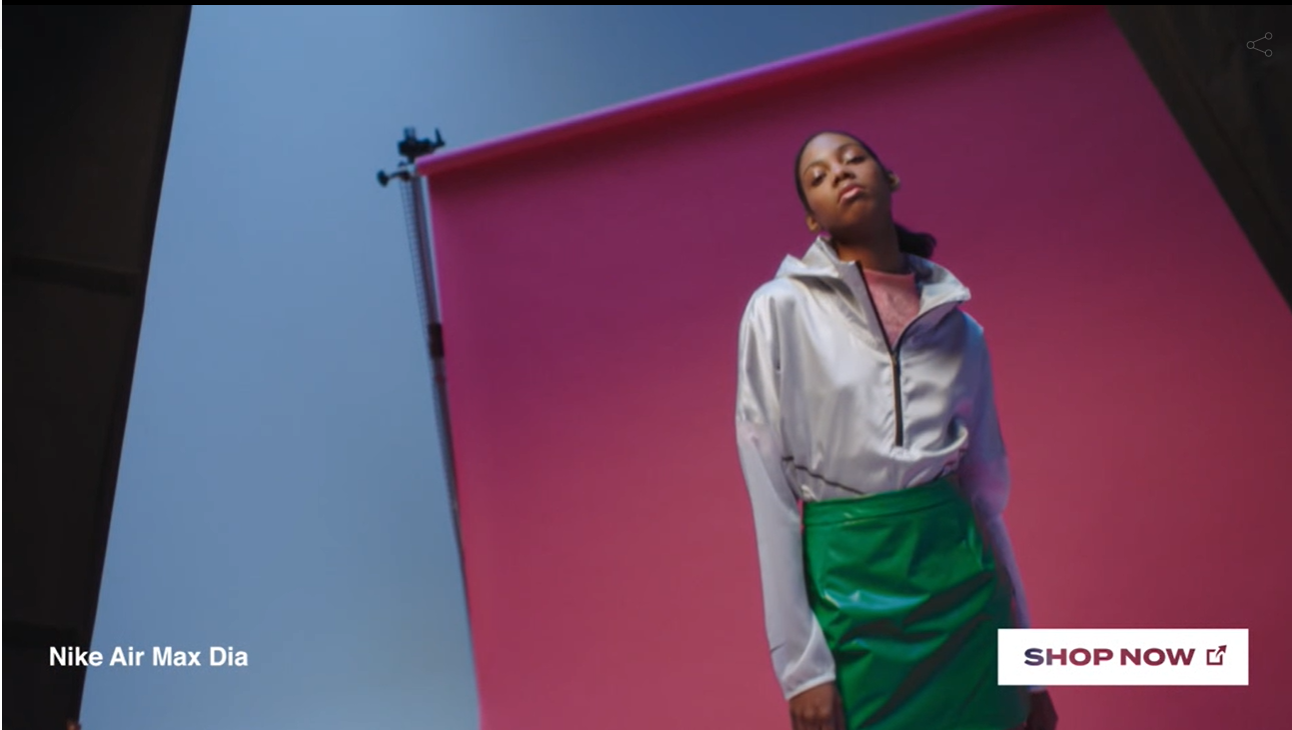 Screenshots taken on the official Vyond website
Where to Put Your Interactive Content
We've already mentioned some possible locations for interactive content, like emails and product pages. But let's have a look at some other options.
Landing Page
Including interactive content on your landing page is a fantastic way to draw the audience in and keep their attention. It might prolong users' time on the website and reduce bounce rates.
Pop-ups
Pop-ups allow marketers to add interactive content in various formats. Exit-intent pop-ups, timed pop-ups, chat pop-ups, and welcome messages are a few of them. Your consumer engagement and lead generation can increase by strategically placing quizzes, polls, or competitions in pop-ups. Pop-ups are also a fantastic tool to keep visitors from leaving the website.
Social Media
It should be obvious how effective social media may be for increasing sales, given that most social browsers use it to look up their favorite products. Utilize the potential of your interactive content's viral nature by embedding it on social media.
Retargeting Ads
Retargeting advertisements are a fantastic technique to get leads. Incorporating interactive material into your advertisements might be an excellent approach to remind prospects of the offers if they have visited your website but haven't made a purchase yet.
Final Word
Adding interactive content to your online store platform and other media will increase consumer engagement, contentment, and loyalty. This occurs because interactive content places consumers at the center of the conversation and gives them complete control over how they shop.
Apart from that, according to the Content Marketing Institute, 77% of marketers consider interactive content reusable, which means it ensures repeat visitors and multiple exposures. Your options range from calculators to interactive product pages, from infographics to gripping videos. Analyze which platforms of yours can provide better results with the interactive content and use our tips to incorporate it in the best way possible.
—
About the Author
Kate Parish is a chief marketing officer at Onilab.
You can connect with her on LinkedIn.