Reading Time:
8
minutes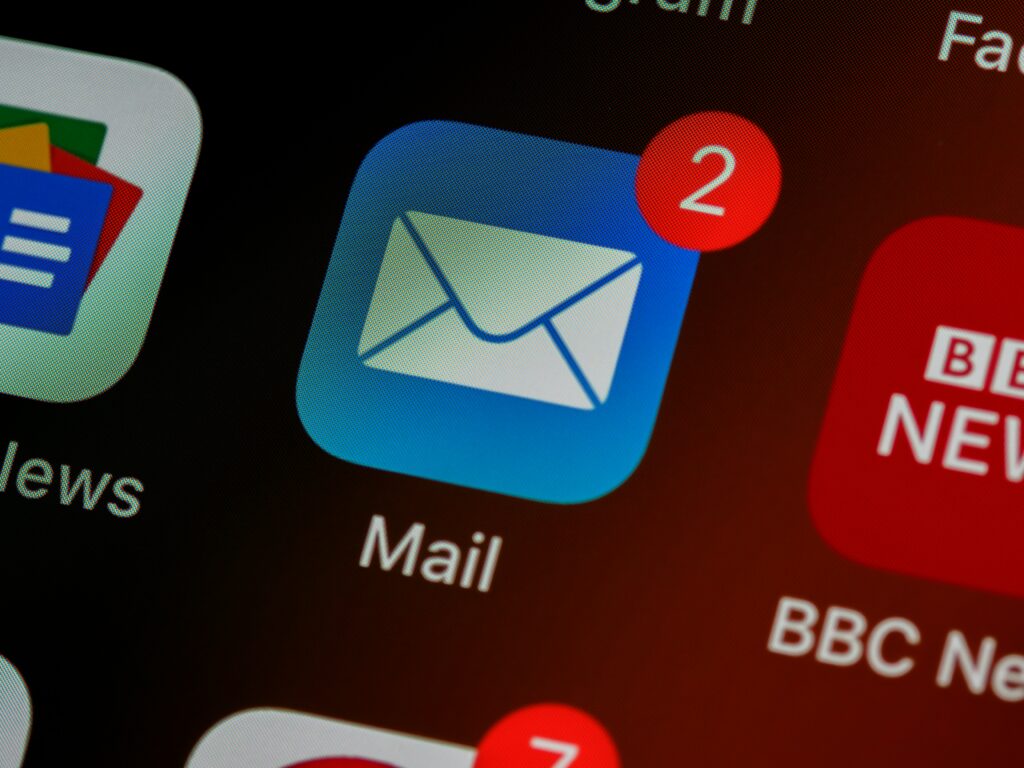 Photo Credit: Unsplash.com
Are you a financial advisor looking to reach out to more potential clients and grow your business? If so, consider using email marketing to your advantage. With the rise of digital communication and the increasing importance of building relationships with prospects and clients, email marketing has become a critical component of any marketing strategy.
The global financial advisory industry was estimated at 85.8 billion USD in 2022, and it's expected to grow at an average CAGR of 4.5% between 2023 and 2030. Robust email marketing campaigns will enable you to leverage this lucrative industry.
Let's dive in and look at precisely what you need to do to get maximum ROI from email marketing and stand out from the competition.
1. Personalize Your Emails
The main reason why people decide to delete or mark emails as spam is if the content is generic. Personalization is one of the guaranteed ways of increasing email open rates, click-through rates, and conversion rates.
A simple adjustment such as addressing your potential client by name and tailoring your content to their investment preferences and interests will help establish a solid and deep relationship. The email copy should be dynamic. You should tweak it to match the recipient's behavior, their stage in the sales funnel, and past purchasing history.
If you send out a weekly or monthly newsletter to your book of business, send a personalized welcome email to new subscribers to show appreciation. Use the opportunity to inform them what they should do next after subscribing to your investment firm's newsletter. Here is an image for inspiration: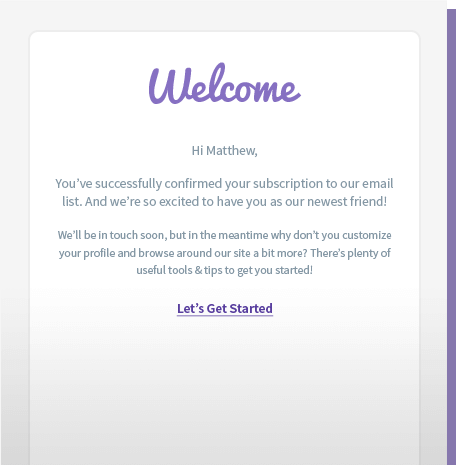 Photo credit: Google Images
For example, you can send a follow-up email to a client who recently opened one of your emails but failed to take action, or you can recommend products, services, or content based on their past interactions with your brand.
2. Segment Your Email List
Segmentation refers to dividing your email list into smaller groups based on specific factors or criteria such as interests, actions, demographics, and behaviors. Segmenting your email list will enable you to create more targeted and relevant content that resonates with your subscribers. Doing so will increase conversions and spur engagement.
For financial advisors, here are some golden tips on segmenting your email list in 2023 and beyond.
Prospects vs Clients: You should have an email copy for potential clients still in the decision-making phase and different content for those who have already chosen to invest with you.
Investors vs Savers: Tailor your messaging to those prioritizing investing for the future versus those focusing on saving for the present.
Life stages: Segment your list based on life stages such as retirement, college, or estate planning. Such grouping will ensure you consistently deliver content relevant to their needs and desires.
3. Create Custom Eye-Catching Subject Lines
The average person who uses email to communicate receives 121 emails every workday and only sends 40.
It's impossible to open and read all emails in your inbox, so most emails go unanswered for weeks or are deleted before being opened.
Your subject lines are your first impressions and best bet to standing out in a crowded inbox. Create eye-catching, curiosity-inducing subject lines that pique your subscribers' interest and entice them to open the email.
Here are four tips on how to craft high-performing subject lines for your financial advisory business.
Aim for subject lines that are 50 characters or less to ensure they display correctly on mobile devices. Here are examples of subject lines for inspiration:
"Secure Your Financial Future with Expert Advice"
"Get Ahead of the Game: Proven Strategies for Building Wealth"
"Invest in Your Future Today: Let Us Show You How"
"Discover the Secrets to Financial Success"
Use Action-oriented Language
Include verbs like "learn," "discover," "reserve," or join in spurring action.
Unlock the Power of Your Money Today
Discover What's Stopping You From Becoming Financially Stable
How Did I Accrue Such Debt and The Way Out
Include the subscriber's name or location to increase open rates.
"Samantha, Discover How We Can Maximize Your Wealth Potential"
"Steve, Don't Miss Out on These Exclusive Financial Insights"
"Janet, Your Financial Success is Our Top Priority"
"David, Let's Create a Customized Marketing Financial Plan Just for Your Singapore Business"
Introduce a new concept, trick, or hack that the subscribers are not aware of and can better their lives or businesses.
"How to Grow Your Wealth in Any Market"
"The Top 5 Investment Strategies You Need to Know About"
"Are You Making These Common Investment Mistakes?"
"The Ultimate Guide to Financial Planning"
Ensure the email copy resonates with the subject line. That is, what you promise in the subject should be what you provide in the email copy. Deviating will confuse the recipient and discourage them from taking the desired action.
4. Every Email Should Be Packed with Valuable Information
Now that you have the recipient's attention, you must prove that they made the right decision to open your financial email. Your subscribers' attention is valuable, so ensure that every email you send provides real value to them. Whether it's educational content or helpful tips to ensure subscribers feel they're getting something worthwhile from your emails.
Creating a content calendar is one secret to achieving this goal without breaking a sweat. The calendar should map out the topics and themes you intend to cover in your email campaigns. Sticking to this calendar will help you send emails with a healthy mix of inspirational, educational, and promotional content aligned with the subscriber's needs and interests.
Here is an example of an email copy you can send subscribers to educate them about debt management:
Dear [Client's name],
As your trusted financial advisor, I understand that managing debt is crucial to achieving long-term financial freedom. That's why I wanted to share some valuable tips that can help you take control of your finances and eliminate debt for good:
Understand Your Debt: List all your debts and note the interest rates and minimum payments for each. This will help you prioritize which debts to pay off first.
Prioritize Your Debts: Focus on paying off high-interest debts first, as they cost you more in the long run. Consider consolidating your debts into a single loan with a lower interest rate to simplify payments.
Create a Budget: Include debt payments in your budget, and aim to pay more than the minimum payments whenever possible. This will help you make progress toward becoming debt-free.
Seek Professional Advice: As your financial advisor, I can help you create a debt management plan tailored to your unique situation and goals. Together, we can explore strategies to help you eliminate debt and achieve financial freedom.
I hope you find these tips helpful. Remember, managing debt is a crucial step toward securing your financial future. Please don't hesitate to contact me with any questions or concerns about your finances.
Best regards,
[Your Name]
5. Optimize Your Emails for Mobile Devices
In 2023, more than 50% of emails will likely be opened and read on a mobile device. Based on this fact, failing to optimize your email for mobile will chase a colossal number of potential clients to your competitors whose email copy is mobile-friendly.
Optimizing your emails for mobile means that the text and visuals in the email copy should be visible and readable on multiple mobile devices. Apply responsive email design techniques to automatically adapt the copy to different screen sizes.
More importantly, make the copy readable by not using a small font and increase CTA (click-through rate) by strategically placing the call-to-action buttons above the fold.
There are many free and premium tools for previewing email on different devices before sending it out. Check how the elements are displayed on various devices and make the necessary adjustments to achieve the desired open and engagement rates.
Concisely, a mobile-friendly email design increases engagement rates, lowers unsubscribe rates, and increases overall campaign success.
HELPFUL EXAMPLE: Below is a template you can use to craft your next email copy.
Subject: Your Personalized Financial Update
Dear [Client Name],
We hope this email finds you well. As your trusted financial advisor, we wanted to update you quickly on your financial status.
[Include a personalized intro regarding the client's current financial situation, such as their investment portfolio, savings, or retirement plan.]
We're excited to share that your portfolio has continued to grow, and we have identified some new investment opportunities that could further boost your wealth.
[Include a brief summary of the new investment opportunities or strategies you recommend.]
Our team has also been closely monitoring the market, and we wanted to reassure you that your portfolio is well-diversified and positioned to weather any potential volatility.
[Include a brief summary of any market updates or changes that may affect the client's portfolio.]
As always, please do not hesitate to contact us with any questions or concerns. We're here to provide you with expert guidance and support as you work towards your financial goals.
Best regards,
[Your Name]
[Your Firm Name]
6. Test and Refine Your Email
Like other forms of digital marketing and SEO, email marketing is a long-term investment in your financial advisory brand. It's an ongoing process, and the best way to improve your results is by testing and refining your emails over time.
Experiment with different subject lines, layouts, content types, and call-to-action to see what works best for your audience. Use A/B testing to compare different versions of your emails. Use the results to restructure and re-optimize your campaigns to get maximum ROI from every campaign.
Use the best email analytics tools to monitor the performance of your campaigns. Some of the key metrics you should track are;
Conversion rate
Click-through rate
Open rate
Revenue generated
Be open-minded and consult professional digital marketers if you need help deciphering and applying the analytics report in your campaign.
7. Automate the Campaign to Save Time and Increase Results
Automation is a powerful tool that will save you time, streamline your workflows, and increase your ROI (return on investment). The average ROI for an automated email campaign is $36 for every $1 spent.
Use a reputable automation tool to set up welcome sequences, nurture campaigns, and follow-up sequences. The tool will ensure that you deliver the right content at the right time to your prospects. For example, you can set up triggers to send out emails based on specific actions or events, such as a client's anniversary of their account opening or birthday.
Earlier, we mentioned the need to personalize your emails to relate with potential clients at a deeper level. Automation will come in handy to not only save time but also personalize your email copy to improve engagement and increase revenue.
8. Use Social Proof to Build Trust and Credibility
Social proof is a powerful psychological principle that will help build credibility and trust with your subscribers. The proof can be testimonials, case studies, or client success stories. Use it to highlight your authority in the industry and expertise by sharing relevant industry statistics and professional credentials.
Including such content in your email marketing campaign will help establish your finance brand as an authority and foster credibility with your subscribers.
Note that 63% of customers state they are more likely to use a service from a website with reviews, customer testimonials, and product ratings. The testimonials give them a clearer perspective of the service and confirm that the service works before they spend more on it.
As a financial advisor, you should maintain high integrity and professional standards. Savvy clients can tell whether a testimonial is authentic or fake from a mile away. Thus, resist the urge to send out phony social proofs lest you compromise your reputation.
Instead, encourage clients to leave feedback after using your services on Google Business Profile. Curate the testimonials and use them in your email marketing campaigns. The higher the ratings, the more likely clients will choose you over the competitors, as it's a sign that your services are top quality and your firm is professional.
9. Measure and Track Your Results
Not monitoring the results of every email marketing campaign is equivalent to shooting in the dark and expecting to hit the target. There are plenty of email analytics software you can use to monitor performance based on metrics such as CTR, open rate, conversion rate, and revenue generated.
Compare and contrast the software features to find one that is affordable and suitable for your brand. One sure way of truly knowing whether the software is ideal for your financial advisory business is by experimenting with the free version. Use the results to decide whether to upgrade to the premium version.
Final Thoughts
Email marketing is a powerful tool for financial advisors looking to build relationships, generate leads, and achieve their business goals. These nine email marketing hacks will place your brand miles ahead of the competition and enable you to achieve tangible results without breaking the bank. Use them and consult experts if you need help applying them in the campaign to get the most results.
Flying V Group is a boutique digital marketing agency specializing in email marketing and other digital marketing services such as SEO, Pay-per-Click Advertising, and Social Media Marketing. Our team is highly talented and laser-focused on ensuring that you get the results you desire and deserve.  It's time to realize the full potential of your finance brand. Contact us today to get started.