Reading Time:
9
minutes
Are you unsure whether your financial advisory firm needs Facebook ads or not? 
Did you know that Facebook is the seventh most valuable brand globally with $81.5 billion in brand value? Are you aware that 332 million Americans (54%) have a Facebook account? Did you also know that ads on Facebook are incredible, as they allow you to target a very specific demographic of people?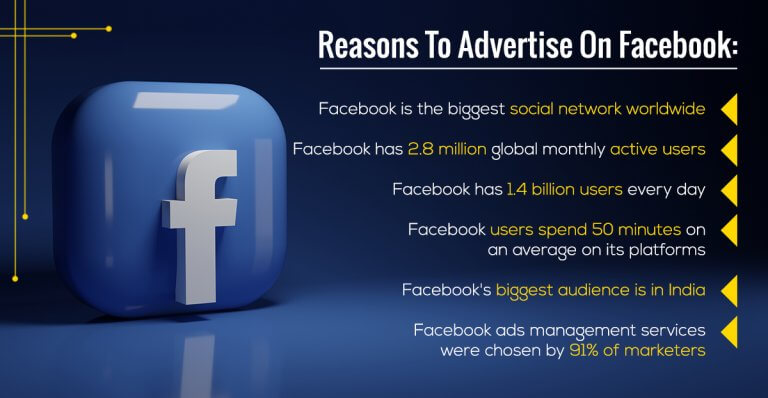 (Source: deAsra)
If these facts have piqued your interest, perhaps it's time to learn how financial advisors using Facebook Ads for financial leads can achieve success!
With the proper strategy and research, you can tailor your financial advisor ads to fit your brand image and use that ad budget to target customers who already have an interest in your products or services.
In this guide, we'll show you how to use Facebook ads to generate leads for financial advisor firms so that you don't have to spend money on more expensive forms of financial advisor advertising while still getting results with ease.
We'll look into:
Why do you need paid social media to grow your financial advisor firm?

Facebook Ads for Financial Advisors: 3 Areas to focus on

How to generate high-quality leads for your financial advisory firm using Facebook ads

What's the best time to hire an agency for my financial advisor ad campaigns?

What to expect from hiring a Facebook ads agency
Read on to learn more.
Why Do You Need Paid Social Media To Grow Your Financial Advisory Firm?
Building relationships with your ideal clients and converting them into loyal clients is essential to running a successful financial advisory firm. However, it's not always easy to reach new people and develop those relationships, especially if you're busy with other parts of your business or have limited resources to spend on advertising.
Fortunately, Facebook Ads for financial leads can be an excellent way to reach potential customers without spending too much. Although the average cost per click for Facebook ads financial industry is the highest of all the industries, Facebook Ads for financial advisors are still regarded as cost-effective because they can help you generate high-quality leads from customers interested in your services. 
According to Wordstream, the average cost per click for Facebook ads financial industry as of 2021 was $3.89.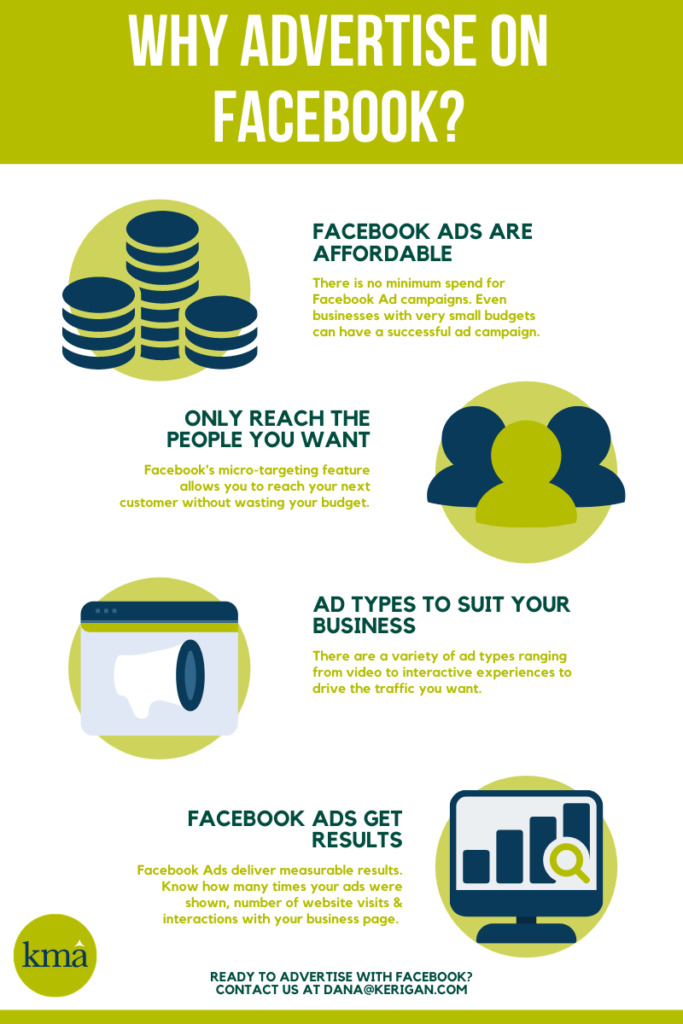 (Source: Kerigan Marketing) 
Nonetheless, Facebook is one of the most popular social media platforms in existence—and for a good reason. The site boasts over two billion monthly active users worldwide and allows users to connect with friends and family through private messaging or public posts/statuses.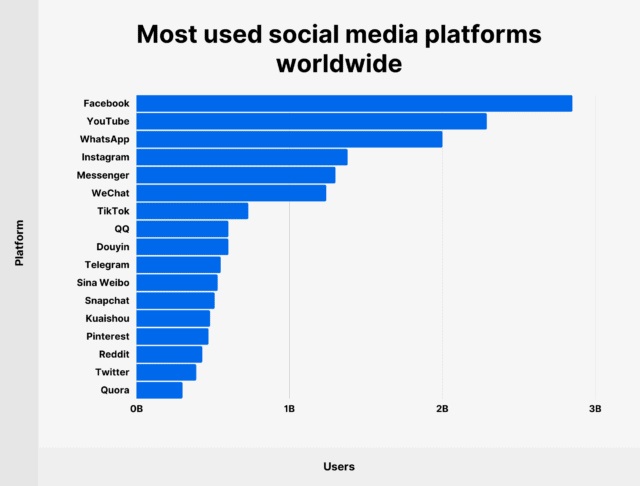 (Source: Backlinko)
You might have heard that Facebook and other social media platforms are free, but they aren't. Sure, you can use them to connect with clients, prospects, and influencers but it's still crucial that you understand all of your options when utilizing Facebook ads that work for financial advisors. 
Facebook has a powerful advertising platform that allows businesses to target specific demographics based on age, gender, location, and interests. It, therefore, will enable advertisers to reach people who are likely interested in what they have to offer without wasting money or effort. 
If you want your business to increase—without being in debt—you need more than free Facebook; you need Paid Facebook ads that work for financial advisors. 
Paid Facebook is one of many strategies financial advisor firms can use when building their brand online. It is a cost-effective way to build an audience and take them through your Facebook ads funnel until you convert them.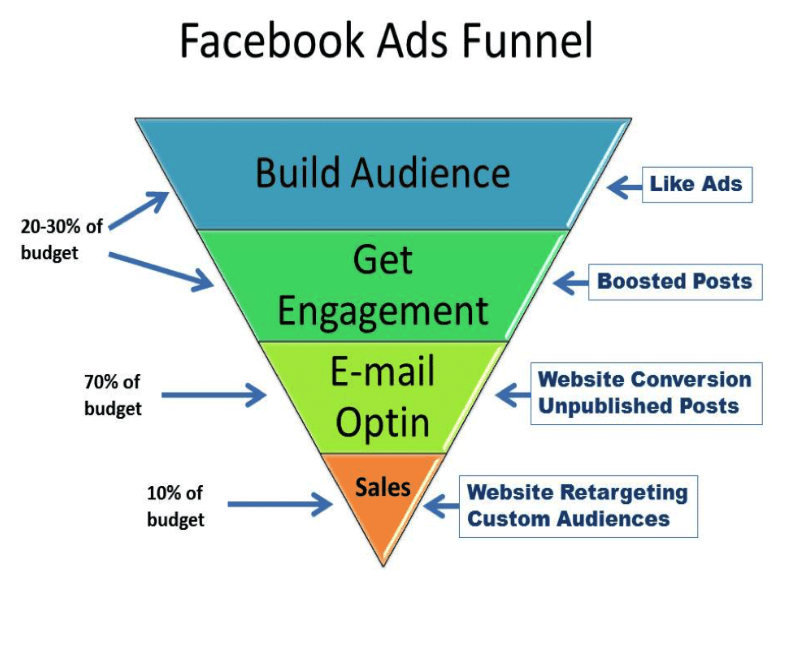 (Source: Digitechniks)
For example, if you want new customers from outside your immediate area to patronize your firm, Facebook Ads for financial advisors could be perfect. They will allow you to target people who live far away while keeping costs down by only showing ads locally.
Through Facebook, you can discover how to get leads on Facebook and harness that knowledge for a better ROI.
Meanwhile, Facebook has two different types of ads: 
Facebook lead ads 

Regular Facebook ads.
While both types of financial advisor advertising allow you to choose your audience, lead ads will enable you to ask users for information directly within Facebook before directing them off-site (usually via a landing page). 
The most significant difference between lead and regular Facebook ads is that you can track leads through social media conversion tracking on your website. So you know exactly how many are coming from each campaign.
Facebook Ads For Financial Advisors: 3 Areas To Focus On
Facebook ads may not be ideal for all industries. But, financial advisors are certainly one sector that can benefit from financial advisor Facebook ads, even if it's used as a supplemental tool in their marketing strategy. There are already some financial advisors using Facebook Ads as part of their marketing strategy.
So, just in case you are wondering, "why do my financial services Facebook ads keep getting rejected?"
The good news is it's pretty easy to generate leads through Facebook ads that work for financial advisors—all you need is an existing target audience and an image or piece of content that drives your message home. 
So, if you are thinking of how to get leads on Facebook, you have come to the right place. Here are three areas financial advisors should focus on when considering how to use Facebook ads for lead generation:
If my financial services Facebook ads keep getting rejected, the first thing I would want to do is precision targeting. 
Precision targeting includes various combinations of keywords, interests, locations, and demographics Facebook users use. This method offers power and flexibility but requires some experience and knowledge of who uses social media (specifically Facebook) in your target audience.
If you have access to Facebook's API, several advanced segments are available that provide more options for precision targeting. For example, using "advisor software" as a keyword will only show your financial advisor ads to those people whose Facebook profiles include Advisor Software in their list of interests. 
However, if you are one of the financial advisors using Facebook Ads but you don't have access to Facebook's API, there are many ways to get granular with precision targeting without being overly specific about particular groups. 
For example, instead of showing your ad only to people who work at specific companies or live in certain cities/states/countries, try focusing on specific functions within those companies, such as finance or human resources. You'll reach employees across different departments and offices this way but still focus on your primary target audience.
Relevance comes down to two things: relevance score and custom audiences. 
Facebook uses its algorithm to determine what types of people are most likely to engage with your brand based on past interactions they've had with similar brands. Then, Facebook compares that data against what it knows about its current users' habits to determine whether or not someone might be interested in seeing your financial advisor ads. 
A high relevance score means Facebook believes you're relevant to its user base—and therefore gives you better placement in News Feeds and potentially lower costs for reaching new audiences. 
Facebook also allows you to upload a custom audience list (people who like your Facebook page, follow you on Twitter, etc.) to create highly targeted campaigns without coming up with an entirely new set of interest-based keywords every time. You can then optimize these campaigns for the best results.
Another thing I would do if my financial services Facebook ads keep getting rejected is to know when my audience will be most engaged on Facebook to see my ads.
Timing refers to when exactly Facebook shows your ad during someone's visit to Facebook and Instagram. There are three main factors involved here: daypart (morning vs. evening), period (day vs. night), and day of the week. 
Facebook wants to show your Facebook Ads for financial advisors when your audience is most engaged, typically in the evening. It also wants to make sure they see your ad over multiple days and weeks rather than just once since you want to maximize your exposure. 
So, if you want to run a campaign that starts Friday night and ends Sunday night, Facebook will choose Thursday evening for your start date. 
How To Generate High-Quality Leads For Your Financial Advisory Firm Using Facebook Ads
Facebook Ads for financial advisors allow advisors to target particular audiences. Using Facebook Ads for financial leads doesn't require a lot of technical expertise or background in digital marketing. All you need is something to say and an audience of potential clients who would be interested in hearing it.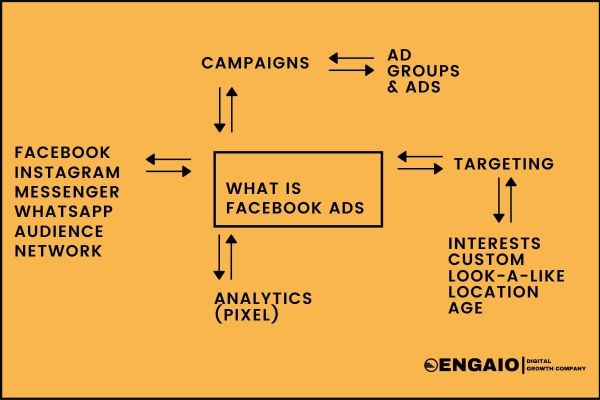 (Source: Engaio)
Take advantage of Facebook's ability to target specific audiences and test out various methods until you find what works best for your business. Here's how using Facebook for leads can help you generate high-quality leads: 
With this feature, you can reach clients and prospects who have visited your website or engaged with your content on social media sites like LinkedIn and Twitter. In addition, Facebook's Custom Audiences feature is a great way to re-engage people who have already expressed interest in your firm but haven't yet made an appointment. 
Facebook also allows you to create Lookalike Audiences based on similar users, which is another excellent way of reaching potential clients that might not be actively looking for financial advice yet but would be interested if they knew about it. 
Facebook has one of the most powerful targeting options: Interest targeting. You can use Interest targeting to show your ad only to people interested in topics related to your business (i.e., financial planning). You won't waste money showing ads to people who aren't likely to become clients.
Facebook's conversion tracking feature makes it easy for you to track whether someone becomes a client after seeing your ad—and how much revenue each ad generates for your firm over time.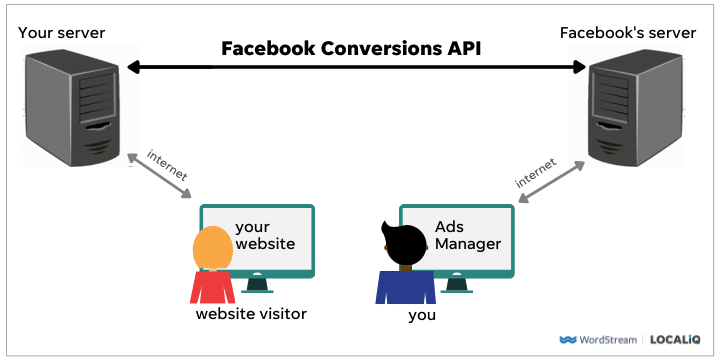 (Source: Wordstream)
4. ROI Measurement Metrics
Facebook offers a variety of ways to measure ROI on Facebook Ads for financial leads, including cost per lead, cost per click, and cost per action. These metrics help you determine whether Facebook financial advisor advertising is worth it for your firm.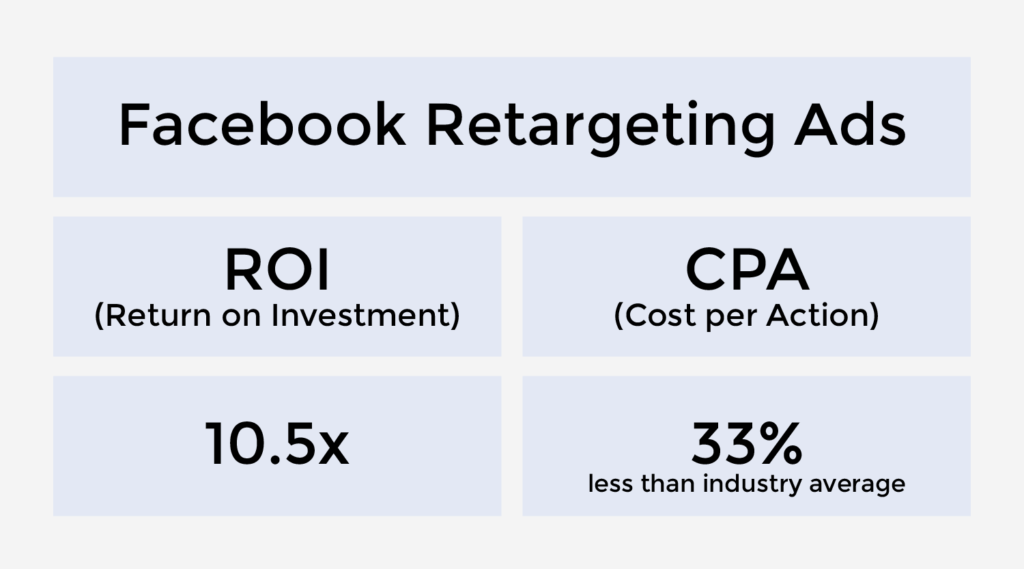 (Source: Socioh)
What's the point of retargeting ads Facebook financial advisors used before?
Facebook lets you set up retargeting campaigns that display your financial services ads to people who have previously visited your site or liked your page – even if they don't follow through immediately. 
Retargeting campaigns give you more opportunities to convert these interested but busy leads into clients later down the line when their schedules open up again. It is one of the many benefits of retargeting ads Facebook financial advisors enjoy.

(Source: Way2Target)
What's the Best Time To Hire an Agency For My Financial Advisor Ad Campaigns?
The best time for a financial advisor to hire an agency is as soon as they know financial advisor Facebook ads work for them. For some advisors, that's after seeing results from their first using Facebook for leads campaign. It may take a few weeks or months for others to run their campaigns. 
However long it takes, if financial services ads prove successful for you and you have some money in your budget, there's no reason not to invest in hiring an agency. It is especially true if your current workload limits how much time you can put into your social media marketing. 
An agency will be able to execute better than you do (from a cost-effectiveness and performance perspective). It can optimize much faster than you would be able to with limited resources.
What To Expect From Hiring A Facebook Ads Agency
Facebook is more than just a way for your friends and family to share photos of their dogs and tag you in them. It's also becoming a powerful marketing tool that can help grow your business as an advisor. 
Facebook Ads for financial leads, therefore, allow you to target users interested in what you have to offer specifically. You can even set up an ad budget that only runs during certain times of the day or on weekdays only if you prefer. 
What should you expect when you hire a Facebook Ads agency?
With so many financial advisors using Facebook to market their businesses, you must stand out. However, trying to do so on your own can be difficult and time-consuming without training or experience. 
That's where an agency comes in. 
Agencies can help you get results by using proven strategies and best practices that consider your specific target market, goal, and budget. 
When you hire a Facebook ads agency, they'll also guide you through each step of setting up your campaign and provide valuable insight. In addition, their guidance will allow you to focus on what matters most: serving clients.
If you're considering hiring a Facebook ads agency but aren't sure if it's right for your business, here's something to consider: 
What is my ultimate goal in using

financial advisor ads

? Is it lead generation? Awareness? 
Clearly defining your goals from the start, whether they're short-term or long-term, will help determine how much money you should spend and what type of strategy is right for your business.
What's Stopping You from Generating Leads For Your Firm?
It may seem like a daunting task when you're just starting, but it's easier than you think. You don't have to know everything about Facebook Ads for financial leads at first, which is both impossible and not necessary—just start with the tips we've shared in this article.
At Flying V Group, we've recently been experimenting with Facebook ads to generate leads for financial advisory firms like yours who have made it clear they are interested in our services. So, if you're not sure where to start, contact us.
---
Thank you so much for reading How to Use Facebook Ads to Generate Leads for Financial Advisor Firms . We really appreciate it! If you have any questions about our article, or can suggest any other topics you think we should explore, feel free to let us know.
Be sure to sign-up for our newsletter to receive monthly emails on all of the latest trends and happenings in the digital marketing space. You will also receive our FREE E-Book with the Amazing Marketing Tools for Powerful Business Growth. Sign-up below!
Also, if you received some value out of this article, please share with your friends or colleagues, or leave a comment/question below. We really appreciate you reading our blog and every share/comment means the world to us and allows us to continue producing valuable tools to help you grow your business!
Robb Fahrion is a Co-Founder and Partner of Flying V Group. He is passionate about helping businesses grow using the power of the internet. Robb graduated from Chapman University in Orange, CA and currently resides in Costa Mesa, CA. Robb enjoys writing about digital marketing, helping his clients turn their dreams into reality, and he is a HUGE Mike Trout fan.