Reading Time:
9
minutes
Are you worried about your website's ability to compete for the No. 1 spot on Google's search results page?
Search engines direct up to 300% more traffic to sites than social media.
Search Engine Optimization (SEO) is only meant for one set of people. These people want to drive higher organic traffic to their site by boosting their visibility in organic search results. 
The result is a boost in your customer base. 
If you want to be part of this set of people, you need to enact an SEO strategy.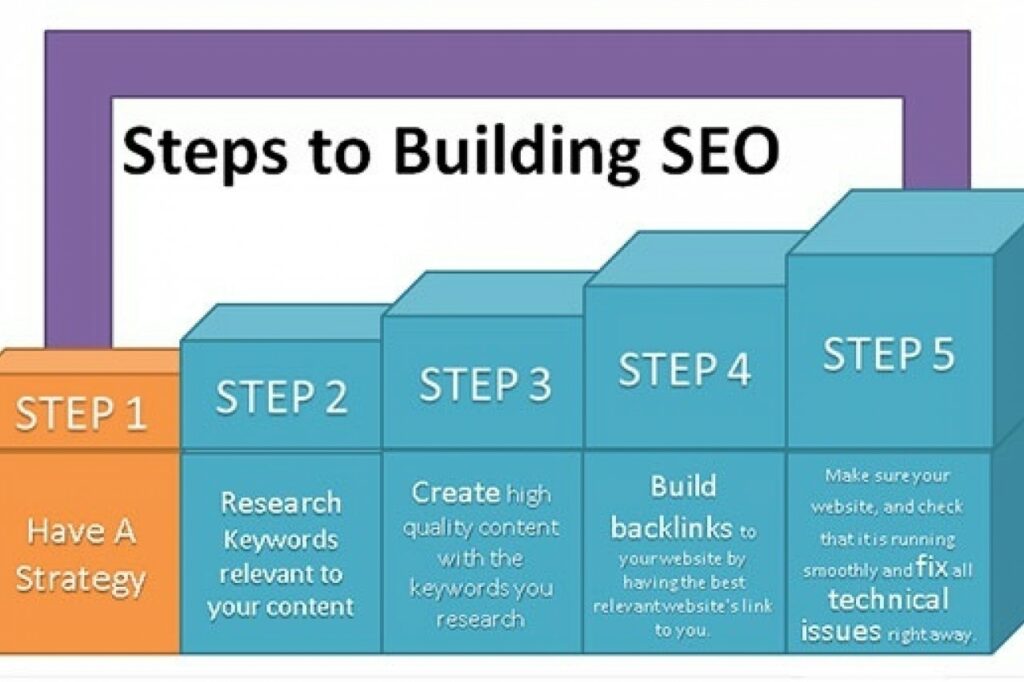 (Source: Peritus Digital)
We'll show you how to kick-start an SEO campaign in line with your business goals. But first, here's what we'll cover:
What Is An SEO Strategy?

What Is An SEO Campaign?

SEO Campaign Strategy

What is SEO Campaign Management?

4 Things to Include in Your Search Engine Optimization Campaign

SEO Campaign Cost
Read on to learn more.
The overall aim of every online business owner is to achieve a top position in search engine result pages (SERPs), increase website organic traffic, and increase organic revenue. SEO strategy is the shortcut to all these. 
A good SEO strategy is the overall master plan online business owners map out towards achieving their business goal. It exposes the level of your business and helps you know the status of growth you have attained.  
It also helps you become ambitious by helping you see the need to attain certain heights in your business, and more importantly, it shows you how you can achieve that projected height.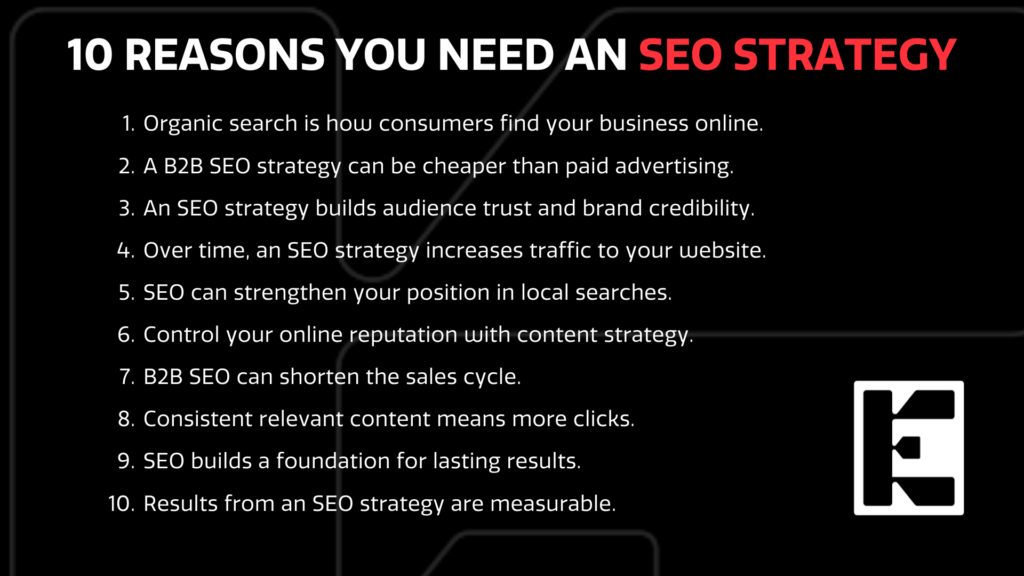 (Source: Embertribe)
What more can a business owner ask for?
On paper, SEO strategy is that simple. However, despite this fact, an SEO strategy may not be as simple as it looks.
Let's liken an SEO strategy to a building plan.
Have you seen a building plan before? The architect makes it very simple and easy on paper but, without breaking the construction down into smaller units, it will not be accessible during implementation. Therefore, it is broken down into more miniature stages, and every step is handled by a professional. 
That is where the SEO campaign comes to play.
Just like SEO strategies, SEO campaigns are deliberate steps you take to increase your business website's organic traffic by improving your positioning and relevancy in Google search engine results. The challenge most times is that most people think that having an SEO strategy is enough.
While an SEO strategy is the bigger picture, smaller pieces make up the bigger picture. In this case, we are talking about an SEO campaign. 
Let us look at what an SEO campaign is. 
An SEO campaign is a designed long-term data-based strategy to grow your website's organic traffic by optimizing your website's relevance in search engine results. It simply means that an SEO campaign is a little piece you put together during your SEO strategy that creates a bigger picture. 
Let's say you have a comprehensive SEO strategy; breaking this strategy into different parts called campaign designs can help reach your SEO strategy goals within the shortest possible time. They are the smaller projects we put together to create a comprehensive search and organic traffic strategy as a whole. 
The importance of breaking down your massive SEO campaign strategy into smaller units of an SEO campaign is to help you take control of the whole system. 
When the SEO strategy is broken down into smaller campaigns, it becomes easier to take charge of achieving all your set goals. 
Assuming one of your goals is to rank high on Google's front page in the next 6 months using the phrase "SEO Company Orange County," you need to map out a specific campaign around the keyphrase by publishing content using the keyphrase. 
Without a good SEO campaign around keywords or phrases, it will be harder to know if you progress in line with your SEO strategy. 
Why trek from Egypt to Canaan while someone is giving you a free flight ticket? Do you just enjoy spending 40 years in the wilderness? 
Several other parts are put together to make these overall SEO strategies happen. They include link building, SEO analysis, on-page optimization, keywords search, content audits, and many others. 
As it stands, 64% of marketers employ SEO campaigns because it helps hit multiple key performance indicators. The most beautiful part of this is that you get maximum benefit at little cost. 
What SEO campaign strategy can you employ to achieve all these benefits and more?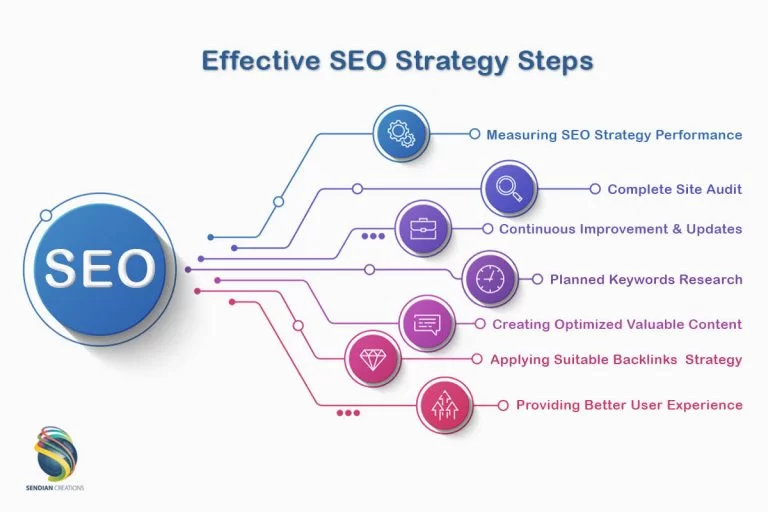 (Source: Sendian Creations)
We've put together five proven strategies if you need effective techniques for a successful SEO campaign. Here they are:
It is said that in a place where there is no vision, the people perish. That is true even in business. 
Setting a goal for your business helps you know if you are making progress or need to revise your short-term and long-term goals.
2. Have a Content Strategy
Content is one of the main things that drive your SEO strategy. So the first thing to do when you want to write your content is to have a topic and choose relevant keywords. Then, to form a content strategy, perform a long tail keyword search, preferably using tools like Ahrefs Keyword Research Tool or Semrush Keyword Magic Tool. Then use these keywords for your pillar content pieces or blog article title. 
A backlink is when someone is linking back to your website. The more of these backlinks you have, the more your website becomes an authoritative one. 
You must know that while we encourage having more backlinks, it is not worth it if these links are not quality links. Quality here is far better than quantity. 
Also, it is vital to know who is linking to you by running a backlink analysis. Tools like Ahrefs, Semrush, Moz Pro, Majestic SEO, and SEO Spyglass can help you get a comprehensive backlinks report.
Without a doubt, several links can hurt your business both in the short run and long run. Knowing and removing such links makes your website a credible website. When you have a credible website, people will have no fear of doing business with you.
4. Review Your Website Setup
Before implementing your SEO campaign strategy, you should review your website to see if your content can meet your new business goals. You cannot be expecting a colored picture when your camera is from the late 80s. 
If your website is not meeting the current demand and ROI, that is a sign for you to know that it is time to update your website to compete with the current digital market. 
Local SEO is one of the best strategies for small and local businesses. It will allow you to promote your goods and services to local customers near you looking for your type of business.
The first step to take in your local SEO campaign strategy is to make sure your Bing and Google My Business listing is set correctly. 
One important thing to do is make sure that your business address matches the address you used on your website. Also, optimize your listings with profile pictures, your services, products, images, etc. Finally, verify and claim your listings to be their sole owner. Once Bing and Google listings have been completely optimized, you are good to go. 
Local SEO is not rocket science. 
While an SEO campaign is crucial to your digital marketing, managing it is another thing. 
Now, here is the next thing we would like to show you - SEO campaign management. 
What is SEO Campaign Management?
A good SEO strategy means having multiple SEO campaigns running at the same time. These campaigns cannot run on autopilot, so there is a need to monitor and see how these campaigns are fairing. 
The process of consistently monitoring and reviewing campaign statistics, making adjustments, and adding more campaigns as the need arises is called SEO campaign management. 
No matter how beautiful and well organized your SEO strategy is and how you are implementing your SEO campaign, all your efforts will be like pouring water inside a basket without SEO campaign management. 
If you have been following all that we've been saying so far, we would like to congratulate you because you have just discovered one of the best SEO strategies to help your business grow. 
Let's now apply the icing to the cake. 
4 Things to Include in Your Search Engine Optimization Campaign 
If you love your cake with some icing, you will understand the next point we are about to make. Before you taste a cake, the first thing that tells you the quality of the cake is how the baker correctly uses the icing in designing the cake. 
Not all cakes with beautiful icing designs are delicious, but if you have a delicious cake with a lousy icing design, nobody will care how sweet your cake might be. Nonetheless, people are more likely first to taste the cake with a good icing design. 
Now imagine having a delicious cake with a beautiful design, what do you think would happen? 
We are about to show you five icing ingredients to include in your search engine optimization campaign. They have proven to draw people to businesses, just like bees are drawn to the nectar of a beautiful flower. So you can use them as your SEO campaign template.
Here they are:
1. Creating User-Friendly Pages
One thing that draws people to your site is how friendly your pages are. Unfortunately, search engine optimization is not enough; what happens when they finally want to crawl your website. No matter how fantastic the services you provide are, if your pages are not user-friendly, nobody cares about your services. 
People want an easy interaction with web pages. No one wants to waste time on a site with its pages hanging or taking forever to load. No one likes to waste time figuring out where things they are looking for are on a website, mainly if they know they have alternatives. 
Creating user-friendly pages would not only ensure that your website visitors come back, but it will ensure that they patronize your business. In addition, it can lead to further optimization of your pages because people would not mind spending more time on your website.
When people spend more time on your website, that sends a signal to the search engine that your page is relevant. 
More people today use their smartphones to access web pages than people who use desktops. So if you don't have a mobile-friendly page, it means you will lose out on the more significant percentage of people who use mobile or smartphones to access webpages. Like a user-friendly page, Google rates the relevance of a website by how mobile-friendly the page is.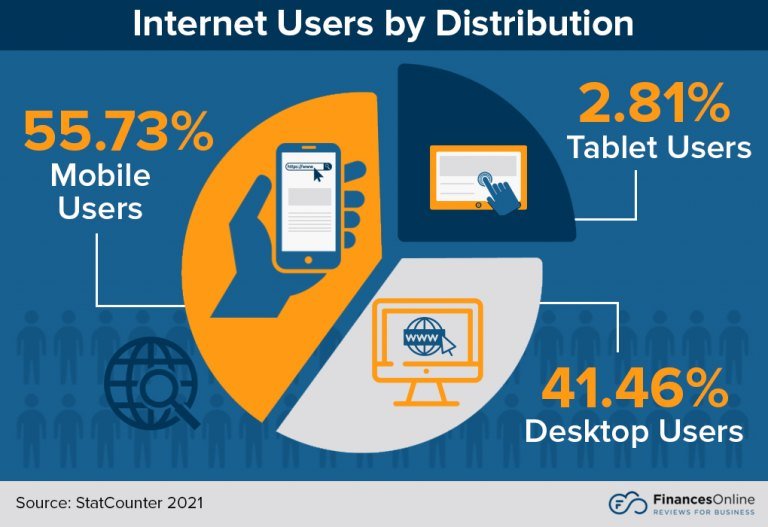 (Source: Finances Online)
Don't be surprised that content is coming up again. The truth is that talking about search engine optimization without talking about content is like having a baby without thinking about how to raise the baby. You can't separate SEO from content. 
Content is one of the sure things to include in your search engine optimization. It is the flower that attracts the bees to come and suck the nectar. It is the beautiful icing design that draws every cake lover to have a bite. 
If your content meets their taste, it will convert them to customers. 
4.  Know Your Competitors
If you are looking at having a better ranking, you must know those vying for the same position as you. Knowing your competitor's weaknesses and strengths will help you build an SEO strategy that will outrank them. 
Whenever you search for a keyword, look it up and see who ranks for that keyword. Then, visit the website to know the type of information your competition has and improve on it. 
5. Use Keyword Optimization
Keyword optimization is one of the critical elements of SEO. Therefore, including it in your search engine optimization campaign is like the final touch of your campaign as it relates to your content. Keywords help determine if your website will appear during a search and determine where your website will appear. 
To know the relevant keywords, just perform a keyword search using any keyword research tools at your disposal.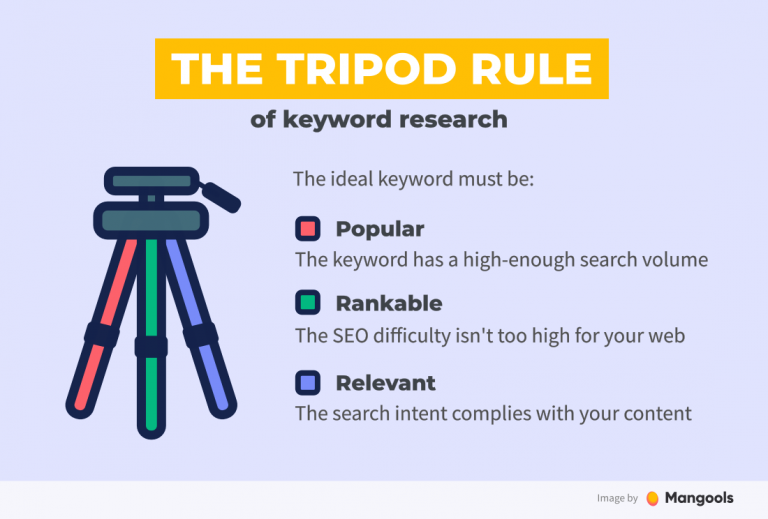 (Source: Mangools)
Don't ignore keywords with three or more words; they are called long-tail keywords and are known to drive heavy traffic to websites. Once you have these keywords, build your content around them, mention them a couple of times without stuffing, and the rest will be history. 
So, how much does an SEO campaign cost in 2022?
You will need to make a budget for your search engine optimization pricing whether you decide to hire an SEO company in Orange County or use your in-house staff. 
SEO pricing packages vary depending on what strategies you include. However, the average SEO campaign costs around $750 to $2,000 monthly. 
Ensure the agency you hire will customize its SEO packages to suit your company's goals. In addition, do not choose cheap over experienced digital marketing companies. It is also crucial to know what your SEO package includes to understand what you are paying for.
Some of the significant factors that may influence search engine optimization pricing include:
SEO goals

Expertise level of the SEO agency you are hiring

SEO pricing model

Your business size

SEO strategy scale
Improve Your SEO Campaign Strategy
There are always new opportunities for improvement in digital marketing. Meeting your business' goals requires that you upgrade your SEO campaign strategy from time to time to meet recent market trends.
How do we come in?
At FlyingVGroup, we have several successful SEO campaign examples and case studies to encourage you to let us handle your SEO campaign. We'll work in line with your business goals to produce remarkable results. Contact us.
---
Thank you so much for reading Preparing a Search Engine Optimization Campaign: What You Need To Know . We really appreciate it! If you have any questions about our article, or can suggest any other topics you think we should explore, feel free to let us know.
Be sure to sign-up for our newsletter to receive monthly emails on all of the latest trends and happenings in the digital marketing space. You will also receive our FREE E-Book with the Amazing Marketing Tools for Powerful Business Growth. Sign-up below!
Also, if you received some value out of this article, please share with your friends or colleagues, or leave a comment/question below. We really appreciate you reading our blog and every share/comment means the world to us and allows us to continue producing valuable tools to help you grow your business!
Robb Fahrion is a Co-Founder and Partner of Flying V Group. He is passionate about helping businesses grow using the power of the internet. Robb graduated from Chapman University in Orange, CA and currently resides in Costa Mesa, CA. Robb enjoys writing about digital marketing, helping his clients turn their dreams into reality, and he is a HUGE Mike Trout fan.
---